What our customers say
Our clients' satisfaction is our top priority, and we take great pride in delivering exceptional travel experiences in Tibet. Here are some testimonials from our valued customers:
Hi Tracy,
our Tibet trip was very good. Thank you.
Gerry

August 29, 2023
Hi Leo,
It was incredible! Thanks for another amazing trip! I loved the driver I was so impressed with his skills and kindness. Driving on those mountain roads is not easy. Pur bu the guide was such a great guide. He was so knowledgeable, and I learned so much from him. His knowledge of Tibetan culture and history was amazing. I loved all the activities and things I got to see. Tibet is such a unique and incredible place I felt so lucky and blessed to be there and to have those two help me guide through it. I have no complaints and leave very happy and blessed to have had this experience. I still think about northern xinjiang and I have some friends who might come to China from America so I'll keep in touch and let you know. I always try to share your contact with others too. You have been such a great help to me and thanks for everything.
Megan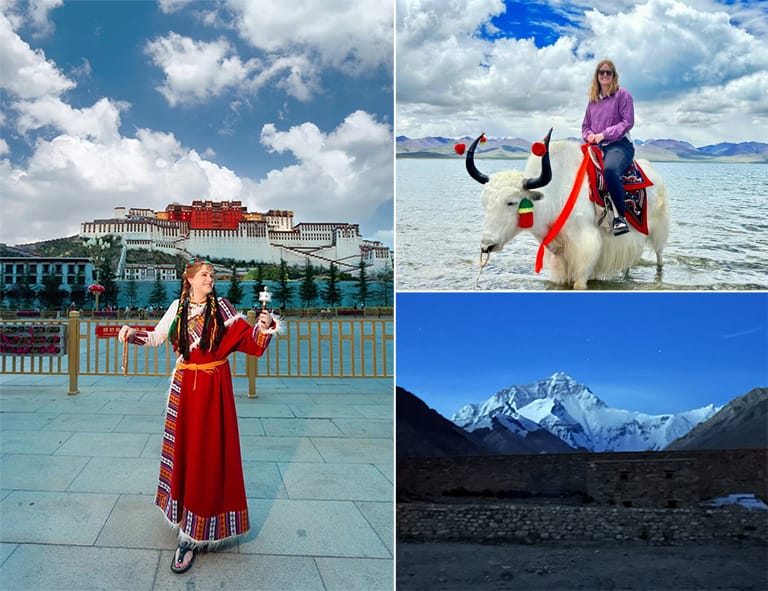 Megan's great time in Potala Palce, Namtso Lake, Mount Everest, etc. in July 2023, tour tailormade by Leo

July 27, 2023
Rita,
我们在拉萨都有一些头疼头晕等高反症状,还好不算太严重。谢谢关心。整体体验挺好的,谢谢您的安排.
王

June 1, 2023
Hi Wonder,
Very exciting with limited oxygen. After looked around Lhasa in this morning, going back to SH.
Koichiro

May 3, 2023
Dear Wonder,
Thank you so much for your assistance with our recent trip to Harbin! Please see our written feedback below:
Our family had the pleasure of working with Mr. Wonder, who assisted us in a trip to Harbin from Dec.26-29, 2022. Mr. Wonder helped generate an attractive itinerary the same day we requested and even made alterations to it so that it aligned with our requests.
Having never traveled to NE China before, Mr. Wonder made sure we had lots to do and explore during our 3 nights-2 days trip. It was the perfect amount of time to explore a variety of activities with our young family, including the following: Central Street, a traditional Harbin lunch, Songhua Ice Activities, Sun Island Ice Sculptures, Cable Car over the Songhua River, and last but not least, the Ice and Snow World! Due to the pandemic, there were a couple attractions that were closed, including the Volga Manor and Siberian Tiger Park, but Mr. Wonder made sure we had plenty to do and advised us as to what alternative activities could fill our time and be just as meaningful.
Throughout our initial booking, travel experience, and arrival back home, Mr. Wonder was consistently available and responsive to any questions or requests that we had and always gave timely responses. We look forward to working with him again in the near future as he helps us explore the many sites and wonders of China.
Lyso

January 3, 2023
- Check reviews with Photos - Check Handpicked reviews
Have a question? Get answers from our travel experts soon!
Your Question:

Your Name:

Your Email: