How to Get to Tibet - Transportation Guide to Go to the "Roof of the World"
13 December 2022
Last updated at 16:58
Sprawled across high-altitude mountains and plateaus, Tibet - roof of the world located at an average elevation of over 13,123ft (4000m) once was considered a snow land hard to reach. Now getting to Tibet is visibly easier and there is a wide range of choices for foreign tourists to choose from. Generally, travelling to Tibet whether from neighboring Nepal or from other Chinese cities together is available, and it just depends on your journey itinerary you may be interested in.
Get from Other Cities in China to Tibet
Tibet in southwestern China is well-connected with many other domestic cities in China, thus, entering Tibet through major poplar gateway cities which are hot destinations as well as most favorite route foreign tourists give priority to.
Trains to Tibet
Taking a Qinghai Tibet Train to Lhasa, Tibet is the most popular and budget way to Tibet for its economic train ticket price and fantastic experience of riding on this world engineering wonder and views of various landscape along the railway. Another benefit you will enjoy of train travel is the slow elevation rising, which helps to acclimate yourself to high altitude.
>> Qinghai Tibet Railway Landscape
Opened to traffic on July 1, 2006, Qinghai Tibet Railway, starting from Xining to Lhasa, capital city of Tibet, is a world-class engineering miracle which made 9 records and connects Tibet with mainland China. Everyday, Qinghai Tibet Trains carry more than 2,000 tourists to the holy city Lhasa from most major Chinese cities.
The original Qinghai Tibet Railway is linked with more lines in mainland China, and it contributes significantly to considerable options for where to take trains. Big international cities in the east have daily direct trains to Tibet, while western cities currently open trains every other day. All trains to Lhasa offer soft sleepers, hard sleepers and hard seats for your Tibet train travel. Among them, soft sleeper is the most recommended one for its privacy and comfort for more than a 40-hour stay on the train.
>> Soft Sleeper on Tibet Trains
>> Facilities and Amenities on Tibet Trains
Where to Take Trains to Tibet?
The fastest and the shortest distance train to Tibet starts from Xining, the capital of Qinghai Province in northwestern China. It is the initial point Qinghai Tibet Railway links with Lhasa in Tibet. One can get to Tibet from Xining within about 20 hours, nearly half the time of other choices.
Apart from Xining, tourists can also take trains to Tibet from Beijing, Chengdu, Shanghai, Guangzhou, Chongqing and Lanzhou where trains depart originally. And stopover cities like Xian, Suzhou, Changsha, Nanjing and Zhengzhou provide available trains as well. The above trains usually take over 40 hours to get to Tibet, maybe less tedious when you watch stunning different types of scenery en route.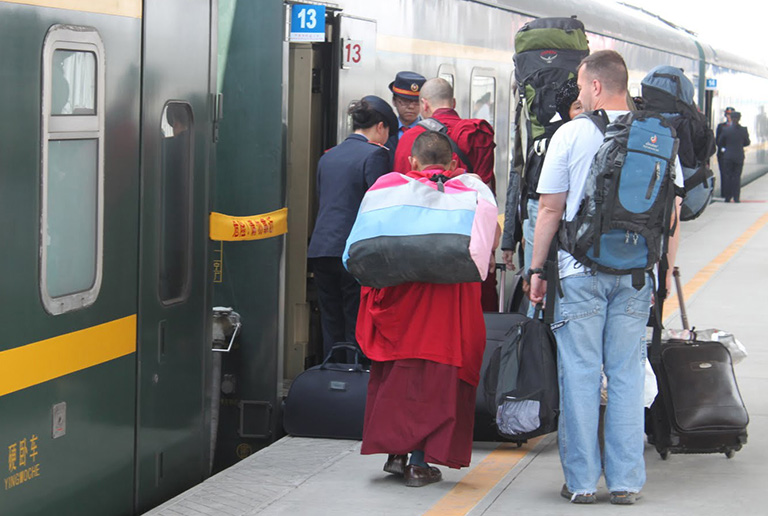 Tibet Train Passengers are Changing Train in Xining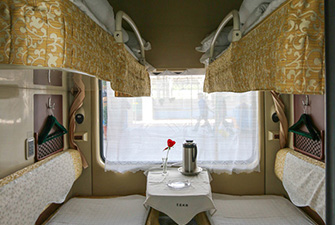 Soft Sleeper Berth on Tibet Train
Tibet Train Schedules
| Train No. | Dep. Station | Dep. Time | Arr. Time | Travel Time | Frequency | Distance |
| --- | --- | --- | --- | --- | --- | --- |
| Z21 | Beijing West | 20:00 | 12:45 | 40:45 | Daily | 3757km |
| Z164/165 | Shanghai | 20:08 | 19:35 | 47:27 | Daily | 4373km |
| Z6801 | Xining | 14:01 | 11:20 | 21:19 | Every otherday | 1972km |
| Z917 | Lanzhou | 11:20 | 11:10 | 24:00 | Every other day | 2188km |
| Z322/323 | Chengdu | 21:37 | 09:55 | 36:18 | Every other day | 3360km |
| Z223/222 | Chongqing | 22:12 | 09:55 | 35:43 | Every other day | 3394km |
| Z264/265 | Guangzhou | 11:52 | 16:45 | Daily | 52:53 | 4980km |
Lhasa Train Ticket Price (RMB/CNY)
Travel Between

Hard Seat
Hard Sleeper
Soft Sleeper
Upper
Middle
Lower
Upper
Lower
Beijing - Lhasa
360
720
742
763
1144
1186
Shanghai - Lhasa
402.5
793.5
817.5
841.5
1262.5
1310.5
Xining - Lhasa
224
495
507
521
781
808
Lanzhou - Lhasa
240
522
535
550
823
852
Chengdu - Lhasa
328
668
689
709
1062
1101
Chongqing - Lhasa
335
680
699
720
1079
1120
Guangzhou - Lhasa
447
865
892
919
1468
1526
By Plane
Flying to Tibet must be the most convenient and time-saving way you will consider. So far, there are five airports in Tibet, prompting great access to Tibet through airlines. Lhasa Airport is the biggest and most popular airport than the airports in Shigatse, Nyingchi, Ngari and Qamdo. Just take a flight to Tibet within several hours from one of cities Tibet Airlines reach to, your Tibet tour is close at hand. But the flaw is that you may cause high altitude reaction easily if you fly to high elevation places from flat when elevation changes rapidly.
>> Introduction of 5 Airports in Tibet
Where to Take Flights to Tibet?
Lhasa Airport is the most important arrival hub for both domestic and international travelers. The airport offers lots of convenient and efficient flights connecting Tibet with major cities in China, including Beijing, Shanghai, Chengdu, Xian, Guangzhou, Chongqing, Kunming, Shangri-La, etc. and an international popular destination - Kathmandu in Nepal. Still, Lhasa airport has daily flights to Nyingchi, Ngari and Qamdo Prefectures in Tibet.
All of the gateway cities connected with Tibet, Chengdu is the most popular city tourists choose. Because Chengdu not only has the most flights to Lhasa, available flights to Shigatse, Nyingchi and Qamdo, but also itself is an excellent tourist city.
Except the above cities mentioned, Xining, Lijiang, Zhengzhou, Mianyang, Kangding, Xiahe, Yushu, Urumqi and Kashgar, etc. also conduct flights to Lhasa, mostly less frequent.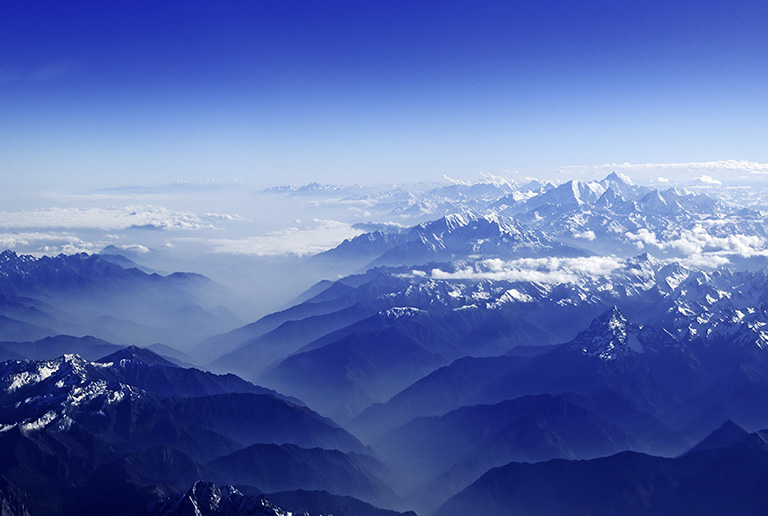 Breathtaking View of Gongga Snowberg from Tibet Flights
>> All Flight Gateway Cities to Tibet
>> Necessary Permits for Tibet Flight
All Flight Routes to Tibet Routes Summary
| Air Route | Distance | Duration | Frequency | Flight Type |
| --- | --- | --- | --- | --- |
| Chengdu Lhasa | 768miles (1286km) | about 2.5 hours | appr 12 flights per day | direct flights |
| Beijing Lhasa | 1867 miles (3004 km) | 4~6 hours | appr 3 flights per day | direct flights |
| Xian Lhasa | 1230 miles (1980 km) | about 3 hrs 20 mins | appr 7 flights per day | direct flights |
| Shanghai Lhasa | about 1930mi (3107km) | about 7~9 hours | appr 5 flights per day | stopover / connecting |
| Chongqing Lhasa | 985miles(1585km) | about 2hrs 50mins | appr 10 flights per day | direct flights |
| Kunming Lhasa | 1220 miles (1963 km) | about 3~5 hours | appr 4 flights per day | direct flights |
| Guangzhou Lhasa | 1647miles (2651km) | about 6~9 hours | appr 5 flights per day | direct / connecting |
| Xining Lhasa | 968miles (1558km) | about 2.5~7 hours | appr 5 flights per day | direct / connecting |
| Zhengzhou Lhasa | 2107 miles (3392 km) | about 3hrs 50mins | appr 2 flights per day | direct / connecting |
| Shangri-La Lhasa | 542 miles(872km) | about 2 hours | appr 1 flight per day | direct flights |
| Lijiang Lhasa | 593 miles (954 km) | about 2hrs 15mins | appr 1 flight per day | direct flights |
| Mianyang Lhasa | 1412miles (2274km) | about 2 hours | appr 3 flights per day | direct / connecting |
| Kangding Lhasa | 652miles (1050km) | about 2 hours | appr 5 flights per day | direct / connecting |
| Yushu Lhasa | 437miles (704km) | about 1.5 hours | appr 3~6 flights per day | direct / connecting |
| Xiahe Lhasa | 1435 miles (2309 km) | about 2hrs 20mins | appr 1 flight per day | direct flight |
| Xinjiang Ngari | 908 miles (1462 km) | about 2.5 hours | appr 1~2 flights per week | direct flights |
| Kathmandu Lhasa | 375 miles (603.5 km) | about 1.5 hours | appr 1 ~ 2 flights per day | direct flights |
Get from Nepal to Tibet
Deeply influenced by Buddhism and religions, travel between the two neighbors - Nepal and Tibet of China has been a world famous route along with their distinctive landscapes and mysterious culture and history. If you want to link Nepal to Tibet on your travel list, here comes the traffic guide information for you to know how to visit Tibet from Nepal in two different feasible ways.
By Flight
Luckily, Tibet has opened the one and only international direct flight to Kathmandu, Nepal connecting these two popular international destinations. And there are about 4 flights per week executed by Sichuan Airlines which takes about 90 minutes only. Flying to Tibet from Kathmandu is definitely the most convenient way to Tibet from Nepal for the short distance and flying duration.
This route, at the same time, is the only airline in the world flying over the world's highest peak - Mount Everest on Himalayas. It means that you may have chance to enjoy breathtaking aerial view of vast snowcapped mountains during the flying.
In addition, there are more direct flights between Chengdu and Kathmandu opened in 2017. Air China, Tibet Airlines both operates direct international routes which just take less than 3 hours to Nepal. Hence, more alternatives you can choose from to entering Tibet from Nepal.
Kathmandu Nepal to Lhasa Tibet Flights
Flight No.
Departure -- Arrival
Duration
Frequency
Plane

Sichuan Airlines

11:30

Kathmandu Tribhuvan Airport





15:10

Lhasa Gonggar Airport

1h 25m
SM-W-F-
Airbus A319
Lhasa Tibet to Kathmandu Nepal Flights
Flight No.
Departure -- Arrival
Duration
Frequency
Plane

Sichuan Airlines

11:15

Lhasa Gonggar Airport





10:30

Kathmandu Tribhuvan Airport

1h 30m
SM-W-F-
Airbus A319
Please note that 1) it's difficult to book the above international flight ticket in high seasons (April to October, summer seasons especially) and always have few discounts. They maybe cut down by air companies in shoulder season; 2) Flight times are both local time: Lhasa -(UTC/GMT+08:00), Kathmandu - UTC/GMT+05:00).
Check more about Kathmandu Lhasa Flights
By Overland Driving
It's quite a long and interesting overland journey travelling between Tibet and Nepal, because there is a lot of natural scenery you can enjoy along the way. To make sure you can pass the border ports successfully to enter Tibet from Nepal, each tourist has to hold a valid passport and prepare required travel permits and visas from the Chinese Embassy in Kathmandu, Nepal. And Tibet Discovery can help you apply for and obtain the needed permits, arrange vehicles and tour guide for your Nepal Tibet Tour. There are two different overland driving routes you should know before you really go.
Gyirong Port (吉隆口岸) in Gyirong Port in Resuo Village, Gyirong Town, Gyirong County of Shigatse Prefecture, Tibet is a newly upgraded international road port for border trade and cross-border tourism between Nepal and China Tibet. As its opening, the land connection between Tibet, China and Nepal now has been rebuilt, which means foreign travelers can enter Tibet from Nepal by land, or leave Tibet for Nepal through Gyirong Port from 30 August 2017 again. (Note: Same like Zhangmu Port, Gyirong Port was closed for a long time for the fatal earthquake happened in 2015.)
Gyirong Port is located about 160 km from Kathmandu and about 820 km from Lhasa, Tibet. It takes you at least 6 hours to reach Gyirong Port from Kathmandu. Usually, tourists will accommodate in Gyirong Town and continue road trips to Lhasa, Everest, Kailash and other destinations in Tibet the next day. It takes nearly 20 hours to drive directly from Gyirong Port to Lhasa, 10 hours to Mount Everest and 15 hours to Mount Kailash. After passing Gyirong Port, the road condition in Tibet is quite good with well-paved National Highway 318. But the section between Kathmandu and Gyirong Port is complicated, the roads are narrow and bumpy. Better pay much attention to the weather before deciding your itinerary, some roads may become arduous when it rains, especially in the summer monsoon season.
Gyirong Port on the China Side
Must Have Permits & Visas to Tibet from Nepal
1. A Chinese visa is the compulsory entry permit for foreign visitors issued by THE embassy of PRC. It is always needed no matter where you are going in China. The office man in the airport will check your Chinese visa when you go to board the plane or train.
2. Tibet Travel Permit (Tibet Entry Permit) is the MUST-DOCUMENT to take a flight/train to Tibet. When you check in and check out the airports, a copy of Tibet Travel Permit will be checked. The permit can only be issued in Tibet by the Tibet Tourism Bureau, and also can be only applied by travel agency on behalf of travelers, about 15~20 days to obtain the permit.
3. Tibet Border Pass/Frontier Pass is another must document for everybody who travels to the border area between Tibet with other countries. Just as Tibet Travel Permit, Board Pass will be checked before you board and leave airport in border areas.
4. Tibet Group Visa is exclusively required for tourists who travel to Tibet from Nepal. It will be applied at the Chinese Embassy in Kathmandu and checked along with other needed permits.
Helpful Travel Tips:
1. Decide Your Itinerary in Advance. Actually, tourists have great freedom to decide your Tibet travel route. You can select attractions you like and follow a reliable travel guide from us. So there is a lot of research for you to do and we will arrange every detail for you beforehand, such as permits application, hotel booking.
2. Permits and Packing Preparation. Travel to Tibet Autonomous Regions is different from other Chinese cities. Chinese Visa is the basic one, and more permits are required if you depart and head to other regions in Tibet outside Lhasa. Packing everything well is good for your plateau tour, click here to get more packing instructions.
3. Ticket Booking. There are plenty of online websites, e.g. Booking.com, Exprdia, Ctrip and Qunar offering ticket booking services. Please note that both train ticket and flight ticket are difficult to get in the high season (summer and autumn months especially). We provide considerate a ticket booking service in our tour packages for your convenience.
4. High Altitude Sickness Precaution. When travelling to highland cities, altitude stress is the most concerned issue tourists care about. Different people has different reactions, largely based on many factors, like pace of elevation rises, personal physical and mental condition, time you choose to visit Tibet, etc.