How to Get A Chinese Visa for Tibet Tour
20 May 2020
Last updated at 11:38
To travel to Tibet in southwest China, a Chinese Tourists Visa (L Visa) is the primary travel document for all foreign tourists to get before departure. At present, there are two ways to get to Tibet: from Beijing, Shanghai or other cities in China or from Nepal. A Chinese Visa is always needed to be applied for and obtained in overseas Chinese Embassy or consulate, no matter where you choose to leave from.
In order to help you get a Chinese Tourist Visa easily and successfully for your exploration in Tibet, Tibet Discovery here provides detailed application guide and tips, covering the requirements, fees, processing time and related visa information.
Chinese Visa Free - Who Doesn't Need a Chinese Visa: Ordinary passport holder of Singapore, Brunei and Japan are exempted from a Chinese Visa for purposes of tourism, business and visiting friends or relatives and stays for no more than 15 days. And, citizens from Hong Kong and Macau SAR do NOT require a Chinese Visa, instead, they will use Mainland Visa or Home Return Permit to visit Tibet.
Chinese Visa for Traveling from Other Cities in China to Tibet
Currently, there are over 20 cities in China directly connected with Tibet by flights or trains, including major tourist destinations like Beijing, Shanghai, Chengdu, Xian, etc. According to your travel length and other consideration, you can either take a non-stop flight to Tibet within several hours or try an novel plateau Tibet train passing through picturesque Qinghai Lake, Kunlun Mountains, wild Hoh Xil and north Tibet grasslands. Thus, the top priority for such a China Tibet Tour is to get a Chinese Tourist Visa. (Note: It's also available to get to Tibet from other cities in China, if you hold a Chinese Visa in other category, may be a Chinese Work (Z) Visa, a Student Visa or other type. )
Booking tour with Tibet Discovery, your trip to China with Tibet would be hassle-free, interesting and memorable with our excellent services on visa and every aspect of your tour.
How to Get a Chinese Visa?
With required documents, foreigners can apply for a Chinese Visa from overseas Chinese Embassy and Consulate, in your home country or nation where you reside, by your self or via an agency. You're advised to confirm your purpose of visiting China and travel schedule, and follow the official process, submit application normally one month before your planned departure for China.
4 Steps to Apply for Your Chinese Visa:
✔ Step 1: Check on Chinese Embassy's website to find out a proper visa category (such as the Chinese Tourist/L Visa is for tour in China), where to submit application and which documents should prepare and essential details.
✔ Step 2: Complete Chinese Visa Application Form as required and prepare required materials. (visit www.visaforchina.org to see if you must fill in online application form, make an appointment and submit through a China Visa Application Service Center). Applying for in America, you need to submit directly to Chinese Embassy or consulate, while in UK, Australia, Canada and specific countries, you must submit documents to a Chinese Visa Application Service Center.
Basic Chinese Visa Application Requirements:
● Passport: original passport needs to be valid at least 6 month with 2 blank visa pages and above. Prepare a photo copy of the data page.
● Photos: prepare 2 recent-taken frontal photos, full-faced, hatless, on white background. (Size: 48mm x 33m.)
● Completed Visa Application Form: Applicants in US need to fill in a digital form and print it out, while travelers in UK, Australia, Canada must fill online application form.

Supporting Documents:

When you submit application, your scheduled travel itinerary and air tickets, hotel booking records are also helpful. Travel with Tibet Discovery, we can provide you an invitation letter to get your Chinese Visa.
Related forms / letters must be provided depending on other visa types (like Z-visa, F-visa, etc.) Certification of Legal Stay and Residence, or previous Chinese passport and Chinese Visa, extra documents might be submitted for specific cases.
✔ Step 3: Take all materials to submit, choose visa service based on your need and pay visa fee (price varies from visa type, validity and nationality). If all documents meet requirement, a regular processing takes about 4 business days. In most foreign countries, you can pay extra to speed up the processing to 1 to 2 working days. Some exceptional application would take longer time like postal application in Australia (usually about 10 working days), supplementary document to Chinese Embassy.
✔ Step 4: Collect your Chinese Visa and passport.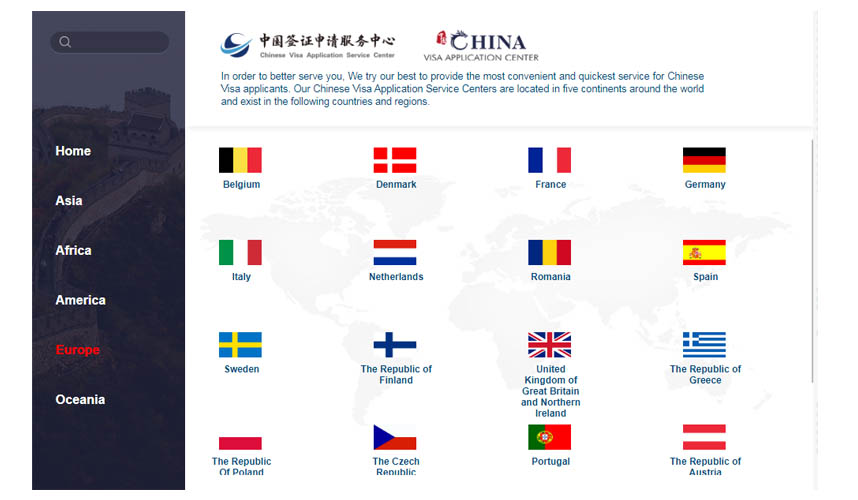 Online Homepage of Chinese Visa Application Service Center
Understand Your Chinese Visa
After you get your Chinese Visa, you must check carefully if it is correctly issued and in accord with your travel plan. Any inaccuracy may cause a refusal of your entry to China. Be sure to understand each line of your Chinese Visa.
Sample of Single-entry Chinese Tourist Visa (old version)
【Visa Type】: Chinese Tourist Visa is printed as 旅游 (L) in the middle of top. Personal Basic Information: Make sure the name, gender, date of birth, passport
【Entries】: number printed on Chinese Visa is totally the same on your passport's data page.
【Personal Basic Information】: Make sure the name, gender, date of birth, passport number printed on Chinese Visa is completely the same on your passport's data page.
【Entries】: Check if it is single entry, double entries or multiple entry, and suitable for your itinerary.
【Valid for Entry By】: It is the deadline date when you're allowed to get into China, instead of a time you should leave China before the date.
【Duration of Each Stay】: It means the longest length of your stay in China, including in Tibet. It counts from the 00:00 the next day after entry and expires on 24:00 of the last day.
Important Tips about Chinese Visa
1. Once a Chinese Visa has used up the number of entries are used up, passed the validity date, it's invalid. A new and valid Chinese Visa should be got to visit China.
2. Within 24 hours after entry, foreigners need to make temporary accommodation registration at the hotel or the local police station.
3. Holders of Chinese D, J1, Q1, S1 and X1 Visa needs to apply for an resident permit from a county-level Public Security Bureau, within 30 days from the date of entry.
4. You can enter China freely from any opened international port, including newly-opened Beijing Daxing International Airport (PKX), and continue to travel around China after a Tibet trip.
5. Chinese Visa Extension is available as long as you apply for at least 7 days before the expiration date.
Chinese Visa for Traveling from Nepal to Tibet
Planning to visit Tibet from Nepal? No matter you have a Chinese Visa or not, by a flight or overland drive, you must get a Chinese Group Tourist Visa (most people call it Tibet Group Visa) in Nepal. Foreign tourists have to book a Tibet tour from a tour operator (like Tibet Discovery) and make the visa application through the agency. Only a few simple documents and steps, you can get the needed Chinese Group Tourist Visa for traveling to Tibet.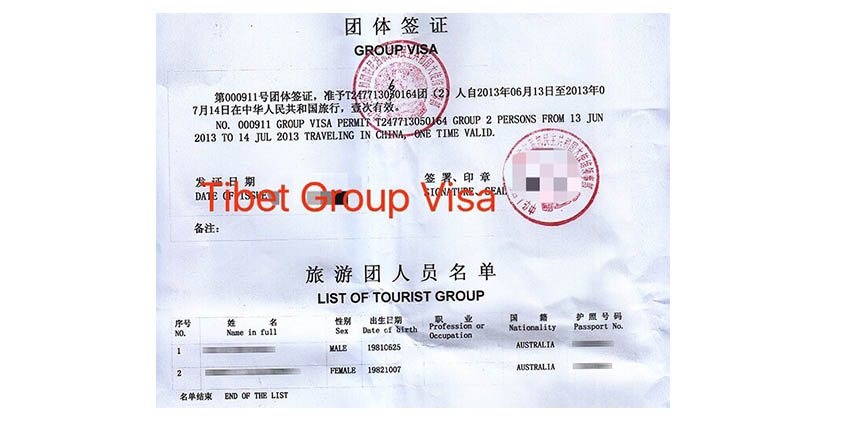 Sample of Tibet Group Visa
How to Get a Tibet Group Visa?
✔ Step 1: Confirm your Tibet itinerary with our travel consultant, book a Tibet tour package covering local vehicle, tour guide and other services in Tibet.
✔ Step 2: Send us a clear and complete copy of your valid passport (at least 6 months).
✔ Step 3: We will apply for an visa invitation letter from Tibet Tourism Bureau in Tibet for you.
✔ Step 4: Arrival in Kathmandu, deliver your original passport, completed visa application form and qualified headshot to us.
✔ Step 5: We submit all required materials to Chinese Embassy in Kathmandu.
✔ Step 6: Collect your passport and Chinese Group Visa.
Important Things Must Know about Tibet Group Visa
A. It's compulsory required for a Tibet travel from Nepal. Meanwhile, Chinese Visa you already got will get expire if you apply for Tibet Group Visa in Nepal, even it's a 10-year multiple-entry Chinese Visa.
B.Tibet Group Visa is printed on a A4 paper, listing travelers' information and number. All members share one single visa paper only.
C.With the Group Visa, you can visit Tibet and other pre-scheduled cities in China, such as Beijing, Shanghai, Chengdu, Xian, Guilin within the longest validity of 60 days.
D.The Group Visa can only be used for entry of China once, and is difficult to get extension and alteration.
Know more about the application documents, fees and more details of Tibet Group Visa >>
How to Plan Your Tibet Tour
Besides the sacred Tibet, a valid Chinese Visa also offers you superb opportunity to discover other marvellous scenery, diverse culture and profound time-honored history in China.
Those who already have Chinese Visas, are highly suggested to fly to other cities in China first, explore the city highlights for 1 to 3 days and then take a fast flight or scenic train journey to Tibet. Beijing, Shanghai, Chengdu, are 3 top-chosen gateway cities, which both has frequent flights and direct train to Tibet. Furthermore, Xining has the largest number of Tibet trains and the shortest ride time, Chengdu operates the most daily flights to Tibet and Yunnan is a good region to acclimatize high elevation. After Tibet tour, you can travel to Nepal in south Himalayas, or get back to cities which runs more flexible flights back to your home country or onward destination.
Recommended China Tibet Tours:
√ 10 Days Chengdu Lhasa Everest Overland Tour
√ 10 Days Chengdu Lhasa Everest Overland Tour
√ 10 Days Brief China History Tour plus Memorable Trip to Holy Land
√ 10 Days Yunnan Tibet Highlights Tour
Getting from Nepal to Tibet is a good choice for you, if you accept all above mentioned conditions and meet these situations: 1.) don't have a Chinese Visa or don't mind current Chinese visa becoming invalid; 2.) travel in group with many companions; 3.) like a Nepal tour before visiting Tibet and stick to this tour route. One way is to take 1.5 hours' Kathmandu-Lhasa Flight to Tibet, visit Lhasa (Potala Palace), and then drive to Shigatse, Everest and Mount Kailash and other destinations on your Tibet bucket list. Another more popular option is to get to Tibet from Nepal overland by Gyirong Port, travel from west to east Tibet, visit Mount Everest, Shigatse and Lhasa and expand tour to Beijing and other domestic cities.
Recommended Nepal Tibet Tours:
√ 7 Days Tibet Group Tour from Kathmandu
√ 7 Days Kathmandu to Lhasa Private Tour via Mount Everest
√ 8 Days Kathmandu to Lhasa with Mount Everest Adventure by Flight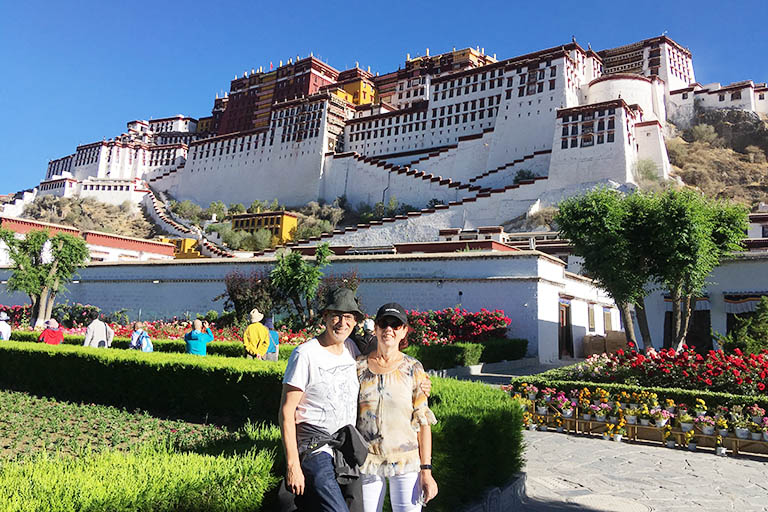 Our Belgian Tourists Visited Potala Palace in Lhasa, Tibet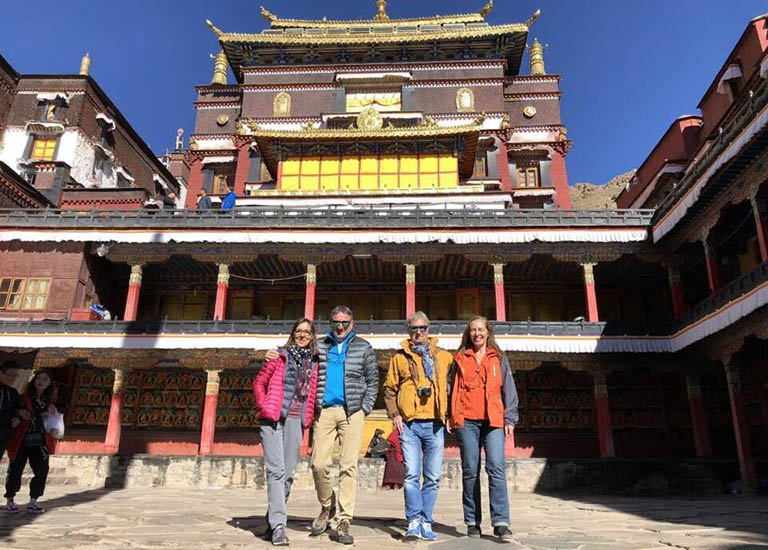 We Customzied Private Tibet Tour with Shigatse for Manuel and His Friends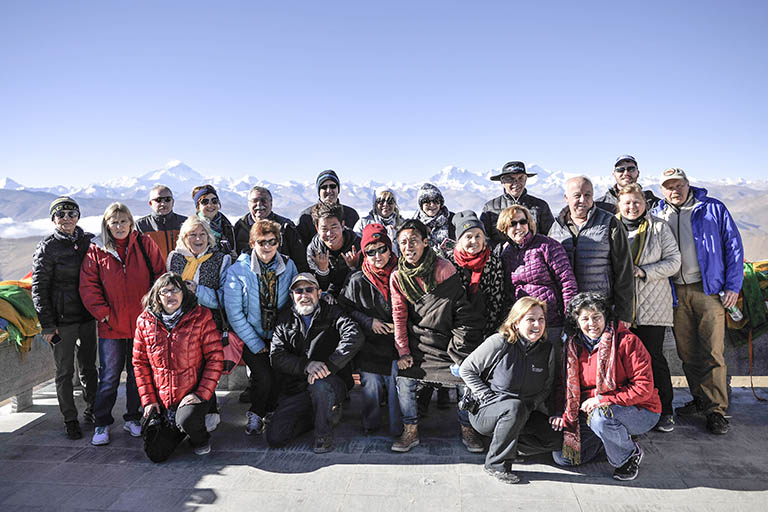 Bogusia and His Large US Group Travelers Spent nearly 20 Days on a China Tibet Nepal Adventure
Travel Tibet Worry Free with China Discovery
Tibet Discovery, one of the best local Tibet based travel agencies provides superior Himalayan tour to Tibet, Nepal & Bhutan. Traveling with us, you are assured to enjoy all our excellent travel services, including vehicles, professional tour guide and experienced driver, well-organized itinerary, assistance of visa and permits application and other travel related services.
Your Tibet tour will be hassle-free, go smoothly and conveniently because we settle all required visa and permits for your traveling to Tibet together with your transportation to, around and off Tibet, such as land transfer from Kathmandu to Lhasa via Gyirong Port, dining, accommodation and etc. Many travelers we served spoke highly of our knowledgeable tour guide, skillful driver, considerate travel help before/in/after their Tibet tour and shared memorable stories of their once-in-a-lifetime Tibet tour. Can't wait to meet the holy Tibet? Contact us to start your Tibet discovery now!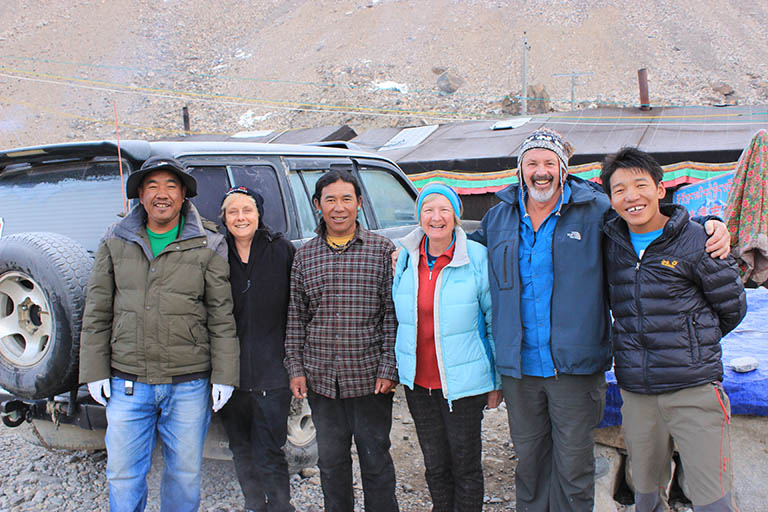 Tibet Discovery Offers the Best Tibet Tours
Recommended Tour Packages
Tibet has too much to offer. And our aim is to bring you the best experience in Tibet. Following are some other recommended Tibet tour packages that you may be interested in. All of our Tibet tour packages are customizable to meet your personal requirements. You can also contact us to customize a trip if you want or check more Tibet Tours>
Lhasa

Highlights: Potala Palace, Barkhor Street, Sera Monastery

$475 / Details

Lhasa / Gyantse / Shigatse / Everest / Lhasa

Highlights: Potala Palace, Yamdrok Lake, Tashilhunpo Monastery, Mt. Everest

$1,324 / Details

Lhasa / Gyantse / Shigatse / Mount Everest / Gyirong

Highlights: Potala Palace, Yamdrok Lake, Palcho Monastery, Mount Everest

$1,058 / Details
Have a question? Get answers from our travel experts soon!
Your Question:

Your Name:

Your Email:
Questions & Discussions
Following are latest questions and answers from our webusers and customers. You can learn many useful information from the discussion and cases. You can also join in the discussions or ask your own question. Our experts will help you ASAP.
Visa costs
Not sure which Chinese Visa I need if I visit China as a tourist.
What are the costs?
Hi, John,
If you are going to travel to China for tourism, you should apply for the Chinese Tourist Visa - L Visa. Visa fees differ from nationality, number of entry, length of stay, and visa service. There are two type: Single Entry and Multiple Entry. For US citizens, the Visa Fee is $140 for regular application, and express for urgent processing time is $165, top urgent is $177. Except the fees, you have to prepare your valid passport with more than 6 months validity, passport-size photo, itinerary covering flight and hotel. For more details, you can visit embassy official website in your country. Or you can contact us to get related information.

Hope you enjoy your trip to China. Have a good day!
Photos required for getting group visa and permits ,the photo size and colour,and no required,starting from Kathmandu.
Same as above.

travel to tibet on s2 visa
hey,

is it possible to obtain a travel permit on a S2 (visiting) chinese visa?

Thanks!
Hi Benedikt,

Thanks for you message. Yes, you can apply the Tibet Travel Permit on the S2 Visa you have. But your family member whom you are going to vist in China has to provide a copy of his(her) Chinese Identity Card, also a statement(handwritten or printed) that you are his(her) family member, and going to travel to Tibet. It is our pleasure to apply for the permit for you if you want us to. Any questions about the visa, permit or travel plan, please feel free to let us know.

Best regards,

Louis at Tibet Discovery