Tibet Permits for Indian Citizens
26 May 2022
Last updated at 16:19
Does a Indian Need Visa for Tibet?
Tibet is one of the most attractive and popular travel destinations for Indians, the Kailash Mansarovar Yatra in Ngari especially is a lifetime holy dream trip for many Indian pilgrims. According to official regulation, Indians need to get required visa and permits to visit Tibet. Exact visas and permits needed depend on different factors, such as which kinds of passport you hold, whether you are going to visit Mount Kailash, Manasarovar in Ngar and where you plan to get to Tibet.
Tibet Permit for Indian Tourists (Not Visiting Mt. Kailash & Manasarovar Lake)
If Mount Kailash and Manasarovar Lake are not on your Tibet travel list, Indian passport holders then can get a Chinese Visa and a Tibet Travel Permit to visit Tibet. For traveling to Tibet from Nepal, a special kind of Chinese Visa - Tibet Group Visa is required.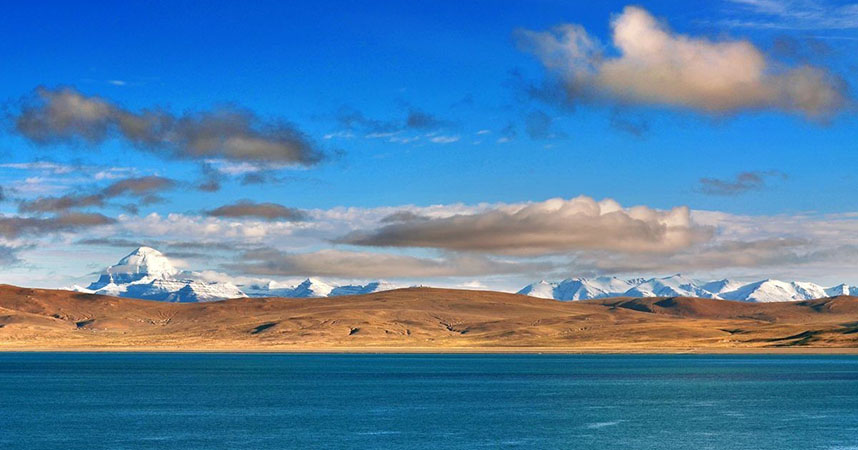 Sacred and Majestic Mount Kailash and Manasarovar Lake in Ngari, Tibet
● Chinese Visa
All foreign visitors, Indian citizens included, must apply for a Chinese Visa to travel to China. It's suggested to apply for Chinese Visa at Chinese Embassy in India or country you reside in, about 1 month in advance. Immigration officers at port of entry in China will check if your passport and the Chinese Visa are valid.
> Check more about How to Get a Visa for China
● Tibet Group Visa
A Tibet Group Visa is compulsory for all foreigners going to Tibet from Nepal, no matter you have a Chinese Visa or not. If you have, the previous one will expire once you apply a Tibet Group Visa. The Group Visa allows you to travel Tibet from Nepal and continue trip in Beijing, Shanghai, Xian and other cities in China as well.
Only travel agency can apply the Tibet Group Visa and arrange your Tibet tour, so you're required to contact us at least one month before your Tibet tour date, work out a detailed itinerary in Tibet, send us copy of passport. We will get the Tibet Group Visa for you and do the rest essential procedures.
> Most Practical Guide to Get a Tibet Group Visa in Nepal
● Tibet Travel Permit
For foreigners who want to travel to Tibet, he/she must get a Tibet Travel Permit whether entering Tibet from cities in China or Nepal. It is the secondary travel document needed for Indians' Tibet tour from besides a Chinese Visa. Tibet Discovery will apply for it ahead of your departure and take it to meet you at Lhasa Airport or Gyirong Port. When you take train or flight to Tibet from Beijing, Chengdu, and other Chinese cities, it is needed too.
If you plan to visit Mount Everest, Shigatse and areas outside Lhasa, Tibet Discovery will get all necessary permits (like extra Aliens' Travel Permit, Military Permit) for you and offer excellent travel services based on your needs. Just a few simple steps, you can visit the pure land of Tibet to feel the holiness of faith and incredible scenery.
> How to Get a Tibet Travel Permit
Useful Links: Trains to Tibet / Major Flights to Tibet
How to Travel from India to Tibet via Nepal
Tour Route: India → Nepal → Tibet
Visas & Permits Needed: Tibet Group Visa, Tibet Travel Permit
Boudhanathh Stupa in Kathmandu Tibet
How to Travel from India to Tibet from Other Cities in China
Tour Route: India → Mainland China → Tibet
Visa & Permits Needed: Chinese Visa, Tibet Travel Permit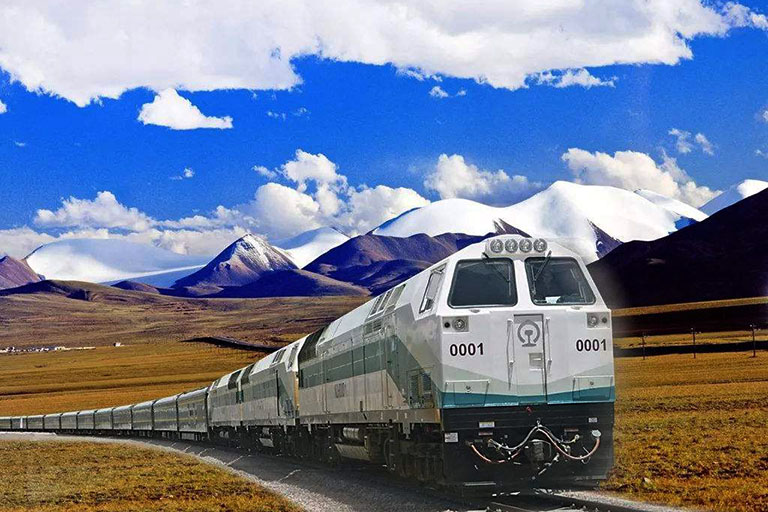 Taking a Train is a Popular Way to Travel to Tibet
Tibet Permit for Indian Pilgrims to Kailash Mansarovar Yatra
Every May, Ngari in Tibet starts the pilgrimage season with special groups of pilgrims to Mount Kailash and Mansarovar. Indian folk pilgrims going to make a sacred pilgrimage - Kailash Mansarovar Yatra must sign up and go with a pilgrimage group organized by the authority. For the purpose of holy religion instead of ordinary tourism, the process of getting approval of pilgrim in Tibet is more complicated and difficult than normal sightseeing tour.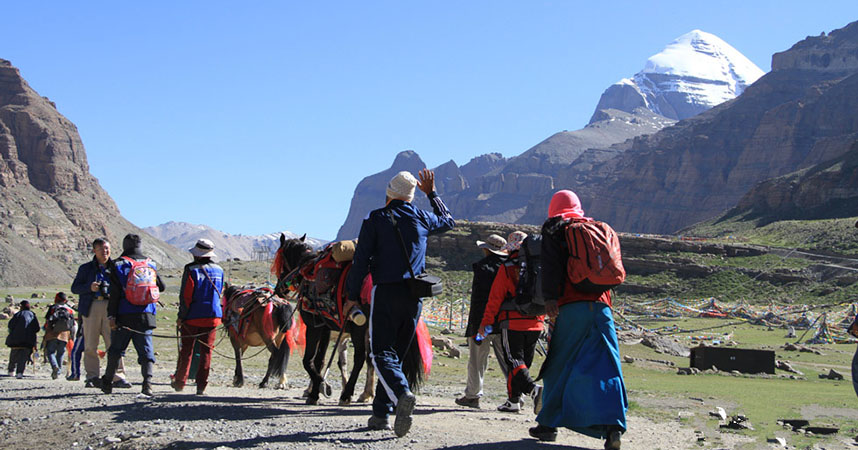 Indian Pilgrims were Making Kailash Manasarovar Yatra
How to Join a Kailash Mansarovar Yatra?
Individual pilgrimage to Mount Kailash & Mansarovar in Tibet is prohibited. Every Indian pilgrim has to join in a special pilgrimage tour group. All groups must be organized by Ministry of External Affairs, Government of India and authorized Indian travel agencies. The Embassy of the PRC (People's Republic of China) only accepts visa applications of pilgrimage groups submitted by the Ministry of External Affairs and authorized Indian travel agencies.
Step 1: Indian folk pilgrims wishing to make the sacred kora in Tibet should firstly register the annual Kailash Mansarovar Yatra organized by Indian government.
Step 2: Related government institution and authorized Indian travel agency will deal with required permits.
During the application, Indian Ministry of External Affairs will send a note with member lists to Chinese Embassy about the pilgrimage.
The Tibet Permit for pilgrimage will be examined and issued jointly by the Foreign Affairs Office of Tibet, Tibet Military Region, Armed Police Tibet Frontier Corps and the Department of Public Security of Tibet.
Step 3: After getting approval, appointed travel agency in Tibet will arrange transportation, accommodation, itinerary, guide and relevant help for the several days' pilgrimage and receive Indian pilgrim groups at the entry border pass in Tibet side.
Note: 1.) All Indian Pilgrim Groups will be only received by Foreign Affairs Office of Tibet and Tibet-India pilgrim Reception Center. 2.) No travel agency or organizations, including Tibet Discovery, are allowed to receive pilgrims groups without authorization. The most recommended advice for Pilgrims of Indian is to contact a local Indian travel agency which has been authorized to arrange pilgrimage tour to Mount Kailash and Lake Mansarovar in Tibet.
Indian Pilgrim was Handing Travel Document for Inspection at Yadong Border Port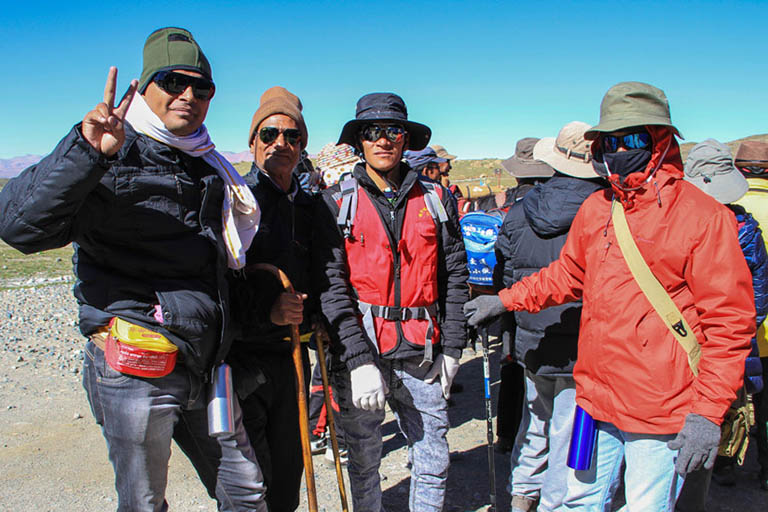 Indian Pilgrims Enjoyed Their Kailash Manasarovar Yatra
Two Main Border Passes to Tibet from India (for Kailash Mansarovar Yatra)
The following two special legal passes are only available to Indians, Chinese and Tibetans. Each year, Indian pilgrim groups traveling in different routes will enter Tibet via one of them and go to Ngari for the holy yatra.
1. Lipulekh Pass (里普列克山口/强拉山口) is located at the tri-border between China, India and Nepal, 17,500ft/5,334m above sea level. The pass connects Burang County of Ngari, Tibet with Kumaon Division of India, which used to be a branch of the Ancient Silk Road and a must pass to reach Tibet for Kailash Manasarove Yatra. Opening from June to September every year only, Lipulekh Pass is one of the two land passes reaching to Tibet from India directly, about 30km from southwest Burang County, Tibet.
2. Nathula Pass (乃堆拉山口) lies in border between China and Indian Sikkim, southeast of Himilaya Range at an elevation of 4,730m. It is about 24km away from Gangtok, capital of Sikkim, occupied by India, 550km to Calcutta and 246km to Lhasa, capital of Tibet. Crossing Nathula Pass to Yadong County, Shigatse, Tibet is the shortest overland route linking China and India. This pass is opened to Indian Passport holders for frontier trade and transportation from every June 1 to September 30.
Indian Pilgrims Wait for Customs Clearance
Tibet Permit for Indian Americans
Please note that that, Indian Americans holding US passport are allowed to tour Mt Kailash and Manasaovar Lake and make a holy kora once you obtain relevant visas and permits. No need to go through official pilgrimage group formalities. You can choose from our popular Ngari tours covering Mount Kailash and Manasarovar Lake, or find more top-rated Tibet tour packages, even let us customize a private and special Tibet tour!
How to Plan Your Tibet Tour
As China's second biggest provincial-level city and a vital gateway in Southwest China, Tibet on plateau area is world-famous holy shrine filled with plenty of wonderful sights, devout Buddhism faith, love people and rare wildlife.
You may need at least 4 days to 2 weeks or longer in Tibet to visit different destinations and experience authentic Tibetan-style culture. With most convenient transportation and the Potala Palace, Lhasa is always the top choice for you. 2 full days is suitable to see Lhasa's top landmarks and acclimatize high altitude after arrival. With more time, you can make a 7 or 8 days' classic route to Shigatse and Gyantse (Kumbum) via beautiful Yamdrom Lake. If time and physical condition permit, travelers are also suggested to explore Tibet in-depth, view more impressive nature and culture, such as Mount Everest, Nyingchi (lush forests, beautiful Peach blossom in Spring), and many other majestic peaks, lakes, glaciers, monasteries across Tibet. Extending trip to Nepal from Tibet is also a quite meaningful exploration of the Himalayas. Find more travel inspiration from our Tibet trips >>
Most Popular Tibet Tour Packages for 2023:
√ 8 Days Lhasa Mount Everest Private Tour
√ 4 Days Holy City Lhasa Private Tour - Heart of Tibet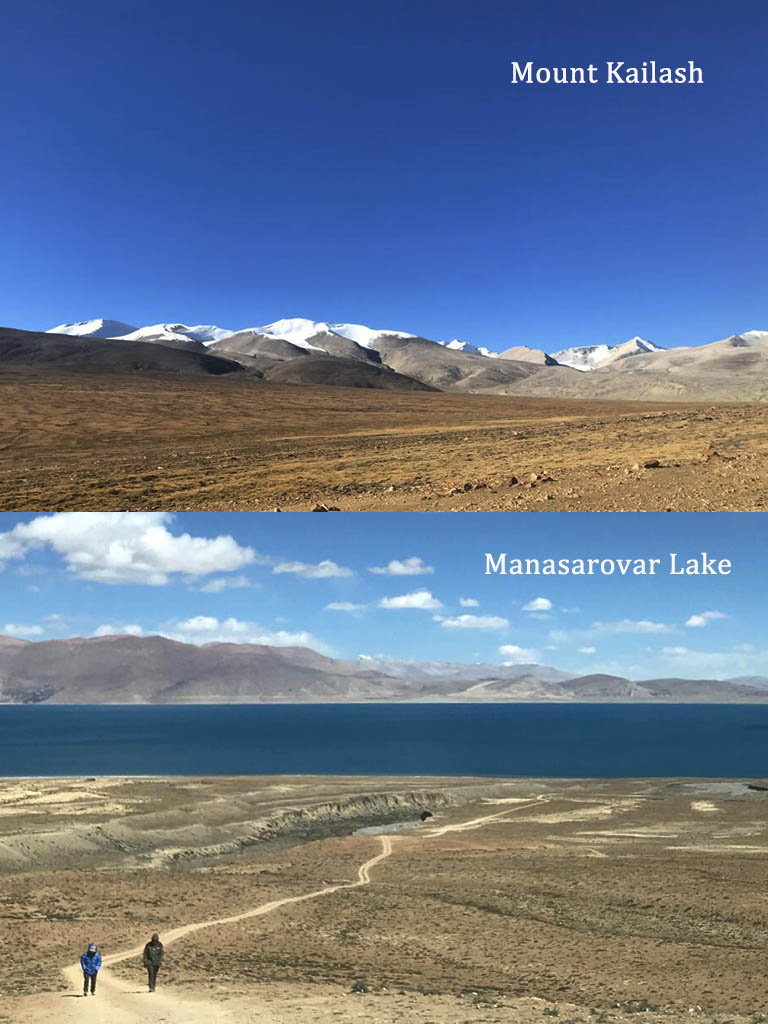 Our Customers Made Kailash Mansarovar Trekking Tour in Tibet
Travel Tibet Worry Free with China Discovery
With rich experiences in offering high-quality Tibet tour of best value for travelers across the world, Tibet Discovery is a reliable Tibet tour operator trying our best to present you the beautiful and unique Tibet and leave memorable moments of natural sights, extraordinary culture and people in this holy land. You just need to contact us, tell your requirements, we will pick up most excellent one and even customize a private Tibet trip for you, solving all details, including local attractions' admission, accommodation, transportation vehicle with driver and knowledgeable tour guide, and the most-concerned Tibet permits, train or flights booking assistance. Thus, you can fully focus on a Tibet journey hassle free. Accompanied by us, your Tibet travel can be arranged flexibly based on your personal interest, physical condition, length of holiday and budget.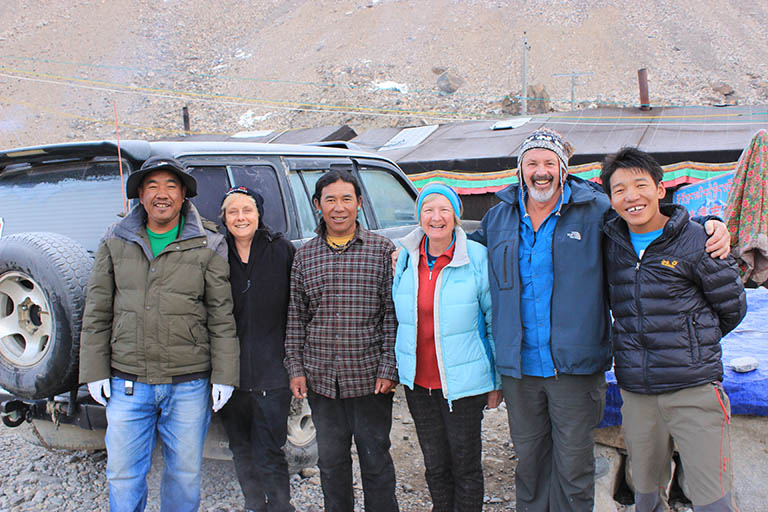 Tibet Discovery Offers Best Tour Services
Essential Tibet Travel Guide
Top Tibet Destinations
Have a question? Get answers from our travel experts soon!
Your Question:

Your Name:

Your Email: