Top Mount Everest Attractions
Mount Everest itself is a big attraction. While there are many small things and places you can explore after you getting to the mountain. The biggest highlight is to enjoy the fabulous natural wonder on the Mount Everest - white snow, glacier, sunrise, sunset, stars, flag clouds, etc. To explore the beauty of Mount Everest to the fullest, you have to go to two places on Mount Everest - Rongbuk Monastery and Everest Base Camp. There are the best locations to enjoy the landscape and take photos.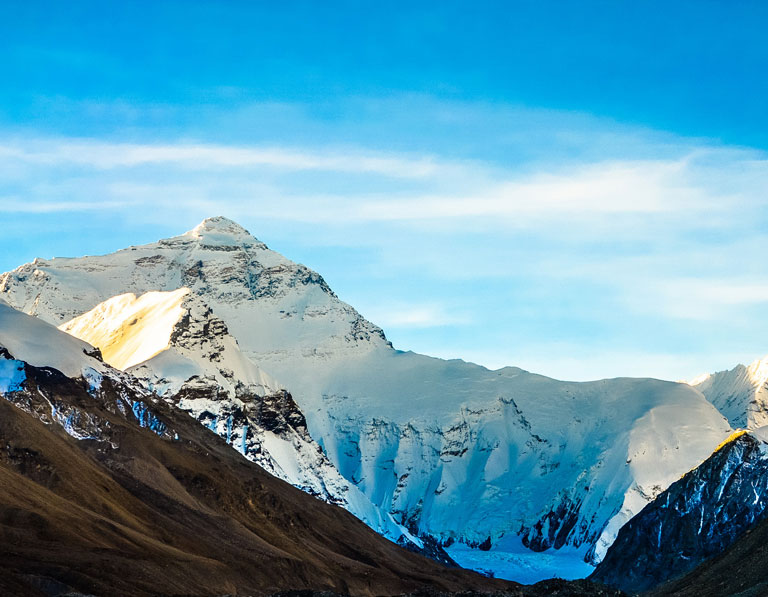 Useful Mount Everest Travel Notes
1. How to Plan Mount Travel
1) choose a gateway to start your trip - Lhasa or Kathmandu. Currently travelers usually get to Lhasa first, then travel to Mount Everest. The road from Kathmandu to Mount Everest is not accessible because of earthquake. Travelers can take flights to Lhasa, then escort to Mount Everest. It needs about 2~3 days to travel to Mount Everest; 2) decide your travel length. Usually, the classic Mount Everest tour needs at least 8 days, including arrival and tour in Lhasa, sightseeing along the road to Mount Everest (Gyantse and Shigatse) and Mount Everest Visit. You can extend it to 12 days if you want to explore more places or take a trek.
2. Necessary Permits for Visiting Mount Everest Tibet Side
To take an adventure to Mount Everest, you must be aware that you will have to obtain several necessary permits. Otherwise, your Mount Everest dream couldn't be accomplished. First of all, you have to have a valid passport and a valid Chinese visa, which is the precondition of any travel in China. With Chinese visa and passport, you can apply for the permits for Mount Everest - Tibet Travel Permit, Alien Travel Permit and Tibet Border Pass. Read more >
3. Acclimatize Yourself to High Altitudes of Mount Everest.
The high altitude is the biggest challenge when you visiting Mount Everest, even though in the Everest Base Camp where the altitude is 5200m. Rongbuk Monastery area, the place where the hotels are located in, also has an altitude around 5100m. You may suffer slightly from high altitude sickness in the arrival night but most travelers can make it through because the high altitude sickness can be acclimatized. That's why you should spend some days in Lhasa, Gyantse and Shigatse for acclimatization. Your tour operator will also prepare oxygen supply for emergency use.
4. Packing and Wearing Ideas for Mount Everest
It is important to realize just how high and remote you are on Mount Everest. Keep warm and protect yourself from the harsh natural power is the biggest thing to concern. You are suggested to dress in layers (both thin and thick jackets). Down jacket is also recommended. A pair of gloves is also helpful for possible snow. You should also bring rain gears if you travel in July and August. The ultraviolet light is quite strong, so you have to bring sunglasses, snow glasses, hats, lip balm, sun block to protect yourself from sunburn.
If you want to have a trek on Mount Everest, you have to wear trekking shoes and clothing, and pack trekking and camping gears.