Tibet Discovery - Reliable Himalaya Based Travel Agency
Tashi Delek, Kuzu Zangpo La, Namaste! Welcome to the majestic Himalayan land of Tibet, Bhutan and Nepal! Breaking news! Tibet tour is open to foreigners currently living in China. Our valuable Tibet Group Tours are on sale, join now!
As a Himalaya local based travel agency with offices in Lhasa, Kathmandu and Thimphu, we are your best assistant to help you plan authentic, tailor-made and valuable Himalaya trip before you go, also the ideal companion to take care of details of your travel, from tour guide, necessary permits, transfer, sightseeing, to dinning, accommodation, etc. During past decades, we have managed to help thousands of visitors realize their dream tours to Tibet, Nepal and Bhutan. And our tours and service have been highly recognized and commended by customers both on TripAdvisor and our platform.
Our philosophy, simple and direct, is to provide you the best travel experience in Himalaya which is not only valuable but also enjoyable. So we are dedicating all our efforts to excavating the best experiences that Himalaya can offer and organizing wisely not only in our well-designed Private Tibet (Nepal/Bhutan) Tours, but also in our classic Group Tours and tailor-made adventures. At the same time, we are also striving to improving our tour services of all aspects to the highest standard in the industry. When you book a tour with us, you will receive pleasant, efficient and fully-included services at the best prices. There are no hidden costs but many 'extra touches' that ensure your Himalaya trip is excellent value for money. Start your adventure now!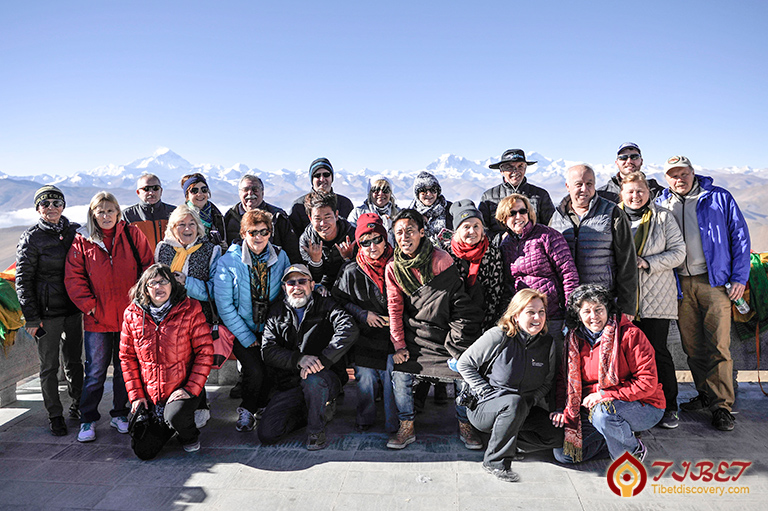 Our Best Selling Tours for 2021/2022
Start exploring the majestic Himalaya with one of four best-selling tour packages. If Tibet is your favorite destinations, you are suggested to take the classic tour from Lhasa to Mount Everest which is the most popular and valuable tour in Tibet. If time allows, you can travel Tibet with other China's iconic places, such as Beijing Great Wall, Xian Terracotta Warriors, Shanghai, etc. If your destination is Nepal or Bhutan, you can also find a great tour here. If you have any other ideas, feel free to contact us to tailor-make your own unique trip.
Find Himalaya Tours by Destinations
Himalaya is not only high but also vast. There are endless places to explore, from dominating snow peaks, beautiful lakes to colorful culture, magnificent food, etc. Generally speaking, the essence of Himalaya lies in Tibet, Nepal and Bhutan, all of which can be your first Himalaya trip. If time allows, it is strongly recommended to visit them together, which usually costs about 2 weeks. Each of Tibet, Nepal and Bhutan deserves a longer and deeper exploration. Find your perfectly-matched Tibet tour, Nepal tour, Bhutan tour or a Himalaya combo adventure below.
Explore Himalaya Just The Way You Like It
We want you to do just that…explore the real Himalaya your way. Our travel ideas are as diverse as the Himalaya itself and are designed to let you experience it any way you please. We have something for everyone. To take you to explore the REAL Himalaya, we only use the local Tibetans, Nepalese and Bhutanese as your tour guide and drivers who know their homes best. Traveling with us, you are making your own contribution to help local economy and communities. Start your Himalaya adventure now!
Useful Travel Guide & Articles
You can always rely on our expertise knowledge of Himalaya travel. We have created many useful travel guide and articles to help you know more about the destinations, visa, permit, weather, accommodation, maps, etc. You are also welcomed to ask us question whenever you want.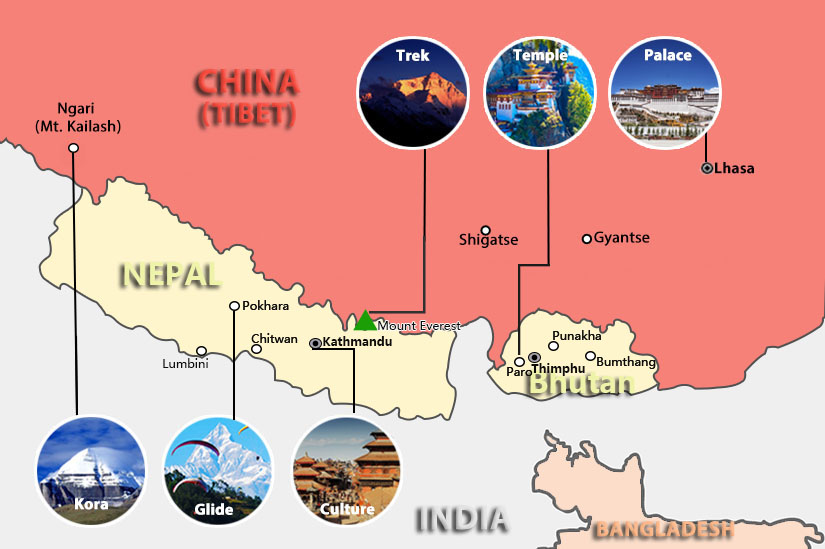 Mostly-read travel guide & articles
Get Inspired by Real Local Experience
Our rewarding and thoughtful travel packages have helped thousands of customers from all over the world turn their Himalaya dream into reality. With us, they found authentic local experiences, had fun with genuine cultural exchange, and enjoy fantastic adventures. You can get inspired by their helpful reviews on our services, amazing photos took in their adventures, or their memorable stories they made on the land of Himalaya.
Get inspired by real reviews from our delighted clients More >
"Exceptional customer service"

I want to thank you for your truly exceptional customer service. You have been very helpful through this entire process. If we should be able to reschedule a visit to China in the future, I will certainly use your services, and I would happily refer my friends and associates. read more

» more reviews

"Amazing time in Lhasa"

I contacted several tour companies while researching a proposed trip to Tibet. Lyn Wang at Tibet Discovery was the most responsive of the agents that replied to me and the company offered the best rates for my available dates, which included one day longer than their standard… read more

» more reviews

"Nanjing to Jiuhuashan"

Nanjing has a lot to offer. Definitely check out the Ming Xiaoling and Dr. Sun Yat-sen's Mausoleums. Getting to Jiuhuashan, one of China's four sacred Buddhist mountains, from Nanjing is easy and fast with the high-speed train. My travel agent Wendy is super helpful and informative and always puts together a great tour.... read more

» more reviews

Get inspired by photos of our happy clients More >
Get inspired by real travel stories of our happy clients More >

Jack (USA) / 2017-09
2017-09 / 4pp
" I've used Tibet Discovery for my travels 5 times to Tibet and I got an outstanding experience every time. I love the amazing scenery in Tibet, also love the Tibetan people with strong heart and devoted belief. Thanks to Wendy, I enjoyed another great trip to Tibet in 2017. "

" We decided to do this trip at the last minute and this company was great at getting us all set up. Jack Li was our initial contact and was able to get all our permits in order in a short time. Our hotel in Lhasa was in a very central location that made it easy to get around. Tendol was our guide and she was amazing. She was very knowledgeable about so many things. And our driver, Tiley, was excellent. I, particularly, am not at all comfortable on high winding roads (because of a previous accident) but with Tiley, I felt absolutely safe and at ease... "

Bogusia (USA)
2016-12 / 29pp
" Our trip came to an end, but we really had a good time. Nepal was great and food was very good. China and Tibet was beautiful. It was a very memorable trip, and we thank you for arranging it for us. Tour guides service was great. They did more for us than were expected very good & friendly people we just loved them. Drivers were great never seen better ones very good, safe & courteous. So as you see overall it was great & very memorable, we will never forget this trip. Thank you very much for all your gifts everyone loves them. "
Have a question? Get answers from our travel experts soon!
Your Question:

Your Name:

Your Email: