Why Chengdu Lhasa Train is recommended?
1. With developed transportation network, Chengdu is well linked with many international cities and all main cities in China. You can travel to Chengdu conveniently.
2. Honored as the Hometown of Giant Panda and Land of Abundance, Chengdu has attracted lots of tourists. Before travel to Tibet, you can take a short stop to visit the adorable pandas as well as experience the slow-paced life in Chengdu.
3. Chengdu is the departure station of Z322, and it's much easier to book a train ticket and get the berth or seat you want.
Note: Sichuan-Tibet Railway (a bit more than 1,800 km) is under construction and predicted to operate in 2025, which will cut down traveling time between Chengdu and Lhasa to nearly 13 hours.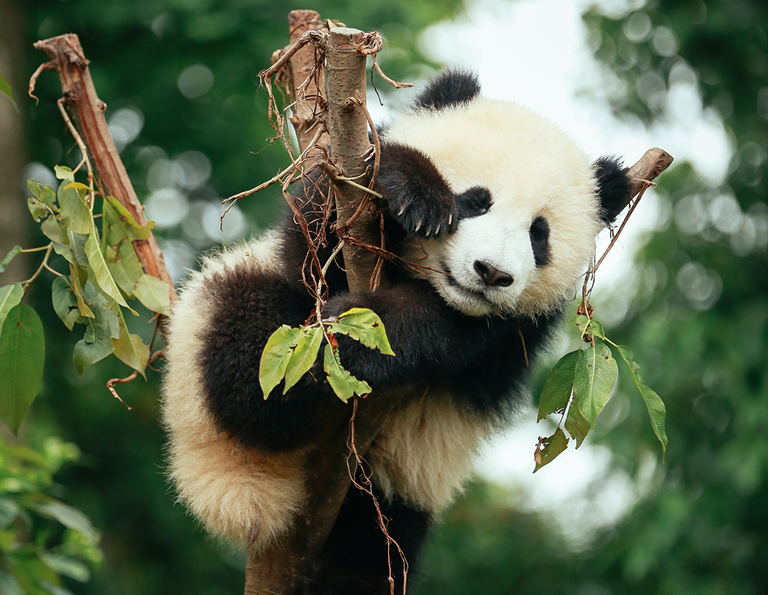 Not-missed Giant Panda in Chengdu
Chengdu Lhasa Train Schedules and Fares
14 December 2022
Last updated at 09:57
At present, there is only two trains commuting between Chengdu and Lhasa - Z322 from Chengdu to Lhasa and Z324 from Lhasa to Chengdu. In every other day, Z322 runs from Chengdu Railway Station and arrives at Lhasa Railway Station on the third day, taking about 36 hours. In the next day, Z324 departs from Lhasa Railway Station to Chengdu Railway Station. and the whole trip cost around 36.5 hours. There are 6 midway stations on the way, including Guangyuan, Lanzhou, Xining, Delingha, Golmud and Nagchu.
Just like any other China trains, Chengdu Lhasa train has three kinds of seats - Soft Sleeper, Hard Sleeper and Hard Seat. The ticket price varies according to the different classes of Seat. The Soft Sleeper with highest price offers most comfortable train experience. There are only 4 berths in a private room with door, and you can enjoy more facilities. The Hard Sleeper, 6 sleepers in a compartment, is cheaper. The Hard Seat is the cheapest but not recommended for long travel.
Referential Currency: RMB=1USD
Train No.
Departure / Train Staiton
Duration
Seat Type / USD Price / Availability
Note: Train information is subject to final confirmation due to the delay of data occasionally.
Choose one of our Top Chengdu Tibet Train Tours below or chick to check All Chengdu Tibet Tours>
☞ 7 Days Lifetime Tibet Train Tour from Chengdu
☞ 6 Days Classic Chengdu Lhasa Highlights Tour
☞ 10 Days Chengdu Lhasa Everest Overland Tour
Chengdu to Lhasa or Lhasa to Chengdu?
Traveling from Chengdu to Lhasa or from Lhasa to Chengdu are both available to get a memorable train experience with amazing sightseeing. But more people like taking a train from Chengdu to Lhasa better, which does great help to adapt the high altitude. In addition, they want a fast and comfortable air transfer after a long Tibet tour. However, it's much easier to book the ticket from Lhasa to Chengdu and other inland cities. So if you fail to book train ticket from Chengdu to Lhasa, no need to worry, you could try the return train instead.
Major Cities along the Way
It is a long train journey about 36 hours between Lhasa and Chengdu, so you may want to stretch your legs on the way. There will be 6 midway stations between the starting and final stations, and you can use the free time to take a walk and breathe some fresh air. Don't forget to get some food and drinks. Major cities are as follows.
Lanzhou
Landzhou is the first major city along the Yellow River, which has been a key garrison town since ancient times. All trains between Chengdu and Lhasa will take a stop about 17 minutes at Lanzhou Railway Station in daytime. Lanzhou Hand-pulled Noodles is famous among China, and you can have a try if time permits.
Xining
Xining is also an ancient military garrison and trading center in ancient times. Now it attracts many tourists with the beautiful Qinghai Lake - Flowers' Ocean, Birds' Paradise and Cyclists' Heaven. On your trip, you will see part of Qinghai Lake. There is a stop at Xining Railway Station for about 20 minutes, which is enough for you to walk around.
Golmud
As you get close to Golmud, you begin to feast on snow-capped mountains, bright glaciers and spectacular lakes. When you get to Golmud from Chengdu at 19:24, you are supposed to see the Tibetan antelopes. The trains between Chengdu and Lhasa will take a stop at Golmud for 25 minutes.
Amazing City View of Lanzhou
Landscape along Golmud Lhasa Railway
Which Seat Class to should I take, Soft Sleeper, Hard Sleeper or Hard Seat?
As a matter of experience, we strongly recommend travelers choose the Soft Sleeper instead of the Hard Sleeper or Hard Seat to have a safer and more comfortable journey. After all, it's a journey over 40 hours and you need to stay two nights on the train.
Comparison between Soft Sleeper and Hard Sleeper
| | Soft Sleeper | Hard Sleeper |
| --- | --- | --- |
| Amount of Sleepers | 4 | 6 |
| Size of Sleeper | Width:700mm/Length:1900mm | Width:500mm/Length:1800mm |
| TV | Yes | No |
| Power Supply | Yes | No |
| Vacuum Flask | Yes | Yes |
| Door | Yes | No |
(Important Notice: Since there are usually about 64 Soft Sleepers on each train to Tibet, so you'd better confirm your trip and book the train tickets as early as possible. Currently passenger can book the train ticket 30 days in advance.)
Facilities on Chengdu Lhasa Train - Life on the Train
| | |
| --- | --- |
| Air Conditioning and Oxygen Supply | Air-conditioning system is available on the train to create proper temperature as well as fresh air. The train is also equipped with two kinds of oxygen supply system to offer enough oxygen and reduce the risk of high altitude sickness. On is a 'dispersion-mode oxygen supply system which aims to spread oxygen in the cars while the other supply system can be directly used by the passengers through many independent ports. |
| Food and Drink | Ding carriage in the middle of the train is also available to offer breakfast, lunch and dinner. You can also get some snacks and drinks there. Only Chinese food is provided, including rice, vegetables, meals and soups. There are also many featured Sichuan Cuisine, like Twice-cooked Pork, Shredded Pork with Garlic Sauce, Sichuan Poached Pork etc. You can buy the packed food from the Food Trolley as well. Hot Water in the Hot Water Dispenser is always provided. The water received from the washing area is not drinkable. |
| Luggage Storage | If you take a Soft Sleeper, you can place your luggage on the luggage closet above the door in the carriage. It is about 16 inches (40cm) high and 20 inches (50cm) wide. If you choose a Hard Sleeper, just put you luggage or suitcases on the racks about the window by the side of aisle. The luggage closet of the Hard Sleeper Carriage is above the seats. |
| Toilet and Washing | There are western-style toilet in Soft Sleeper Carriages and squat toilets in Hard Sleeper Carriages and Hard Seat Carriages. Toilet papers are not prepared in the toilets and you need to bring your own. There is a washbasin at the end of each the carriages. Only cold water is available, undrinkable. |
| Compartment | There is a small table, a heat-retaining vacuum flask and a trash can in the Soft Sleeper Compartment. Under the table, you can see a plug for getting power supply. On the door near the aisle is fixed a small TV. Close to the window, there is an outlet of oxygen. As for Hard Sleeper Compartment, there are some other facilities - a small table, a thermos and a dustbin. |
What You Can See along the Chengdu Lhasa Train
Chengdu to Lhasa
As the train departs from Chengdu Railway Station, you can see the natural view of Sichuan, from plain Chengdu to the mountainous Guangyuan. When you get close to Xining in the afternoon of the second day, the most beautiful scenery of high plateau begin to come into your eyes. At first, you can see a large area of crops. Then the vegetation and household become less and less while the altitude becomes higher and higher. You will pass through the famous Golden Silver Beach and enjoy a part of the amazing landscape of Qinghai Lake. If you travel in July and August, you won't miss a large field of rape flowers. Leaving Qinghaihu pasture, you will see the gobi view, but cropland appears soon before you get to Delingha. Then there comes many salty lakes, like Keke Salt Lake, Gahai Lake and so on. Traveling from Delingha, you will witness one of the most magical sight - Thousands of Zhang Salt Bridge with Dabsun Lake and Hobsun Lake on its two sides. When you wake up in the third day, you won't be far from Lhasa.
Lhasa to Chengdu
If you travel from Lhasa to Chengdu, you can enjoy the spectacular view free from High Altitude Sickness. After the trains leaves Lhasa, you will pass by Yangpachen, which gains its fame from the abundant geothermic heat. Then you will feast your eyes on boundless prairie embellished with yaks and goats. Before Nagchu, you will also see two huge snow-capped mountains. The first is Nyainqentanglha, and famed Namtso Lake is located at its foot. At 8:05 of the next day, you will get to Golmud which is regarded as the Pearl of Qaidam Basin. Of course, you will also enjoy the good view of Keke Salt Lake, Gahai Lake, Qinghai Lake, Salt Bridge etc. On your way to Lanzhou, you can appreciate the magnificent view of the Yellow River.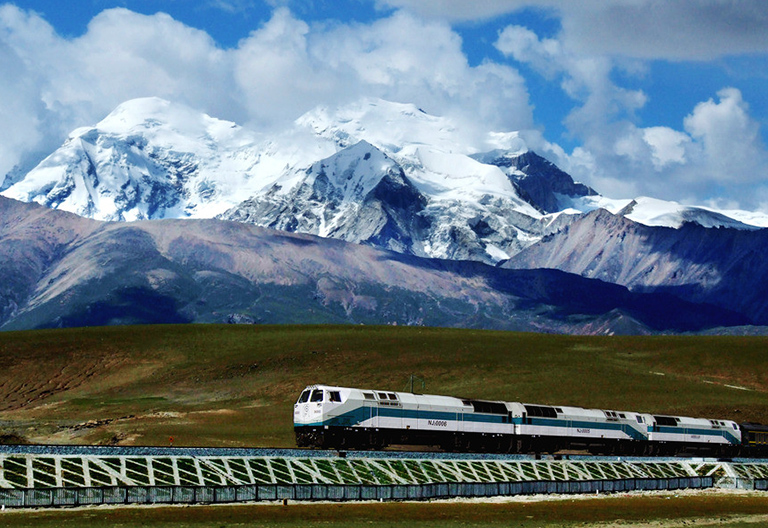 Bright Snow-capped Mountain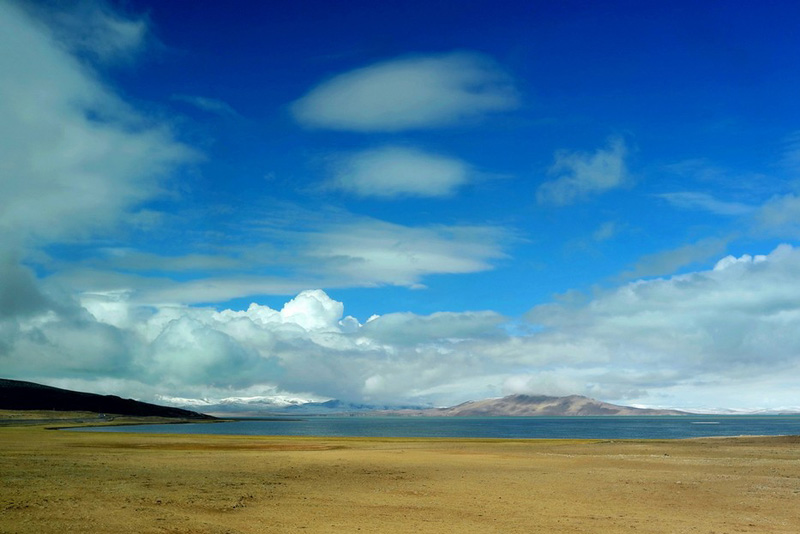 Beautiful Qinghai Lake in Xining, Qinghai Province
Tibet Travel Permit and Train Travel
Taking a train from Chengdu to Lhasa, a Tibet Travel Permit (Tibet Entry Permit) is the MUST-DOCUMENT. The permit is issued in Tibet by the Tibet Tourism Bureau only, and can be applied by travel agency behalf of travelers only. It takes about 15~20 working days to get the permit.Tibet Travel Permit is necessary to book the train ticket and board the train departing from Chengdu Railway Station to Lhasa. The photocopy of Tibet Travel Permit is also available if you fail to have the original one in your hands. (The original permit is required if you take the trains from Chongqing, Xian and Lanzhou to Lhasa.)
How to Apply Tibet Travel Permit?
1. Obtain a Chinese visa from the Chinese Embassy in your home country;
2. Contact us to work out and decide the itinerary of your Tibet tour;
3. Send your scanned copies of your passport and Chinese Visa to your travel consultant and provide an available address (like your hotel) in China to receive your permit;
4. We will apply the Tibet Travel Permit from Tibet Bureau for you;
5.Once the permit is issued, we will send the original permit to you by post.
>> Learn more details about Tibet Travel Permit Application
A Sample of Tibet Travel Permit (Tibet Entry Permit)
How to Book Chengdu Lhasa Train Tickets
The train tickets can be booked by two means - book on your own or contact a travel agency to book for you. If you are in Chengdu or other Chinese cities already, you could go to any railway station to book the train tickets. Don't forget to bring your original passport and photocopy of Tibet Travel Permit. You can ask the ticket conductor to provide your preferred upper or lower sleepers if they are accessible. We could book the train tickets for you online if you send us your passport information.
How to Get to Chengdu Railway Station
Chengdu Railway Station, also called Chengdu North Railway Station by local people, is the only train station operating trains to Lhasa. It is located at the No.1 Dong Road of Jinniu District and close to the North 2nd Ring Road. It can be accessed by both High Speed Public Bus and metro line 1. Many public buses are also available to take you there from different direction.
How to Plan a Tour in Chengdu
As one of the best gateway to Tibet, Chengdu becomes a must before or after Tibet Tour. It is advised to spend several days to explore the highlights of Chengdu, including cute giant panda, featured Sichuan food, and local leisure life.
One Day Essence of Chengdu Tour
If you have limited time but won't want to miss the essence of Chengdu, this is the itinerary for you. Firstly, go to Chengdu Panda Base and have a close contact with adorable panda. Then turn to Renmin Park where you can experience the local relaxing life - people are singing, dancing, drinking tea and playing Taichi in the park. After that, you could visit peaceful Wenshu Monastery and lively Jinli Ancient Street. Don't forget to have a taste of Sichuan Cuisine if you are keen of spicy food.
In-depth Chengdu Tour
With more days to stay, you can have a deeper discovery of Chengdu city or surrounding. There are some other worth-seeing attractions in Chengdu. If you are interested history and culture, it is a good choice to spend one day on two of Sanxingdui Museum, Jinsha Site museum, Wuhou Memorial Temple and Dufu Thatched Cottage. If you have 2~3 more days, Mt. Emei or Jiuzhaigou Valley won't let you down. Both of them are Unesco World Heritages.
Ear-treating in Jili Ancient Street
Having Tea in Renmin Park
How to Shorten the Chengdu Lhasa Train Travel
The trip by train from Chengdu to Lhasa will take over 43 hours, and you can shorten the train travel by skipping some of the long railways. The whole journey from Chengdu to Lhasa can be divided into two parts. The first part is from Chengdu to Xining, which is about 1,400km long and needs about 21.5 hours. The other part is from Xining to Lhasa which is about 2,000km long and it takes needs to 22 hours to cover. If you want to have a shorter train experience, it is recommended to escape the first part by flight and take the second part - Qinghai Tibet Railway - the real highlight of the train journey. After you get to Xining, you can spend one or two days there and visit some attraction like the charming Qinghai Lake and featured Taer Monastery and taste some local snacks. The stay in Xining with an altitude of 2300~3300m can help you acclimatize the high altitude before reaching to Lhasa (altitude: 3700). Then take a train from Xining to Lhasa and enjoy the breathtaking plateau views. What's more, it is much easier to book a train ticket to Lhasa because there are many other trains to Lhasa will pass by Xining Railway station from other cities, such as Beijing, Shanghai, Guangzhou, Chongqing, Lanzhou etc.
B-Plan for Chengdu Lhasa Train
1. Take a Flight to Tibet
It is very convenient to take a flight to Tibet from Chengdu, and there are 12~13 daily flights available. Within 2.5 hours, you can get to Lhasa Gongga Airport from Chengdu Shuangliu Airport. Instead of long train experience, you can have a more comfortable journey. Book your flight early and the price will be lower.
4 Days Best of Tibet Tour from Chengdu
10 Days Chengdu Lhasa Everest Overland Tour
2. Take Train to Tibet from other Cities
If you fail to book a train ticket of Chengdu to Lhasa but you don't want to miss the beautiful landscape around Qinghai-Tibet Lhasa Railway, take a train from other trains from other cities. Available trains include Beijing-Lhasa train, Chongqing-Lhasa train, Shanghai-Lhasa Train, Guangzhou - Lhasa Train, Xining-Lhasa train and Lanzhou-Lhasa train.
☞ 10 Days Panda & Qinghai Tibet Railway Experience Tour (Chengdu / Xining / Lhasa)