Why Beijing Lhasa Train is recommended?
1. Beijing is the most popular International arrival city in China. Once arriving at Beijing, without any middle transfer, you can directly take a train to Lhasa from Beijing West Railway Station.
2. Beijing operates a daily train Z21 to Lhasa. As the starting city, it is easier to obtain a train ticket.
3. It is perfect to travel Beijing with Tibet because both two destinations are full of things to do.
The railway distance between Beijing and Lhasa is as far as 3757km, stretching from the lower northern China to the high plateau of Tibet and crossing 8 provinces and more than 30 cities, which make the Beijing Lhasa Train as a traversing journey to experience China' diverse landscape and culture.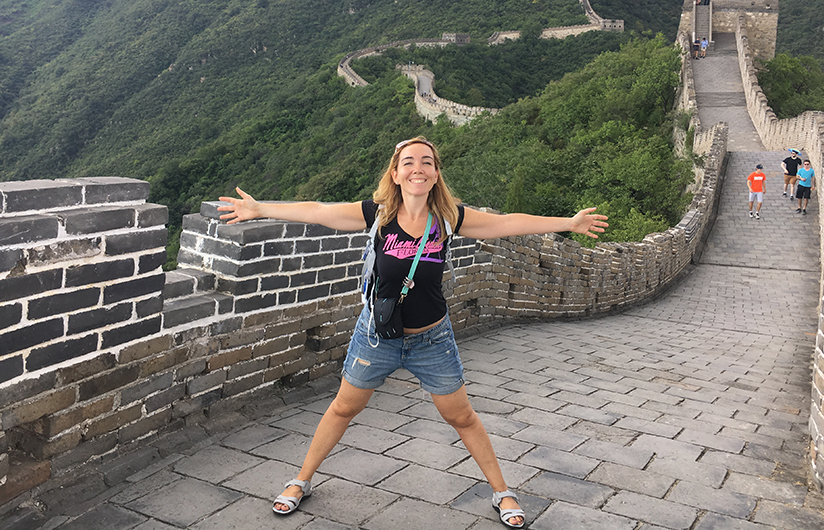 Our dear customer Alexia visited Great Wall in Beijing
Beijing Lhasa Train Schedules and Fares
14 December 2022
Last updated at 09:53
Currently there are only 2 daily trains operating between Beijing and Lhasa.There are 8 midway stations connecting Beijing and Lhasa: Shijiazhuang, Taiyuan, Zhongwei, Lanzhou, Xining, Delingha, Golmud and Ngachu.
The Beijing Lhasa Train tickets differ by ticket class. The Soft Sleepers, 4 sleepers in a private room with more facilities are the most expensive one as well as the most popular among foreign travelers; The Hard Sleepers, 6 sleepers in a compartment, are cheaper. The Hard Seats are the cheapest, but only recommended for short travel. Check following table for details about Beijing Lhasa Train Schedules and Fares:
Referential Currency: RMB=1USD
Train No.
Departure / Train Staiton
Duration
Seat Type / USD Price / Availability
Note: Train information is subject to final confirmation due to the delay of data occasionally.
Choose one of our Top Beijing Tibet Train Tours below or click to check All Beijing Tibet Tours>
☞ 8 Days Lhasa Tour from Beijing by Train
☞ 10 Days Brief China History Tour Plus Memorable Trip to Holy Land
☞ 12 Days Best of China and Tibet Discovery Tour
Beijing to Lhasa or Lhasa to Beijing?
It totally depends on you to take a train to Lhasa from Beijing or take the returning ride. According to our experience, more than half of our customers chose the Beijing to Lhasa Train as it is a gradual rise of altitude, which is helpful for high altitude acclimation, and they did prefer a fast air transfer after the long trip in Tibet, especially when they needed to take flights to Kathmandu, Nepal. While there is also a good reason to choose the returning train ride. It is much easier to book the ticket from Lhasa to Beijing and other inland cities. So if you fail to book train ticket from Beijing to Lhasa, no worry, try the returning ride.
A Train Is Passing by Tsonag Lake
Major Stops along the Railway to Get Food Supply and Stretch Legs
Since it is a journey more than 40 hours from Beijing to Lhasa by train, you may be interested in some major cities along the way where the train would stop for long time, and you can use the stopping time to stretch your legs, breath some fresh airs and get some supplies of food and drinks.
Lanzhou
Both the train from Beijing to Lhasa or Lhasa from Beijing will take a stop around 15 minutes in the daytime at Lanzhou Railway Station. You can get off the car and get some rest and take a glimpse of this city of Yellow River. The city is known for its Lanzhou Noodles.
Xining
Xining is famous for having the largest salt lake in China – Qinghai Lake. No matter you take the train from Beijing to Lhasa, or from Lhasa to Beijing, you can see part of this beautiful plateau lake. The train usually stops at Xining for 20 minutes.
Golmud
The train usually stops for 25 minutes in Golmud Railway Station. If you take train from Beijing to Lhasa, it will be around 10pm when the train gets to Golmud. If you set out from Lhasa, you will get to Golmud in the early morning around 7am when is good time to see the Tibetan antelopes.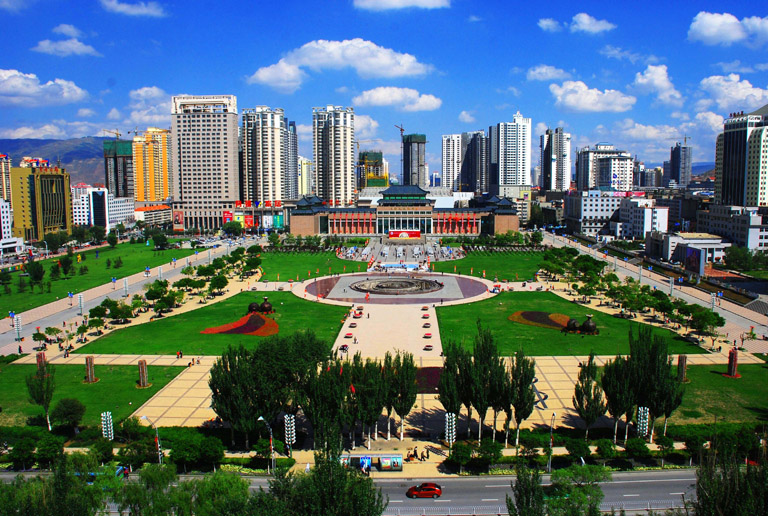 Beautiful Lanzhou City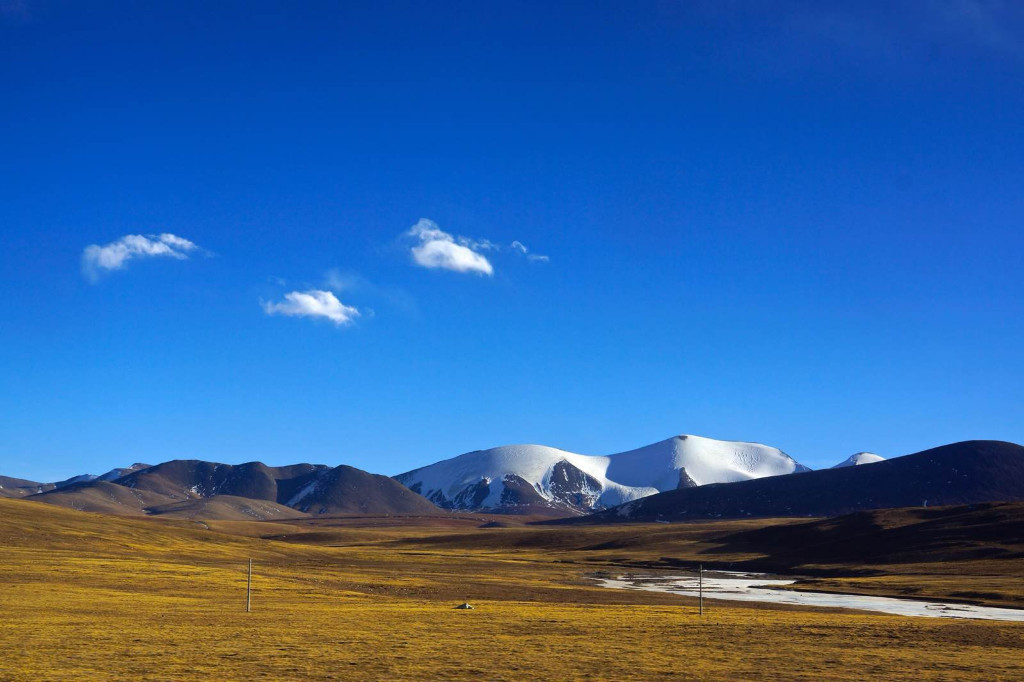 Golmud View from Window on the Train
Which Seat Class to should I take, Soft Sleeper, Hard Sleeper or Hard Seat?
According to our local experience, we strongly suggest travelers choose the Soft Sleeper instead of the Hard Sleeper and Hard Seat to ensure a more comfortable and safer trip because passengers will have to stay a night on the train.
Comparison between Soft Sleeper and Hard Sleeper
| | Soft Sleeper | Hard Sleeper |
| --- | --- | --- |
| Amount of Sleepers | 4 | 6 |
| Size of Sleeper | Width:700mm/Length:1900mm | Width:500mm/Length:1800mm |
| TV | Yes | No |
| Power Supply | Yes | No |
| Vacuum Flask | Yes | Yes |
| Door | Yes | No |
(Important Notice: Since there are usually about 64 Soft Sleepers on each train to Tibet, so you'd better confirm your trip and book the train tickets as early as possible. Currently passenger can book the train ticket 30 days in advance.)
Facilities on Beijing Lhasa Train – Life on the Train
| | |
| --- | --- |
| Air Conditioning and Oxygen Supply | There is an air-conditioning system on the train to create an comfortable temperatue and ensure a clean and fresh air. There are also two kinds of oxygen supply systems equipped with on the train. One is a 'dispersion-mode' oxygen supply system, which spreading oxygen in the train's cars through the air-con system. The other system is directly used by passengers through independent port. |
| Food and Drink | There is a dining carriage in the middle position of the train which offers breakfast, lunch and dinner and some snacks. Only some Chinese food and cuisines are provide: rice, vegetables, meals and soups. You can also buy the packed food from the Food Trolley. Hot water is provided all the time. The water received from the washing area is not drinkable. |
| Luggage Storage | If you are taking a Soft Sleeper, you can put your luggage or suitcases on the luggage closet above the door in each Soft Sleeper Carriage. It is about 16 inches (40cm) high and 20 inches (50cm) wide. If you are taking a Hard Sleeper, just place your luggage and suitcases on the luggage racks above the window by the side of aisle. |
| Toilet and Washing | The toilets in Soft Sleeper Carriages are one western-style toilet and another squat toilet. While in the carriages of Hard Sleepers and Hard Seats, there are only squat toilets available. Bring toilet papers on your own. There is a simple washbasin at each side of the carriages. Only cold water is provided, undrinkable. |
| Compartment | In the Soft Sleeper Compartment, there are a small table, a heat-retaining vacuum flask, and a trash can. Under the table is a plug to get power supply. There is also a small TV fixed on the door near the aisle. Close to the window, there is an outlet of oxygen. While in the Hard Sleeper Compartment, there are some other friendly facilities – a small table, a thermos, a dustbin. |
Tibet Travel Permit and Train Travel
A Tibet Travel Permit (Tibet Entry Permit) is the MUST-DOCUMENT to take a train to Lhasa from Beijing. Travelers need the Tibet Travel Permit to book the train ticket and board the train in Beijing West Railway Station. The photocopy of Tibet Travel Permit is also available if you don't have the original permit in your hands. (The original permit is required if you take the trains from Chongqing, Xian and Lanzhou to Lhasa). Please remember to dumplicate at least 3 copies of Tibet Travel Permit because the permits are required for many occasions. When you checking in at railway station, the office man may take one of your Tibet Travel Permit copy away. The permit can only be issued in Tibet by the Tibet Tourism Bureau, and also can be only applied by travel agency behalf of travelers. It needs about 15~20 working days to obtain the permit.
How to Apply for Tibet Travel Permit
1. Contact a us to work out and confirm an itinerary in Tibet;
2. Send us the scanned copies of your passport, and provide an available address in China(hotel or local agency) to receive your permit;
3. We apply for the Tibet Travel Permit from Tibet Tourism Bureau in Lhasa;
4. Once the permit is issued, we will send the original permit to you by post.
☞ Learn more detail about Tibet Travel Permit Application
A Sample of Tibet Travel Permit (Tibet Entry Permit)
How to Book Beijing Lhasa Train Tickets
TThere are two ways to book the Train Tickets – book on your own or contact a travel agency to book for you. If you are already in Beijing or other cities in China, you can go to any of railway station to book the train tickets. Original passport and photocopy of Tibet Travel Permit (Tibet Entry Permit) is required. You can ask the conductor to provide your preferred sleepers (upper or lower) if they are available. You can also provide us your passport information, and we will book the train tickets for you online.
Some useful tips to increase the chance of successful ticket booking
1. Contact us to apply for the Tibet Travel Permit as soon as possible. Then try to book the ticket about 30 days in adance;
2. If you fail to obtain a ticket for Beijing to Lhasa train, you can change a starting station, such as Lanzhou and Xining. These two cities offer bigger chance to get a ticket.
Beijing to Lhasa Train Z21
How to Get to Beijing West Railway Station
Beijing West Railway Station is the only train station in Beijing which operates trains to Lhasa. It is located at Lianhuachi East Road, near the West 3rd Ring Road of Beijing, about 5 miles (8km) from Tiananmen Square, and 22 miles (36km) from Beijing Capital International Airport. Both Metro Line 7 and Line 8 go by Beijing West Railway Station.
How to Shorten the Beijing Lhasa Train Travel
The Beijing Lhasa Train journey can be divided into two halves: The first half is from Beijing to Xining which is a train journey about 1800km and needs about 19 hours to finish. The second half is from Xining to Lhasa. It goes about 1950km and needs about 21 hours to run through the journey. If you want to shorten the Beijing Lhasa Train travel, you can escape the first half (Beijing-Xining), and just take the second half, the real highlight of the train journey – Qinghai Tibet Railway. You can take a flight from Beijing to Xining firstly, then spend one or two days there to visit the beautiful Qinghai Lake, the homeland of the Buddhist master Tsongkhapa – Taer Monastery, and enjoy exotic snacks, which is actually very helpful for acclimatizing yourself to the high altitude before getting to Lhasa (altitude: 3700m) because the altitudes in Xining are only around 2300 to 3300. Then take a train to Lhasa from Xining. According to our years' experience, it is much easier to book a train ticket to Lhasa in Xining because there are some available seats and sleepers as some passengers on the train Z21 will leave the train on the midway stations. Besides, you can choose to take another train from other cities, such as Chengdu, Shanghai, Chongqing, Guangzhou, Lanzhou, etc.(all trains to Lhasa will pass by Xining Railway Station)
Enjoy Beautiful Qinghai Lake View from Train Window (August)
B-Plan for Beijing Lhasa Train
1. Take a flight to Tibet
Taking a flight to Lhasa is very convenient. There are usally about 3 direct flights and several connecting flights between Bejing and Lhasa each day. It takes about 4.5 to 8 hours to get to Lhasa Gongga Airport. You can book the flights several months befor your trip to get to cheaper price. But the flights are usually very expensive during tourism peak seasons (May to October).
(The above flight info is just for reference only. You can contact us for the updated flight schedules, ticket availabilities, price and other info.)
☞ 4 Days Lhasa Tour from Beijing by Flight
☞ 8 Days to See the Harsh Contrasts of Beijing and Tibet
2. Take Train to Tibet from other Cities
If you are not able to obtain a train ticket of Beijing to Lhasa train, you can take a train from Chengdu, Chongqing and Shanghai. You can also enlarge your choices to Lanzhou and Xining. These two cities operate two exclusive trains Z917 (Lanzhou to Lhasa) and Z6801 (Xining to Lhasa). At the same time, trains from Beijing, Shanghai, Guangzhou, Chongqing will also make stops at Lanzhou and Xining.
☞ 7 Days Lifetime Tibet Train Tour from Chengdu