How to Board & Disembark
14 December 2022
Last updated at 10:52
The train travel in China might be quite different from western countries. Follow the following steps, and you can board and disembark smoothly.
Prepare Must Document
Before taking a train, you have to make your train ticket, original passport and Tibet Travel Permit ready. Without either of them, you might be forbidden to board the train to Tibet.
The train ticket can be booked on line 1~30 days in advance or in the train station 0~28 days advance. The train tickets are limited and book your ticket as soon as possible. If you book the ticket on line, you'd better collect ticket in the train station 2 hours before the train departs. The passport is a must to board the train, and it has to be original. Tibet Travel Permit is also necessary to collect your train ticket and board your train. If you depart from Chengdu and Beijing, the photocopy of Travel Tibet Permit is available. If you board on Chongqing North Railway Station, Xian Railway Station and Lanzhou Railway Station, you have to bring the original one with you.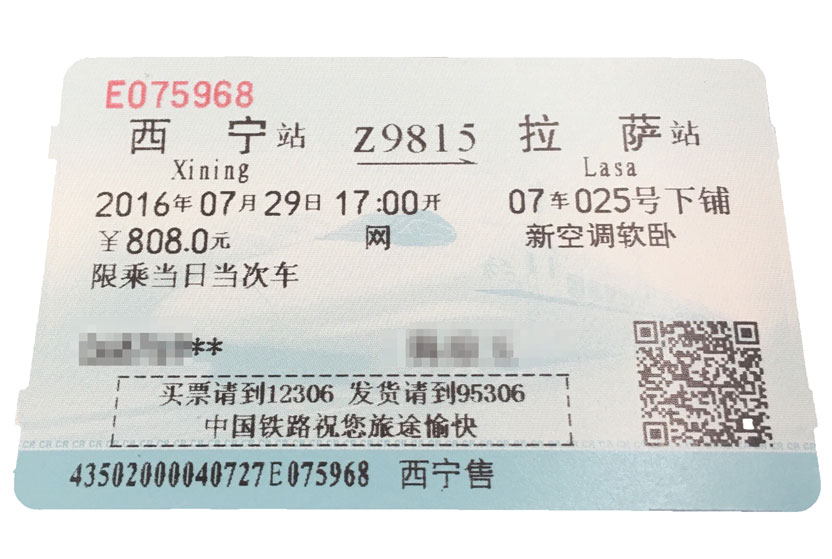 Train ticket (Xining-Lhasa)
Get to the Correct Railway Station
There is more than one railway station in most cities of China (four in Beijing, four in Shanghai, five in Guangzhou, four in Chengdu, two in Chongqing), so you have to find the right railway station matching your ticket. Because it might be very crowded in the railway stations, especially in some big cities like Beijing, Shanghai, and Guangzhou etc. and in special days like Chinese Spring Festival, National Day etc., you need to get to the railway station 60 minutes in advance. If you will collect your ticket on this day, 2 hours in advance is suggested.
Most train stations operating train to Lhasa (including Beijing, Shanghai, Guangzhou, Chengdu and Chongqing) are appointed with well metro system and available public buses. There is no need to worry about the transfer for they can be reached easily.
Pass the Security Check
As you get to the railway station, you have to pass the security check before getting in. Firstly, place your showcase and all bags on the moving conveyor belt, and walk around the check machine. One security officer will monitor the X-ray machine screen to make sure your belongings do not contain any prohibited items. Another will check your body with a hand-hold metal detector. As the check ends, you can enter into the railway station.
Get to the Waiting Room
When you are in the hall of railway station, you can see a big electronical board which shows train information, like train number, departure time and checking gate number. For there are many trains departing from one railway station in one day, you can't find your train at the first sight usually. Just wait for several minutes and all trains information will be shown on the electronical board in departing time sequence. Find the checking gate number and get to the matching waiting room according the indicator. Feel free to ask the staff for help if you get some trouble. The train stations in some cities are equipped with designated waiting room for Soft Sleeper passengers. It is not so crowded and has more comfortable seating there. Show your ticket and ask the station staff for help, they will show you the right direction if it is available.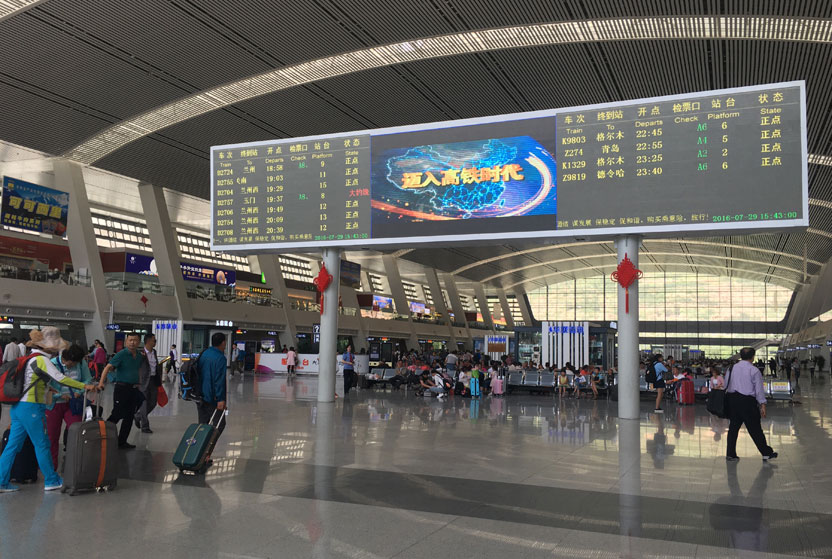 Electronical Board showing Train Information
Line up for Checking in
In the waiting room, you can see an electronical board above the checking gate, which shows the coming train number and checking time. Usually 30 minutes before the departure time, the checking in the starting train station will begin. In the midway train station, the checking will begin 15 minutes before the departure time and end 5 minutes before the departure time.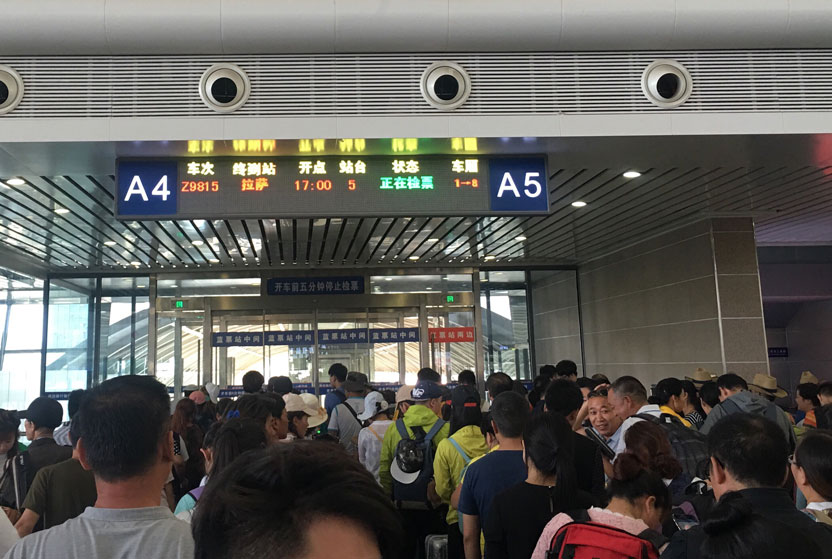 Ticket Gate for Checking in
Board the Train
There might be several minutes' walk with some upstairs or downstairs from the checking gate the platform and the elevator would be crowded, so you'd better not bring too many packages. Find your car according to you ticket. Take your passport, ticket and Tibet Travel Permit in hand and it will be checked again before boarding. As you board the train, find your seat or berth. The seat number will be printed above the number while the berth number might be printed on the wall or the door. Then, place your luggage in the luggage closet. After the train departs, the conductor will take away your ticket and give you a ticket-exchanging card.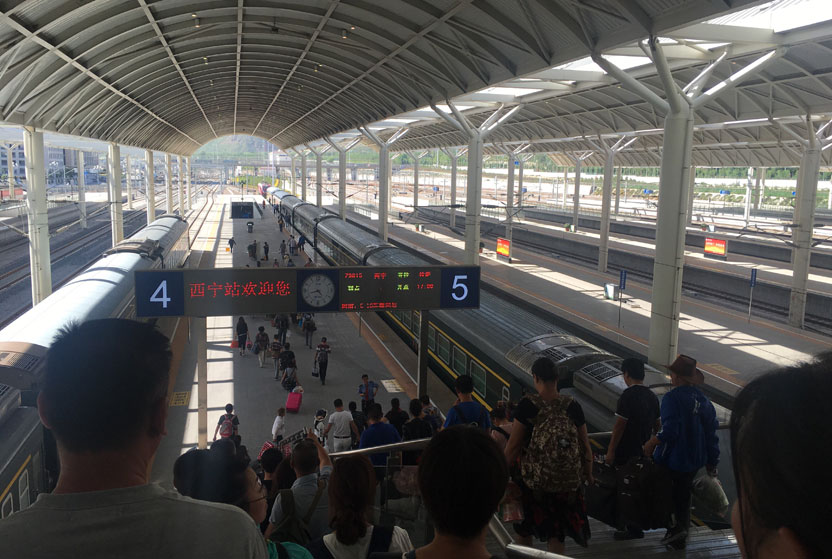 Get to the Platform through Downstairs
Disembark the Train
If you travel to Lhasa from other cities or travel from Lhasa to Beijing, Shanghai, Chengdu, Chongqing and Guangzhou, you won't miss your stop. However, pay well attention if your final station is Xian, Lanzhou, Xining or other midway stations. You need to learn when you will get off the train and listen to the voice broadcast carefully. Before the train arriving at the station, he will give back your ticket and get the card back. Do not miss your Station. As the train arrives at your final stop, take your luggage and get off. Then join the human stream of people or read the indicator hanging above, you will pass through the passageway to the exit. Keep your ticket and it will be checked again as your leave the exit of the train station.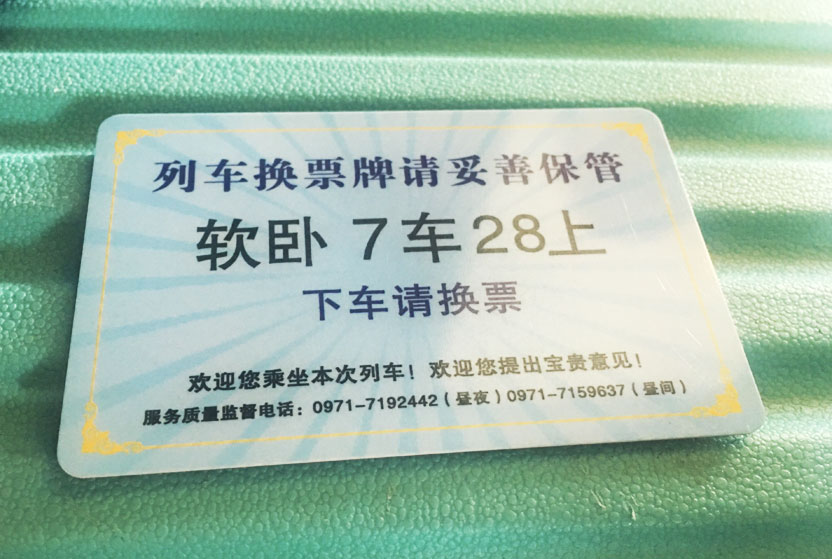 Ticket-exchanging Card
Leave the Train Station
As you go out of the square of the railway station, there will be some people coming to offer the taxi. Do not trust them and just walk away. Call the official taxi on the main road. The taxi drivers are always unable to speak English, you'd better write down your hotel name in Chinese in advance.
Travel with Tibet Discovery
Traveling with Tibet Discovery, we will deal with everything well. Send your passport 10~20 days in advance, we will apply the Tibet Travel Permit for you as well as book the ticket. Our knowledgeable guide and skilled driver will escort you to the railway station and help you to collect the ticket. As you arrival at the railway station, our local guide will meet at the exit. You needn't worry about anything. During your Tibet journey, you can just focus on sightseeing.
☞ Our best-selling Tibet train Tours:
☞ 7 Days Lifetime Tibet Train Tour from Chengdu
☞ 7 Days Tibet Tour from Xian by Qinghai Tibet Railway
Warm Tips
Food Supply – It is suggested to buy some snacks and drinking water from the supermarket before the train journey. There are some available shops and canteens in the railway station, but the price is higher. Hot Water is provided in the waiting room.
Luggage – It is ruled that every passenger is able to take a baggage up to 20kg with a total width, length and height not more than 160cm without charge. If your luggage exceeds the prescribed limit, the additional luggage shall be checked in.
Ticket Checking – Always keep your ticket and passport in hand, it will be checked for several times until you are out of your arrival railway station.
How to Plan A Tibet Tour
Tibet is too vast to be visited in one single trip, but planning ahead of time can make most of your holiday. A classic Tibet tour always takes about 4 ~ 8 days. Apart from 2 days for arrival and departure, it usually needs 2 other days to explore majestic Potala Palace and other landmarks in Lhasa, the capital of Tibet. With a day trip's distance from Lhasa, Namtso Lake is another perfect tour extension if you visit Tibet from May to October.
☛ 4 Days Holy City Lhasa Private Tour - Heart of Tibet
☛ 5 Days Lhasa City and Holy Lake Namtso Tour
To explore further, it's strongly recommended to travel from Lhasa to Mount Everest via Gyantse and Shigatse, which usually needs 4 more days. It is an unforgettable sightseeing trip with lots of attractions to visit, such as Yamdrok Lake, Karola Glacier, Kumbum Stupa of Palcho Monastery, Tashilhunpo Monastery, etc. Of course, the biggest draw must be gazing upon the unparalleled north face of the world's highest peak – Mount Everest.
☛ 6 Days Lhasa Gyantse Shigatse Historical Tour
☛ 8 Days Everest Base Camp Tour - Top of the World
☛ 9 Days Tibet Discovery Tour plus Everest and Namtso Expedition
For Buddhist followers and hiking lovers, you are suggested to travel to Ngari to join the kora around the holy Mt. Kailash and sacred Lake Manasarovar, which usually takes about 5 ~ 8 more days from Lhasa. The wild nature of Ngari is spectacular as well.
☛ 13 Days Mt. Kailash & Lake Manasarovar Trekking Tour
Lhasa, Namtso, Mount Everest and Ngari are four most popular destinations in Tibet
Tibet Train Routes and Gateway Cities
More Information about Tibet Train
Recommended Tibet Train Tour Packages
Beijing, Shanghai, Chengdu, Xining are so far the four most popular gateway cities for taking a train tour to Tibet. Check out our most popular tour packages departing from these gateway cities. All packages are customizable according to your requirements. If you have more time, you can extend your trip from Lhasa to other popular destinations, such as Shigatse, Mount Everest, Nyingchi, Ngari, etc.
Have a question? Get answers from our travel experts soon!
Your Question:

Your Name:

Your Email: