How to Book, Collect, Alter and Cancel Your Tibet Train Ticket
14 December 2022
Last updated at 10:53
Must Document – Tibet Travel Permit
Tibet Travel Permit is a must for all non-Chinese passport holders to book Tibet train ticket at railway station and board train as well as flight to Tibet. In other words, you have to get your Tibet Travel Permit before you set out for Tibet. Tibet Travel Permit is only issued by Tibet Bureau and can only be applied by local travel agency on behalf of travelers. It needs about 15~20 working days to apply the permit.
How to Apply Tibet Travel Permit?
1. Obtain a Chinese visa from the Chinese Embassy in your home country;
2. Contact us to work out and decide the itinerary of your Tibet tour;
3. Send your scanned copies of your passport and Chinese Visa to your travel consultant and offer an available address in China (hotel or local agency) to receive your permit;
4. We will apply the Tibet Travel Permit from Tibet Bureau for you;
5. We express the permit to you, or let a tour guide give it to you at airport or train station before your Tibet trip.
☞ Learn more about Tibet Permit
How to Book Tibet Train Ticket
There are several ways you can book a train to Lhasa, including booking at railway stations, online booking, telephone booking and booking with the help of travel agency.
Book at Railway Stations
It is available to book a train to Lhasa at every railway station in China's mainland. You need to take your original passport and Tibet Travel Permit with you. Photocopy of Tibet Travel Permit is also available if you book a train at Chengdu Railway Station or Beijing West Railway Station. But if you book a train at or depart from Chongqing, Xian and Lanzhou, the original Tibet Travel Permit is required. Sometimes, the Tibet Travel Permit is not required when book a Tibet train ticket. You'd better always bring it with just in case. You are also welcomed to contact us for the updated information.
If you do opt to book your ticket at the station, plan to be there as early as possible because you have to wait in long lines. At Beijing West Railway Station, you can go to counter 16 at east ticket hall of north square, which is equipped with an English-speaking employee. However, there aren't any English-speaking staffs in most of other train stations it will be difficult to communicate with each other. You could ask your hotel to write down your departure time, name of your destination city or train number. Show the information to the ticket seller and make sure you get the correct ticket. In the ticket lobby, you can see several automatic ticket dispensers, but don't waste time in queuing because it can only recognize Chinese ID card.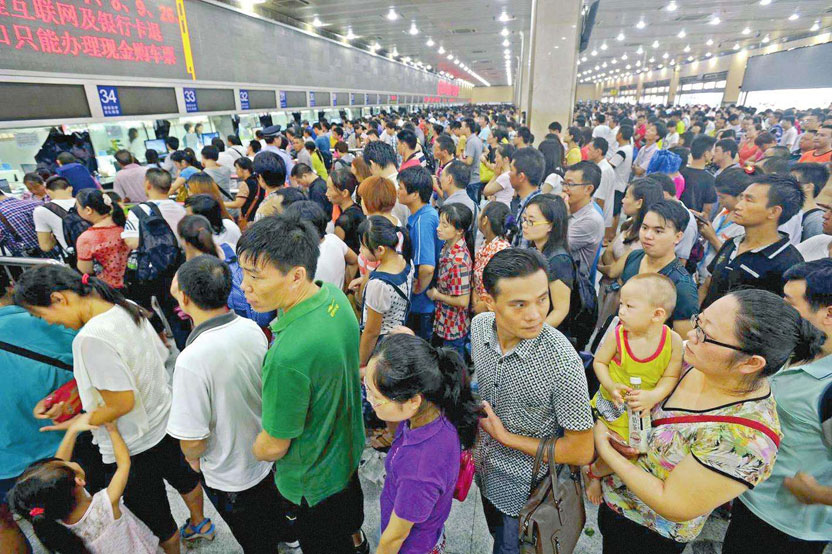 Long Queues in the Ticket Office of Guangzhou Railway Station
Book on 12306.cn
12306.cn is the only official ticket-booking website operated by China Railway Engineering Corporation. It offers the accurate train ticket information and you can book the ticket immediately. The process is a bit complicated. You need to register and log in firstly. Check your account and book your ticket then. After that, you can check the confirmation page and pay up. The order can be paid by most Chinese banks, UnionPay and Alipay. Only a handful of foreigner debit card are acceptable. The biggest problem is that it is a Chinese website and you can't book the train smoothly if you can't read Chinese.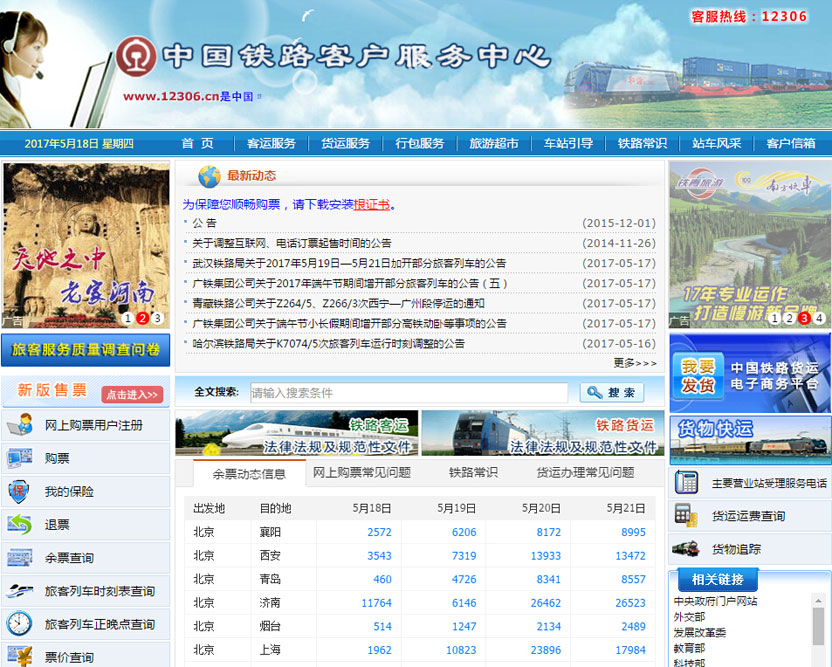 The homepage of 12306.cn
Call 95105105 for Reservation
It is also available to make a call at 95105105 for a ticket reservation during 7:00am~11:00pm, but only Chinese language as well. If you call and reserve a ticket before 12:00pm, you have to collect your ticket before 12:00am. If you call and reserve after 12:00pm, you have to collect the ticket before 24:00.
Book with Tibet Discovery – Top Recommended
Tibet Discovery offers ticket-booking service which save you much troubles. Just send us your passport information and we can book the ticket for you. Generally, travel agency usually has bigger opportunity to book the train ticket to Tibet successfully than the individual travelers. Travel with Tibet Discovery, you can enjoy more service apart from booking ticket. Our travel consultant can customize a private tour for you. As the itinerary is determined, we will apply the Tibet Travel Permit and book the train ticket on line at the first time. Our guide and driver will escort you to the departure railway station and help you collect your ticket. As you arrive, our local guide and driver will meet you at the arrival station. You don't need to worry about booking ticket, collecting ticket, transportation or any other communication barriers.
How to Collect Tibet Train Ticket
After you manage to book the train on line, you will be issued with collection numbers and ticket information. Write down this information or take a picture of them. Then you need to collect the train ticket at the railway station. It is available to collect your train ticket at every station in mainland of China, but you need to pay extra 5 RMB fee for per ticket at the stations except for the departure station. The foreigner passengers' tickets can only be collected from the counter of railway station. China's railway stations are always very busy, especially in Spring Festival, National Day and other big festivals. If you want to collect the train ticket on the departure day, it is suggested to get to the train at least 2 hours in advance. Don't forget to take your original passport and Tibet Travel Permit.
How to Alter Tibet Train Ticket
If there are available tickets of the booked train, passengers are able to change tickets with different departure date, seat class and seat number. It is free to change the ticket 15 days before the departure time. 2~15 days before departure time, you will be charged 5% of the train ticket fee. More than 1 day and less than 2 days, you will be charged 10% of the train ticket fee. Within 24 hours before the departure time, you will be charged 20% of the train ticket fee.
If passengers change the arrival destination, it is also available to change the ticket 48 hours before the departure time of the first train. It is free. You will get a refund for any overpayment or a supplemental payment for any deficiency. After you change the ticket with different destination, the new ticket can't be altered again.
All Tibet trains ticket can only be changed at railway station with the original passport. During Spring Festival Travel Rush, all ticket alteration will be charged 20% of the ticket price.
How to Cancel Tibet Train Ticket
If passengers unable to take the planed train, it is available to cancel the ticket as well. Just as the alteration fee, you can't get full refund unless you cancel the ticket 15 days before the departure time. More than 2 days before the departure time, you need to pay 5% of the ticket rice. More than 1 day before the departure time, you need to pay 10%. Within 24 hours before the departure time, you need to pay 20. The lowest commission is 2 RMB.
All Tibet train tickets can only be cancelled at railway station with the original passport. During the Spring Festival Travel Rush, all ticket cancellation will take 20% of the ticket price as well.
How to Read Tibet Train Ticket
There is much helpful information printed on the ticket train, including train number, train type, departure date, departure time, departure railway station, arrival railway station, seat class, seat number, validity etc. Read it carefully to make sure you board the train smoothly.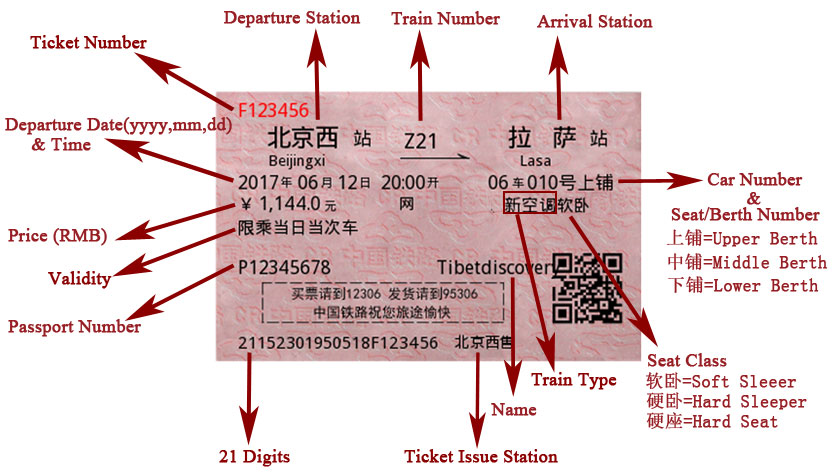 Beijing Lhasa Train Ticket
☞ Lear more about how to read Tibet Train Ticket
Our Top Tibet Tours with Qinghai-Tibet Train Experience
☞ 10 Days Beijing Xian Lhasa Memory Tour by Train
☞ 8 Days Lhasa Tour from Beijing by Train
☞ 7 Days Lifetime Tibet Train Tour from Chengdu
☞ 6 Days Discover Tibet Train Tour from Xining
Warm Tips
Booking Time – You could book the train tickets 30 days in advance on line or call for reservation, 28 days in advance at the railway station. It might be different in peak season, like Chines New Year, National Day, May Day or other big festivals.

Children Ticket – Children Ticket costs half of the full price. Each adult can bring one child who is short than 1.2m. An additional child should buy a children ticket. Children with a height of 1.2m~1.5m should also buy children ticket. If the adult book a sleeper, the child with free or children ticket needs to share the sleeper with the adult.

Luggage – It is ruled that every passenger is able to take a baggage up to 20kg with a total width, length and height not more than 160cm without charge. If your luggage exceeds the prescribed limit, the additional luggage shall be checked in.
How to Plan A Tibet Tour
Tibet is too vast to be visited in one single trip, but planning ahead of time can make most of your holiday. A classic Tibet tour always takes about 4 ~ 8 days. Apart from 2 days for arrival and departure, it usually needs 2 other days to explore majestic Potala Palace and other landmarks in Lhasa, the capital of Tibet. With a day trip's distance from Lhasa, Namtso Lake is another perfect tour extension if you visit Tibet from May to October.
☛ 4 Days Holy City Lhasa Private Tour - Heart of Tibet
☛ 5 Days Lhasa City and Holy Lake Namtso Tour
To explore further, it's strongly recommended to travel from Lhasa to Mount Everest via Gyantse and Shigatse, which usually needs 4 more days. It is an unforgettable sightseeing trip with lots of attractions to visit, such as Yamdrok Lake, Karola Glacier, Kumbum Stupa of Palcho Monastery, Tashilhunpo Monastery, etc. Of course, the biggest draw must be gazing upon the unparalleled north face of the world's highest peak – Mount Everest.
☛ 6 Days Lhasa Gyantse Shigatse Historical Tour
☛ 8 Days Everest Base Camp Tour - Top of the World
☛ 9 Days Tibet Discovery Tour plus Everest and Namtso Expedition
For Buddhist followers and hiking lovers, you are suggested to travel to Ngari to join the kora around the holy Mt. Kailash and sacred Lake Manasarovar, which usually takes about 5 ~ 8 more days from Lhasa. The wild nature of Ngari is spectacular as well.
☛ 13 Days Mt. Kailash & Lake Manasarovar Trekking Tour
Lhasa, Namtso, Mount Everest and Ngari are four most popular destinations in Tibet
Tibet Train Routes and Gateway Cities
More Information about Tibet Train
Recommended Tibet Train Tour Packages
Beijing, Shanghai, Chengdu, Xining are so far the four most popular gateway cities for taking a train tour to Tibet. Check out our most popular tour packages departing from these gateway cities. All packages are customizable according to your requirements. If you have more time, you can extend your trip from Lhasa to other popular destinations, such as Shigatse, Mount Everest, Nyingchi, Ngari, etc.
Have a question? Get answers from our travel experts soon!
Your Question:

Your Name:

Your Email: