Lanzhou Lhasa Train Schedules and Fares
14 December 2022
Last updated at 10:07
At present, there are four trains running between Lanzhou and Lhasa with stops in cities such as Xining, Delingha, Golmud, Nagchu, etc.
The seats in the train between Lanzhou and Lhasa can be divided into three classes - Soft Sleeper, Hard Sleeper and Hard Seat. Accordingly, they are charged with different prices. The Hard Seat is the cheapest, but not recommended, for you have one night to stay in the train. The Hard Sleeper is more expensive and offers a berth (6 berths in a compartment) to sleep. The Soft Sleeper has the highest price, and offers the best facilities and best environment.
Check the following table for details about Lanzhou Lhasa Train Schedules and Fares to decide which to choose.
Referential Currency: RMB=1USD
Train No.
Departure / Train Staiton
Duration
Seat Type / USD Price / Availability
Note: Train information is subject to final confirmation due to the delay of data occasionally.
Lanzhou to Lhasa or Lhasa to Lanzhou?
It all depends on whether you travel from Lanzhou to Lhasa or from Lhasa to Lanzhou. If you want to experience a sightseeing train, Lanzhou-Lhasa Train and Lhasa-Lanzhou Train both won't disappoint you. Along the railway between Lanzhou and Lhasa, you can view endless breathtaking scenery. Starting your train journey from Lanzhou, you have an opportunity to adapt the high altitude gradually which can reduce the risk of high altitude sickness. However, the highest altitude on the way reaches to over 5,000 km, and you might not feel quite good while the train is passing the highest land. Taking a train from Lhasa to Lanzhou and you have already accustomed with the high altitude in Tibet, you can just focus on sightseeing.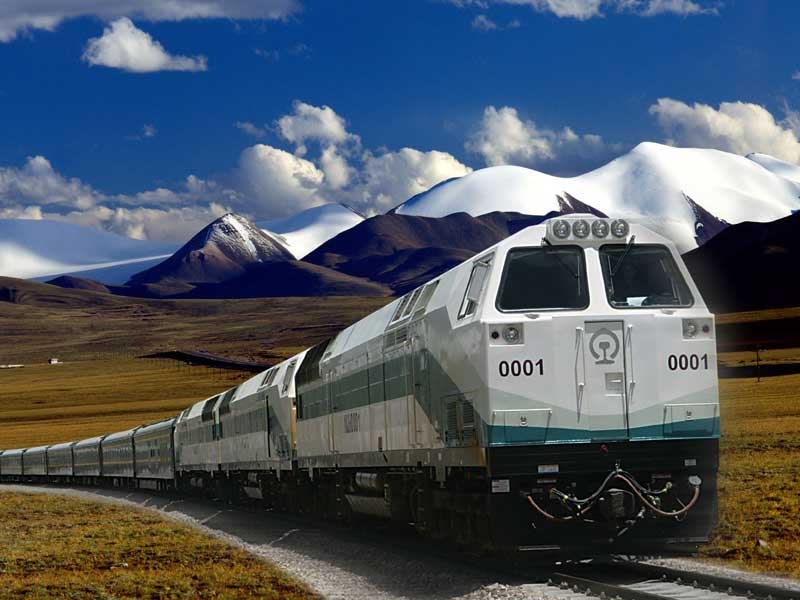 Breathtaking Landscape along Qinghai Tibet Railway
Major Cities along the Way
The train journey from Lanzhou to Lhasa takes about 24 hours. During the 24 hours, you will take a stop at 4 cities and 6 railway stations. Every city has its own feature and you can feel its charm on the way. When the train stops at the railway stations, you can take a walk outside and breathe the fresh air. The following is a short introduction to the three important cities along the road.
Xining
Xining is an important tourists' city preached on the edge of Tibet Plateau. Many tourists come here to explore the Buddhism in Taer Monastery and enjoy the beauty of Qinghai Lake. Qinghai Lake is a surreal-looking saline lake in west Xining. Apart from the spectacular lake view, it provides flourishing flowers and heaps of birds. You can get a glimpse of Qinghai Lake on your train journey. The trains will stop at Xining Railway Station for 20 minutes. You can go out and stretch your legs.
Golmud
Golmud is famous for its featured natural landscape. The mountains, lakes, parries and animals have attracted large amounts of tourists. The trains will take a stop at Golmud Railway Station for 25 minutes. If weather permits, you may see the stars at night. The altitude is getting higher from Golmud to Lhasa so you can drink some hot water and have a good rest to prevent altitude sickness.
Nagchu
Nagchu is famous for its iciness and vastness. Thanks to the harsh natural condition, the grassland is protected well and maintains its overwhelming primitiveness which always gives a shock to the tourists. On a good day, you may be able to see the most amazing views when the green or yellow grassland join the azure sky in distance and the drooping clouds fly over the flocks and herds. The trains between Lanzhou and Lhasa just stop at Nagchu Railway Station for 6 minutes. You are not recommended to walk out.
Which Seat Class to should I take, Soft Sleeper, Hard Sleeper or Hard Seat?
With one night to stay in the train, Hard Seat is not recommended to tourists because it's more likely to get a high altitude sickness without a good rest. In Soft Sleeper and Hard Sleeper, there are also quite different facilities and services. Most foreign travelers prefer to have a Soft Sleeper for a better sleep. There are only 4 berth in one compartment of Soft Sleeper Carriage, while there are 6 in the Hard Sleeper Compartment. So you are unable to stretch your body freely in the bunk of Hard Sleeper Carriage. With a door in every compartment in the Soft Sleeper Carriage, it will be quieter. Moreover, you can use the cleaner water basin and toilets because they are shared by less people. The following chart is the facility information of Soft Sleeper and Hard Sleeper:
Comparison between Soft Sleeper and Hard Sleeper
| | Soft Sleeper | Hard Sleeper |
| --- | --- | --- |
| Amount of Sleepers | 4 | 6 |
| Size of Sleeper | Width:700mm/Length:1900mm | Width:500mm/Length:1800mm |
| TV | Yes | No |
| Power Supply | Yes | No |
| Vacuum Flask | Yes | Yes |
| Door | Yes | No |
(Important Notice: Since there are usually about 64 Soft Sleepers on each train to Tibet, so you'd better confirm your trip and book the train tickets as early as possible. Currently passenger can book the train ticket 30 days in advance.)
Facilities on Lanzhou Lhasa Train - Life on the Train
| | |
| --- | --- |
| Air Conditioning and Oxygen Supply | All trains connecting Lanzhou and Lhasa enjoy an air-condition system. It is able to create appropriate temperature and adequate ventilation. To offer enough oxygen, the trains are equipped with two kinds of oxygen supply stems. One is "dispersion-mode" oxygen supply system to add oxygen in the cars and keep a sufficient oxygen content. The other oxygen supply can be used directly by the passengers through independent ports whenever they need. The oxygen outlet can be found everywhere in the train. As the trains reach Golmud Railway Station, the oxygen supply begins to work. |
| Food and Drink | There is a dining carriage in the middle of the train where you can have breakfast, lunch and dinner. Only Chinese food is provided here such as rice, vegetables and soup. It is also accessible to buy some food and fruits from the Food Trolley. At the end of every carriage, there is a Hot Water Dispenser from which you can get some water. Do not drink the water in washing area. |
| Luggage Storage | There are luggage areas in every carriage. In Soft Sleeper Compartment, the luggage closet is located above the door. It is about 16 inches (40cm) high and 20 inches (50cm) wide. In the Hard Sleeper Carriage, the luggage area is above the window by the side of aisle. In the Hard Seat Carriage, you can find luggage area above the seats by the window. You can also place your suitcase under the seats. |
| Toilet and Washing | There is a western-style toilet in every Soft Sleeper Carriage and a squat toilet in every Hard Sleeper Carriage or Hard Seat Carriage. Toilet paper is not provided in the toilets and you need to bring your own. There is a simple washbasin in the toilet and another outside. Only cold water (undrinkable) is provided. |
| Compartment | You can see a table, a vacuum flask, a trash can and a power supply socket in every compartment. In the Soft Sleeper Carriage, there are small TVs fixed on the door near the aisle. There are also pothooks for hanging clothes or small bags. |
What to Do in Lanzhou
Since you will take a train to Tibet from Lanzhou, it is recommended to visit some worth-seeing attractions during your stay. Of course walking along the Yellow River is the first thing to do. You can visit First Bridge on Yellow River and see the Yellow River Mother Statues while you enjoy the river view. If you are a hiking-lover, you can get an awesome experience by climbing up to the top of White Pagoda Mountain. Cable car is also available. Buddhism Culture Hall and Pottery Culture Hall are also interesting.
If you have more days, transfer to Dunhuang. There are world-famous Mogao Caves, magical Echoing Sand Mountains and beautiful Crescent Lake, which will give you an unforgettable trip.
What You Can See along the Lanzhou Lhasa Train
Undoubtedly, traveling to Lhasa by train is a visual treat. Near Lanzhou, you will enjoy the rushing torrents of the Yellow River - China's mother river and the cradle of Chinese civilization. When you come to Xining, you can see the crystal blue sky. Over 1 hour after running from Xining Railway Station, beautiful Qinghai Lake, plentiful prairie and scores of herdsmen will come to your eyes. Near Delingha, you may witness the charming moving picture of Hurleg Lake and Tuosu Lake. The flying birds will also startle you. Leaving Delingha, there comes the Gobi desert landscape. When the train bypasses the large mountain and turns to south, a long salty bridge appears which is a great wonder along Qinghai-Tibet Railway. About 30km away from Golmud City, you can see Nanshankou Station, the starting point of the history of Qinghai-Tibet Railway. Soon afterwards, you will come to the Kunlun Mountains and don't forget to take a full glut of the beauties. Then, you will cross the depopulated zone - Hoh Xil area, where you will find groups of Tibetan antelopes. After that, you will witness the really high altitude area - Tanggula Mountains. There areglittering and translucent carving snow mountains. As you enter Nagchu, or Chang Tang Prairie, just feast your eyes on the blue sky, white cloud, green plants, yaks and goats. Then there comes Tsonag Lake, never-be-polluted lake, just like a mirror mounted on the prairie. Before arriving at Lhasa Railway Station, you will see Yangpachen Hot Spring and Lhasa River.
Note: Not all the landscape can be seen from one train in the daytime. Taking Z165 starting from Shanghai, you can view the most scenery, especially in the Nagchu-Lhasa section.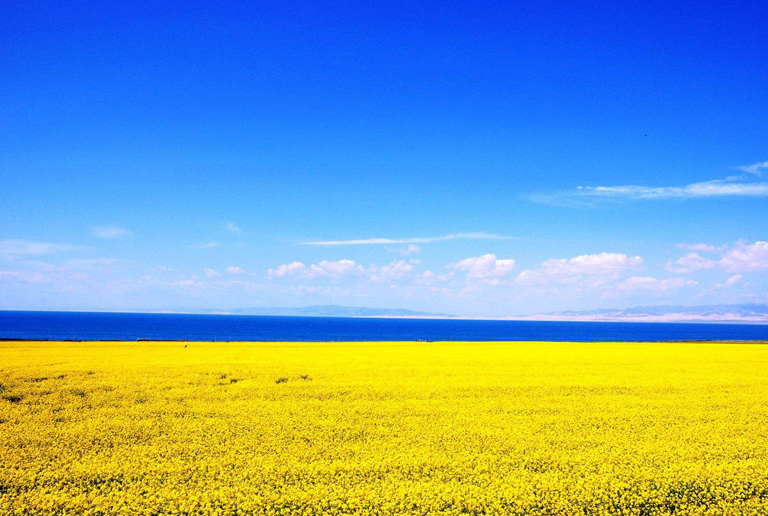 Enjoy Beautiful Qinghai Lake View from Train Window (August)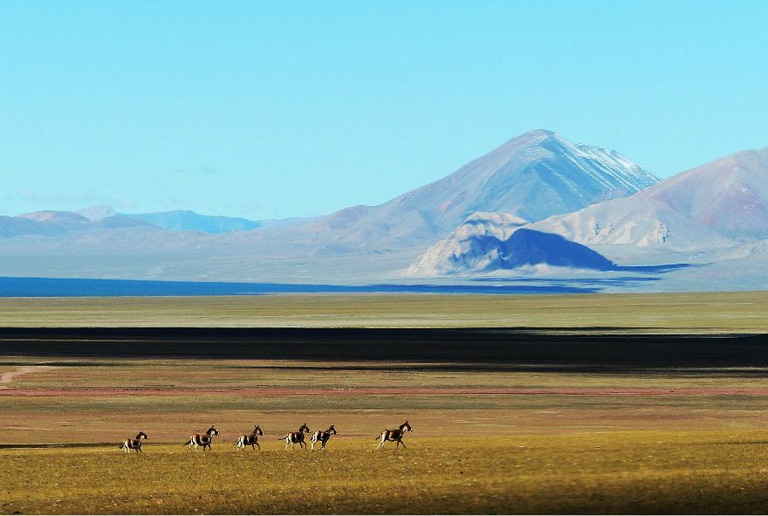 Wild Scenery of Hohxil Nature Reserve
Tibet Travel Permit and Train Travel
Tibet Travel Permit is a MUST Document to book a train or flight to Tibet. It is issued in Tibet by the Tibet Tourism Bureau only and can be applied by travel agency only. It usually needs about 15~20 days to get the permit. Sometimes the Tibet Travel Permit is not required to book the ticket, but it's hard to tell when is the "sometimes". So don't hesitate to contact us for the up-to-date information
How to Apply Tibet Travel Permit?
1. Obtain a Chinese visa from the Chinese Embassy in your home country;
2. Contact us to work out and decide the itinerary of your Tibet tour;
3. Send your scanned copies of your passport and Chinese Visa to your travel consultant and provide an available address (like your hotel) in China to receive your permit;
4. We will apply the Tibet Travel Permit from Tibet Bureau for you;
5. Once the permit is issued, we will send the original permit to you by post.
☞ Learn more details about Tibet Travel Permit Application
A Sample of Tibet Travel Permit (Tibet Entry Permit)
How to Book Lanzhou Lhasa Train Tickets
If you happen to be in Lanzhou or other cities in China, you can go to the local railway station to buy the tickets on your own in advance. It is necessary to bring your original passport and original Tibet Travel Permit. You can ask the ticket conductor to provide your preferred upper or lower sleepers if possible. It is also available to book a ticket online but the process is a little complex. Book a tour from Tibet Discovery and we will take care of everything for you.
How to Get to Lanzhou Railway Station
There are several railway stations in Lanzhou, including Lanzhou Railway Station, Lanzhou East Railway Station, Lanzhou Xinqu Railway Station and Lanzhou Xinqunan Railway Station, among which Lanzhou Railway Station is the only railway station operating trains to Lhasa. It is located in Chengguan District, Huochezhan East Road, about 10 minutes' drive from the downtown area. It can be easily reached by several public buses. If travelers choose to fly to Lanzhou and then transfer to Lhasa by train, you can take high speed trains running between Lanzhou Zhongchuan International Airport and Lanzhou Railway Station. You can get there within one hour.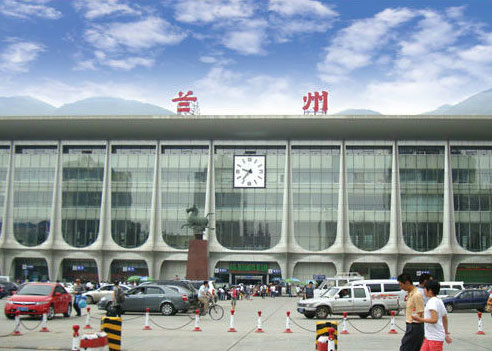 Lanzhou Railway Station
B-Plan for Lanzhou Lhasa Train
1. Take a flight to Tibet
It is also available to take a flight directly (about 2.5 hours) to Lhasa from Lanzhou if there isn't any accessible train ticket. But the flight doesn't operate every day, so it is better to make a decision and book the ticket early. You can also take a transfer flight in Chengdu or Xining and the whole journey will need 8 hours or more.
(The above flight info is just for reference only. You can contact us for the updated flight schedules, ticket availabilities, price and other info.)
2. Take Train to Tibet from other Cities
Apart from Lanzhou, there are other cities operating trains to Lhasa, including Beijing, Chengdu, Shanghai, Chongqing, Guangzhou and Xining. If you fail to book a train in Lanzhou and don't want to miss the wonderful scenery along Qinghai Tibet Railway, take a flight to the other cities and take a train.
☞ 7 Days Lifetime Tibet Train Tour from Chengdu