Guangzhou Lhasa Train Schedules and Fares
14 December 2022
Last updated at 10:02
There are two daily trains commuting between Guangzhou and Lhasa – Z264/Z265 and Z263/Z266. Z264/Z265 departs from Guangzhou Railway Stationand gets to Lhasa Railway Station on the third day with duration of about 52.5 hours. Z266/Z263 starts from Lhasa Railway Station and arrives at Guangzhou Railway Station on the third day. The whole trip cost about 55 hours. The trains will stop at 10 midway railway stations.
The trains running between Guangzhou and Lhasa have three kinds of seats – Soft Sleeper, Hard Sleeper and Hard Seat. The different kinds of seats are charged with different price. The Hard Seat costs 447 RMB, which is just recommended to short-distance travelers because travelers can't sleep in the carriages. The Hard Sleeper is much better and there is a berth for every passenger. It is charged 865~995 RMB. Soft Sleeper offers the best facilities and large space with the highest price – 1468 RMB or 1,557 RMB.
Check following table for details about Guangzhou Lhasa Train Schedules and Fares to decide which to choose.
Referential Currency: RMB=1USD
Train No.
Departure / Train Staiton
Duration
Seat Type / USD Price / Availability
Note: Train information is subject to final confirmation due to the delay of data occasionally.
Guangzhou to Lhasa or Lhasa to Guangzhou?
It all depends on your own itinerary to choose a train from Guangzhou to Lhasa or Lhasa to Guangzhou. If you want to go to Nepal, take a train from Guangzhou to Lhasa. After your Tibet tour, you can take a flight to Kathmandu directly. If you want to extend your tour to other cities like Beijing, Shanghai, Xian, Guilin etc., choose a train from Lhasa to Guangzhou for there are many high speed trains in Guangzhou available to take you to your destination fast. Furthermore, it is also very convenient to get Hong Kong where there are many international flights.
Taking High Altitude into consideration, some people prefer to take a train instead of flight from Guangzhou to Lhasa so that they can adapt the altitude gradually. However, the highest altitude in the train journey is about 5,000km and you may still feel not very good and can't enjoy the scenery fully. After the Tibet tour, you won't be disturbed by the high altitude and can focus on sightseeing.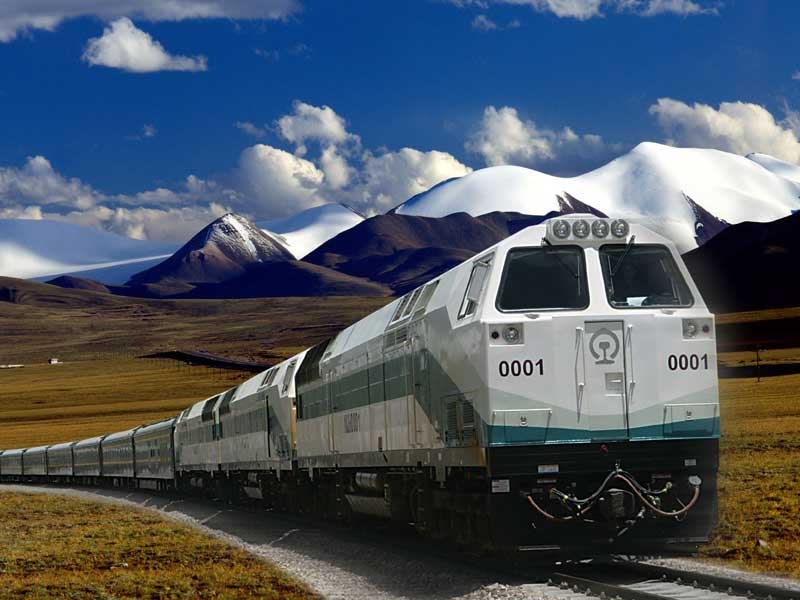 Breathtaking Landscape along Qinghai Tibet Railway
Major Cities along the Way
It is the longest train trip in China which covers over 53 hours and you must be tired of just sitting or sleeping in the train. There will be 8 stopover train stations, some of where you can take a short walk to stretch your legs and breathe the fresh air. On the long journey, you can take a glimpse of vast China. Important cities along the Guangzhou-Lhasa Railway include:
Xian
If you just want to visit three cities in China mainland, Xian must be listed in your tour itinerary. It is a thriving city with a long history of more than 3100 years. As the capital of 13 dynasties, it enjoys rich culture and great religions. With some many things to see and do, Xian has attracted many tourists from China and aboard. The Guangzhou-Lhasa Trains will stop at Xian Railway Station at for 8 minutes.
Xining
Xining – the capital of Qinghai always attracts tourists with its amazing Qinghai Lake. It is one of the largest saline lakes in China. In May and June, there are countless of birds flying crisscrossing in the sky. In July and August, the bright yellow rape flowers are blooming. You can see one part of Qinghai Lake from the train. Both Guangzhou-Lhasa Train and Lhasa-Guangzhou Train will stop at Xining Railway Station. Take a short walk and stretch your legs. You can also buy some snacks.
Golmud
Nagchu is the largest prefecture in Tibet. It is famous for the Horse Riding Festival. On that big day, there will be wonderful performance and exciting riding competition. It always takes place on Jun. to Jul. If you happen in Tibet, don't miss it. As your train gets to Nagchu, you will enjoy the beautiful picture made by parries, flocks and herds.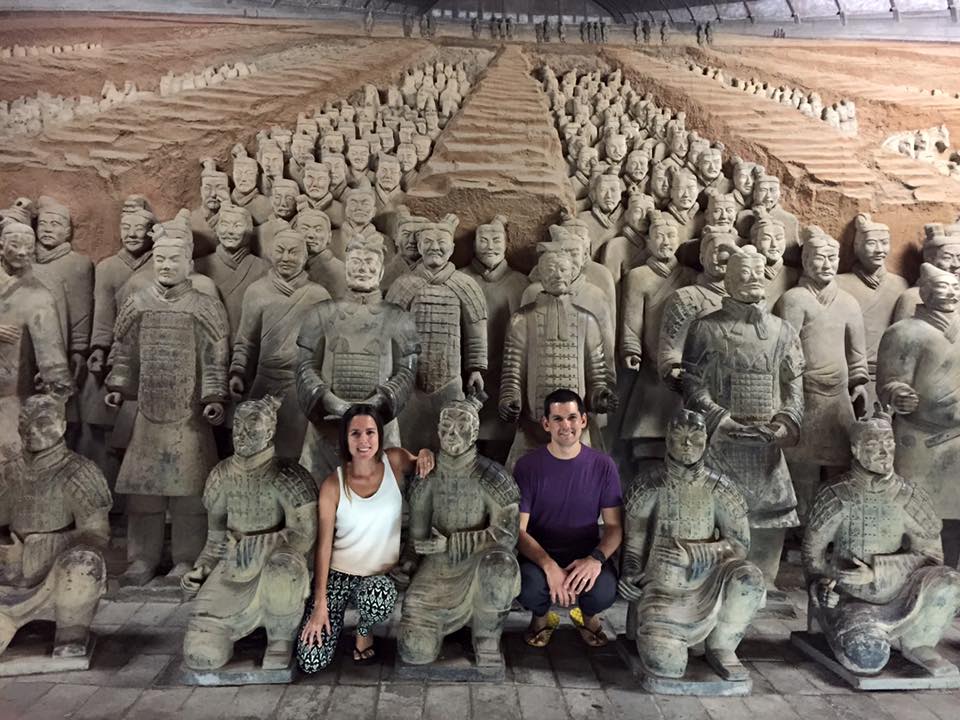 Our dear customer Lucia and her family visited Terracotta Warriors in Xian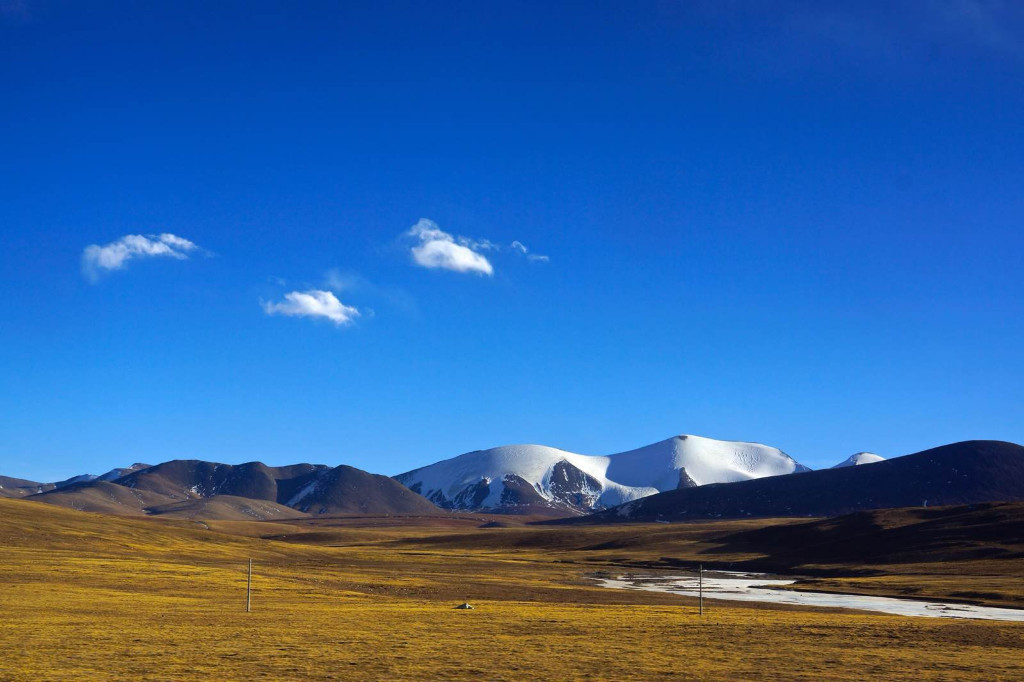 Golmud View from Window on the Train
Which Seat Class to should I take, Soft Sleeper, Hard Sleeper or Hard Seat?
Traveling with the longest railway in China, Hard Seat is not recommended for you. To enjoy better facilities and larger space, we suggest you choose the Soft Sleeper. There are only 4 berths in one compartment, and you stretch your body freer.
Comparison between Soft Sleeper and Hard Sleeper
| | Soft Sleeper | Hard Sleeper |
| --- | --- | --- |
| Amount of Sleepers | 4 | 6 |
| Size of Sleeper | Width:700mm/Length:1900mm | Width:500mm/Length:1800mm |
| TV | Yes | No |
| Power Supply | Yes | No |
| Vacuum Flask | Yes | Yes |
| Door | Yes | No |
(Important Notice: Since there are usually about 64 Soft Sleepers on each train to Tibet, so you'd better confirm your trip and book the train tickets as early as possible. Currently passenger can book the train ticket 30 days in advance.)
Facilities on Guangzhou Lhasa Train – Life on the Train
| | |
| --- | --- |
| Air Conditioning and Oxygen Supply | Every between Guangzhou and Lhasa is equipped with air-conditioning system to keep the air fresh and warm. It also has two kinds of oxygen supply system. On is a 'dispersion-mode' oxygen supply system. It spreads the oxygen in the air of the car and keeps enough oxygen content. The other is a "distribution-mode" oxygen supply which can be used directly by passengers through an independent oxygen outlet when the high altitude sickness takes place. |
| Food and Drink | There is a dining car in the middle of the train and it offers breakfast, lunch and dinner. Only Chinese food is available, including rice, meats, soups and vegetables. You can also buy bento from the Food Trolley. The Hot Water Dispenser is in the connection of every two carriages, and you can receive free hot water there. There are also drinks in the dining car and Food Trolley for sale. Don't drink the water from the washing area. |
| Luggage Storage | The luggage closet in the Soft Sleeper Carriage is located above the door of the compartment. It is about 16 inches (40cm) high and 20 inches (50cm) wide. If you choose a Hard Sleeper, just put you luggage or suitcases on the racks about the window by the side of aisle. The passenger in Hard Seat Carriage can put their luggage on the close above the seats or just place the luggage under the seat. |
| Toilet and Washing | There is a western-style toilet in every Soft Sleeper Carriage and a squat toilet in every Hard Sleeper Carriage or Hard Seat Carriage. Toilet paper is not provided in the toilets and you need to bring your own. There is a simple washbasin in the toilet and another outside. Only cold water is provided undrinkable. |
| Compartment | Both Soft Sleeper Carriage and Hard Sleeper Carriage are made up by compartments. In the Soft Sleeper Compartment, there are 4 berths. Between two lower berths, there is a table. Under the table, you can find a plug for getting power supply. Every berth is equipped with a small TV fixed on the door and an oxygen outlet near the window. As for Hard Sleeper Compartment, the facilities include a small table, a dustbin and a thermos flask. |
Tibet Travel Permit and Train Travel
Tibet Travel Permit, also called Tibet Entry Permit, is a basic permit that all foreign passport holders MUST obtain. It is issued by the Tibet Tourism Bureau in Lhasa and can only be applied by travel agencies in China. Any tourists are unable to apply this permit by themselves directly. Usually it takes about 15~20 days to apply the permit. Without Tibet Travel Permit, you can't book a ticket or take a train to Lhasa at present. The photocopy of Tibet travel Permit is also available if you don't have the original one in hand. However, if you board a train in Chongqing, Xian and Lanzhou, the original permit is necessary. Sometimes, Tibet Travel Permit is not required, and don't hesitate to contact us for the updated information please.
How to Apply Tibet Travel Permit?
1. Obtain a Chinese visa from the Chinese Embassy in your home country;
2. Contact us to work out and decide the itinerary of your Tibet tour;
3. Send your scanned copies of your passport and Chinese Visa to your travel consultant and provide an available address (like your hotel) in China to receive your permit;
4. We will apply the Tibet Travel Permit from Tibet Bureau for you;
5.Once the permit is issued, we will send the original permit to you by post.
☞ Learn more details about Tibet Travel Permit Application
A Sample of Tibet Travel Permit (Tibet Entry Permit)
How to Book Guangzhou Lhasa Train Tickets
It is available to book the train ticket at the railway station and online. If you are in Guangzhou or other cities of China, you can go to the railway station and book the ticket from the ticket windows directly. You could also ask the ticket conductor to offer you a preferred upper or lower berth if they are available. Remember to take your original passport and Tibet Travel Permit. Because the tickets to Lhasa are really limited, so you need to buy in advance. Tibet Discovery offers tickets-booking service. Send your passport information to us and we will help you to book the ticket on line.
How to Get to Guangzhou Railway Station
Guangzhou Railway Station is the only railway station operates train to Lhasa in Guangzhou. Its address is No. 159, Huanshi West Road, Yuexiu District. Located near the north Inner Ring Road, Guangzhou Railway Station can be reached convenient. Metro Line 2, Line 5 and many public buses are all available to take you there.
B-Plan for Guangzhou Lhasa Train
The train journey between Guangzhou and Lhasa will take more than 53 hours, which is really time-consuming. If you want to shorten this long journey without missing the most beautiful landscape along the railway, there are alternative plans for you.
1. Make a Transfer in Xian
Xian is one of the TOP 3 cities listed in the tourists' tour plan. It is suggested that you get to Xian and spend one or more day there. In Xian, what you have to visit includes Terracotta Warriors, Ancient City Wall, Bell Tower and Shaanxi History Museum. If time permits, you can extend your tour in Mount Huashan and takea hiking here. Both flights and high speed trains are available from Guangzhou to Lhasa. There are about 20 flights to Xian from Guangzhou one day, which take about 2hrs 40mins. Seven daily high speed trains are able to take you Xian from Guangzhou within 9hrs. As you get to Xian, you can take a train to Lhasa with duration of only 34 hours.
☞ 7 Days Tibet Tour from Xian by Qinghai Tibet Railway
2. Make a Transfer in Xining
In fact, most people choose a train to Lhasa because of the good view of Tibet-Qinghai Railway (between Xining and Lhasa). You can take a flight from Guangzhou to Xining firstly, and then book a train to Lhasa. There is a daily directly from Guangzhou to Xining and several other flights to Lhasa with a transfer or stop at Xian. The instant flight just takes only 3hrs 40mins. Moreover, it is much easier to book a train ticket to Lhasa because there are many other trains to Lhasa will pass through Xining Railway station, like Beijing-Lhasa Train, Chengdu Lhasa Train, Shanghai-Lhasa Train, Lanzhou-Lhasa Train and Xining Lhasa Train. With much more trains to choose, you will have more opportunity to get your favorite seat or sleeper. If time permits, it is a good idea to visit the Taer Monastery and Qinghai Lake.
Besides, there are also some other cities operation trains to Lhasa, like Beijing, Chengdu, Shanghai and Lanzhou. If you are unable to obtain a ticket of Guangzhou Lhasa Train, try others.