We're living here in Tibet; and we'll give you up-to-date information, not borrowed tips from tour books.
Contact Us Now!
We are here to help!
For you, Tibet is the ultimate destination - an exotic snow capped land on the roof of the world. For us, it is our home, we've spent years discovering every corner of Tibet for the best things to see and do– and we can't wait to share it all with you.
Our friendly travel experts are always ready to answer any of your questions about Tibet. You can reach us in 3 ways...and we'll respond to you within 24 hours.
By Phone / Call
General enquiry num: +86-28-85227275 / 86-28-85223672 (Monday-Friday 9 a.m. to 6 p.m. GMT+8) 86-19138970032 (6 p.m. to 9 a.m. daily GMT+8)
Fax num: 86-28-66476367
By Email
Ask a Question, share a thought...Please fill in the form below, and we'll get back to you within 24 hours.
At Social Media
To inhance a close relationship between our clients and us, we have set up social mediam page, including Facebook, Google+, Twitter and Linked in. You are welcomed to "like" and "follow" us to get the latest Tibet travel information and promotion tour packages. And if you have any question, please leave us message.
Visiting Us In Person
Visiting us in person is a perfect way to plan your trip.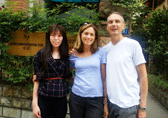 We welcome the opportunity to speak to our clients face to face about their travel plans. We believe that when arranging lengthy or complex itineraries, and tailor making your trip, it is always better to personalize the experience by putting a face to a name; allowing us to best understand your tastes, preferences and requirements.
More about Our Service