Destinations: Lhasa
Highlights: Potala Palace, Barkhor Street, Sera Monastery
On this classic journey, you explore the best attractions of Lhasa in 4 days. During your journey to the capital city of Tibet, you'll not only visit the most sacred landmarks of Tibet, but also enjoy the peaceful living style and devoted Buddhist atmosphere.
Destinations: Lhasa / Gyantse / Shigatse / Mount Everest / Gyirong / Kathmandu
Highlights: Potala Palace, Yamdrok Lake, Palcho Monastery, Mount Everest
This overland adventure is a deep exploration into exotic Tibet at the same time a time-saving journey. You will begin your journey in Lhasa where you will explore the world-famous Potala Palace and other Tibetan cultural sites, then travel crossing the 'Roof of the World' and finally arrive in lush green Nepalese valleys. There are dozens of things to see and feel, such as beautiful Yamdrok Lake, grand Palcho Monastery, magnificent Gagula Pass, etc. You also have a chance to witness a beautiful sunrise of unparalleled vistas of Mt Everest. So make sure your camera is charged and be prepared to have your breath taken away.
Destinations: Lhasa / Gyantse / Shigatse / Everest / Lhasa
Highlights: Potala Palace, Yamdrok Lake, Tashilhunpo Monastery, Mt. Everest
Tibet tour cannot be completed without a visit to Mt. Everest. This tour offers you a complete Tibet tour and weaves together Tibet's most famous sites into a package. Apart from viewing the wonders in Lhasa, Gyantse and Shigatse, you will discover the alpine lakes, blue skies, snow-capped mountains, amazing sunrise and sacred sites, and deeply devoted pilgrims on your way to Mt. Everest. You must get an unforgettable experience.
Destinations: Lhasa / Gyantse / Shigatse / Lhasa
Highlights: Potala Palace, Yamdrok Lake, Tashilumpo Monastery...
Each city of Tibet has its own feature. This tour aims to present you the landscape of Golden Triangle Cities of Tibet - Lhasa, Gyantse and Shigatse. You will arrive at and start your trip from Lhasa, the political and Buddhist center of Tibet. Then you will drive far away from Lhasa, via Gyantse, to Shigatse. There are too many things to do along the journey - visit holy lake Yamdrok, giant glaciers of Karola, unique Palcho Monastery, sacred Tashilunpo Monastery, the hometown of Tibet incense, etc.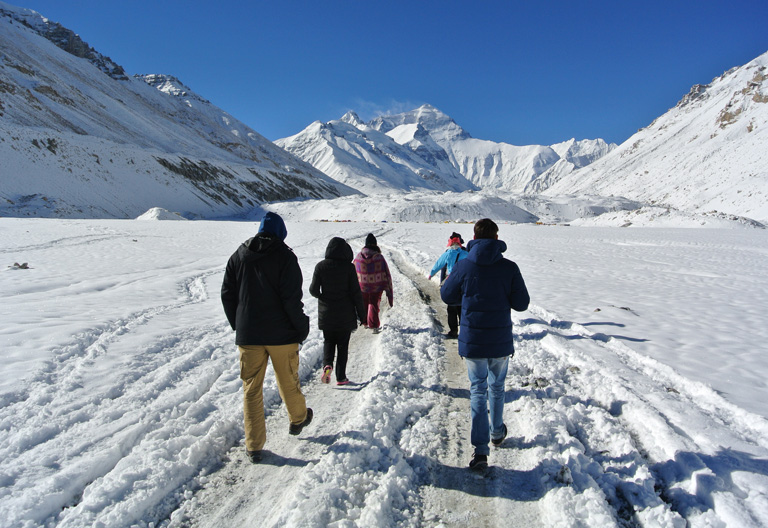 Destinations: Kathmandu - Gyirong - Everest - Shigatse - Gyantse - Lhasa
Highlights: Mount Everest, Tashilhunpo Monastery, Yamdrok Lake, Potala Palace
This tour is specially designed for those who want to travel to Tibet from Nepal. It starts from the capital city of Nepal - Kathmandu, then goes northeastward to Lhasa. Highlights come along the way from beginning to the end. You will firstly go to have an exciting adventure on Mount Everest which is not very far away from Nepal side. Then you will travel to the Golden Triangle Destinations in Tibet - Shigatse, Gyantse and Lhasa. Traveling from Nepal to Tibet, you don't have to apply for a Chinese Tourist Visa ahead. A Group Visa, which can be obtained in Chinese Embassy in Kathmandu, is required. Tibet Discovery will apply for it for you.
Destinations: Lhasa / Shigatse / Mount Everest / Namtso Lake / Lhasa
Highlights: Potala Palace, Yamdrok Lake, Mt. Everest, Namtso Lake
Tibet, the roof of the world, is a uniquely spiritual place where you will experience numerous fleeting and precious moments which may leave you a lifetime long memory. This longer trip is the REAL Tibet Discovery tour on which you will discover the most famous attractions and destinations from Lhasa to Gyantse, Shigatse, Mount Everest and Namtso Lake. Many highlights of Tibetan culture especially the Buddhism are covered in the package. This tour is also strongly recommended those interested in photography. So remember to take your camera, take two!
Destinations: Lhasa / Namtso / Lhasa
Highlights: Potala Palace, Barkhor Street, Sera Monastery, Namtso Lake
Experience Tibet the way it is meant to be experienced.This trip is ideal for those with limited time but still want to see the major attractions in Tibet and be a bit adventurous. You will spend two days to explore the Lhasa landmarks first, such as the Potala Palace, Jokhang Temple, Sera Monastery, then take a day trip to the holy lake Namtso from Lhasa. During this tour, you not only experience th essence of Tibet, but also enjoy the beautiful landscape.
Destinations: Chengdu / Lhasa / Lhasa / Shigatse / Gyantse / Mount Everest / Lhasa
Highlights: Panda Base, Potala Palace, Yamdrok Lake, Palcho Monastery Mt.Everest
These tour is made for those who want to have a short stay in Chengdu and a deep discovery of Tibet. Before heading to Tibet, you have the chance to visit giant panda. In Tibet, you will spend several days exploring Lhasa and Mt. Everest via Gyantse and Shigatse.
Destinations: Lhasa / Gyantse / Shigatse / Everest / Nagri / Gyirong
Highlights: Potala Palace, Everest, Kailash
This tour covers a full Tibet Discovery, including Golden Triangle Cities (Lhasa, Gyantse and Shigatse) and most attractive mountains (Mt. Everest and Mount Kailash). In this tour, you can appreciate the architectural art, the Buddhist culture, old history as well as natural beauty. In Ngari, the trekking gives you the most breathtaking landscape along Mount Kailash. After the wonder Tibet exploration, you will drive to Kathmandu via Gyirong Port directly, instead of driving back to Lhasa and transferring again.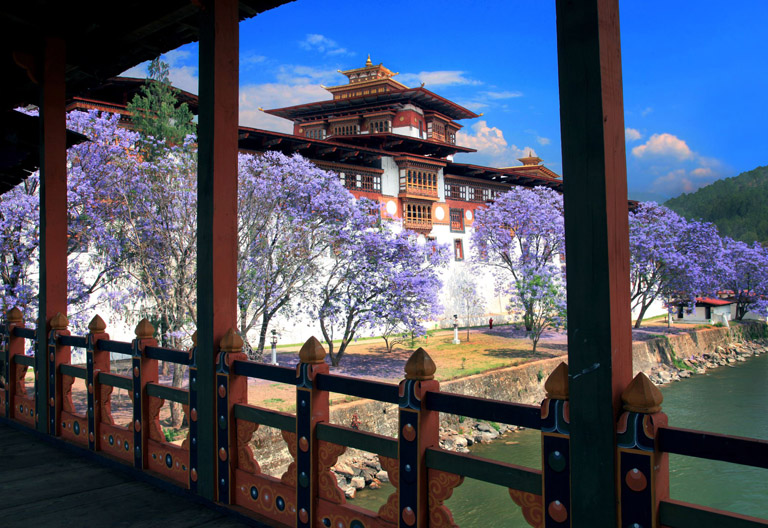 Destinations: Lhasa / Gyantse / Shigatse / Everest / Gyirong / Kathmandu / Paro / Thimphu / Punakha / Paro
Highlights: Potala Palace, Mount Everest, Durbar Square, National Memorial Chorten, Punakha Dzong
Our 15 Days Tibet Nepal Bhutan In-depth Tour takes you to explore the Himalaya culture, religion and nature. You will start your adventure from Tibet where you will travel from its capital Lhasa, the holy city to Mount Everest Base Camp, via Buddhist cultural cities Gyantse and Shigatse. After a day and night on Mount Everest, you will travel overlanding cross the border to Kathmandu, the capital of Nepal. You will spend two brief full days explore the landmarks in the Kathmandu Valley. Lastly, you will take a flight from Kathmandu to Bhutan, the last Shangri-la on the planet.
Recommended Budget Group Tibet Tours with Fixed Departures
Tibet Discovery also offers classic small group tours which greatly cut down your budget by sharing accommodation, vehicle and tour guide, takes the hassle out of travel, and let you focus your eyes and mind on travel.
Have a question? Get answers from our travel experts soon!
Your Question:

Your Name:

Your Email:
Questions & Discussions
Following are latest questions and answers from our webusers and customers. You can learn many useful information from the discussion and cases. You can also join in the discussions or ask your own question. Our experts will help you ASAP.
I want to go Tibet but no friends to go with, what can i do?
Hi there, I wanted to travel to tibet, but could find enough friends to go with me. Is it possible for me to join a small group of others who also looking for travel partners?

I prefer small group of 4 or 5 max. Please let me know what is possible.

Thanks!
Hi Jazzy,

Thanks for your message. It is my pleasure to be at your service. I suggest you join in our classic Tibet Group Tours all of which control the group size within 12 travelers. Chances are the final group size has only 5, less 5 members, but not for sure. We will still operate the group tour even if the max capacity 12 is not reached. You can check if we have such such "loose group". I have delivered your message to our sale team. One of our travel specialist will reach you as soon as possible.