Top Shannan Attractions
With plenty of natural scenery and cultural sites, Shannan never disappoints every tourist by its great charm. If you love the lakes and want to take some nice shots, Yamdrok Lake is the best choice. For those tourists who are interested in Buddhist culture or history, you can pay a visit to Yumbulakang Palace and Samye Monastery. Besides, seeing view of Yarlung Tsangpo River is also a visual treat on your journey. Take a glance of the most popular attractions:
How to Get to Shannan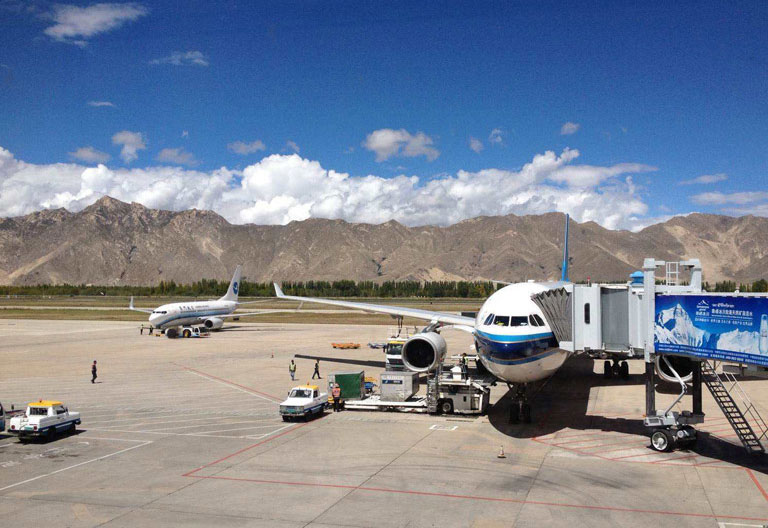 Two main transportations to Shannan are taking flights from major cities of China and by driving from Lhasa.

Flight to Shannan: Lhasa Gonggar Airport is just located in Gonggar County of Shannan, about 100km away from Tsedang. Tourists can take domestic flights to this airport from many major cities of China, like Bejing, Chengdu, Shanghai, Xian, Chongqing, Kunming, Shangri-La etc. and international flights from Kathmandu. Then you can drive about 1.5 hours to Tsedang Town.

Driving to Shannan: Many tourists prefer a Lhasa city tour before turning to Shannan. You can spend several days visiting the landmarks of Lhasa, and then drive to Tsedang. The road between Lhasa and Shannan is in good condition and it takes about 2 hours to transfer between them. On your way, you will have a nice sightseeing of Yarlung Tsangpo River. Read more>
Best Time to Visit Shannan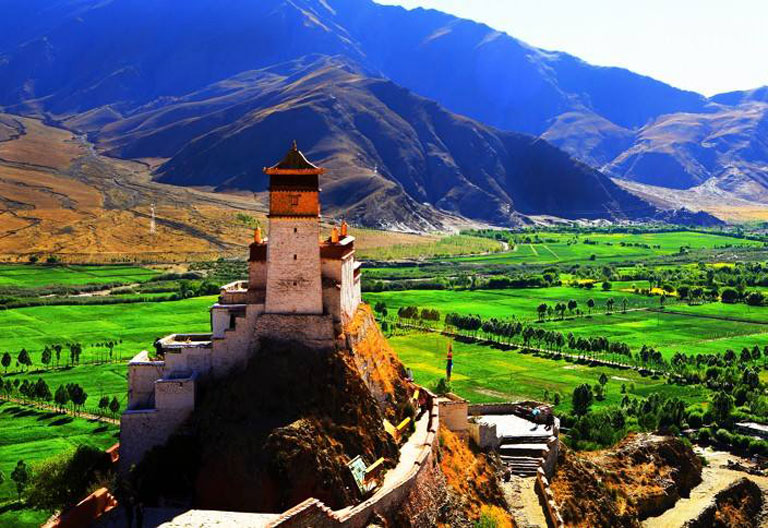 Benefited from the warm and moisture laden winds of the Indian Ocean, Shannan has a relatively proper climate and weather with an average annual temperature of 7.4~8.9 °C. The temperature gap between day and night varies largely and tourists need to always keep warm at night. It is also necessary to bring some sun blocks to protect your skin from sun burn.

If Shannan is your only destination in Tibet and you only want to explore the landmarks (Yamdrok Lake, Samye Monastery and Yumbulakang Palace) of Shannan, you can visit all the year around. If you want to explore Shannan attractions fully, April to October is the best times for you. Read more>
Where to Accommodate in Shannan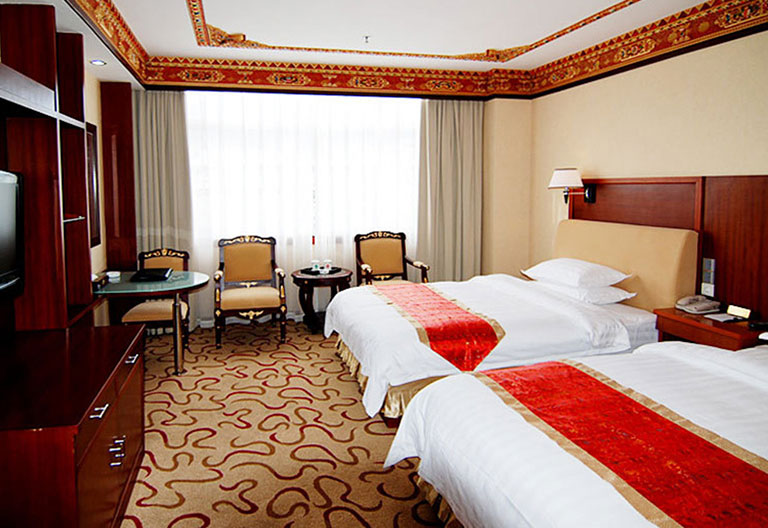 There are various hotels in Shannan ranging from four-star comfortable hotels to economic guest houses and most of them are gathered in Tsedang. Recommended hotels include:

Yalong River Hotel: Yalong River Hotel is a four-star hotel with well-quipped facilities and Tibetan style decoration. Offering special Tibetan food, Sichuan cuisine,western dishes, Japanese food and Korean food for your choice, the restaurants is praised as the best restaurant in Shannan. There are also available cafe and sunna, so you can have a really good rest in this restaurant.

Tsedang Hotel: Tsedang Hotel, also a good choice for accommodation, is the largest hotel located in the center of Tsedang. With architecture of Tibetan, Chinese and European style, Tsedang Hotel enjoys an eyes-catching appearance. It is also a four-star hotel providing good facilities and helpful service. Here you can have a good time in the central garden, delicate cafe, salon, bowling alley, billiard room, fitness center etc. Read more>
Useful Shannan Travel Notes
1. How to Plan Shannan Travel
Being reached conveniently, Shannan can be listed in your itinerary as your first destination in Tibet. It is common to have a 6 days tour combining Shannan and Lhasa. After the arrival on day 1, you can visit Yumbulakang Palace, Samye Monastery and Yamdork Lake on day 2 and then drive to Lhasa for accommodation. In the next two days, just immerse yourself in the strong Buddhist atmosphere by visiting the landmarks of Lhasa. The last day is for departure. Some other travelers take Lhasa as the starting point and then transfer to Shannan instead.
2. Packing and Wearing
What you can't forget is to bring your passport, Chinese Visa and all needed permits, without them you are unable to have a Tibet tour. Then it is recommended to pack your stuffs in two bags – a bigger backpack and a smaller carry-on bag. The smaller one can be used for daily activities and be put into the large backpack when necessary. It is also important to bring the necessary medicine and sunscreens.Because of the special geography and climate, you have to wear properly to keep warm.
3. High Altitude Sickness Tips
The average altitude of Shannan is about 3,700m (12,139ft), really low compared with some other regions in Tibet. While visiting the landmarks in/around Tsedang, like Yumbulakang Palace, Samye Monastery and Trandruk Monastery, tourists seldom get a serious High Altitude Sickness. If you want to drive to Yamdrok Lake, you need to pass Kambala Pass with a high altitude of 5,030 meters. Remember to drink more water, keep warm and avoid strong activities. Your tour operator will also prepare oxygen supply for emergency use.
4. Necessary Permits for Visiting Shannan
Traveling to Shannan or other areas in Tibet, Tibet Travel Permit is a must. It is issued by Tibet Tourism Bureau only and can be applied by travel agencies on behalf of you only. It must be obtained before you getting to Tibet, because you are not permitted to board your flight or train without it. Besides, Aliens' Travel Permit is necessary to Shannan Prefecture. It is applied after you entering Tibet. Your tour guide will apply it with your Tibet Travel Permit and passport. In some places of Shannan, you need a Border Pass as well.