Required Permits to Visit Mount Everest in Tibet and Nepal
30 May 2022
Last updated at 16:51
Mount Everest, also called Mount Qomolangma, is the highest mountain in the world with an appalling height of 8,848m (290,290ft) and shared by Tibet, China and Nepal both at border areas. It used to explored only by those professional mountaineers and hikers due to high altitudes and lack of supply. Nowaday, ordinary tourists can also get close to EBC on Mount Everest from North (Tibet Side) and South (Nepal Side) for an eye-opening adventure, as long as holding essential permits as regulated. Specific documents needed to visit or hike Mount Everest depend on which side of Mount Everest you plan to visit. For more details, check the following comprehensive Everest permits guide to plan your once-in-a-lifetime Mount Everest trip.
Necessary Permits for Tibet Mount Everest Tour
The north side of Mount Everest is located in Tingri County, Shigatse Prefecture, Tibet, southwest China. Currently, normal tourist are only allowed to reach Rongbuk Monastery, Everest Base Camp (EBC) and symbolic stone monument at an elevation of nearly 5,000m. They are the closest places to Mount Everest visitors can go to and which still provide clear stunning views of snow-capped Mount Everest.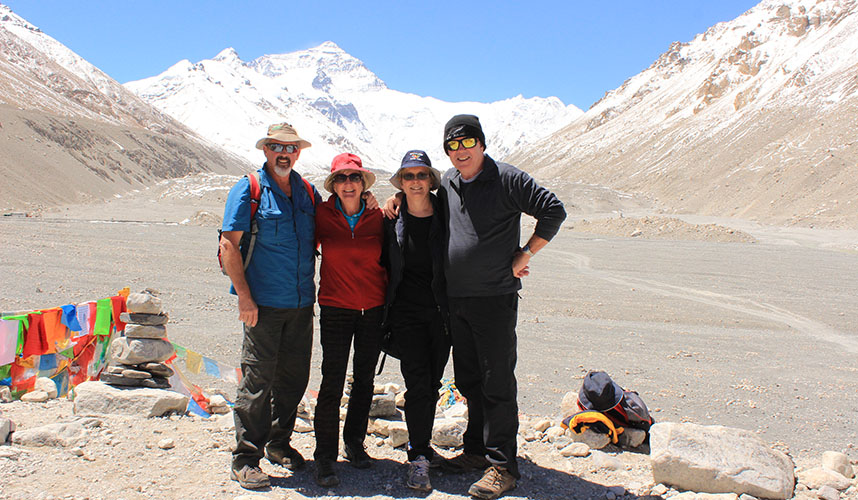 Tibet Discovery Helped Our Travelers Fulfill Their Mount Everest Tour
To realize the dream tour to Mount Everest in Tibet, China side, foreign travelers need to apply for and obtain several documents, including a valid Chinese Visa on your passport, a Tibet Travel Permit, a Border Pass and an Aliens' Travel Permit. All of them are mandatory, otherwise, your Tibet Mount Everest tour won't be accomplished.
1. Chinese Visa - Most Basic Visa for a China Tour
Since the North Face of Mount Everest lies in Tibet, China, normally, aliens should first apply for a Chinese Tourist Visa (L Visa) from Chinese Embassy or Consulate overseas to enter China. Few nationals can enjoy privilege of Chinese visa-free entry within limited duration of stay, like Singaporeans, Japaneses and Bruneians can stay in China not exceeding 15 days. A special type of single-entry Chinese Group Visa is required if you get to Tibet from Nepal.
2. Tibet Travel Permit - Most Important Permit to Visit Tibet
Tibet is an unique ethnic autonomous region in China, which needs extra permits to visit apart from the already obtained Chinese Visa. Tibet Travel Permit, or Tibet Entry Permit, is the basic and most important permit for traveling to Tibet. It is issued by Tibet Tourism Bureau in Lhasa, and is needed for taking train and flight to Lhasa, Tibet. With it, you can visit Lhasa, and further exploration to Mount Everest, Mount Kailash and Nyingchi., etc also needs it.
Independent travel in Tibet is not allowed, so is the permit application. Thus, all foreigner tourists need to book tour from local travel agency and let the agency apply for it. Please rest assured that, we - Tibet Discovery will apply for Tibet Travel Permit prior to your departure in the easiest and most convenient way (around 15 to 20 working days).
Who Need to Get Tibet Travel Permit?
Non-Chinese passport holders - such as US & UK citizens, Australians, Canadians, Malaysians, Indians, Nepalese, etc.
Taiwan tourists, who do not have Chinese citizen identity card.
Overseas Chinese, who do not have Chinese passport or ID card.
Note: The Hong Kong and Macau citizens holding Special Administrative Region (SAR) passport, Home-Visiting Certificate or Mainland Travel Permit for Hong Kong and Macau Residents can travel to Tibet independently without a Tibet Travel Permit.
How to Get a Tibet Travel Permit?
1. Contact us to discuss, work out and confirm an itinerary in Tibet;
2. Send us the scanned copies of your valid passport and Chinese Visa, meanwhile, provide an address in China (may be your pre-booked hotel, friends' home..) to receive the issued permit;
3. We will apply for Tibet Travel Permit from Tibet Tourism Bureau in Lhasa for you, by providing your personal documents and related travel information;
4. Once the permit is issued, we will check and deliver the original permit to you by post.
> Learn more detail about Tibet Travel Permit Application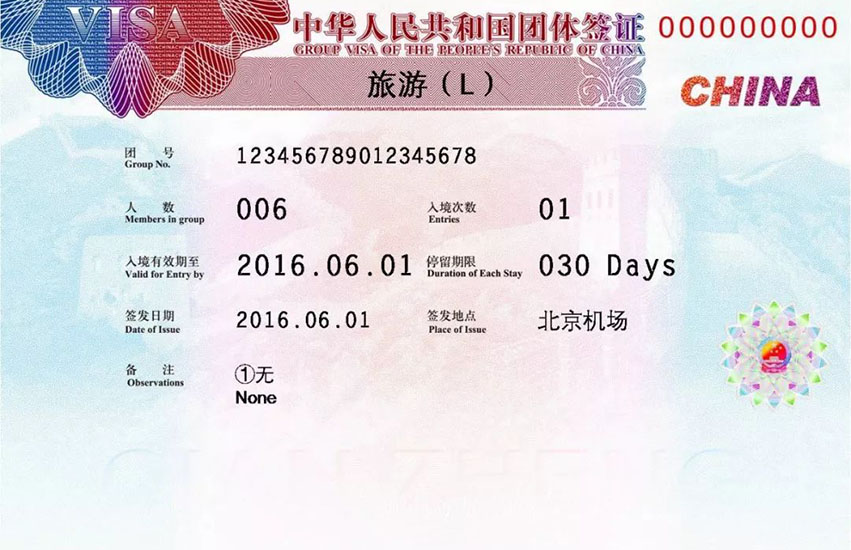 Sample of Chinese Tourist Visa
The First Page of Tibet Travel Permit
The Second Page of Tibet Travel Permit
3.Aliens' Travel Permit - Extra Permit for Tibet Tour beyond Lhasa
To visit Mount Everest in Shigatse and other areas beyond Lhasa, except the Tibet Travel Permit, additional Tibet permits are needed. Aliens' Travel Permit is one of them, and can be only applied in Tibet by local tour operator as well. After your arrival in Shigatse, Tibet, we will handle with the application for you to make sure you get the permit quickly and enjoy a worry-free Mount Everest tour as planned. Your tour guide will take you original passport and Chinese Visa to apply for the permit. It usually takes just about 30 minutes to get the permit.
Aliens' Travel Permit
While applying the Tibet Travel Permit, we will make a frontier travel registration in Lhasa, Tibet for you at the same time. Before getting to Mount Everest, your Tibet Travel Permit will be checked at checkpoint if it has been filled for record. Forget it, because it's included in our Everest Tour Package and very easy and simple to obtain.
How to Plan Your Mount Everest Tour in Tibet
For normal tourists without intention for climbing, the most recommended time to visit Mount Everest in Tibet is from April to Mid-May in Spring and September to October in Autumn, considering weather conditions and transportation to get there.
Lhasa is the best gateway city to reach Mount Everest for tourists entering from China, because it has frequent trains and flights for Tibet entry, and some necessary Tibet permits for traveling to Mount Everest are needed to handled in Lhasa. While visiting top attractions in Lhasa, it's also good for altitude acclimatization at first arrival 3 days. Taking a driving journey via Yamdrok Lake, Gyantse Kumbum and Shigatse is the most popular way, which helps you see more Tibet's Landscape and previous history en route. Such a classic itinerary needs about 7 to 8 days, more days are required if you plan to visit more attractions around Lhasa, go further to Mount Kailash in Ngari, or travel cross border to Nepal.
Most Classic Lhasa to Mount Everest Travel Route:
Lhasa (landmark sightseeing: Potala Palace, Jokhang Temple, Barkhor Street...) - > Yamdrok Lake -> Korala Glacier -> Gyantse (Palcho Monastery with Kumbum) - > Shigatse -> Rongbuk Monastery -> Mount Everest
√ 8 Days Lhasa Mount Everest Private Tour (Lhasa/Shigatse/Everest)
√ 7 Days Lhasa to Kathmandu Overland Tour via Mount Everest
√ 11 Day Classic Tibet and Nepal Tour via Mount Everest
Start Himalayan exploration in Nepal and like to visit North Pole of Mount Everest? You can take an overland driving from Kathmandu to Mount Everest, and extend Tibet adventure eastward to Lhasa, witness the holy spiritual center of Tibet. One week is the minimum time for this route, including one day's transfer from Gyirong Port to Mount Everest. Another option is to take a 1.5 hours' Kathmandu Lhasa Flight to Lhasa first and then follow the above mentioned itinerary to Mount Everest. Find more Hot Mount Everest Tibet Tours >>
√ 8 Days Kathmandu to Lhasa with Mount Everest Adventure by Flight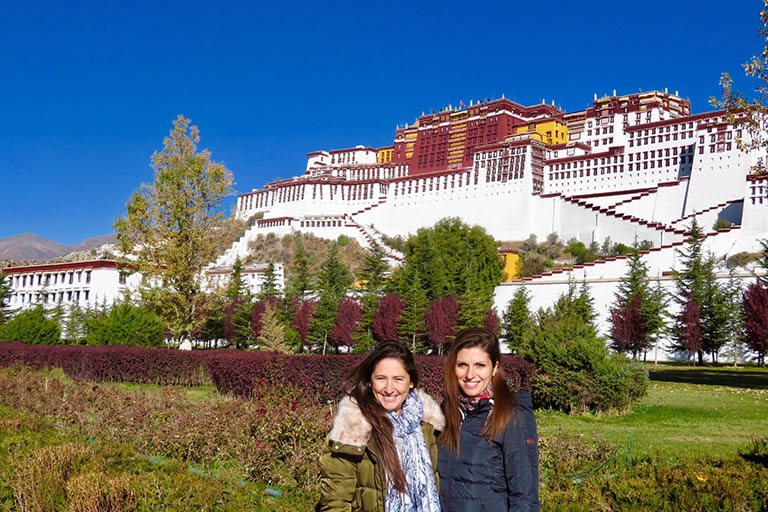 Our French Tourists Visited Potala Palace, Lhasa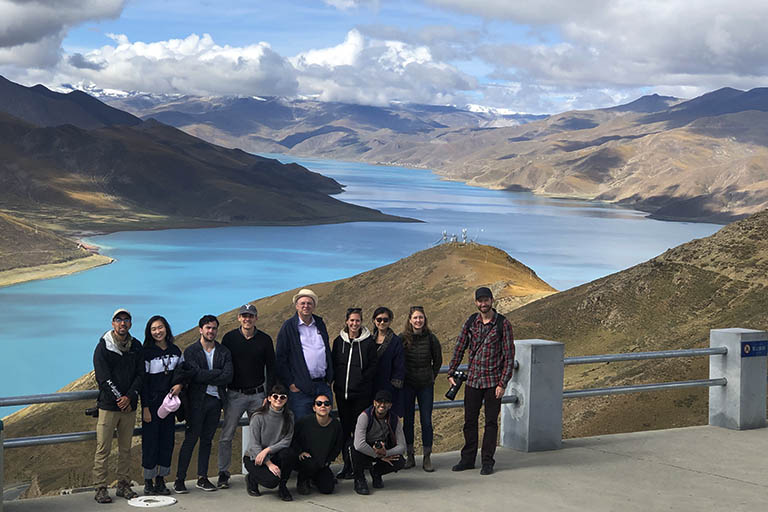 Yale University Visited Yamdrok Lake when Driving from Lhasa to Shigatse
Must-have Permits for Nepal Mount Everest Tour
Gifted with 8 of world's tallest mountains towering over 8,000m above sea level in Himalayas, Nepal is truly a paradise for trekking. Mount Everest in Nepal side - the South Pole (South Face) is called Sagarmatha, which is located in northernmost of Sagarmatha National Park, Solo-Khumbu, eastern Nepal. Similarly, mountaineering to the summit requires official procedures with staggering expense, but outdoor adventures are allowed to get relatively simple permits and make an Nepal EBC trekking - one the best hiking route in the world to view the incredible Everest scenery and snow-capped Lhotse, Makalu, Cho Oyo and other top mountains in the world, closely see giant glaciers during hiking.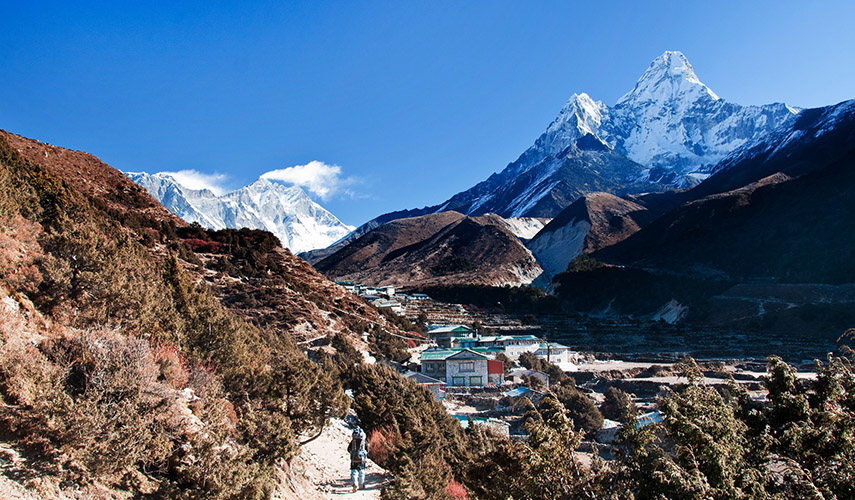 Spectacular Views on Nepal EBC Trekking
Visa & Permit Needed for Nepal EBC Trekking
Nepal Visa
Entrance Ticket of Sagarmatha National Park (Entry Permit)
TIMS Card
1. Nepal Visa - Must-have Entry for Nepal Tour
Nepal Visa is the priority document to visit Mount Everest, Kathmandu and else destinations in Nepal. It can be applied either in Nepal Embassy overseas in advance or simple got in Kathmandu Tribhuvan Airport upon arrival. For most travelers, the latter is the most common way which just needs a few east steps.
2. TIMS Card - Required EBC Trekking Document
Beside the entrance ticket of Sagarmartha National Park, trekkers need to get another permit for EBC Trekking in Nepal - TIMS Registration Card (Trekkers' Information Management System) authorized by Nepal government. It is a small book printed your data and EBC trekking details with official stamps. Without it, you won't be able to begin your EBC hiking.
How to Obtain the TIMS Card in Nepal?
The TIMS Card can NOT be applied individually, and its application only accepted through registered Nepalese travel agency with a local porter or a guide. Therefore, first, you have to find a dependable Nepal tour operator (like Tibet Discovery), confirm your trekking plans and book related services. Accurate hiking date, route and personal information and two photos should be submitted to the agency at least 7 days ahead. Once issued, agency in Nepal will give it to you immediately.
Tips: Trekking equipment can be prepared in Kathmandu and local trekking guide and porter are easily found in Kathmandu, Pokhara, Nepal as well.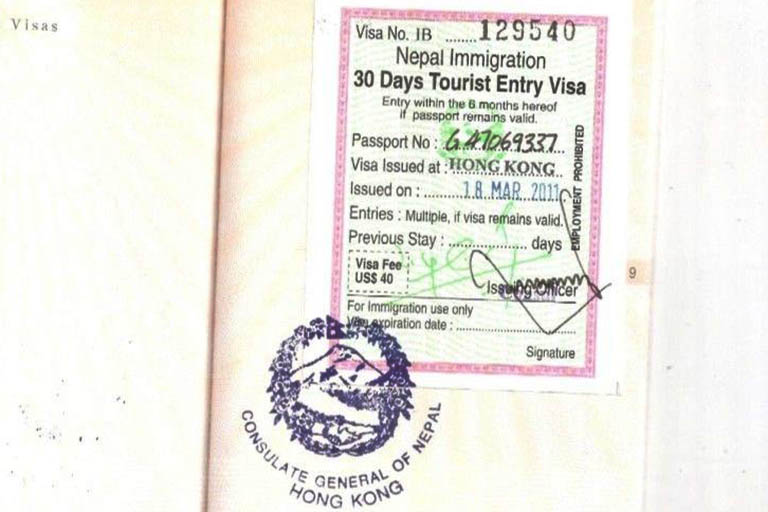 30-Day Nepal Tourist Visa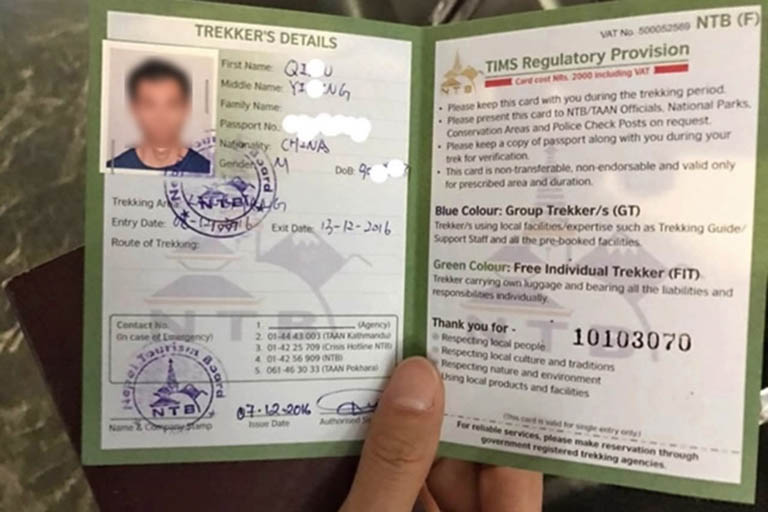 TIMS Card for Nepal EBC Trekking
How to Plan Your Everest Nepal Tour
Before the EBC trekking in wild nature, lots of trippers love to spend about 2 days on discovering UNESCO World Heritages in Kathmandu Valley, like the Boudhanath Stupa, Durbar Squares and other major spots, enjoy a leisure time in picturesque Pokhara, or take more time touring Chitwan, Lumbini and destinations in western Nepal. Each October from December is the best time to do the EBC hiking. And it needs at least 2 weeks to more than 20 days to hike peaks around EBC, Lukala is the starting and terminus point. Please feel free to contact us to get further EBC trekking services and Nepal travel guide. Get more Popular Nepal Tours >>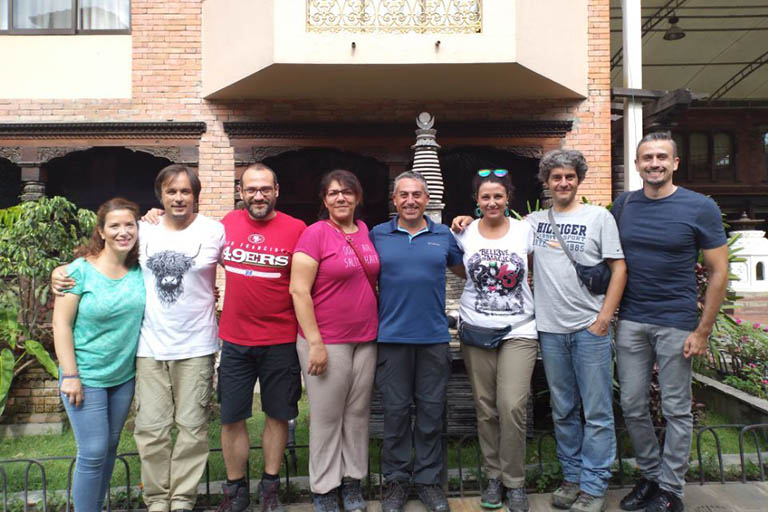 Tour Group Enjoyed Kathmandu Tour in Nepal
Travel Mount Everest Worry-free with Tibet Discovery
With rich experiences in offering high-quality Tibet tour of best value for travelers across the world, Tibet Discovery is a reliable Tibet tour operator trying our best to present you the beautiful and unique Tibet and leave memorable moments of natural sights, extraordinary culture and people in this holy land. You just need to contact us, tell your requirements, we will pick up most excellent one and even customize a private Tibet trip for you, solving all details, including local attractions' admission, accommodation, transportation vehicle with driver and knowledgeable tour guide, and the most-concerned Tibet permits, train or flights booking assistance. Thus, you can fully focus on a Tibet journey hassle free. Accompanied by us, your Tibet travel can be arranged flexibly based on your personal interest, physical condition, length of holiday and budget.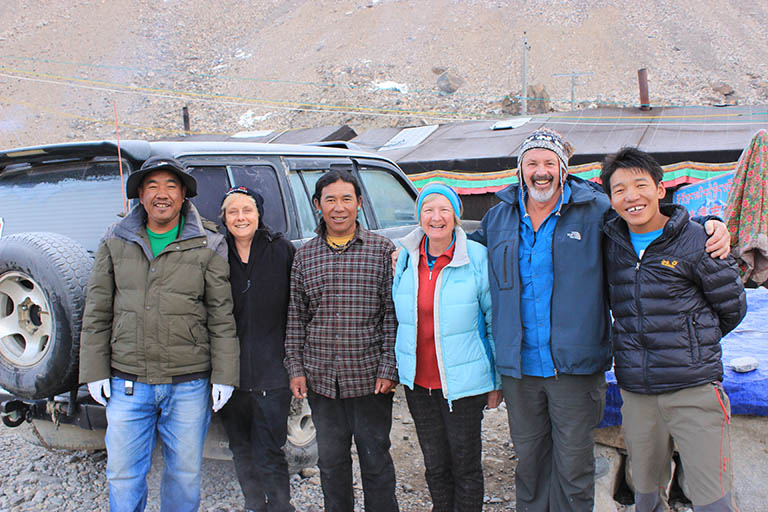 Loving Smiling Faces of Our Everest Travelers and Local Guide & Driver
More Mount Everest Travel Guide
Recommended Mount Everest Tour Packages
Conquering the world's highest peak is the once in a lifetime journey. Take one of our classic Mount Everest tours which have been successfully operated for many years and created loads of amazing experiences for our customers to visit Mount Everest, discover Mount Everest, enjoy Mount Everest and fall in love with Mount Everest! You can also let us design a Mount Everest Trip to match your personal needs and interest.
Lhasa / Gyantse / Shigatse / Everest / Lhasa

Highlights: Potala Palace, Yamdrok Lake, Palcho Monastery, Everest Base Camp

$854 / Details

Lhasa / Gyantse / Shigatse / Everest / Lhasa

Highlights: Potala Palace, Yamdrok Lake, Tashilhunpo Monastery, Mt. Everest

$1,324 / Details

Lhasa / Shigatse / Mount Everest / Namtso Lake / Lhasa

Highlights: Potala Palace, Yamdrok Lake, Mt. Everest, Namtso Lake

$1,589 / Details
Have a question? Get answers from our travel experts soon!
Your Question:

Your Name:

Your Email: