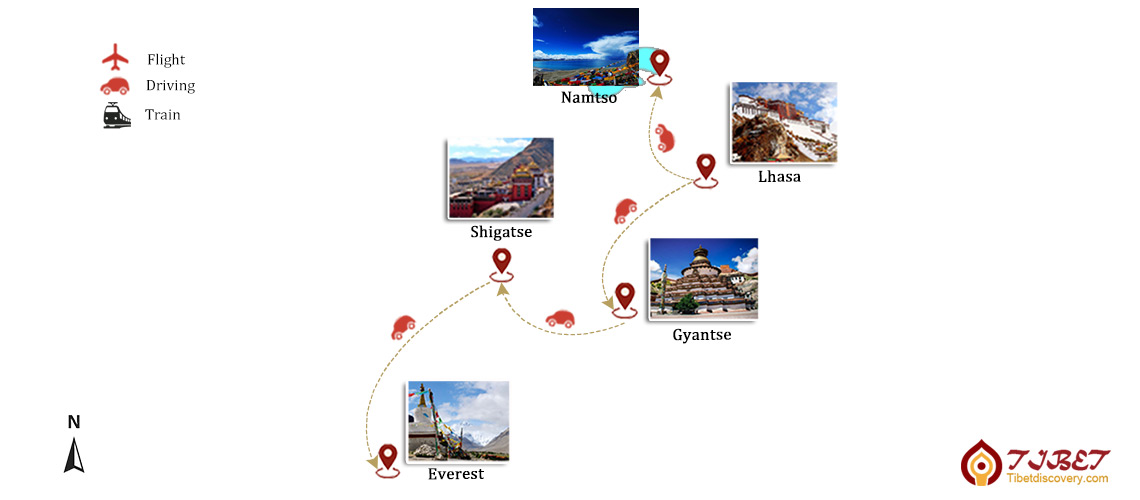 Ines (USA)
December 2016 / 2pp
8 Days Great Trip to Mount Everest
"I have a great trip with the help of Jack. All of the arrangement was great, hotels with good location, knowledgeable travel guide, skilled driver, and most importantly, spectacular attractions "
Itinerary Introduced by Jack
"Hi, I'm Jack, Ines and her husband Robert's travel consultant. It's my great pleasure to plan this tour for them and see their satisfaction about their experience. This tour is one of the most classical Tibet tour, with Lhasa, Gyantse, Shigatse and Mount Everest included. They firstly stayed three days in Lhasa to explore the cultural landscape (Potala Palace, Jokhang Temple, Barkhor Street, Drepung Monastery and Sera Monastery). Then they traveled to Mount Everest via Gyantse and Shigatse with one night's stay in Shigatse. In the driving trip, they visited Yamdrok Lake, Karola Glacier, Palcho Monastery as well as majestic Tashilhunpo Monastery. During their sightseeing journey in Lhasa and Shigatse, they got a good opportunity to adapt the higher altitude gradually. After that, they drove to Mount Everest and had a good time there. You could check their wonderful experience from the following story and pictures. If you are interested in such a Tibet tour, don't hesitate to contact me." - - Jack (Ask Jack a Question)
Tibet Travel Consultant Jack
Reviews from Ines
"We decided to do this trip at the last minute and this company was great at getting us all set up. Jack Li was our initial contact and was able to get all our permits in order in a short time. Our hotel in Lhasa was in a very central location that made it easy to get around. Tendol was our guide and she was amazing. She was very knowledgeable about so many things. And our driver, Tiley, was excellent. I, particularly, am not at all comfortable on high winding roads (because of a previous accident) but with Tiley, I felt absolutely safe and at ease!!! That is huge for me. We went to many beautiful monasteries and the scenery along the way was just spectacular! At Everest Base Camp, I recommend staying in a tent rather than the Monastery. It was a delightful experience!! If you stop at the barley mill, be sure to buy yourself some of the homemade barley beer.....it was delicious (to me)!!! And on the way back, make a stop at the incense place. The powdered incense is amazing!! That's what I brought home for gifts along with some incense burner pots. It's a truly Tibetan gift!" - - Quoted from TripAdvisor
Ines's Detailed Itinerary
Let's check Ines and Robert's itinerary and beautiful photos they took.
Day 1 Lhasa Arrival and Met by Travel Guide
Qinghai Tibet Railway is one of China's most beautiful railways, so Ines and Robert didn't want to miss them and took a train from Xining to Lhasa. In their train journey, they fully enjoyed the featured plateau views. Upon arrival on Lhasa Railway Station, they were welcomed by beautiful Tibetan guide Tendol and warm driver Tiley at the exit. The weather in Lhasa was very nice. Seeing the blue sky and white cloud, they had a good mood. Because of the great location of their hotel, they took a walk to Barkhor Street and Jokhang Temple Square at night. In the square, there were many pilgrims making prostration.
Met by Tibetan Guide Tendol and Driver Tiley at the Exit of Lhasa Railway Station
Day 2 Lhasa Tour
On Day 2, they firstly visited the world-famous masterpiece and UNESCO World Heritage - Potala Palace. At the first sight of the appearance of Potala Palace, they were amazed by the outstanding architecture. Though thye needed to climbed steps to reach the palace, the journey is quite interesting. In the following visit, the precious treasures worshipped in the palace also surprised them. After Lunch, they visited Jokhang Temple - the spiritual center of Lhasa and paid a homage to the statue of Life-sized Statue of Shakyamuni. They saw many pilgrims undertaking kora in Barkhor Street and were moved by their devoted believes.
Visit to Potala Palace
Day 3 Lhasa Tour
They visited Norblingka, Drepung Monastery and Sera Monastery on Day 3. Norbulingka, once the Summer Palace of Dalai Lamas, now are shared by all Peple. There were many colorful flowers and rare species of plants grown in the garden. Ines and Robert enjoyed these plants and stayed there for a longer time. The next stop was Drepung Monastery which houses four Zacang (Buddhist schools). In Drepung Monastery, Robert saw many local people lightning incense for good luck. Because Drepung Monastery was located highly on the mountains, they could get a panoramic view of the whole Lhasa city. After Lunch, they traveled to another monastery - Sera Monastery featuring in scripture debating. Despite they didn't understand the monks' Tibetan language, Ines and Robert thought it was a rather funny activity.
Interesting Drepung Monastery
Day 4 Lhasa to Shigatse via Gyantse / 360km, About 8hrs' Driving
On Day 4, they left Lhasa for Shigatse. They took the first stop to enjoy the enchanting beauty of Yamdrok Lake - one of the three greatest holy lakes in Tibet. It presented tourists rich colors with various kinds of blue.In one viewing-deck for Yamdrok, tourists could take a picture with one Tibetan mastiff, but you need to pay for it. Ines took a picture with the lovely mastiff and they two also took a picture with the stone tablet printed with "Yamdrok Lake"to memorize their tour. Then they visited Karola Glacier, a famed glacier with overwhelming surrounded landscape. Arriving in Gyantse, they went to Palcho Monastery and explored the Kumbum Stupa with Nepalese style. From the monastery, the viewed the nearby Gyantse Dzong clearly. After that, continued the trip to Shigatse and accommodated there for one night.
Good View of Yamdrok Lake and Karola Glacier
Day 5 Shigatse to Mount Everest / 350km, About 7hrs's Driving
After breakfast, they visited the Tashilhunpo Monastery and then drove to Mt. Everest. The road is winding, but the Tiley mastered a praised skill of driving. They felt very safe with him. The driving journey was long, but they never felt boring because of the charming scenery on the road. They stopped in some sightseeing platform to admire the natural landscape. At the night, they accommodated in the local Tents. The facilities were basic but the rooms were warm. The tents owner could also cook for them but it cost higher prices than the food in the city areas.
Scenery on the Way & Tents Life
Day 6 Mount Everest to Shigatse / 350km, About 7hrs' Driving
With one night in Everest, they got up early to savor a heart-shaking sunrise over Mount Everest. Then they said goodbye to Mount Everest and drove back to Shigatse.
Sunrise over Mount Everest
Day 7 Shigatse to Lhasa / 280km, About 6~7hrs' Driving
Before getting back to Lhasa, they visited Nyemo Tunba - Birthplace of Tibetan Incense to take a view of the incense-making process. They also bought some gifts here for their families and friends.When they drove back to Lhasa, they saw a plane above the Yarlung Zangbo River.
Yarlung Zangbo River
Day 8 Lhasa Departure
Their tour ended on the 8th days but their enjoyable tour will long-lasting in their memories.
Related Tours
Check the following related tours or contact us to customize a tour according to your own preference
>> 4 Days Holy City Lhasa Private Tour (Lhasa City)
>> 6 Days Discover Tibet Train Tour from Xining (Xining - Lhasa)
>> 8 Days Lhasa Mount Everest Privat Tour (Lhasa - Gyantse - Shigatse - Mount Everest)
Recommended Tibet Tour Packages
Tibet Discovery Tours is specialized in finding unique experience of Tibet, and leading you to explore what interests you most. Our Private Tibet Tours will take you to explore deep into the Holy Land, with loads of options, freedom & flexibility. You can choose from the following hand-picked tour packages which have been successfully operated for many years and created loads of amazing experiences for our customers, or check more Tibet Tours >>
Lhasa / Gyantse / Shigatse / Everest / Lhasa

Highlights: Potala Palace, Yamdrok Lake, Tashilhunpo Monastery, Mt. Everest

$1,324 / Details

Lhasa / Gyantse / Shigatse / Mount Everest / Gyirong

Highlights: Potala Palace, Yamdrok Lake, Palcho Monastery, Mount Everest

$1,058 / Details

Chengdu / Xining / Lhasa

Highlights: Panda Base, Wenshu Temple, Potala Palace, Sera Monastery

/ Details
Have a question? Get answers from our travel experts soon!
Your Question:

Your Name:

Your Email: