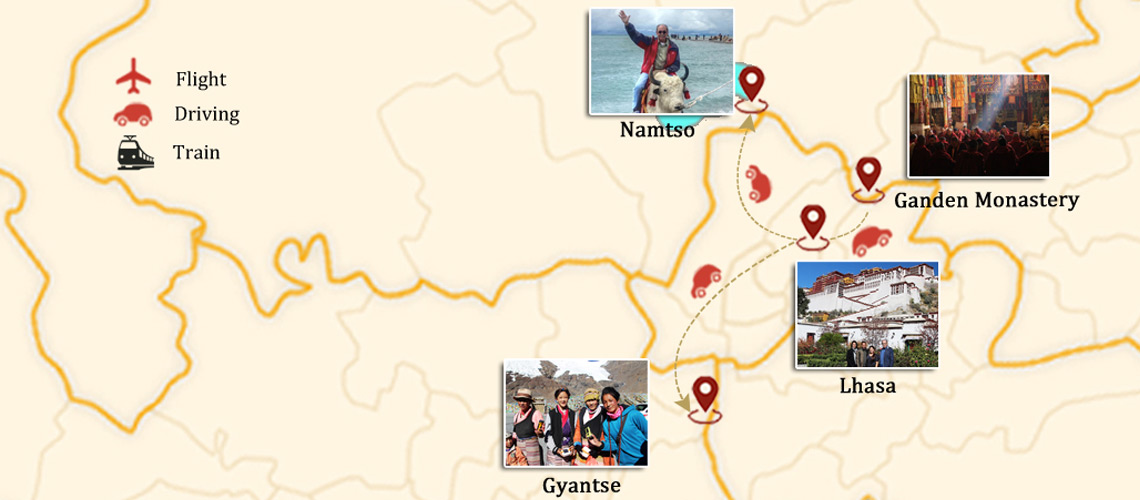 Jack (USA)
September 2017 / 4pp
Five Times Charity Travel in Tibet - Great Love from Jack
"I've used Tibet Discovery for my travels 5 times to Tibet and I got an outstanding experience every time. I love the amazing scenery in Tibet, also love the Tibetan people with strong heart and devoted belief. Thanks to Wendy, I enjoyed another great trip to Tibet in 2017. "
Jack's Experience Introduced by Wendy
"Hi, I'm Wendy. It was in 2013 when Jack firstly contacted with us after he saw our website. Since then, they got back to Tibet from USA every year. Till now, they have visited Tibet for 5 times. The travel length and departure time varied in different year, but they accommodated in the same hotel (Dekhang Hotel) and traveled with same Guide (Ms. Lhakdon) every time. Their itinerary always covered the highlights of Tibet – Potala Palace, Jokhang Temple and Barkhor Street and some other monasteries or villages.
You may wonder why they keep traveling to Tibet some many times. I can only say the love for Tibet and the love for people. Jack is a benevolent man caring much about the people in the rural area. He uses his power and resources to help those people in need. In his trip to Tibet, he brought many present gifts to the villagers in Tibet, aiming to improve their live. They appreciated the natural view and the culture treasure in Tibet, and they made a donation to charity to Tibet at the same time. Maybe visiting Tibet will give you a clearer answer. If you need any help for a Tibet tour, please contact me."
- - Wendy
Jack and ResortingTouch
Jack is a member of RestoringTouch, which is a Non-Profit Charitable Organization in Riverside, California. They are dedicated to improving the lives of individuals with practical acts of compassion wherever there is a need. The philosophy of their organization is touching our world with practical arts of compassion. During their trips, they have helped lots of people along the way.
Because of the special geomorphology in Tibet, some villages in Tibet still don't have stable access to electricity and clean water resources. When Jack's group visited Tibet, they also brought them personal solar lights, crank flashlights and filters to help them enjoy a heathy and convenient life. Especially the solar lights, lightweight and lasting up to 12 hours on a single charge, are a safe and reliable way to light their world. Besides, they also gave the money to the blind school in Lhasa to fulfill their basic needs.
In addition to Tibet, they also visited many other corners to make donation to charity. In some traditional Native American Tribes, they did many kind acts to improve the local life, like renovating some homes of the elderly or widowed, rebuilding the Bear Clan House and restoring village community buildings, helping elderly through an Elderly Program. In Cambodia, they cared much about the orphanage and assisted in donating clothing, school supplies, bikes and others for them.
Besides, they also helped the poor in Alaska, Bali, Indonesia, Ethiopia, Africa, UAE etc.
Jack's Group & Some of the People They Helped
Charitable Contributions of Jack to Tibet in 5 Years
In 2013, Jack started his first travel to Lhasa and Namtso. He found there were still some people in remote village without basic necessities, and even consistent electricity was a luxury in some areas. Jack felt sad and decided to try his best to help them.
In 2014, Jack came back to Tibet with his group members (Joseph, Lyle, Michael) in ResoringTouch. They distributed many solar lights to the villagers outside Lhasa. When they saw that their gifts were really helpful for the people, they planned to travel back every year and bring more items.
In 2015, they visited Tibet again with much more needed solar lights (LuminAID and flashlights) for the local people. In their previous tour in Tibet, they found that the water is mixed with impurities. So they also distributed many LifeStraw water filters to purify the Tibetan's drinking water.
Jack and his group brough helpful gifts to Tibetans in 2015
Their annual Tibet travel continued in 2016. Many solar lanterns and Secure solar or crank flashlights were given to families along the way. It was a great joy for them to see so many people receive these necessary items with incredible excitement! They also have helped many of the 2,000 people attending the Tibetan Buddhist Prayer gathering in the Moeru Temple in Lhasa with food, financial help and solar lights.
Jack and his group distriputed solar lights in 2016
In last year (2017), Jack and his group paid their fifth trip to Tibet. Just as his previous trips, they kept on helping people in rural areas with their basic needs – electricity and clean water. Many personal slolar lights were given to people in Lhasa suburb, the Karola Glacier and the local farmers living in Gyantse or more. They also provided the food program for Moru Temple in Lhasa where there were 2n200 traditional Buddhists on a 45-day prayer.
Jack and his group distriputed their gifts to the farmer in Gyantse in 2017
On this visit, Jack's group also visited the school for the blind children which was open by a Germany woman called Sabriye. Sabriya lost her sight slowly as child due to retinal disease, but she studied many languages, like Mongolian, Chinese and Tibetan. She also developed Tibetan Braille and began to educate the blind people. Jack and his group member were really amazed by what Sabriye has done. So they went to visit the school and play with these poor blind children. They also provided much needed funds for the school the improve their lives. As well, they created deep friendships with these children.
Kids in the School of Blind Children in 2017
Jack's Sightseeing Journey in Tibet
Wonderful Tibet Trip in 2017
It was the fifth visit to Tibet, so the landscape was no longer strange for Jack and his group. They spent 5 days in Tibet this time, with a visit to Gyantse.
Arrival on Lhasa Gonggar Airport, our private guide Lhakdon met them at the exit. No need to worry about the high altitude sickness, they visit Nietang Buddha on their road to Lhasa.
On Day 2, they firstly visited Potala Palace again, the symbol of Tibet. They like the magnificent appearance of the palace and also enjoy the history told by the guide. Their next stop is Jokhang Temple – most revered Buddhist site in Tibet. Thick with the smell of yak butter and the murmur of mantras, it is also Jack's favorite site. He was always deep moved when he saw the Buddhsit pilgrims keep prostrating themselves time after time in the Jokhang Temple Square. Climbing to the rooftops of Jokhang Temple, they enjoyed a good sight of Potala Palace in distance.
Jack visited Potala Palace and Jokhang Temple in every Tibet travel
On the next day, they drive for Gyantse via Yamdrok Lake and Karola Glacier. The water in Yamdrok Lake takes on dazzling blue. When Jack firstly saw Yamdrok Lake from the summit of Kamba-la, he was fascinated by the fabulous shade of the deep turquoise. Karola Glacier stretches from the sky with wispy cloud and mist to the road closely, shaping like a big frozen fall preparing to flow down from the high peak. Here they distributed the solar lights to the local Tibetan people. Then they continued their trip to Gyantse which is called Barn of Tibet. They had lunch in Tashi Restaurant and accommodated in Yeti Hotel. Tashi Restaurant is a Nepali-run restaurant, offering tasty Nepal food, Indian food as well as some western dishes and Chinese food.
Holy Yamdrok Lake & Magnificent Karola Glacier
On Day 4, they visited Gyantse Dzong – an old fortress with great historical significance in Tibet. Climbing to the top, they got the fabulous view of Palcho Monastery and the whitewashed old houses in the town. Then they transferred to the Pala Manor which is the only aristocratic manor remained in Tibet. From this manor, they explored the aristocratic history. After the sightseeing, the visited the nearby villages and distributed them the solar lights. The Tibetan people were curious about the solar lights and appreciated Jack's kindness so much. When the car was leaving, some people kept waving their hands to express their appreciation. Then they traveled back to Lhasa and visit the school for the blind and Moru Temple. They also provided much needed funds for the school for blind children and the food supplies for Moru Temple
Historical City - Gyantse
On the last day, they leave Lhasa for the next destination.
Other Places Jack Visited
After the Lhasa city tour, Jack's group once extented their spiritural tour to holy Namtso Lake. It was quite an interesting experience in Namtso Lake. Jack was glad to see the breathtaking lake view and exciting to ride a yak there. Jack also realized that the local life needed to be improved. So he decided to come back and do something to make his tour meaningful. Then he came back with his group, bring in solar lights, solar lights, crank flashlights and water filters.
Jack's Great Experience in Namtso Lake
Ganden Monastery gave Jack a great experience as well. Founded in 1409 by Tsongkhapa, it is also the first Gelupa Monastery in Lhasa. Jack liked its stupendous views of the surrounding Kyi-chu Valley and fascinating kora. When Jack visited the monastery, there were many monks chanting scriptures.
Ganden Monastery
Jack's Reviews on Tibet & Tibet Discovery
"A highly recommended experience! "
Our 4-day Lhasa & Namtso Lake trip was an outstanding experience in every way! Laura from Tibet Discovery and our Tibetan tour guides were very professional and very personal making this trip extremely smooth. We toured the Potala Palace, Jokhang Temple area (my personal favorite), the Dalai Lama's Summer Palace, Drepung and Sera monasteries and watched he monks debate. We finished our tour with Namtso Lake. Awesome trip, highly recommended and definitely plan on doing this again in the future. (Miss the yak butter tea!)
- Jack (September 9, 2013)
"China Tibet trip in April"
"I've used TibetDiscovery in Chengdu for all my travels (5 times) to China and Tibet. This is an outstanding tour company with an extremely helpful and friendly staff. I've used Laura Tang and Wendy Dan. I couldn't be more satisfied and will continue to use Tibet/China Discovery each time I visit! Through Tibet/China Discovery we have visited Chengdu, Shanghai and Beijing, Lhasa (the Potala Palace, Jokhang, Ganden, Sera and Drepung Manasteries and others places), Lake Yamdrok and Lake Namtso, Karo La Glacier, Gyantse and Shigatse. As well, our guide each time has been Ms. Lhakdon (Lhakpa Dolma), who is an extremely helpful tour guide, a joy to work with! Visits within Lhasa are short while areas outside are all-day events. Layered clothing, water, comfortable walking shoes and a camera are a must. I give our experience with Tibet Discovery, our tour guide, travel, lodging, etc. the highest rating and I will highly recommend Tibet Discovery."
- Jack (April 22, 2016)
Big Thanks for Jack's Big Love
Jack thanked our travel consultant and travel guide for providing him such a wonderful tip every time. But we want to say a big thank you to Jack. Jack, thanks for your kindness and your for Tibetan people, thanks for your benevolence and your care for other people in different corner in the world, thanks for your pictures which records the beauty of Tibet, thanks for your story to encourage us to explore Tibet and share our love. Thank you!
If you want to join Jack's group and make a contribution to developing Tibetan's life in rural areas, you can visit RestoringTouch. If you want a similar sightseeing experience, feel free to contact us or check the following related tours:
>> 4 Days Holy City Lhasa Private Tour (Lhasa City)
>> 5 Days Holy Lake Namtso Tour (Lhasa - Namtso)
>> 6 Days Lhasa Gyantse Shigatse Historical Tour (Lhasa - Gyantse)
>> 13 Days China Panda and Tibet Discovery Tour (Shanghai - Chengdu - Lhasa - Xian -Beijing)
Recommended Tibet Tour Packages
Tibet Discovery Tours is specialized in finding unique experience of Tibet, and leading you to explore what interests you most. Our Private Tibet Tours will take you to explore deep into the Holy Land, with loads of options, freedom & flexibility. You can choose from the following hand-picked tour packages which have been successfully operated for many years and created loads of amazing experiences for our customers, or check more Tibet Tours >>
Lhasa

Highlights: Potala Palace, Barkhor Street, Sera Monastery

$475 / Details

Lhasa / Gyantse / Shigatse / Everest / Lhasa

Highlights: Potala Palace, Yamdrok Lake, Tashilhunpo Monastery, Mt. Everest

$1,324 / Details

Lhasa / Shigatse / Mount Everest / Namtso Lake / Lhasa

Highlights: Potala Palace, Yamdrok Lake, Mt. Everest, Namtso Lake

$1,589 / Details
Have a question? Get answers from our travel experts soon!
Your Question:

Your Name:

Your Email: