Tibetan Buddhist Prostration Practice, How to Prostrate
13 February 2019
Last updated at 15:12
What is Tibetan Buddhism Prostration
Tibet is a Buddhist holy land that most of the Tibetans and devoted Buddhists, so in Tibet you can see numerous Buddhists doing pilgrimage. Pilgrimage is a traditional practice to accumulate merit and good fortune. The lay practitioner might go on pilgrimage for purifying defilements and conceit, curing an illness, winning a better rebirth, ending spate of bad luck or as thanks for an answered prayer. It is practiced as a devotional exercise in by Tibetans in different methods, two most popular methods including turning prayer wheels while walking to or around the religious sites, and making prostration. Prostration has been raised to a level of particular importance in Tibet. Tibetan Buddhists believe that prostration can fully purify their mind and help them earn a better life.
Generally, prostration can be divided into three types – local prostration, short distance prostration and long distance prostration. Local prostration means prostrating without walking. There are niches for Buddha in many Tibetan families, and some people will prostrate in front of the niche every day. Some people also choose to prostrate near the holy sides – Jokhang Temple is the most crowded place to prostrate. Short distance prostration refers to prostrating around the spiritual site, like Potala Palace, Barkhor Street, Mount Kailash or some other holy monasteries. Long distance prostration is the toughest holy trip. Many pilgrims leave their remote hometown for the holy city Lhasa. They spared to stand exposure, deprivation and hunger and prostrate themselves on sediment, ice and snow. The pilgrims that you see on the highway are usually undertaking a long distance prostration. Their whole journey may take several months to several years.
How to prostrate with correct way?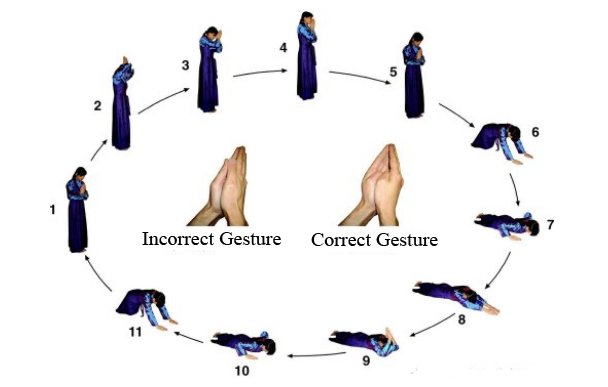 Correct Steps of Prostrating
The correct prostrating way can be divided in to 11 detailed steps.
1. With a pray gesture, stand up facing the monastery, chapel, or the front, then put your feet together , but not too close to keep balance.
2. Keep the praying gesture and raise your hands up above your head.
3. Touch your hands down to your brown.
4. Go on touching your hands down to your nose.
5. Get your hand back to your chest and be ready for prostrating.
6. Bend your waist facing the ground.
7. Lower your body on the ground and prop on the ground as the Push Ups.
8. Stretch your arms to the front and put your hands together to make a praying gesture again. For short and long distance prostration, you need to make a sign on your hand position when your arms stretch out. Because you need to walk to the sign and begin another one after you finish this prostration.
9. Keep your legs fold and put up your forearms above your hands.
10. Withdraw your hands and prop on the ground again.
11. Then stand up and prepared for the next prostration.
Popular Buddhist Sites to Pilgrimage or Prostrate
Buddhists believe one should prostrate at least 10,000 times during his lifetime. There are several popular Buddhist sites to prostrate or kora, four most important ones are Jokhang Temple, Bharkhor Street, Mount Kailash and Lake Manasarovar.
● Jokhang Temple. As the spiritual center of Lhasa hosing the honored Life-sized Statue of Shakyamuni at his age 12, Jokhang Temple square is filled with pilgrims every day. Because pilgrims' long times of prostration, some flagstones at the entrance of Jokhang Temple were polished. In the square of Jokhang Temple, you are able to savor the strong smell of yak butter and listen to the murmur of scriptures. Climbing up to the golden roof delivers you a marvelous view.
● Barkhor Street. Barkhor Street is the most famed pilgrim circumambulation With long streams of devoted Tibetan pilgrims walking clockwise and chanting prayers, Barkhor Street shows a thick fragrance of Tibetan Buddhist culture. Many pilgrims perform full prostrations to the hand-polished stone day and night. There are also many shops lined in Barkhor Street, many travelers also come here to appreciate Buddhist atmosphere as well as purchase some local souvenirs.
● Mount Kailash. Mount Kailash in Ngari has long been a lodestone to many religious pilgrims and adventurous travelers. It is "center of the world" worshiped by four influential religions, including Bön, Buddhism, Hinduism, and Jainism. Every year, there are countless pilgrims from different corner traveling far to kora and prostrate around Mount Kailash. In addition to its religious status, the natural view of Mount Kailash is superb. Ordinary travelers are also recommended to take a trekking along this holy mountain.
● Lake Manasarovar: Also located in Ngari, Lake Mansarovar is another hot kora place just 36 km the Darchen (the starting point of kora around Kailash). Listed in the Three Holy Lakes in Tibet, Lake Manasarovar is regarded as the mother of holy lakes. It is believed that Lake Mansarovar can purify all the evil of people. Because of close distance of Mount Kailash and Lake Manasarovar plus their religious importance, many pilgrims will take a Kailash Manasarovar Yatra.
● Other Religious Sites. Apart from these four sites, some other circumambulation is also important, including Potala Palace, Namtso Lake, Yamdrok Lake, Ramoche Temple etc.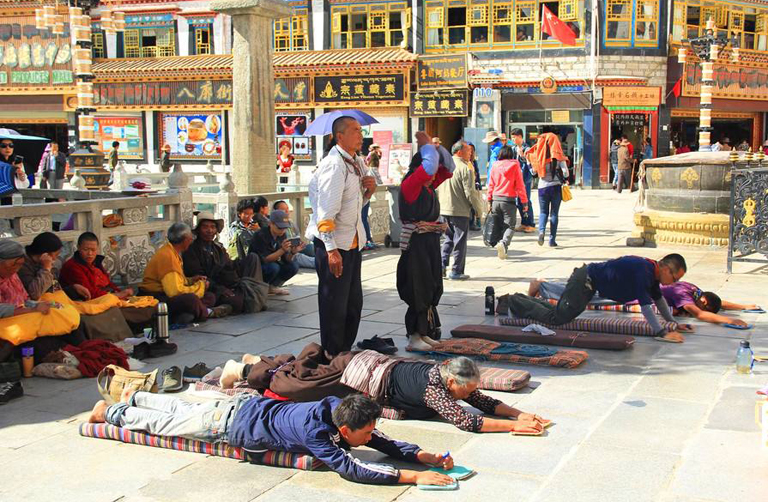 Pilgrims keep prostrating to Jokhang Temple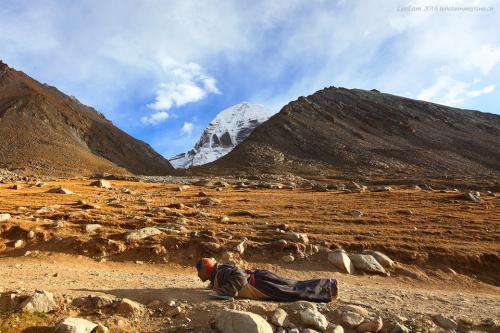 One Tibet prostrated around Mount Kailash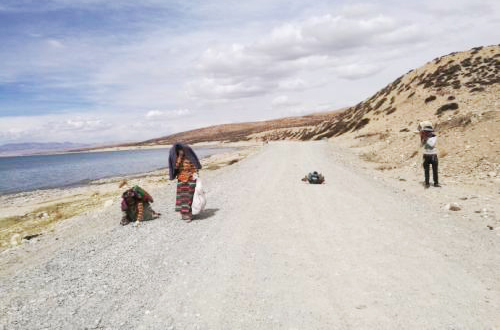 Prostrating along Lake Manasarovar
Are you a Buddhist believer or a Buddhism fan? We provide several tours to explore the Buddhist culture in Tibet and Nepal, please check following tours. If you want more, feel free to contact us and our travel constant can tailor-made a tour according to your needs.
>> 6 Days Lhasa Gyantse Shigatse Historical Tour
>> 13 Days Mt. Kailash & Lake Manasarovar Yatra Tour
>> 8 Days Nepal Buddhist Shangri-la Tour
Recommended Tibet Tour Packages
Tibet has too much to offer. And our aim is to bring you the best experience in Tibet. Following are some other recommended Tibet tour packages that you may be interested in. All of our Tibet tour packages are customize to meet your personal requirements. You can also contact us to customize a trip if you want or check more. Check more >Tibet Tours
Have a question? Get answers from our travel experts soon!
Your Question:

Your Name:

Your Email: