Zongjiao Lukang Park - Great Place to Shoot Water Reflection of Potala Palace
Zongjiao Lukang Park (宗角禄康公园) is the most famous water area near the Potala Palace. Most of the photos of the Potala Palace reflected in the water are taken from here. In Tibetan, "Zongjiao" means "behind the palace"; "Lukang" means Lushen (God Lu) Temple. Lushen in Tibetan Buddhism and Bon religion is the general name of a kind of gods living in the underground and water. It resembles the pronunciation of "Longshen" (Dragon King) in Chinese, so the pool in the park is called Dragon King Pool and the park is also called Dragon King Pool Park.
Apart from being a good spot to appreciate the Potala Palace, the park itself is well planned and has pleasant scenery. You can feel a harmonious combination of culture, nature, and creature in the people, architecture and animals here. After visiting the Potala Palace, it is a good choice to have a nice walk at Zongjiao Lukang Park.
Zongjiao Lukang Park Facts
Ratings:

#17 of 69 Things to Do in Lhasa
Season:

All year round
Type:

Park, Architecture, Lake
Altitude:

3,650 meters
Location:

9 Niangre South Road, Chengguan District, Lhasa拉萨市城关区娘热南路9号
Zongjiao Lukang Park History
In the 17th century, a large amount of gravel and earth here were used to expand the Potala Palace. Then the transudatory groundwater accumulated and formed a pool (Dragon King Pool). During the period of the Sixth Dalai Lama, a pavilion was built on the small island amid the pool according to the mandala in Tibetan Buddhist rituals, and a five hole stone arch bridge with a width of more than 3 meters and a length of more than 20 meters was built to connect the island with the outside world. Later, the eighth and thirteenth Dalai Lama also renovated this area.
In 2006, Lhasa municipal government re-planned the park. Now it is an free open park with gravel paths, stone tables and chairs, lawns and fountains, trees and flowers. Lhasa people come here to do morning exercise, feed the birds and ducks, and spend some quality time with their families or friends. It is also the nearest Kora place to the Potala Palace.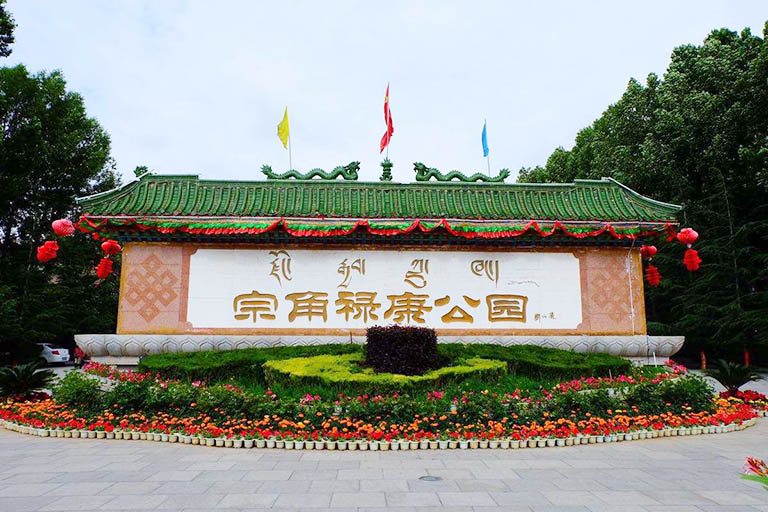 Zongjiao Lukang Park
Zongjiao Lukang Park Highlights
Take a Photo of the Water Reflection of Potala Palace
Have you seen the beautiful photos on the Internet about the water reflection of the Potala Palace? Do you want to take one by yourself? Here is where most of those pictures are taken. This is also the main reason of a great number of tourists who pay a visit here. When there is no wind, you can see the clear reflection of the red and white Potala Palace on the mirror-like Dragon King Pool. The best time to catch the sight is in the early morning when the pool surface is calm with no tourists having come yet for a boat ride or birds playing on the water.
Have a Leisure Stroll around the Park
Zongjiao Lukang has everything you would expect for a park. The willows are swaying lightly in the breeze along Dragon King Pool. Ducks and migrant birds are enjoying themselves on the water or road. You can easily find a bench to sit down and have a rest or chat with your friends. At the same time, the white pagodas, colorful pavilions and people with prayer wheels are constantly reminding you that it is a Tibetan-style park. There is a three-storey temple that mainly worships God Lu. Every year on April 15th in the Tibetan calendar, which is Saga Dawa Festival, people will come here to offer hada, offerings and light butter lamps.
Blend into the Daily Life of Local Tibetan
Though Zongjiao Lukang is not a big park, it is one of the favorite places local people like to go. In the morning or at dusk, you can join in the joyful Guozhuang dance in the sunshine. Or on a comfortable afternoon, step into a sweet tea house and have a cup of sweet tea and a bowl of Tibetan noodle. It seems that everyone here is at ease; no matter it's pious pilgrims or just someone wandering around, no matter it's men, women, the senior or the kids. So maybe you can also put aside your busy life for a while and take the time you need to feel the authentic plateau life in the sun.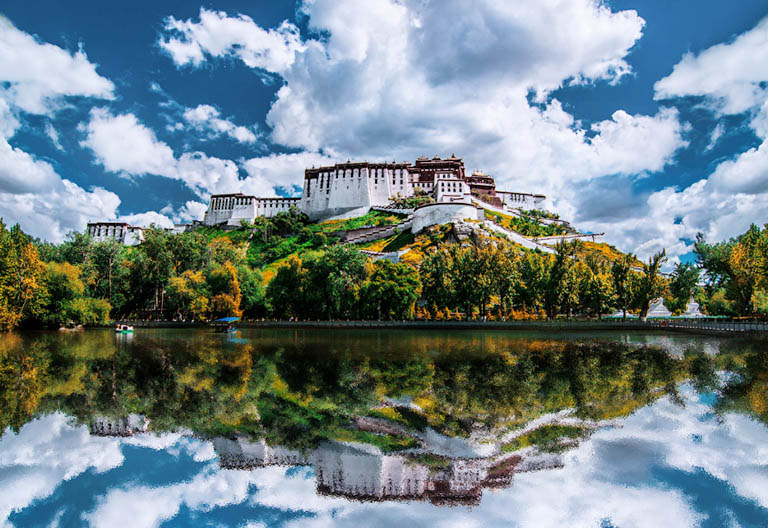 Reflection of Potala Palace on Dragon King Pool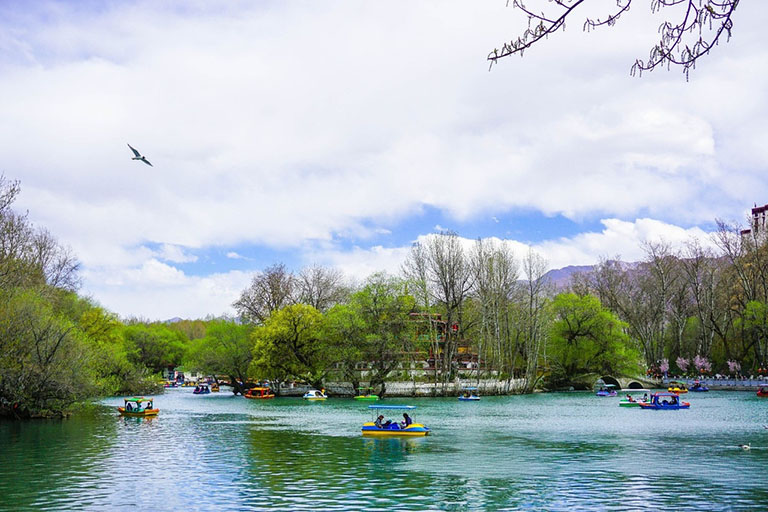 Boating on the Lake in Zongjiao Lukang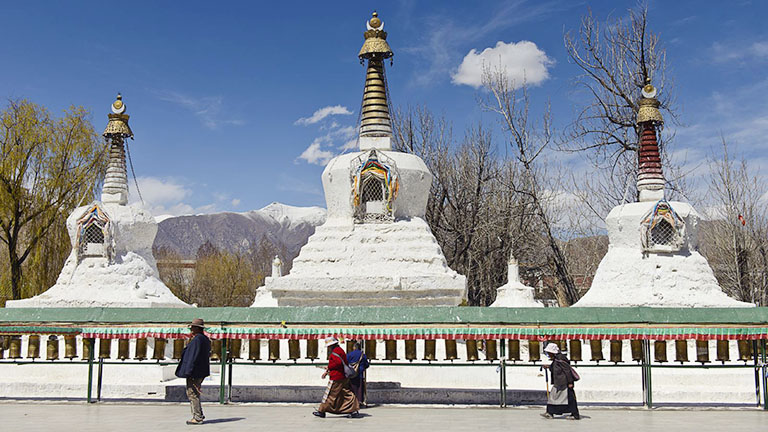 Kora Along the White Pagoda in Zongjiao Lukang
How to Get to Zongjiao Lukang Park
Zongjiao Lukang Park is in the northern part of Lhasa and you can take a bus or taxi to get there easily. It is located only about 300m behind the famous Potala Palace, about 3 km (15 minutes' drive) from Jokhang Temple and Barkhor Street.
● From Lhasa Gonggar Airport: about 60 km, 70 min by car. Airport shuttle bus is available to Lhasa city near the eastern gate of Potala Palace.
● From Lhasa Railway Station: about 9 km, 30 min by car.
Useful Travel Tips of Zongjiao Lukang Park
● Ticket & Opening Hours: Zongjiao Lukang Park is admission free and opens all day.
● Recommended Visiting Time: 1-2 hours is sufficient to tour around Zongjiao Lukang Park. But if you are not in a hurry, it is a relaxing experience to spend more time here.
● Best Time to Visit: Zongjiao Lukang Park is suitable to visit all year round. You can come here in spring to meet the pink flowers, in summer to take part in Saga Dawa Festival or Shoton Festival, in autumn to see the painting-like yellow trees, or in winter to have fun on the frozen pool. The best visiting time depends on what views you'd like to encounter.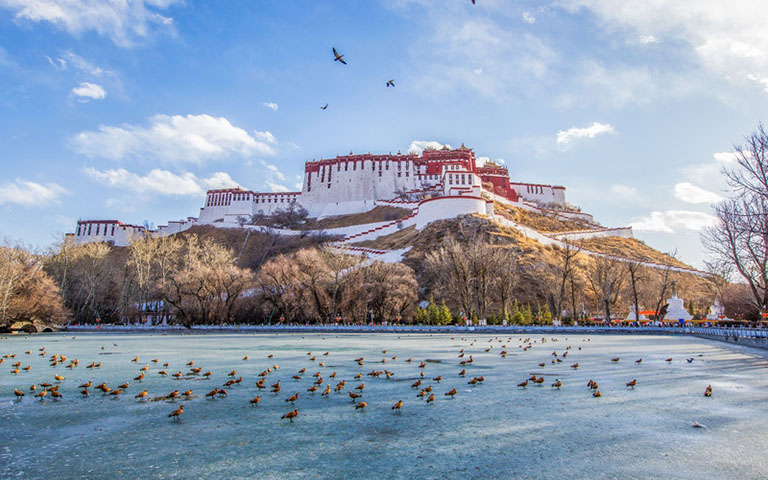 Frozen Dragon King Pool in Zongjiao Lukang Park
Nearby Attractions Around Zongjiao Lukang Park
Potala Palace: Potala Palace, the must-visit site of Lhasa, regarded as a landmark and the symbol of Tibet, is a great giant palace consisting of many houses, towers, chapels, etc. According to the Guinness Book of World Records, Potala Palace is the highest palace in the world. Because of its spectacular architectural style, it is honored as one of the most beautiful architectural buildings in the world. As the historic ensemble of Lhasa, Potala Palace, together with the exceptional Jokhang Temple and Norbulingka is the UNESCO World Heritage Site.
Jokhang Temple: Jokhang Temple (or Jokhang Monastery) is the spiritual center of Tibet and the holiest destination for all Tibetan pilgrims. Situated at the heart of the old town of Lhasa and surrounded by Barkhor Street, this 4 storied building, was built in the 7th century by Songtsan Gambo, with gilded bronze tiles covering the roof, and demonstrates a combination of the architectural style of Han, Tibetan, India, and Nepal, as well as a Mandala world outlook of Buddhism.
Barkhor Street: Barkhor Street is the popular circumambulation for pilgrims and a commercial center. Being "a saint road" in the eyes of Tibetan, you can feel the local spiritual belief when you see different pilgrims from all over Tibet in different dresses and dialects to pray devoutly along Barkhor Street. Like a miniature of Lhasa, it shows you another aspect of the Tibetan life. There are an eyeful of fantastic stores and shops to display most characteristic items and commodities such as thangkas, prayer wheels, prayer flags and milk tea. Barkhor Street is such a great place to buy some souvenirs and suck up the local Tibetan lifestyle.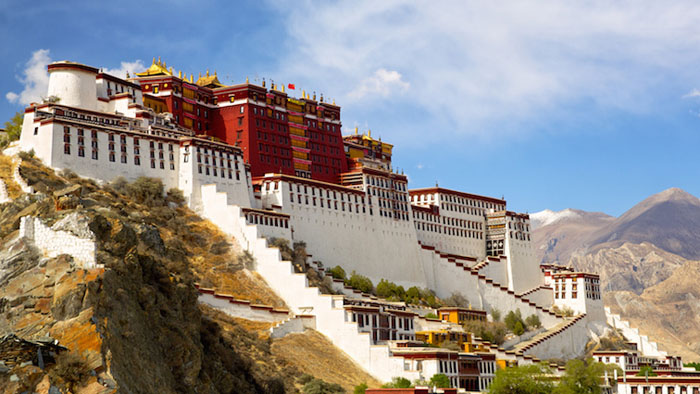 Potala Palace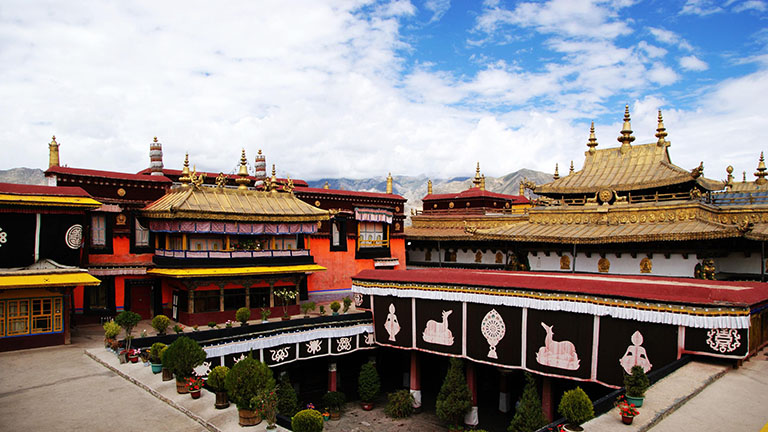 Jokhang Temple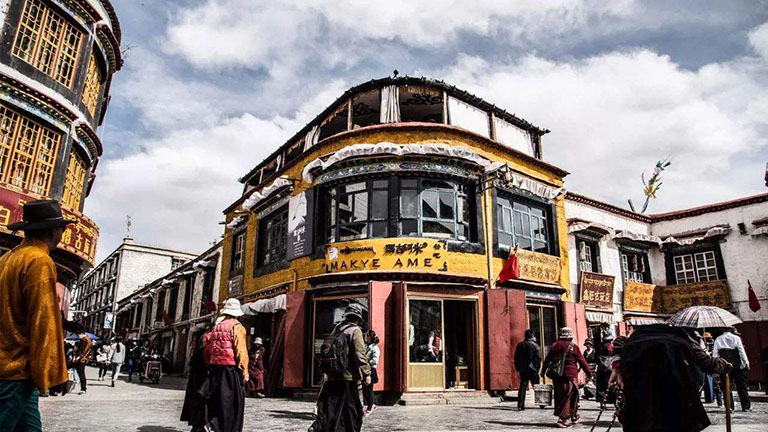 Barkhor Street
How to Plan A Tibet Tour
Tibet is too vast to be visited in one single trip, but planning ahead of time can make most of your holiday. A classic Tibet tour always takes about 4 ~ 8 days. Apart from 2 days for arrival and departure, it usually needs 2 other days to explore majestic Potala Palace together with Zongjiao Lukang Park and other landmarks in Lhasa, the capital of Tibet. With a day trip's distance from Lhasa, Namtso Lake is another perfect tour extension if you visit Tibet from May to October.
☛ 4 Days Holy City Lhasa Private Tour - Heart of Tibet
☛ 5 Days Lhasa City and Holy Lake Namtso Tour
To explore further, it's strongly recommended to travel from Lhasa to Mount Everest via Gyantse and Shigatse, which usually needs 4 more days. It is an unforgettable sightseeing trip with lots of attractions to visit, such as Yamdrok Lake, Karola Glacier, Kumbum Stupa of Palcho Monastery, Tashilhunpo Monastery, etc. Of course, the biggest draw must be gazing upon the unparalleled north face of the world's highest peak – Mount Everest.
☛ 6 Days Lhasa Gyantse Shigatse Historical Tour
☛ 8 Days Everest Base Camp Tour - Top of the World
☛ 9 Days Tibet Discovery Tour plus Everest and Namtso Expedition
For Buddhist followers and hiking lovers, you are suggested to travel to Ngari to join the kora around the holy Mt. Kailash and sacred Lake Manasarovar, which usually takes about 5 ~ 8 more days from Lhasa. The wild nature of Ngari is spectacular as well.
☛ 13 Days Mt. Kailash & Lake Manasarovar Trekking Tour
☛ 16 Days Mt.Kailash Pilgrimage Private Tour
If you are looking for a longer Himalaya adventure, you can travel Tibet with two other charming Himalayan Kingdoms – Nepal and Bhutan by overland driving or flight. If you have your own needs or interest, just feel free to contact us to customize a trip of your own!
Lhasa, Namtso, Mount Everest and Ngari are four most popular destinations in Tibet
Lhasa Top Attractions
Lhasa Travel
Recommended Tour Packages
Escorted by a skilled private drivers and accompanied by a professional local tour guide to organize all the activities, all you have to do is to enjoy your fantastic Tibet journey. Time can never be wasted waiting for a group, hopping on and off buses or negotiating unfamiliar destinations.
Lhasa / Gyantse / Shigatse / Everest / Lhasa

Highlights: Potala Palace, Yamdrok Lake, Tashilhunpo Monastery, Mt. Everest

$1,324 / Details

Lhasa

Highlights: Potala Palace, Barkhor Street, Sera Monastery

$475 / Details

Lhasa / Gyantse / Shigatse / Mount Everest / Gyirong / Kathmandu

Highlights: Potala Palace, Yamdrok Lake, Palcho Monastery, Mount Everest

$1,058 / Details
Have a question? Get answers from our travel experts soon!
Your Question:

Your Name:

Your Email: