Tsurphu Monastery - Head Monastery of Kargyu Sect
Tsurphu Monastery is the head monastery of Kargyu Sect located in the upper reach of Tsurphu River. The Kagyu Sect is also known as Black Hat, a title referring to a black crown from the Chinese emperor Yongle in Ming Dyanasty to the fifth Karmapa. Tsurphu Monastery lies to the northwest of Lhasa to Tolung Deqen, and the altitude reaches to 4,300 meter. The complex covers an area of about 300 square meters and walls reach to 4 meters thick. Being originally built in 1189, Tsurphu Monastery has a history of over 800 years. The Reincarnation System of Living Buddha was born there and spread to other sects. In its period of greatest prosperity, Tsurphu Monastery developed to hold over 1,000 monks. Though it experienced several damages and reconstructions, it keeps its primitive charm. Nowadays, there are many rare cultural relics cherished in the monastery and providing great historical materials for the research on the politics, economy, and religion during old Tubo Dynasty.
Tsurphu Monastery Facts
Ratings:

#2 of 3 Attractions in Tolung Deqen County
Season:

April to October
Type:

Monastery, Religiou Site
Altitudes:

4,300 meters
Location:

Tolung Deqen County, Lhasa City
How to Get to Tsurphu Monastery
Tsurphu Monastery is located in the Tolung Deqen County, about 60km to east Lhasa. There are daily buses running to Tsurphu Monastery from west Jokhang Temple Sauare around 6:30am and back to Lhasa in the afternoon. Ticket for single journey cost 20CNY. For a more free journey, some tourists will rent a car which cost 200~300 CNY. On the road, you can enjoy the pretty scenery of Lhasa. You can travel between Lhasa and Tsurphu Monastery within 2 hours usually. According to tourism regulation in Tibet, foreigner travelers are not permitted to travel alone in Tibet, and you have to visit Tsurphu Monastery with a travel agency.
TibetDiscovery is a local based travel agency provides superior tour to every tourist who travels in Tibet. Traveling with us, you are assured to use the highest quality vehicles available and get to the destination as swiftly and smoothly as possible. There will be enough space for you and your luggage. Moreover, you will enjoy the freedom and flexibility to stop on the way for sightseeing or photograph. All cars are equipped with skilled and reliable drivers who have many years of driving experience in Tibet.
History of Tsurphu Monastery
In 1159, the first Gyalwa Karmapa (leader of Kargyu Sect in Tibetan Buddhism) realized the site of Tsurphu Monastery was a holy place of the Cakrasamvara Tantra in his meditation and then he bought this land when he visited. 30 years later, he came back again and founded his main seat there. Before long, Tsurphu Monastery became the center of Buddhist activities as well as the most important monastery for Kargyu Sect. After the first Karmapa passed away, the second Karmapa expanded the monastery and built the well-known Lhachen Zamlinp Gyan. In the subsequent years, Tsurphu Monastery grew to a large monastery with many halls, pagodas, library etc.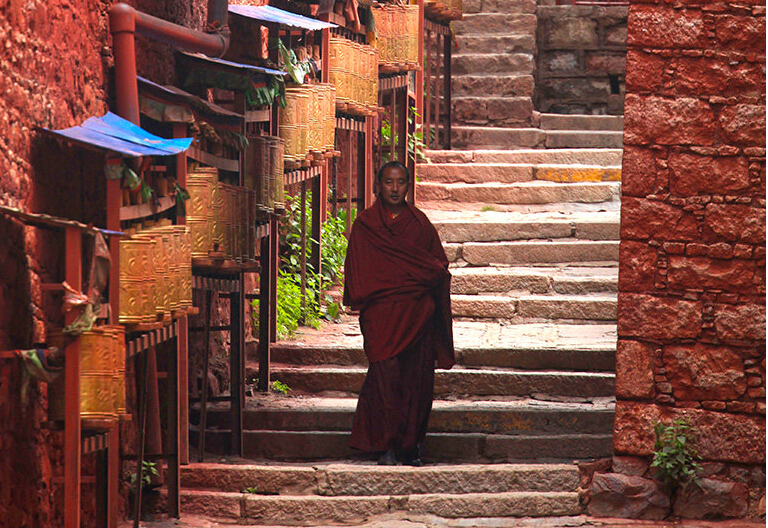 Ancient Tsurphu Monastery
Layout of Tsurphu Monastery
Tsurphu Monastery enjoys a large-scale architectural complex, including Scriptural Halls, Buddhist Hall, Dharmapalas Hall, Buddhist College, Living Buddha's classroom, and monks' residences. It faces south, and surrounded with mountains on south, west and north. In front of the monastery is a large square occupying 1,520 square meters. In the center of square stands a towering stone tablet engraved with characters "江浦建寺碑". Since it has exposed to the weather for hundreds of years, the ancient Tibetan words on the tablet are still apparent. Climbing up to the 24 steps, you can see a corridor supported by 6 columns. Then there comes the Assembly Hall. Centering on the Assembly Hall, there are four Dratsangs and other architectures. Two ancient pagodas are standing on the west side of Tsurphu Monastery. On the rear mountain of Tsurphu Monastery raises a white hall which is the cultivating place of monks.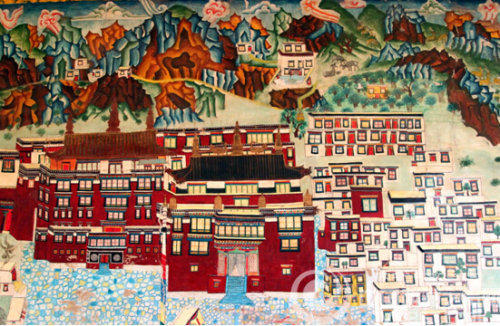 Mural Refering to the Old Layout of Tsurphu Monastery
Highlights of Tsurphu Monastery
Magnificent Architectures
The Assembly Hall is the main hall of Tsurphu Monastery, which housing the relics of the 16th Karmapa. It has three storeys totally. The first floor is the venue of meeting and chanting scriptures. The hall is well-decorated and tourists can enjoy the exquisite murals which describes the original monastery. The statues of Sakyamuni, Merciful Buddha and the 16th Karmapa are worshipped in the first floor. On the two sides is a connecting cabinet housing over 1,000 statues of Buddha. Then central part of the second floor is a dooryard. On the south side are the meeting rooms of living Buddha. On the third floor of the Assembly Hall, you can find a big platform. There are two rooms on the north side. One is Depositary of Buddhist Sutras, 13.6 meters in length and 6.4 meters in width. Various classical scriptures are cherished there. The other room is the living room of the 17th Karmapa, and his boyhood possessions are well-preserved there.
Cultural Relics
Tsurphu Monastery is enshrined with many rare and historical relics as well. Among these precious relics, the most famous is the Sarira of the Respected 16th Karmapa. Sarira is a generic term referring to Buddhist relics. The 16th Karmap passed away and criminated in America in 1981. The Sarira of hist leg bone was brought back to Tsurphu Monastery. Several years later, something wonderful happened. A statue of Buddha (1/4 centimeter high) formed naturally on the sarira naturally. It is a completely natural forming and nobody can tell the reasons. The Buddhists believes that it is formed by the spirit of the 16th Karmapa.
Featured Activities
Summer Rite (9~11th April according to Tibet calendar) is the annual Buddhist ceremony held in Tsurphu Monastery. Its main activities contain Cham dance and Thangka of Buddha unfurling. Cham dance is a lively masked and costumed dance. It is always accompanied by music played by the monks with traditional Tibetan instruments, like tupan, suona horn and some others. More than a performance, Cham dance is regarded as an offering to Buddha and a form of meditation. Buddha exhibition is an annual activity in Tsurphu Monastery. The huge Thangka of Sakyamuni (38-meter high and 35-meter wide) will be hanging on the Buddha Exhibition Platform across the river from the monastery. It is a religious activity for worshipping the Buddha as well as the opportunity to show the consummate skill of the Thangka makers.
During New Year Festival, there will be Cham dance performed in Tsurphu Monastery on the New Year's Eve as well.
Tsurphu Monastery Kora
If you want to see more around Tsurphu Monastery, undertake a kora with the local pilgrims. There is a kora road for pilgrims around Tsurphu Monastery, stretching to 4km and providing astonishing views of Tsurphu Monastery below. You will pass springs, meditation retreats and shrines as well as prayer flags and Mani stones. Besides the amazing natural landscape you will feast, you may also enjoy the peaceful atmosphere far from the boisterous crowd.
It takes about 2 hours usually to finish the circumambulation. The path may ascends 150m and make sure you won't be disturbed by High Altitude Sickness.
Tsurphu to Yangpachen Hiking
Route: Tsurphu – Leten – Bartso – Dorjeling Nunnery - Yangpachen
If you are a hiking fan thirsty for stretching your legs, Tsurphu Monastery is a good starting point. Beginning at Tsurphu Monastery, the rugged walk crosses stunning high valleys and finally leads you to Yangpachen. Combining spectacular alpine landscape and Buddhist monastery or nunnery in the route, this hiking well balances wilderness and cultural activities. It usually takes about 4 days to cover a trek of 60km. The highest point you will climb to is Lhasar-la with an elevation of 5,400km. During the hiking days, you need to camp for accommodation.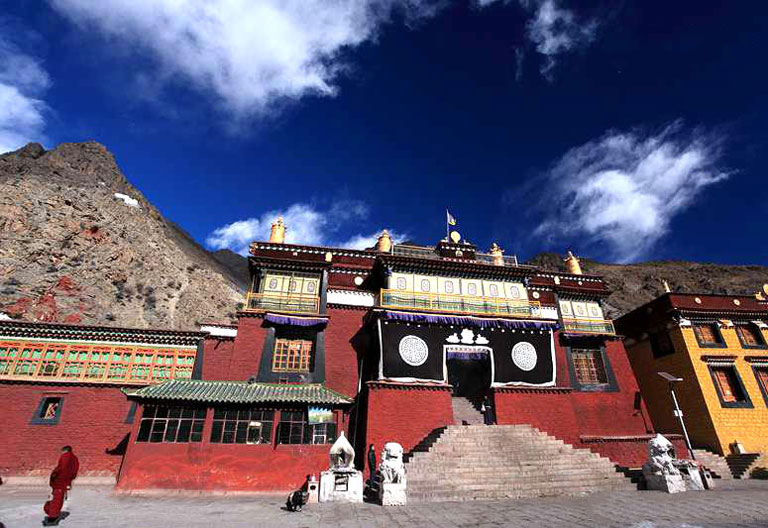 The Grand of Assembly Hall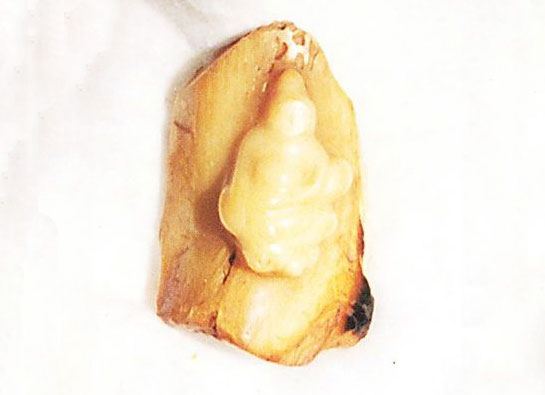 Sarira with Naturally Formed Statue of Buddha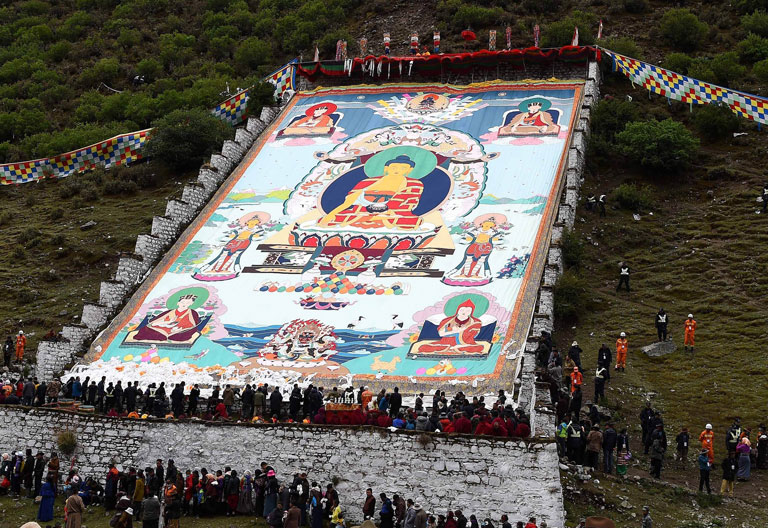 Thangka of Sakyamuni Exhibition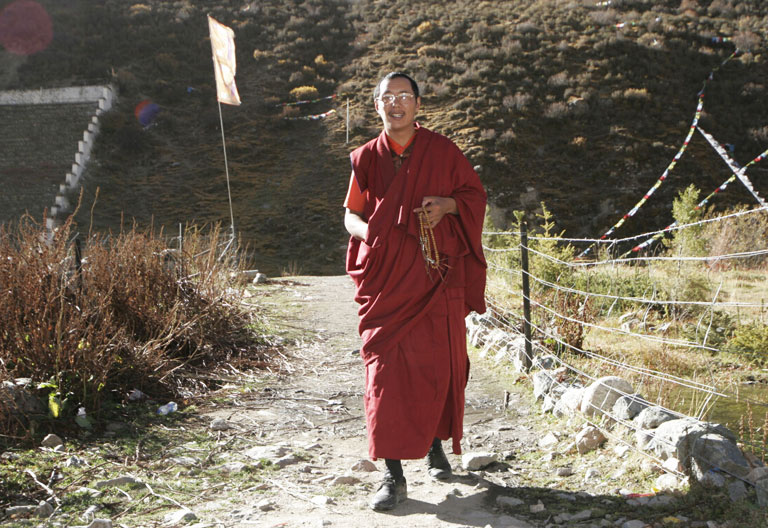 Kora around Tsurphu Monastery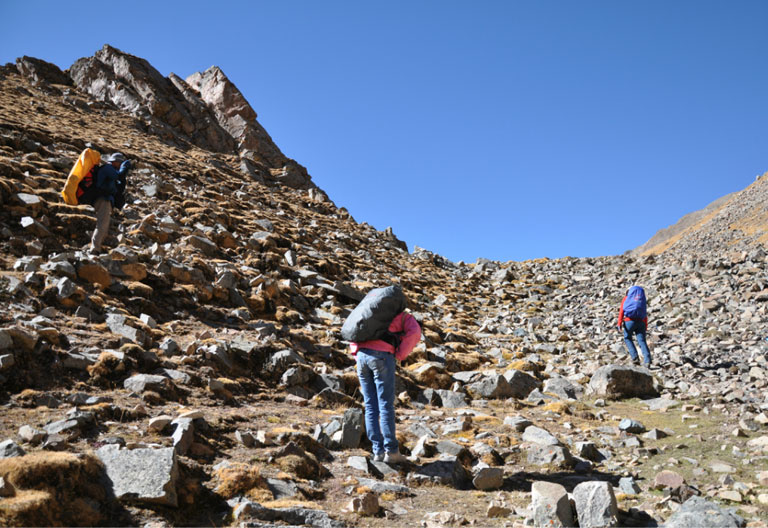 Tsurphu to Yangpachen Hiking
Useful Tsurphu Monastery Travel Tips
Ticket Information: The admission fee for one traveler is 45CNY, and the opening time of Tsurphu Monastery is 09:00~14:00.
Food and Accommodation: There is no available restaurant or real hotels near Tsurphu Monastery. Only a small guesthouse opposite the Assembly Hall offering very basic rooms, it is closed sometimes. You are advised to bring your own food or snacks, and get back to Lhasa for accommodation.
High Altitude Sickness: The altitude of Tsurphu Monastery is higher than Lhasa, and you need to make preparation for High Altitude Sickness. More water, more fruits, less strong activities will be helpful.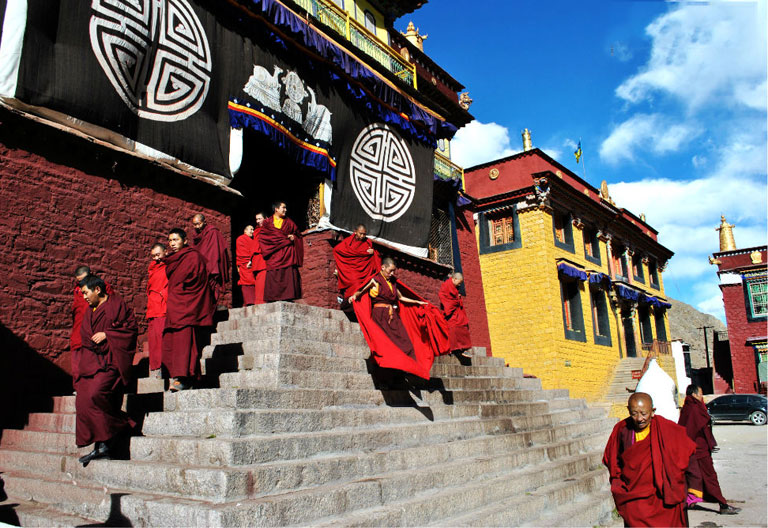 Happy Monks in Tsurphu Monastery
Lhasa Top Attractions
Lhasa Transportation
Have a question? Get answers from our travel experts soon!
Your Question:

Your Name:

Your Email: