Tibet Museum (Lhasa) - Splendid Tibet Cultural and Historical Collections
Located in the southeast corner of Norbulingka, Lhasa, Tibet Museum is the first modern museum in Tibet. Opened in 1999, Tibet Museum covers an area of 53,959 square meters, with a total construction area of 23,508 square meters and an exhibition hall area of 10,451 square meters. On the central axis of the museum area lies the preface hall, the main exhibition hall, and the cultural relics Treasury. The Tibetan Museum has the distinct characteristics of both Tibetan traditional architectural art and practical modernized architectural facilities.
Since December 1, 2016, Tibet Museum has been closed for reconstruction and expansion. The reconstruction and expansion project of Tibet museum started in October 2017 is expected to be completed by the beginning of 2020 and planned to be reopened to the public in 2021.
About Tibet Museum
Rating:

#9 of 69 Attractions in Lhasa
Season:

All Seasons
Type:

Museum, Cultural Site
Altitude:

3,650 meters
Location:

Southwest of Potala Palace, Near Norbulingka
What to See in Tibet Museum
By 2017, The exhibition hall of Tibet Museum consists of four parts: prehistoric culture, indivisible history, culture and art, and folk culture. The prehistoric cultural exhibition hall shows people the stone and bone wares and other Paleolithic tools used for daily life excavated in the north of 4,000 meters high Tibet plateau, and stone axes, stone chisels, stone clusters, bone cones, bone needles, various red, grey and black pottery instruments unearthed in Chamdo in the late Neolithic age, which completely represents the representative era of Tibet before entering the civilized society - Paleolithic, Neolithic, bronze age and iron age.
In addition to various types of prehistoric cultural relics, the museum also has other rich collections of treasures, such as statues of Buddhas and Bodhisattvas in various genres and shapes, ancient Tibetan books and records written with gold powder, silver powder and coral powder, gold seals of great living Buddhas, gold vases, colorful Thangka paintings, various musical instruments for Buddhism mass, and distinctive ethnic handicrafts, pottery in different styles, etc.
Treasure of the Museum - Symmetric Pottery Pot
● Size: diameter: 8.4cm - 11.3cm, height: 19cm; ● Texture: sand mixed yellow pottery; ● Age: Neolithic Age
The most precious treasure of Tibet museum is the painted symmetric pottery pot, "double pottery". This pottery pot was unearthed at the Karuo site of Chamdo, with a history of more than 4,000 years. Among the pottery unearthed in the whole Karuo site, there is only one pottery with such exquisite, complex, and distinctive shape. It is not a common tool for daily life, but an object with special significance for ritual activities of the clan tribe. It is a representative cultural relic of the early local culture in Tibet. At first glance, this pottery pot looks like a pair of small animal twins, and female breasts and plump buttocks, which reflects the worship of the reproductive power of Tibetan clans in ancient times.
Golden Bemba Vase
● Size: 34cm high; ● Weight: 2.85kg; ● Texture: Gold; ● Age: 1792AD, Qing Dynasty 
"Bemba" is a transliteration of Tibetan, which means "vase". The vase is made of gold with five Ivory sticks inside, and it has special and important political and religious significance. The vase cap is inlaid with various gems and the whole vase is decorated with cloud patterns and auspicious symbols. The gold vase living Buddha reincarnation system began at the Qing Dynasty, and the gold vase designed by Emperor Qianlong himself. It is stipulated that the reincarnation of the Dalai Lama, Panchen, and other living Buddhas of Tibetan Buddhism should be decided through this vase to ensure the fairness of the reincarnation of the living Buddhas. The specific way of drawing lots is to write the names of the candidates on ivory sticks, put them in yellow silk covers, and put them into the vase. After seven days of praying in Jokhang Temple, they are moved to Potala Palace to draw the living Buddha. The one drew out from the vase will be recognized as the reincarnation child of the former living Buddha after being approved by the central government. More than 70 reincarnated spiritual children of living Buddhas have been selected by the golden vase in the past, including the 11th Panchen.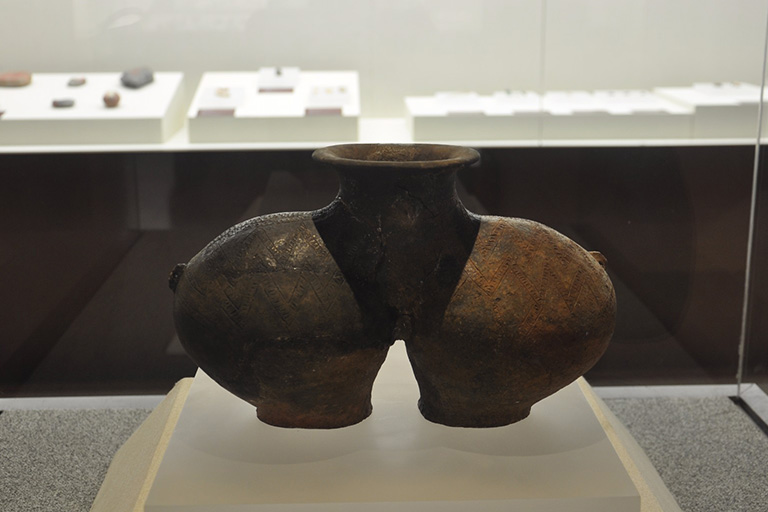 Symmetric Pottery Pot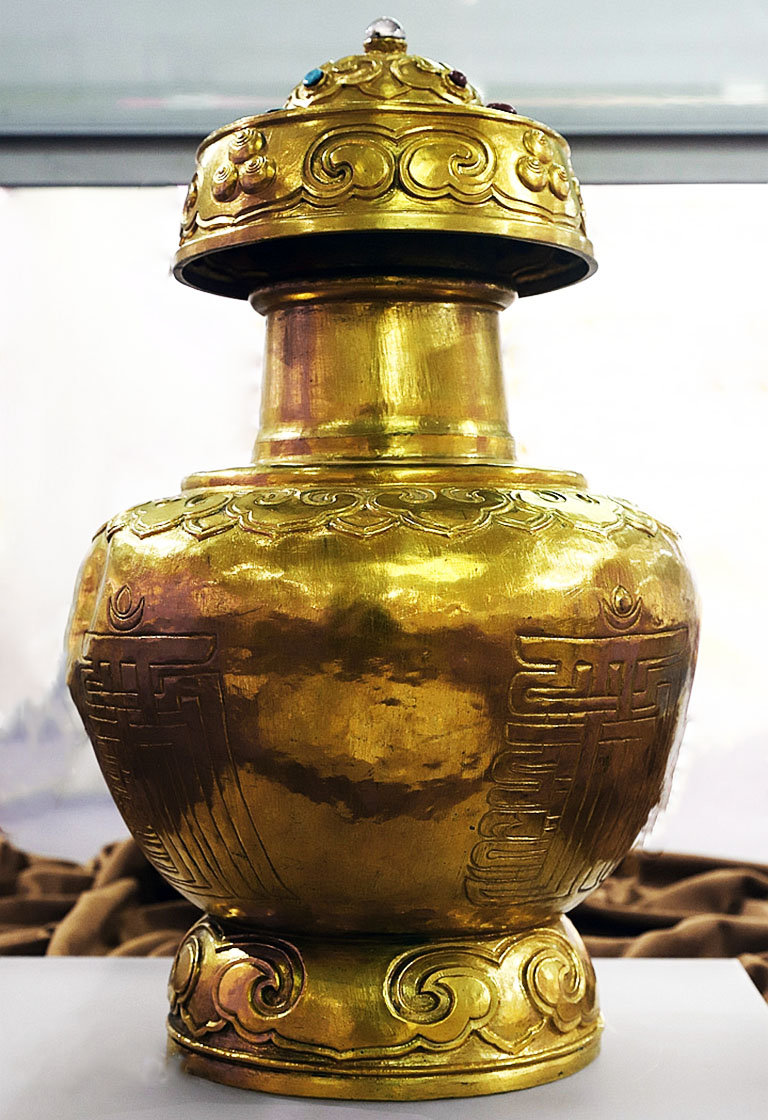 Golden Bemba Vase
Thangka - Portrait of Phags-pa
● Size: 270cm long, 148cm wide; ● Texture: Silk; ● Age: 13th century
Phags-pa is one of the five ancestors of Sakya. In 1245, he went to Liangzhou and met with the Mongolian Prince and signed the treaty on Tibet's surrender to the Mongolian Khanate and claimed the vassalage-suzerainty relationship in the Yuan Dynasty. He was highly respected by the emperor of the Yuan Dynasty, enjoying a high political and religious status. In this portrait, in the central part of Thangka, he was painted in a figure in detail, with black hair, fine eyebrows, big eyes, heavy eyes, long nose, and ruddy lips. Phags-pa is dressed in Three Dharma robe and he sits on the throne of the lotus flower with bare feet. This thangka is a rare classic work of Nepalese painting school with a long history, exquisite drawing techniques, strong political symbols, and high artistic achievements.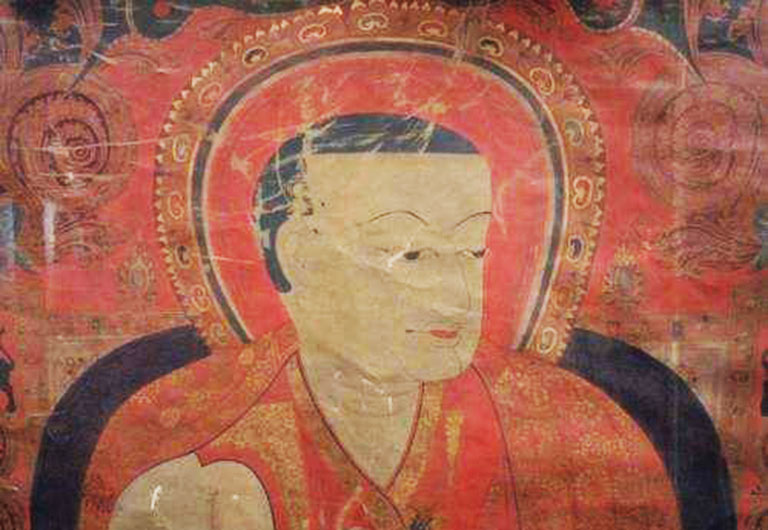 Thangka - Portrait of Phags-pa
Sanskrit Borassus Scripture - Eight Thousand Sutra of Prajnaparamita
● Size: 42cm long, 7cm wide; ● Texture: leaf; ● Age: 11th-12th Century
Borassus Scripture is a Buddhist Scripture written on the leaves of Borassus palm tree, which originated from ancient India. Before the paper-making technology was invented, Indians had written Buddhist scriptures and painted Buddhist statues on the leaves of Borassus palm tree, so it was named the Borassus Scripture. According to relevant historical records, ancient Indians began to make and use this kind of palm Scripture 2,500 years ago. Eight thousand Sutra of Prajnaparamita is exquisitely made, well written, and well preserved in colorful patterns, clear pages, and texture, which can be dated back to thousands of years ago. It is said that the ancient Indians used many unique methods and complex processes to make the Borassus palm leaf Scripture, to ensure that the palm leaf Scripture to be able to bear the text till today, and it is a rare first-hand material for studying the ancient Indian history, especially the early Buddhist culture.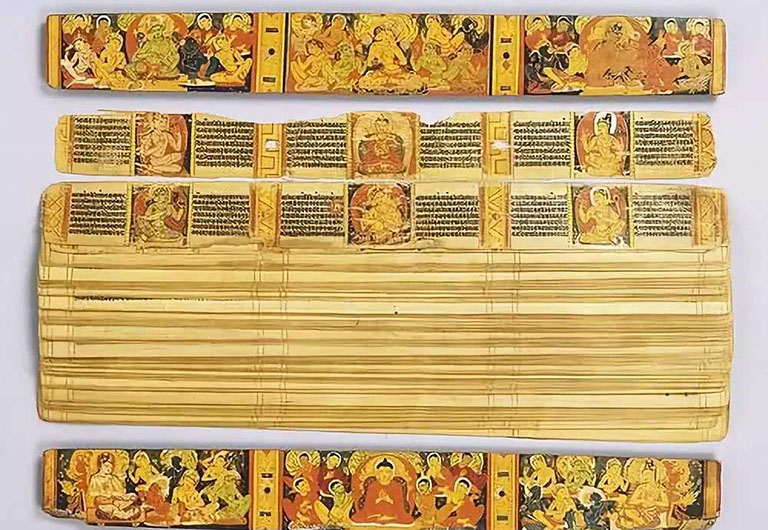 Sanskrit Borassus Scripture
Gilded Copper Amoghasiddhi Buddha
● Size: 37cm long, 22cm wide; ● Texture: gilded copper; ● Age: 15th century
Amoghasiddhi Buddha represents the "great wisdom" of reasoning all the causes of Tathagata and all living beings. Amoghasiddhi Buddha wears a five-leaf crown, a cross diamond pestle on the top. The statue is symmetrical, with the right hand as the chest knot and the left hand placed in front of the navel. Barefoot sitting on the inverted lotus seat. There are many rings of bangles on his hands and feet, and all kinds of gems are inlaid on the whole body placed on the double-layer exquisite lotus base. The overall craftsmanship of the Amoghasiddhi Buddha is superb. It is a typical local Tibet-styled Buddha figure.
Pearl Crown
● Size: 20cm high, 25cm wide ; ● Texture: cloth & pearl; ● Age: 19-20th century
In the scarcely populated area of Tibet, due to the inconvenient transportation, differences in people's living environment and lifestyle, Tibet has its own unique and beautiful costumes. This pearl crown is a precious decoration worn by noblewomen in Lhasa, Tibet. It was weaved with thousands of small pearls and corals on the top and the inner layer is made of cloth. The top layer is made of four layers of gold rings, which are inlaid with turquoise. The whole crown is very exquisite and elegant.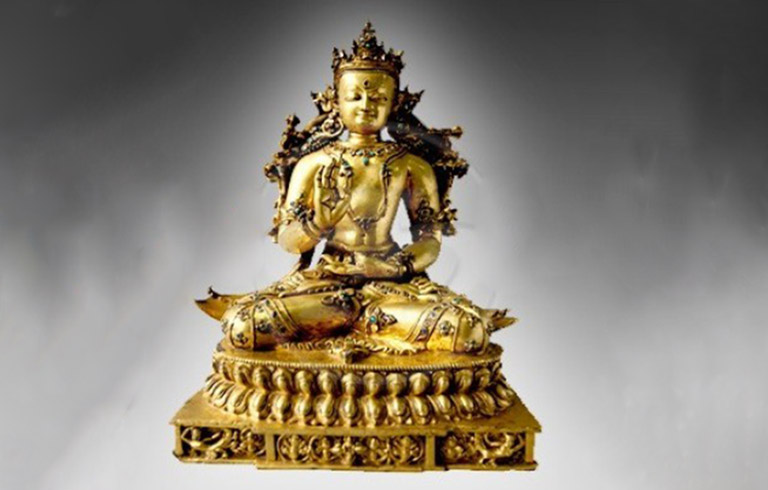 Gilded Copper Amoghasiddhi Buddha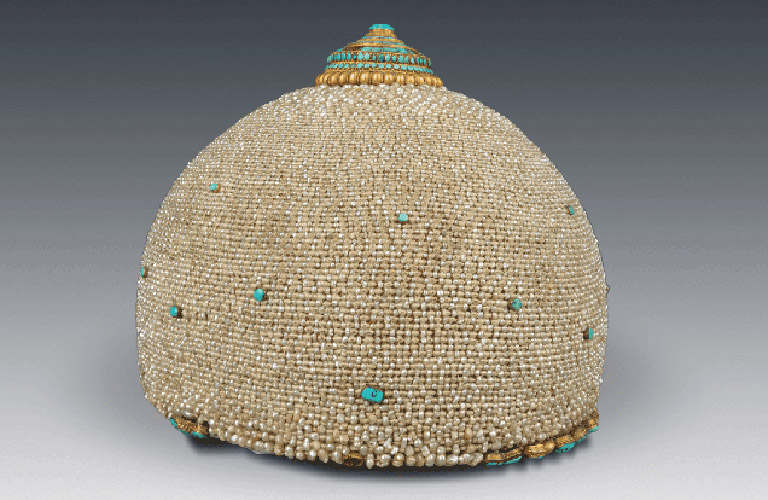 Pearl Crown
How to Get to Tibet Museum
Address: 2 Minzu South Road, Chengguan District, Lhasa City, Tibet Autonomous Region
Located in the Lhasa downtown area, Tibet Museum is right next to Norbulingka and easy to reach. There are many bus stops around the Tibet Museum, such as stops for bus No.2, 8, 13, 24. You can walk here from the nearby sites, such as Norbulingka, Potala Palace. Or if you transfer from distance sites, like Barkhor Street, taking a taxi or Pedicab is advisable. Below are some main attractions around for you to know better about its location and see them together.
● 0.3 km away from Norbulingka
● 1.7 km away from Potala Palace
● 3.4 km away from Jokhang Temple
● 3.2 km away from Barkhor Street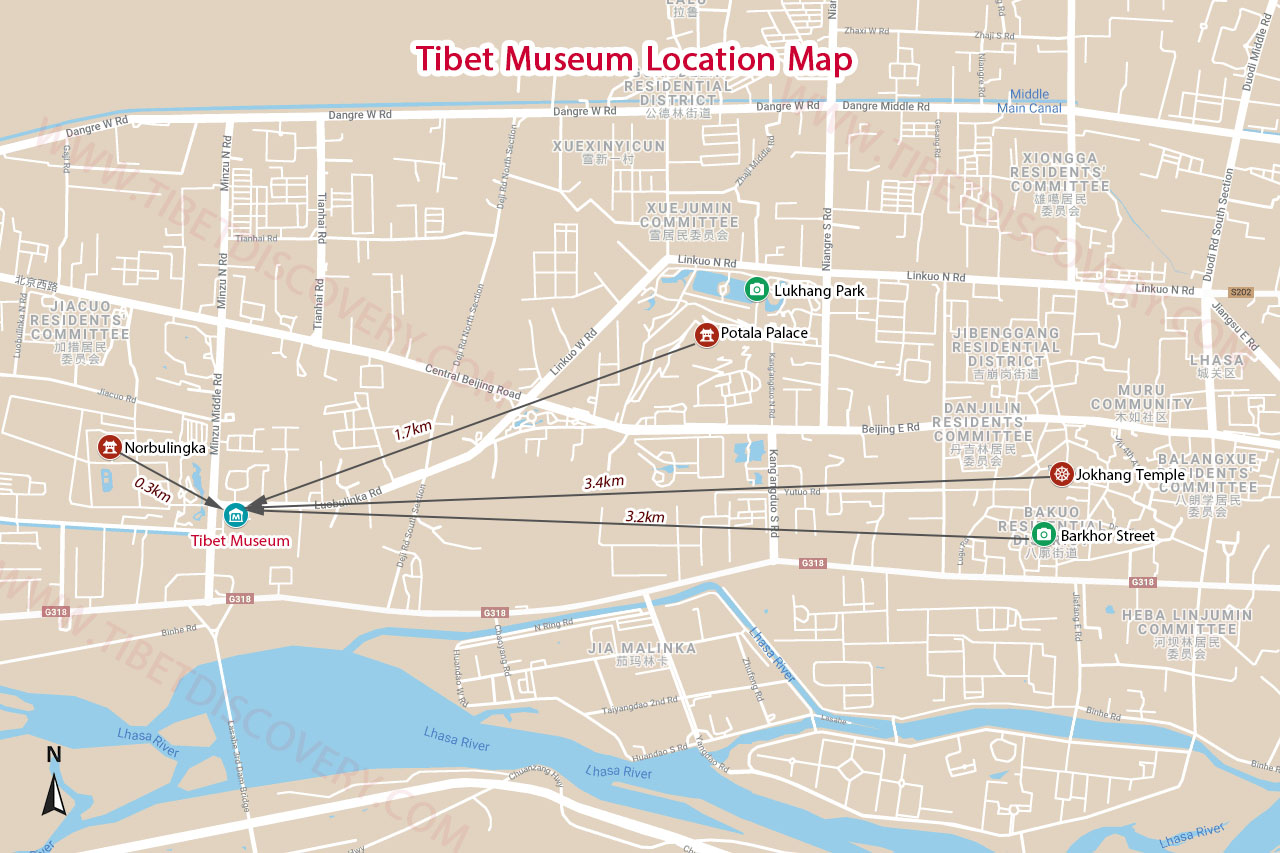 Tibet Museum Location Map
Nearby Attractions Around Tibet Museum
Norbulingka: Norbulingka Palace, in the west of Lhasa city, very close to Tibet Museum, is the biggest manmade garden in Tibet Autonomous Region. In Tibetan, Norbulingka refers to "Park of Treasure" and used to be the summer palace of Dalai Lamas to deal with the government issues, meet guests, and hold religious activities. It was added to World Heritage Sites in 2001. Built from 1755 and under the reconstructions of different Dalai Lamas, Norbulingka expands its scale into over 360,000 square meters and more than 374 rooms, including Dalai Lamas' palaces for 7th to 14th. It is recommended to visit it with the Tibet Museum.
Potala Palace: Potala Palace, the must-visit site of Lhasa, regarded as a landmark and the symbol of Tibet, is a great giant palace consisting of many houses, towers, chapels, etc. According to the Guinness Book of World Records, Potala Palace is the highest palace in the world. Because of its spectacular architectural style, it is honored as one of the most beautiful architectural buildings in the world. As the historic ensemble of Lhasa, Potala Palace, together with the exceptional Jokhang Temple and Norbulingka is the UNESCO World Heritage Site.
Jokhang Temple: Jokhang Temple (or Jokhang Monastery) is the spiritual center of Tibet and the holiest destination for all Tibetan pilgrims. Situated at the heart of the old town of Lhasa and surrounded by Barkhor Street, this 4 storied building, was built in the 7th century by Songtsan Gambo, with gilded bronze tiles covering the roof, and demonstrates a combination of the architectural style of Han, Tibetan, India, and Nepal, as well as a Mandala world outlook of Buddhism.
Norbulingka
Amazing Architecture of Potala Palace
Useful Tips for Visiting Tibet Museum
Note: Tibet Museum has been temporarily closed for renovation and expansion and it is scheduled to reopen in 2021.
● Before Entering: Please bring your valid identity documents with you and your luggage and personal belongings shall be deposited after security checking. The following items are not allowed to bring inside: Food and drinks, knives, lighters, compact discs, dangerous articles, pets, etc.
● While Visiting: All the objects on display shall not be touched. Visitors can not smoke and eat food. Please keep your voice down and mute your phone.
● Photo-taking Instructions: Photography is permitted for certain exhibitions and on regular displays, but no flash, selfie stick, or tripod. For temporary exhibitions, please observe signs in the galleries. If photo-taking is prohibited, obvious reminders will be put both at the entrance of and inside the hall; you should pay attention to such reminders or consult the staff inside the exhibition hall.
How to Plan A Tibet Tour
Tibet is too vast to be visited in one single trip, but planning ahead of time can make most of your holiday. A classic Tibet tour always takes about 4 ~ 8 days. Apart from 2 days for arrival and departure, it usually needs 2 other days to explore majestic Potala Palace and other landmarks in Lhasa, the capital of Tibet. With a day trip's distance from Lhasa, Namtso Lake is another perfect tour extension if you visit Tibet from May to October.
☛ 4 Days Holy City Lhasa Private Tour - Heart of Tibet
☛ 5 Days Lhasa City and Holy Lake Namtso Tour
To explore further, it's strongly recommended to travel from Lhasa to Mount Everest via Gyantse and Shigatse, which usually needs 4 more days. It is an unforgettable sightseeing trip with lots of attractions to visit, such as Yamdrok Lake, Karola Glacier, Kumbum Stupa of Palcho Monastery, Tashilhunpo Monastery, etc. Of course, the biggest draw must be gazing upon the unparalleled north face of the world's highest peak – Mount Everest.
☛ 6 Days Lhasa Gyantse Shigatse Historical Tour
☛ 8 Days Everest Base Camp Tour - Top of the World
☛ 9 Days Tibet Discovery Tour plus Everest and Namtso Expedition
For Buddhist followers and hiking lovers, you are suggested to travel to Ngari to join the kora around the holy Mt. Kailash and sacred Lake Manasarovar, which usually takes about 5 ~ 8 more days from Lhasa. The wild nature of Ngari is spectacular as well.
☛ 13 Days Mt. Kailash & Lake Manasarovar Trekking Tour
☛ 16 Days Mt.Kailash Pilgrimage Private Tour
If you are looking for a longer Himalaya adventure, you can travel Tibet with two other charming Himalayan Kingdoms – Nepal and Bhutan by overland driving or flight. If you have your own needs or interest, just feel free to contact us to customize a trip of your own!
Lhasa, Namtso, Mount Everest and Ngari are four most popular destinations in Tibet
Lhasa Top Attractions
Lhasa Transportation
Recommended Tour Packages
Escorted by a skilled private drivers and accompanied by a professional local tour guide to organize all the activities, all you have to do is to enjoy your fantastic Tibet journey. Time can never be wasted waiting for a group, hopping on and off buses or negotiating unfamiliar destinations.
Lhasa / Gyantse / Shigatse / Everest / Lhasa

Highlights: Potala Palace, Yamdrok Lake, Tashilhunpo Monastery, Mt. Everest

$1,324 / Details

Lhasa

Highlights: Potala Palace, Barkhor Street, Sera Monastery

$475 / Details

Lhasa / Gyantse / Shigatse / Mount Everest / Gyirong / Kathmandu

Highlights: Potala Palace, Yamdrok Lake, Palcho Monastery, Mount Everest

$1,058 / Details
Have a question? Get answers from our travel experts soon!
Your Question:

Your Name:

Your Email: