Midui Glacier- One of the Most Beautiful Glaciers in China
Midui Glacier is located in Midui Village, Yupu Township, Bome County, Nyingchi Prefecture of Tibet. It is one of three most important marine glaciers in China. In the year 2005, Midui Glacier, known for its diverse forms and magnificent shapes of glaciers, was voted as one of "Six Most Beautiful Glaciers in China". It is also the lowest-altitude glacier in China with an altitude of only 2400 meters. Standing at the foot of the glacier, you can see clearly the body and face of the main peak (6800m) of Midui Glacier which is one of the highest snow mountains in Tibet. The altitude of the snow line is only about 4600m, which means the main peak is completely a snow mountain, subtracting the invisible subgrade of Qinghai Tibet Plateau. The bright sunlight shines on the snow and glacier, and reflects fascinating twinkles. At the foot of Midui Glacier, there are fertile farm fields, wild forests, and tranquil lakes, as well as friendly and hospitable Tibetan people.
Midui Glacier Facts
Ratings:

#35 of 35 Attractions in Tibet
Season:

Summer & Autumn
Type:

Glacier, Alpine Scenery
Altitudes:

2,400 meters
Location:

Midui Village, Bome County, Nyingchi
————————————
————————————
How to Get to Midui Glacier
Midui Glacier is situated along the National Road 318, about 335km (7.5hrs' driving) from Bayi Town, about 105km (2.5hrs' driving) from Bome County, about 37km (1hr's driving) from Ranwu Town. Travelers usually have to arrive at Bayi Town first, then drive to Midui Glacier. Currently there are daily flights to Nyinchi Mainlin Airport (about 50km from Bayi Town) from Chengdu and Chongqing with a flying duration around 2 hours. Travelers can drive to Bayi Town from Lhasa (400km/7hrs), then travel to Midui Glacier from Bayi, via Bome.
It usually needs three days take a tour to Midui Glacier and other recommended attractions, such as Lulang Forest and Rawu Lake – day 1 from Bayi Town to Bome and visit Lulang Forest on route; day 2 from Bome to visit Midui Glacier, then drive to Rawu for accommodation; day 3 is to drive back to Bayi from Rawu Lake.
Features of Midui Glacier
Midui Glacier is bright and white all year around. As a typical marine- monsoon glacier, Midui Glacier has many forms of glaciers, with best ones to see are giant ice basins, snow slides, ice falls more than 700~800 meters long, spectacular icy arch bridges and the tranquil ice lakes at the food of the glacier.
The head of Midui Glacier is situated at the top area of the main peak with altitude over 6000 meters, where there are two giant arm-chair-like basins which are surrounded by snow and ice on three sides. There are frequent snow slides sliding down to the basins, usually 3 slides in two or three hours occurring, becoming the major replenishment for the glacier. The snow slides fulfil the ice basin and flow down along the mountain, and falls perpendicularly into the ice-basin of Midui Glacier, forming a spectacular snow fall over 700 meters tall. This scenery is hard to be seen at other glaciers in China, even the world.
If the shape of Midui Glacier looks like an "ice dragon", then the special arch-bridge-like ice are the ribs of the dragon. The "ribs" are formed by the different temperatures in summer and winter. Such a large group of arch-bridge-like ice ribs with clear shapes are a nature wonder which can only be found on Midui Glacier.
Stunning Midui Glacier
Useful Midui GlacierTravel Tips
1. The admission fee for Midui Glacier is 50 ¥ for each traveler.
2. Vehicles are only allowed to reach Midui Village where travelers need to walk 2km to the sightseeing stage of Midui Glacier. If you want to save energy, you can ride a local horse uphill which usually cost 100 ¥.
3. Accommodation – travelers usually don't stay overnight at Midui Glacier. You can go to Rawu Town for better accommodation. Rawu Town is only about 37km from Midui Glacier.
4. Midui Glacier and Rawu Lake are usually visited together in a day.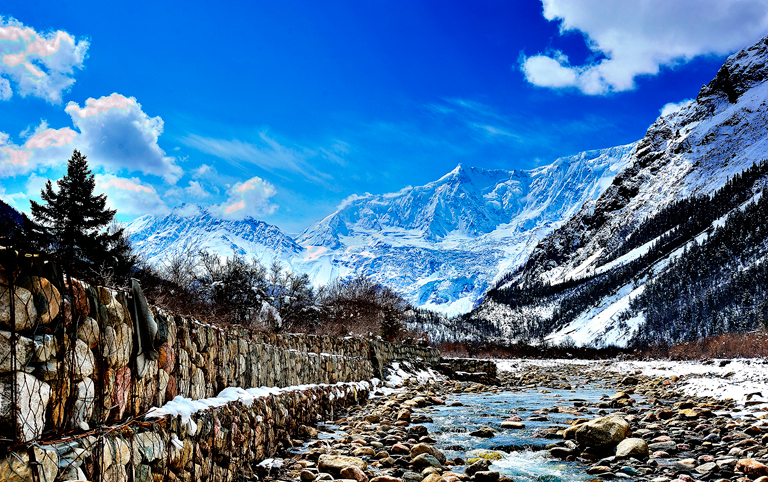 Recommended Tour Packages
Escorted by a skilled private drivers and companied by a professional local tour guide to organize all the activities, all you have to do is to enjoy your fantastic Tibet journey. Time can never be wasted waiting for a group, hopping on and off buses or negotiating unfamiliar destinations.
Have a question? Get answers from our travel experts soon!
Your Question:

Your Name:

Your Email: