Jokhang Temple - Religious Center of Tibet
Jokhang Temple (or Jokhang Monastery) is the spiritual center of Tibet and the holiest destination for all Tibetan pilgrims. It is listed in the World Cultural Heritages with Potala Palace and Norbulingka. Situated at the heart of the old town of Lhasa and surrounded by Barkhor Street, this 4 storied building, built in the 7th century by Songtsan Gambo with roofs covered with gilded bronze tiles, demonstrates a combination of the architectural style of Han, Tibet, India and Nepal, as well as a Mandala world outlook of Buddhism. It was originally called the 'Tsuklakang' (Tsulag Khang) - 'House of Religious Science' or 'House of Wisdom' during the Bon period of Tibet, which refers to geomancy, astrology, and divination of Bon. Today it is more commonly known as the Jokhang, which means the 'House of the Buddha'. Visiting Jokhang Temple for a real discovery tour in the mysterious and sacred land, you can get close to the religious part of Tibet and experience the devotion of Tibetans.
Jokhang Temple Facts
Ratings:

#2 of 69 Things to Do in Lhasa
Season:

All year round
Type:

Religious Temple; Historical Architecture
Altitude:

3650 meters
Location:

Center of Lhasa old town
History of Jokhang Temple
In the eyes of Tibetans, Lhasa city was named after the Jokhang Temple after it was constructed. Survived from the Anti-Buddhist activities, it went thought several reconstructions and becomes a massive building of earth & wood structure, covering an area of 2.51 hectares.
Jokhang Temple was constructed by Tibetan King Songtsan Gambo in the 7th century to house the sacred image of the Buddha-Jowo Rinpoche, which was the dowry of Chinese princess Wencheng, the second wife of Songtsan Gambo married in 641.
Legend has it that the King threw his ring into the air to show where to build the temple. The ring fell into a lake and a stupa emerged from the water. Then the lake was filled up by sand and soil carried by thousands of white rams. This construction lasted over three years, and the temple at first was called Rasa, which means the land of ram, to commemorate the contribution of the rams. After many Buddha enshrined, the temple changed its name to Jokhang, means the house of Buddha. And the city was named Lhasa, which means the land of Buddha.
Jokhang Temple went through twice destructions in the Anti-Buddhist activities which took place in late 7th century and the middle period of 9th century. During those times, Jokhang Temple was closed and the Jowo Rinpoche was buried under earth for two times to avoid the damage.
As the first civil structure construction, Jokhang Temple had several reconstructions in Yuan, Ming, Qing dynasties, and becomes a massive building consisting of three floors and an open roof all filled with chapels and chambers. For over 1300 years of history, the Jokhang Temple has some well-preserved architecture of Songtsan Gambo period and the Jowo Tinpoche statue is still enshrined within the temple as the holiest object in Tibet.
Outside Jokhang Temple
Jokhang Temple interior building
What to See in Jokhang Temple
Life-sized Statue of Shakyamuni
The
Jowo Rinpoche
(or Jowo Shayamuni), a life-sized (5 foot/1.5m) statue of the Shakyamuni of age 12, is the
treasure of Jokhang Temple
as well as the great collection of Tibet. It is said that the Jowo Rinpoche was made in India and later was given to China as a gift. When Tubo King Songtsan Gambo married Chinese Princess Wenchen in the Tang Dynasty, Jowo Rinpoche, along with extraordinary Tibet religious art treasures was brought to Lhasa as dowry in A.D. 641. There are many pilgrims coming to Jokhang Temple from different places in the world to pay homage to Jowo Rinpoche. They believe that one devoted prayer will bring them blessedness.
Various Statues of Buddha & Exquisite Murals
The interior of Jokhang Temple is an atmospheric labyrinth of chapels dedicated to various gods and bodhisattvas, illuminated by votive candles and thick with the smoke of incense. There are thousands of Buddhist statues and images which were brought by the two princesses (Wencheng & Bhrikuti) as part of their dowries. While walking through those atmospheric labyrinthes of chapels for various gods and bodhisattva, you may feel like getting back to the ancient mysterious land and find all around you is religion. On the right side of the front gate of Jokhang Temple are two murals, one depicting the procession of princess Wencheng arriving in Tibet and the other describing how the Jokhang Temple was built. Some other fine murals and Thangkas hanging on the walls are also worthy of your visiting.
Featured Building
Jokhang Temple enjoys a long history of over 1,300 years and holds a high status in Tibetan Buddhism. It is the existing most resplendent monastery built in Tubo Dynasty and the earliest civil structure in Tibet. Combining the feature of Chinese, Tibetan and Nepalese architecture, Jokhang Temple becomes a model of Tibetan Buddhist building. As you get close to Jokhang Temple, you eyes will firstly be caught by the beautiful golden roof. There are still something preserved in spite of several destructions. Under the roof, you can find the original wooden beams and rafters. In the lobby, there are Newari door frames, columns and finials from the 7th and 8th centuries.
Life-sized Statue of Shykamuni
Exquisite Murals in Jokhang Temple
Beautiful Golden Roof
What to Do in Jokhang Temple
Have a Splendid View from the Platform and Golden Roof
Following the steps to the higher floors, you will find there is a platform on the second floor. There are several Buddhist souvenirs on sale. From this platform, you can see the amazing architecture style which is an essence of Jokhang Temple. Climbing to the rooftop, you will get a better view. Apart from the elegant roof itself, it offers great vantage points for looking out over the square to watch the devotees. Don't miss the nice view of Potala Palace from the roof.
Feel the Religious Belief of Local People
As the spiritual center of Tibet, Jokhang Temple always attracts endless pilgrims an is of great importance to Tibetan. People walk clockwise around it constantly and prostrating themselves in front of it. The praying outside the temple is worth seeing and it will give you a great visual impact than words. If you want to see the pilgrims do their prayers, you can tour around the exterior of Jokhang Temple in the morning. There are two gates of the temple, one is for locals with a big queue lining up; the other is for tourists to get in.
Watch the Buddhist Activities during New Year Festival
During Tibetan New Year, which always takes place between late January and early March, the Great Prayer Festival will be hosted by Jokhang Temple. The huge columns in the Jokhang Temple Square will be decorated by colorful prayer flags and thousands of butter lamps will light Jokhang Temple up. Some important activities include sutras-chanting and scripture-debating. The Tibetan believes that the large-scale Buddhist activities will bring them peace, blessedness and fortune.
Note: Tibet might to be closed for foreign traveler during Tibetan New Year Festival.
View Potala Palace from Jokhang Temple
Devouted Pilgrim in front of Jokhang Temple
How to Get to Jokhang Temple
Jokhang Temple is located near No. 28 Bakuo West Street, Chengguan District, Lhasa (拉萨市城关区八廓西街28号附近). It is the center of Lhasa old town and still a landmark in Lhasa, so you can easily get there by bus or taxi. It is also very near to the famous Potala Palace (about 1.6km) and Barkhor Street (about 200m). If you come to Lhasa by plane, you can take an airport shuttle bus to Lhasa downtown first and then get to Jokhang Temple. But please be kindly noted that independent travel is not available for foreigners in Tibet. If you need any help, please feel free to contact us. We provide customized private Tibet tour that will take care of everything in your trip including transfer, ticket, meal, accommodation, etc.Contact us now>>
● 60 km (70 min by car) away from Lhasa Gonggar Airport
● 10 km (30 min by car) away from Lhasa Railway Station
Useful Travel Tips
For tourists, there are some useful travel tips for you before you go.
● As the holy religious temple, morning is reserved for pilgrims and tourists can only tour Jokhang Temple in the afternoon from 11:30 to 17:30. After entering the temple, you must walk clockwise from left to right.
● The ticket is CNY 85 per person. You are highly recommended to learn more history and culture about Jokhang Temple before visiting it.
● Taking photos is not allowed inside the temple, unless there is a permission sign (normally need to pay). However, you are permitted to take photos in the square and golden roof.
Nearby Attractions Around Jokhang Temple
Potala Palace: Potala Palace (about 1.6km from Jokhang Temple), the must-visit site of Lhasa, regarded as a landmark and the symbol of Tibet, is a great giant palace consisting of many houses, towers, chapels, etc. According to the Guinness Book of World Records, Potala Palace is the highest palace in the world. Because of its spectacular architectural style, it is honored as one of the most beautiful architectural buildings in the world. As the historic ensemble of Lhasa, Potala Palace, together with the exceptional Jokhang Temple and Norbulingka is the UNESCO World Heritage Site.
Barkhor Street: Barkhor Street beside Jokhang Temple is the popular circumambulation for pilgrims and a commercial center. Being "a saint road" in the eyes of Tibetan, you can feel the local spiritual belief when you see different pilgrims from all over Tibet in different dresses and dialects to pray devoutly along Barkhor Street. Like a miniature of Lhasa, it shows you another aspect of the Tibetan life. There are an eyeful of fantastic stores and shops to display most characteristic items and commodities such as thangkas, prayer wheels, prayer flags and milk tea. Barkhor Street is such a great place to buy some souvenirs and suck up the local Tibetan lifestyle.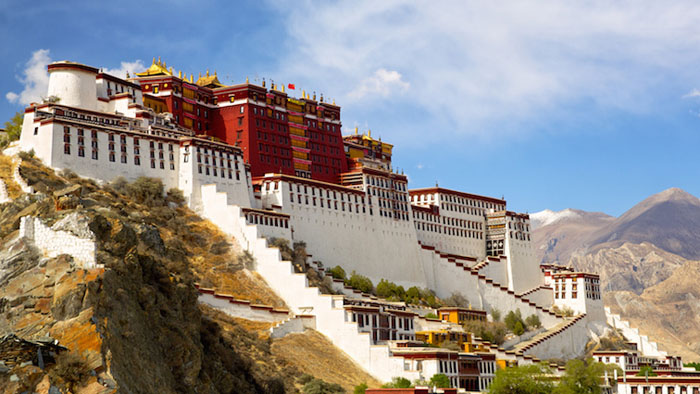 Potala Palace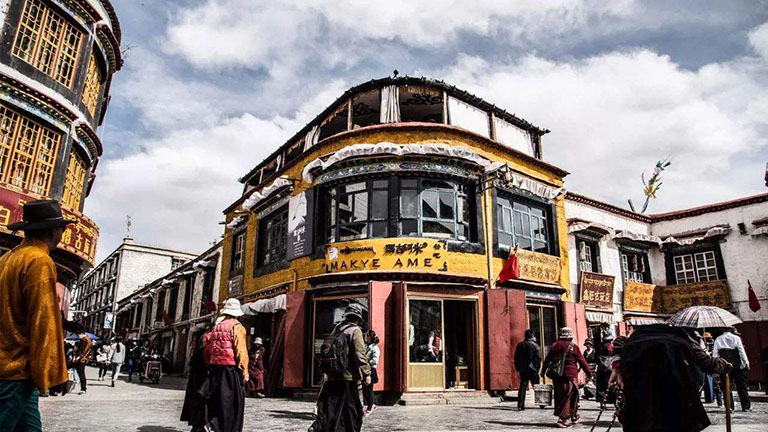 Barkhor Street
How to Plan A Tibet Tour
Tibet is too vast to be visited in one single trip, but planning ahead of time can make most of your holiday. A classic Tibet tour always takes about 4 ~ 8 days. Apart from 2 days for arrival and departure, it usually needs 2 other days to explore majestic Potala Palace and other landmarks in Lhasa, the capital of Tibet. With a day trip's distance from Lhasa, Namtso Lake is another perfect tour extension if you visit Tibet from May to October.
☛ 4 Days Holy City Lhasa Private Tour - Heart of Tibet
☛ 5 Days Lhasa City and Holy Lake Namtso Tour
To explore further, it's strongly recommended to travel from Lhasa to Mount Everest via Gyantse and Shigatse, which usually needs 4 more days. It is an unforgettable sightseeing trip with lots of attractions to visit, such as Yamdrok Lake, Karola Glacier, Kumbum Stupa of Palcho Monastery, Tashilhunpo Monastery, etc. Of course, the biggest draw must be gazing upon the unparalleled north face of the world's highest peak – Mount Everest.
☛ 6 Days Lhasa Gyantse Shigatse Historical Tour
☛ 8 Days Everest Base Camp Tour - Top of the World
☛ 9 Days Tibet Discovery Tour plus Everest and Namtso Expedition
For Buddhist followers and hiking lovers, you are suggested to travel to Ngari to join the kora around the holy Mt. Kailash and sacred Lake Manasarovar, which usually takes about 5 ~ 8 more days from Lhasa. The wild nature of Ngari is spectacular as well.
☛ 13 Days Mt. Kailash & Lake Manasarovar Trekking Tour
☛ 16 Days Mt.Kailash Pilgrimage Private Tour
If you have your own needs or interest, just feel free to contact us to customize a trip of your own!
Lhasa, Namtso, Mount Everest and Ngari are four most popular destinations in Tibet
Lhasa Top Attractions
Lhasa Travel
Recommended Tour Packages
Escorted by a skilled private drivers and companied by a professional local tour guide to organize all the activities, all you have to do is to enjoy your fantastic Tibet journey. Time can never be wasted waiting for a group, hopping on and off buses or negotiating unfamiliar destinations.
Lhasa

Highlights: Potala Palace, Barkhor Street, Sera Monastery

$475 / Details

Lhasa / Gyantse / Shigatse / Everest / Lhasa

Highlights: Potala Palace, Yamdrok Lake, Tashilhunpo Monastery, Mt. Everest

$1,324 / Details

Lhasa / Shigatse / Mount Everest / Namtso Lake / Lhasa

Highlights: Potala Palace, Yamdrok Lake, Mt. Everest, Namtso Lake

$1,589 / Details
Have a question? Get answers from our travel experts soon!
Your Question:

Your Name:

Your Email: