Gyantse Dzong - the Solemn Persistence of Ancient Tibet
Gyantse Dzong, also known as Gyantse Old Castle, is a famous landmark in Gyantse County, Shigatse Prefecture, which looks like a mini Potala Palace. There is an interesting legend says that, in the ancient time, the lord of Gyantse wanted to constructed a "Potala Palace" in Gyantse, so he sent a craftsman to Lhasa to learn the design of the real Potala Palace. The craftsman painted the design of Potala Palace on a radish. After he returned back to Gyantse, the craftsman found the radish had dried up. So the lord of Gyantse had no choice but to build a smaller and fragmentary "Potala Place". Gyantse Dzong may not be as magnificent as Potala Palace, but it is still very impressive with typical Tibetan palace architecture style which is inherited from Yumbulagang Palace - The First Palace of Tibet. Besides the architecture appreciation, Gyantse Dzong is a great place to learn about a heroic history of Tibet history - rise and decline of Gyantse, fight against the invasion of British armies.
Gyantse Dzong Facts
Ratings:

#15 of 34 Attractions in Tibet
Season:

Summer & Autumn
Type:

Castles, Historical Site
Altitudes:

4,140 meters
Location:

Gyantse County, Shigatse City
————————————
————————————
How to Get to Gyantse Dzong
Gyantze Dzong is conveniently located as the center of Gyantse Town. It is also the highest building in the town. The famous Palcho Monastery is situated at the 1.5km north of Gyantse Dzong, only about 20 minutes' walking away. The Pala Manor is on the 5km southwest of Gyantse Zong, about 15 minutes' driving away.
To visit Gyantze Dzong, travelers usually have to get to Lhasa first, then drive to Gyantse, which is 265km's driving via Yamdrok Lake and Karola Glacier. After visiting Dzong and other attractions in Gyantse, keep driving to Shigatse. If you start your to Gyantse from Shigatse, you only have to drive 95km, approximately 2 hours driving.
Tracing Back on the History of Gyantze Dzong
Early History
The original of Gyangtse Dzong can be traced back to 9th century, the last period of Tubo Kingdom. After the last king Langdharma, who had been opposed to the development of Buddhism in Tibet, was murdered by a monk, Tubo Kingdom collapsed, and was divided into discrete powers. Pelkhor-tsen, one of two sons of Langdharma, took over Gyantse region, and built a small palace on the top of Kashan Hill. After the perishment of Tubo Kingdom and its divided powers, Sakyapa, a famous sect of Tibetan Buddhism, rose up, and occupied most regions in Tibet, including Gyantse. The palace built by Pelkhor-tsen became the administrative office of local government. In 1365, the palace was expanded by Phakpa Pelzangpo (1318–1370), a local prince who had support from the Sakyapa. He also brought a respectful Buddhist teacher, Buton Rinchedrub, to live in the palace with the royal family. Later in the 14th century, the palace was expanded again by Kungpa Phakpa (1357–1412), the son of Phakpa Pelzangpo. The first hilltop monastery in the Gyantse Dzong was also built by Kungpa Phakpa. It was also in the 14th century that the place complex received its official name Gyantse Dzong, as one of 13 Dzongs in all regions in Tibet. Since then, Gyantse Dzong had been the administrative office of successive local governments. It was not only the political center of Gyantse, but also the Buddhist center of Gyantse. Today, travelers can still see the ruin of ancient walls constructed in 14th century, as well as some spectacular murals in Newari styles and Gyantse styles in the ancient palace.
British Invasion
In 1888, the British army launched its first invasion into Tibet – Longtushan Battle, and occupied Longtushan, Natang regions of Tibet. The invasion hadn't stopped. In July, 1903, British launched their second invasion. General Macdonald, with Younghusband as his lieutenant, commanded an army of more than 10,000 soldiers captured Yadong Port, then marched into Shigatse and took over most towns. The Tibetan army and people fought against the British army doggedly, but all failed because they only had antiquated matchlock guns, swords, spears and slingshots as weapons.
On 12 April, 1904, the British army reached Gyantse and occupied the city after an arduous battle. They took over the Dzong, and rise a British flag on the Dzong, but hadn't sent soldiers to depend the Dzong. The army used a compound near Nyang River at Changlo as base. About one week later, General Macdonald retreated to Chumbi Valley to secure supply line, and left Younghusband and about 500 soldiers to guard against the neighboring monasteries and villages. Before dawn of 5 May, 1904, over a thousand Tibetan solders and villagers attacked Younghusband's camp. The British soldiers were unprepared for the attack, and almost got eliminated. Younghusband brought the rest of soldiers and fled to Chumbi Valley. The Tibetan solders and villages then occupied Gyantse Dzong, and piled up a 5~8 meters high, 4 meters wide stone wall on the hillside to protect the Dzong.
On 28 June, 1904, Younghusband returned to Gyantse with more than a thousand soldiers, more than two thousand infantry, eight big guns, two thousand coolies and four thousand yaks and mules. He tried to persuade Tibetan army on the Dzong to surrender. Tibet army disagreed. Battle raged on. The British army used powerful ten-pound cannons to bombard the fortress. Tibetan defenders bombarded back with ancient cannon. After a heavy bombardment, the British army broke a hole on the wall and tried to climb up the rock face to the Dzong. The Tibetan army threw down boulders and stones to hit British soldiers. Much worse, the powder magazine was hit by the bombardment and caused a big damage to the defenders. And they run out of ammunition. In case of being captured by British army, all Tibetan solders and other defenders jump down the 100 meters high cliff behind the Dzong, and sacrificed their lives bravely and gloriously.
After conquering Gyantse, the British troops started to march to Lhasa on 14 July, and occupied the capital in August 1904.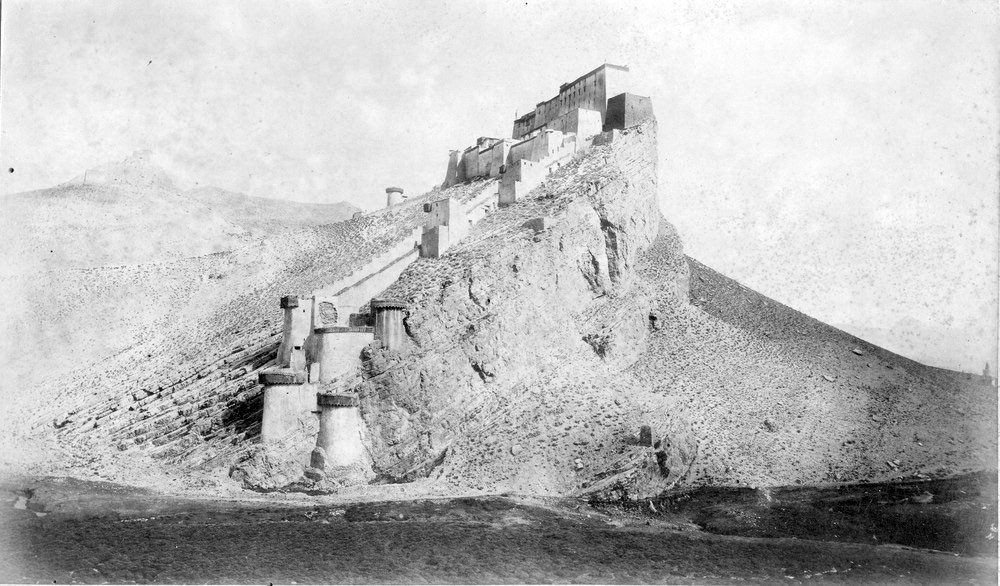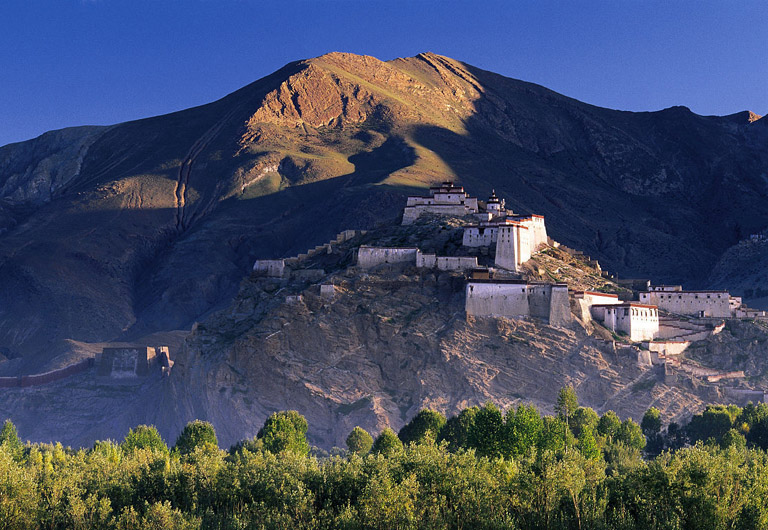 Old and New Photo of Gyantse Dzong in Comparison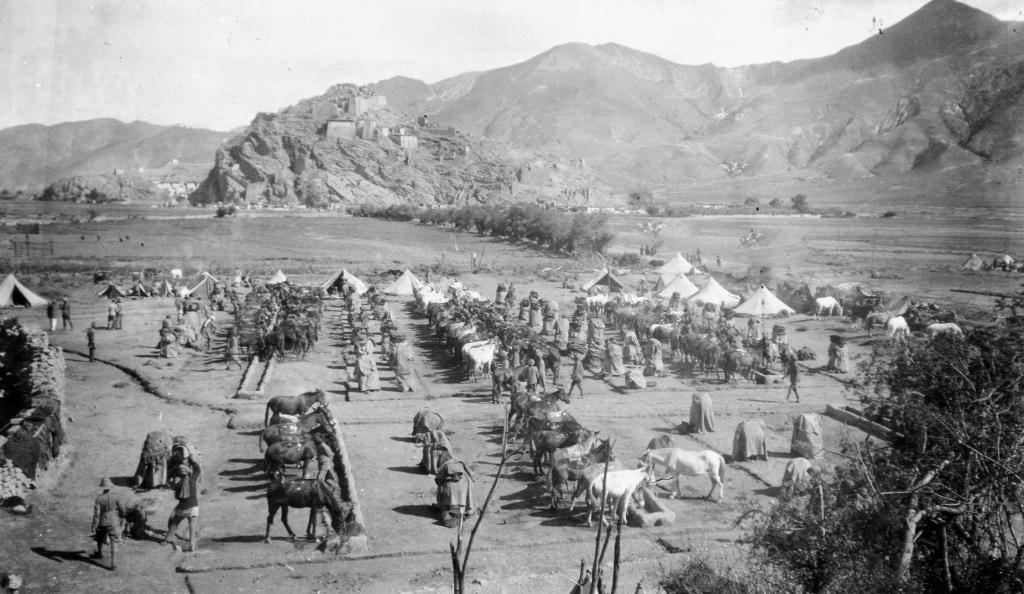 British Troop's Camp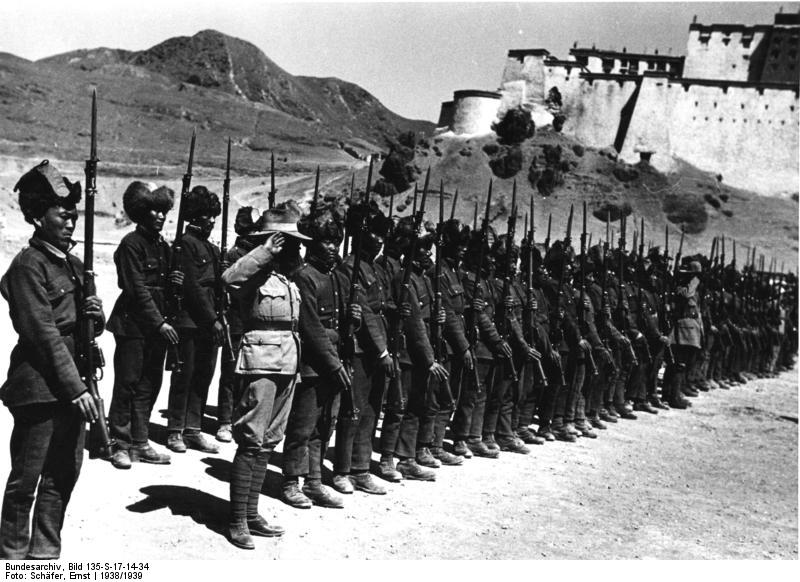 British Troops at Gyantse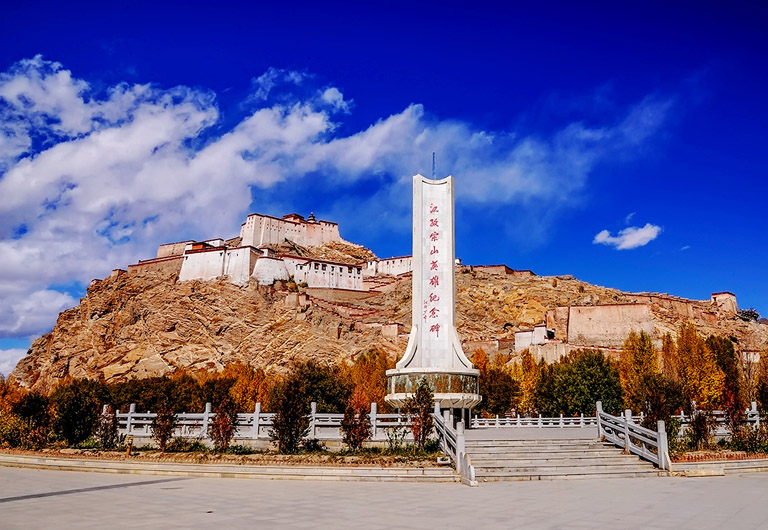 Monument of Glorious Tibetan Warriors
What to See in/on Gyantse Dzong
Gyantse Dzong is worth a visit if you have adequate time in Gyantse city. Eventually, only a far glimpse over the Dzong from distance will stimulate your curiosity to explore what inside this spectacular fortress. This Dzong is one of the only several left Dzongs in 14th century in Tibet. So it is a rare opportunity to explore the spectacular architecture, important meaning, history and culture of Tibet Dzong Culture. The best experience is the staggering panoramic views of Gyantse's whitewashed old town, nearby Palcho Monastery, Kumba and fertile Nyang Chu Valley. To enjoy these great views, you have to walk about 30 minutes to the top of the Dzong. Though it is only 100 meters tall, but the path to the top is winding. And without any exaggeration, walking up 100 meters at a place locating over 4000 meters above sea level is hard than walking up 1,000m up at a place with altitude below 1,000m. So just enjoy the slow walk. If you walk too fast, you may suffer from High Altitude Sickness. You can walk up along wall around the fortress clockwise toward the top, and descend along the long concrete staircase. Watch out your steps, because the stairs are a bit slippery.
Featured Sites in Gyantze Dzong
Jump Off Cliff - this sign is not making suggestion to jump off the cliff. It's marking the site where the brave Tibetan defenders once jumped to their glorious death rather than get captured by the British invading army in 1904 after they run out of ammunition and food supply.
Anti-British Battery
- Tibetan soldiers fought again British army at this battery, using alaggard cannon which was manufactured more than 110 before the Anti-British war (1904).
Ambans' Stone Tablet - it is stone tablet which recorded the diary of amban Song Yun (松筠)and amban He Ning (和宁) from central government of Qing Dynasty who perambulated Gyantse region during the reign of great emperor Qianlong (乾隆).
Gyantse Dzong Government Meeting Hall - It uses statues to represent the scene how the officers of ancient Gyantse Dzong government handling official affairs. There are also some rare relics from ancient time exhibiting in the hall.
Rinpoche Hall - it is an ancient Tibetan monastery built during Ming Dynasty (1368~1644). There are many relics preserved in the hall as theevidence of British army's invasion.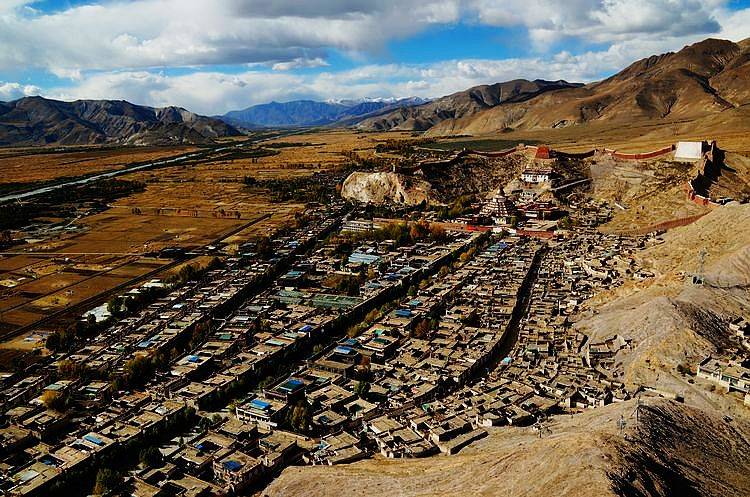 Panoramic View from Gyantse Dzong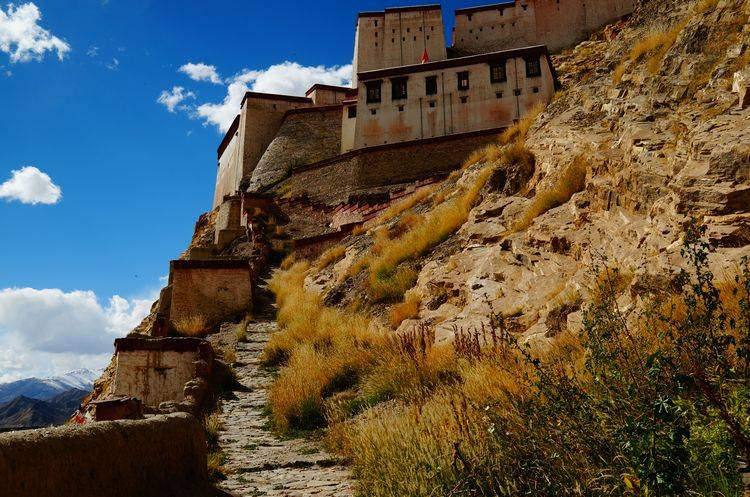 Stairs on Gyantse Dzong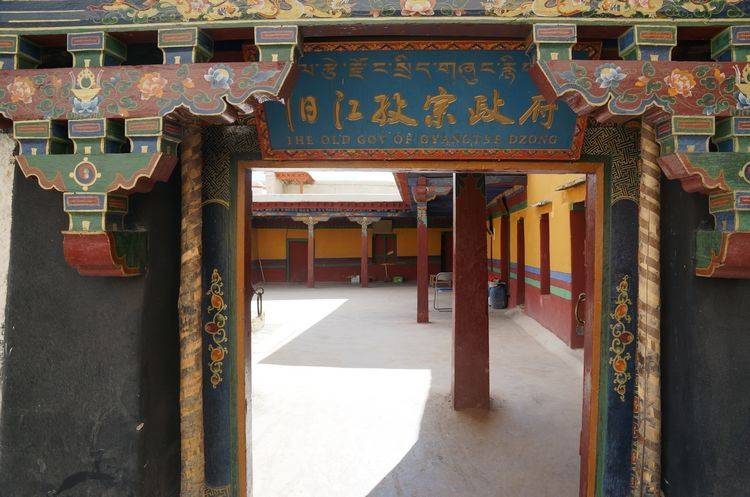 Government Meeting Hall in Gyantse Dzong
Useful Gyantse Dzong Travel Tips
1. Since most travelers just stay about 2~3 hours in Gyantse which is only enough to have a lunch and visit the No. 1 attraction of Gyantse – Palcho Monastery, many travelers just take an outside view from the road of town square. If you want to take a visit to the Dzong, you have to add a half day to your trip in Gyantse, or depart from Lhasa very early.
2. Apart from Palcho Monastery and Gyantze Dzong, you can also take a visit to Pala Manor, a well-preserved serf manor located in Gyantse as the epitome of Tibet's past to witness the old Tibetan society of privilege and slavery, which is a good place to know the Tibet history.
3. Remember not to ascend too fast when you climbing up to the summit of Dzong. The elevation here is more than 4000 meters. You may feel hard breath, and suffer from high altitude.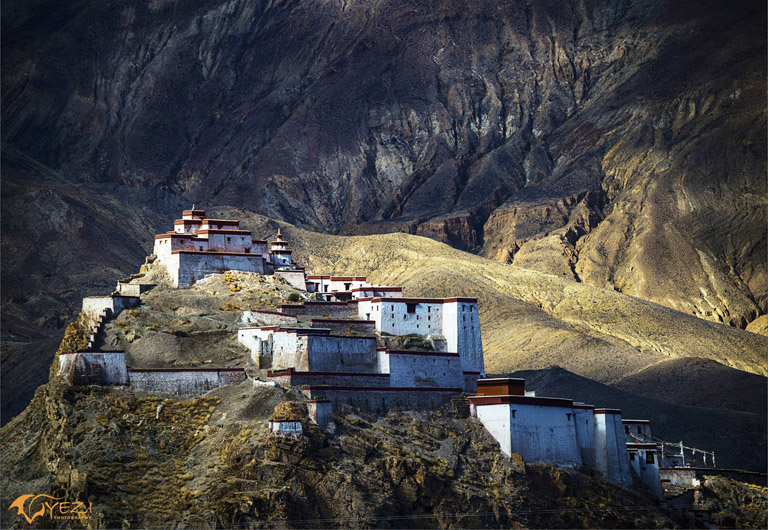 Spectacular Gyantse Dzong
More Gyantse Travel Guide
Recommended Tour Packages
Tibet has too much to offer. And our aim is to bring you the best experience in Tibet. Following are some other recommended Tibet tour packages that you may be interested in. All of our Tibet tour packages are customizable to meet your personal requirements. You can also contact us to customize a trip if you want.
Lhasa / Gyantse / Shigatse / Mount Everest / Gyirong / Kathmandu

Highlights: Potala Palace, Yamdrok Lake, Palcho Monastery, Mount Everest

/ Details

Lhasa / Gyantse / Shigatse / Everest / Lhasa

Lhasa / Gyantse / Shigatse / Lhasa
Have a question? Get answers from our travel experts soon!
Your Question:

Your Name:

Your Email: