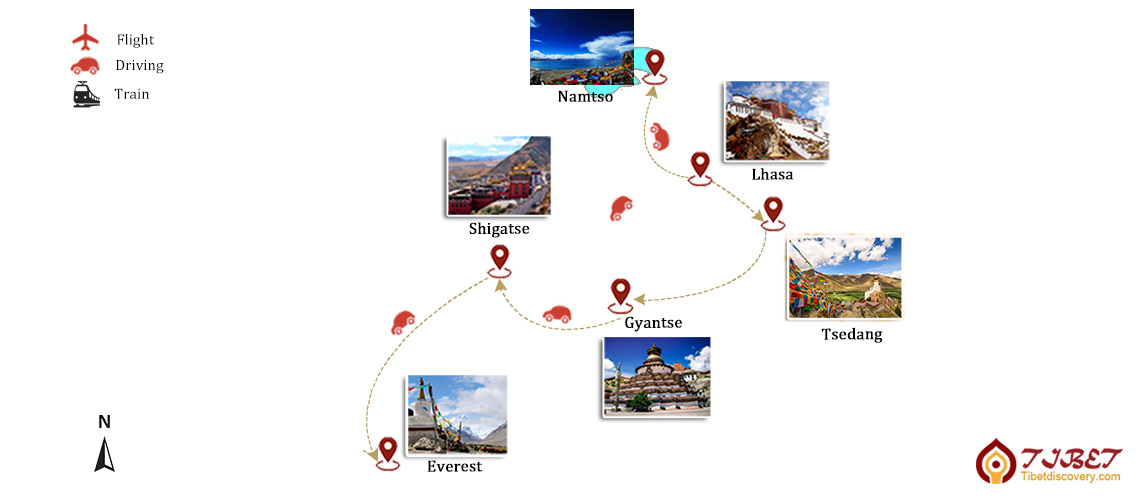 Petra ( Belgium)
May 2016 / 2 pp
18 Days Tibetan Buddhism Culture Seeking
"With the help of Jack, we have had a fantastic time in Tibet! The hotel we stayed in Lhasa was very pleasant, sights we visited were impressive, tour guide and driver took good care of us on our trip… "
Itinerary Introduced by Jack
"Hi, I'm Jack, Petra and his wife Kurt's travel consultant. I'm very glad that Mr. Petra enjoyed their Tibet travel and were satisfied with all our arrangements. His 18 days in-depth Tibet tour was customized according to Mr.Petra's great interest in Tibetan Buddhism culture and expectation of majestic attractions. First week upon their arrival, to better help themselves adapt to the rising altitude, they started Tibet discovery in the most sacred temples in Lhasa - Jokhang Temple and watch Buddhism Debate in Sera Monastery, then to the iconic Potala Palace, Drepung Monastery and Barkhor Street nearby. During their following two days' trip to Namtso Lake, they toured Trurphu Monastery, visited a local Tibetan family and enjoy hot spring in Yangpachen. Later they spent one more day to Drak Yerpa Monastery (an old monastery of Nyingma Sect) and Ganden Monastery in surburb of Lhasa. The first Tibetan monastery - Samye Monastery and shrine Qingpu of Guru Rinpoche's original medication cave were their must-see. Afterwards, they visited EBC and Rongbuk Monastery, Tashihunpo Monastery and beautiful Yamdrok Lake, Karola Glacier, Palcho Monastery, Sakya Monastery. Let's read Petra's travel story and get inspired for your Tibet travel. If you'd like to customize a same Tibet trip or on other themes, I will always dedicate myself to making your perfect Tibet journey." -- Jack (Ask Jack a Question)
Tibet Travel Consultant Jack
Never Say Enough to Tibetan Buddhism Culture
We really have had a fantastic time in Tibet! The sights we visited in Lhasa were very impressive. For many years I wanted to see the Potala Palace, and yes it is amazing!
St. Regis Resort Lhasa - We are also glad that we have chosen St.-Regis hotel to stay in Lhasa because it is very pleasant to know that after each trip there will be an oasis of peace and a good bed for a good night's sleep. Especially after visiting Namtso Lake, it was quite hard during the night because of the high altitude and the cold. But it was worth it! >> Click here to know more about Tibet hotels.
Highlights of My Buddhism Trip - We visited a lot of monasteries but it has never bored us:
- We visited Trurphu Monastery (楚布寺: origination of reincarnation system of Tibetan Buddhism) in the snow!
- In Samye Monastery (桑耶寺: the first monastery in Tibet) we were fortunate to be able to experience a special ceremony because of the visit of an important Lama.
- From the Nunnery in Chimpuk (青浦: a less-known medication caves and sacred Tibetan Buddism shrine) at the base of the hill it was a challenge for us to reach the original meditation cave of Guru Rinpoche. But through the constant encouragement of our lovely guide Dhokar and our responsible driver we achieved!
- At Kumbum Monastery (also Palcho Monastery: 白居寺, a Tibetan monastery which has a magnificent tired Kumbum and the largest chorten in Tibet), we were able to see a large Thangka of Shakyamuni Buddha hanging on the wall.
- In Tashilumpo Monastery (扎什伦布寺: home of Panchen Lamas with the largest Future Buddha Statue in Shigatse ), we were lucky to see the monks making huge amounts of butter and tsampa sculptures for a festival.
And last but not least, one of the highlights was the visit to Mt. Everest Base Camp and to glance at the very rooftop of the world!
Thoughtful Tour Guide & Driver - On the way back to Lhasa our driver stopped in a village because he heard something about a horse race, and yes after some hours we were rewarded, 20 farmers in colourful traditional costumes arrived on horseback and showed their special riding skills. This was an unexpected surprise which resulted in some beautiful pictures! So we want to thank you all, and specially our guide Dhokar an driver, for the good care and the lovely time we spent together.
Related Tours
Check the following related tours or contact us to customize a tour according to your own preference:
>> 6 Days Tibet Buddhism Tour
(Private Tour: Lhasa – Tsedang - Lhasa)
>> 8 Days Tibet Highlights Group Tour with Expedition for Mount Everest
(Small Group Tour: Lhasa - Gyantse - Shigatse - Mount Everest - Lhasa)
Trurphu Monastery in Northwest Surburb of Lhasa
Samye Monastery in Shannan
Kumbum Pagoda in Palcho Monastery
Mount Everest View from Rongbuk Monastery
Recommended Tibet Tour Packages
Tibet Discovery Tours is specialized in finding unique experience of Tibet, and leading you to explore what interests you most. Our Private Tibet Tours will take you to explore deep into the Holy Land, with loads of options, freedom & flexibility. You can choose from the following hand-picked tour packages which have been successfully operated for many years and created loads of amazing experiences for our customers, or check more Tibet Tours >>
Have a question? Get answers from our travel experts soon!
Your Question:

Your Name:

Your Email: