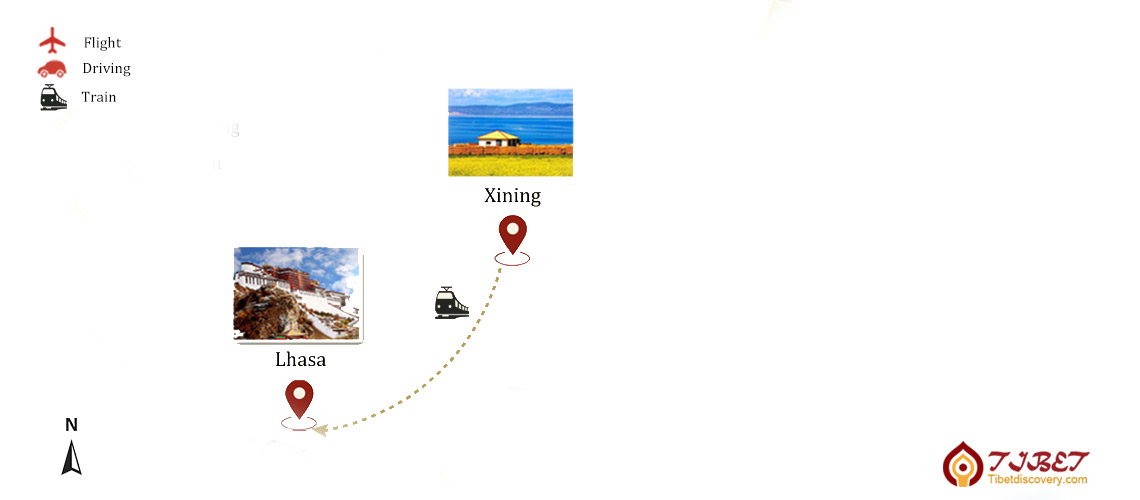 Deb (Philippines)
June 2015 / 1pp
7 Days Tibet Train Tour
"A trip to Lhasa sounds complicated but the reality was somewhat different. I can count this trip as being hassle-free and enjoyable due to the excellent arrangements made by Rita and her colleagues. "
Itinerary Introduced by Rita
"Hi, I'm Rita. Traveling Tibet is not hard as you imagine. On the contrary, it can be easy and relaxing. Deb had a 7 days enjoyable journey in Tibet. He wanted a sightseeing journey, so I recommended him to take a train to Tibet from Xining. Compared with other gateway cities (Beijing, Xian, Chengdu, Shanghai etc.), Xining is much closer to Lhasa. You can take a good view of Qinghai Tibet Plateau but the train journey won't be too long and tiring. After recovering from his high altitude sickness, he had a memorable Lhasa tour. The different monasteries all left him different impression. In addition to the landmark places, he watched Princess Wencheng Drama and loved it very much. Except for the good visual treatment, he thought he got a glimpse of the old history and rich culture. Let's check his travel experience. If you want a similar tour, just contact with me." - - Rita (Ask Rita a Question)
Tibet Travel Consultant Rita
Reachable Tibet
A trip to Lhasa sounds complicated when you go over the various requirements such as Special Permits, the need to travel as a group etc. The reality was somewhat different.
I can count this trip as being hassle-free and enjoyable due to the excellent arrangements made by Rita and her colleagues. Rita answered ALL my questions and concerns on an urgent basis, she set up ALL the arrangements (including delivering my soft sleeper train tickets by courier to my Xining Hotel), and ensured that all required Permits were delivered to me on time, including detailed instructions as to where and when they would be needed.
Close Touch of Potala Palace (provided by customer Silvia)
Great Importance to High Altitude Sickness
One word of caution – please study all the literature on High Altitude Sickness and ways to combat the same, and take necessary precautions, something that I did not do, thus costing me a day of lying in bed in Lhasa (instead of joining the tour). I had come to Lhasa by train, thus further exacerbating my condition. Fortunately, there was a Clinic attached to my hotel, and upon taking their medicine ("Gaoyuankang" capsules) I was back to normal within a few hours.
Wonderful Train Journey
A wonderful train journey (I took the train from Xining), but was not prepared for HAS and thus spent a miserable day with a massive headache and vomiting sensation on arrival Lhasa. The next day purchased "Gaoyuankang" capsules (RMB50.- for 10 caps) upon advice of the local doctor, and my terrible symptoms cleared up within a few hours - amazing. The train ride was great, but would have been even more enjoyable if I had taken the precaution of taking Daimox prior to the trip as per the recommendation of other travelers.
Train Is Passing Tsonag Lake
Amazing Lhasa Tour
Lhasa itself is an amazing place, and the sights awesome. Unfortunately, we were allowed only one hour inside the magnificent Potala Palace due to the rush of visitors.
Jokhang Temple - This Monastery is the spiritual center of Tibet and the holiest destination for all Tibetan Buddhist pilgrims. To really understand its significance, it is very important to read about it before visiting. Unfortunately, in Lhasa I could not find any Guide books in English, hence you should purchase one in your own country and bring it along to really enjoy your visit to Jokhang and the other monasteries.
Barkkhor Street - It was indeed uplifting to see, among all the tourists and other pedestrians, many people young and old, bending on their knees, lying flat on the ground, placing their prayer beads, rising up, walking to the prayer beads, kneeling, lying flat and repeating this procedure (always clockwise) in an effort to circle the Jokhang Temple (encompassed by this street). What level of devotion does it take to do this sort of penance - I cannot even begin to grasp. A moving sight indeed.
Sera Monastery –Very entertaining, even though we could not understand what was being said, though we were aware that the method of clapping of the hands (by the standing questioner) would indicate if the sitting respondent was right or wrong in his answers. Somewhat theatrical and geared toward the tourists, but entertaining all the same.
I must also report that I saw the most amazing "Tibetan Culture Legendary Opus" titled "Princess Wencheng" (daily at 9.30pm) set on a sloping mountainside, with a cast of a thousand actors, with horseback riders galloping on the horizon, yak grazing on the mountain slope, and an Opera (with English translation on the side-screens) being played out on the huge open-air stage. It was an astounding presentation. The tickets are steep (starting at 380yuan) but for me, to get a glimpse of their history and culture, it was well worth the price.
Jokhang Temple (provided by Lisa)
Debating in Sera (provided by Wim)
Princess Wencheng Show
Professional Team of TibetDiscovery
We were guided throughout our stay by our wonderful, knowledgeable and fluent-in-English guides Tashi and Chimee, who had detailed answers to all our questions, and exceptional knowledge of the places we visited. I wish them the best for having made my visit to Lhasa so memorable, and my most sincere gratitude to Rita for having made my trip so effortless and hassle-free.
Related Tours
Check the following related tours or contact us to customize a tour according to your own preference
>> 4 Days Holy City Lhasa Private Tour (Lhasa City)
>> 6 Days Discover Tibet Train Tour from Xining (Xining - Lhasa)
Recommended Tibet Tour Packages
Tibet Discovery Tours is specialized in finding unique experience of Tibet, and leading you to explore what interests you most. Our Private Tibet Tours will take you to explore deep into the Holy Land, with loads of options, freedom & flexibility. You can choose from the following hand-picked tour packages which have been successfully operated for many years and created loads of amazing experiences for our customers, or check more Tibet Tours >>
Have a question? Get answers from our travel experts soon!
Your Question:

Your Name:

Your Email: