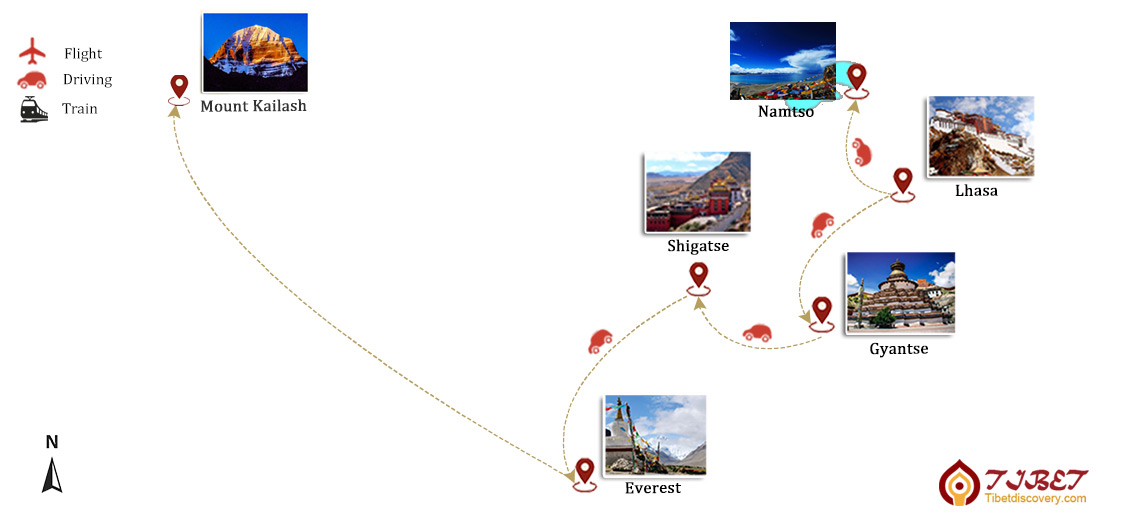 Mjpinder (Britain)
July 2016 / 1pp
15 Days Everest and Mt. Kailash Adventure Tour
" It was a great trip, but quite tough and tiring, so not for the faint hearted! Thanks to Wonder, I finished such a great trip and enjoyed such beautiful wildlife. If you want to do something, do it now! "
Itinerary Introduced by Wonder
"Hi, I'm Wonder, Mr. Pinder's travel consultant. In June 2017, he had an unforgettable journey to Mount Everest and Mount Kailash. It is a sightseeing and spiritual trip. Before the real adventure tour, he had stayed in Lhasa for three days to get accustomed to the high altitude. He visited several worth-visiting places in Lhasa, like Potala Palace, Jokhang Temple, Barkhor Street, Sera Monastery and Drepung Monastery in Lhasa. Then, he turned to Mount Everest via Gyantse and Shigatse. From Lhasa to Gyantse, he enjoyed the natural scenery of Yamdrok Lake and Karola Glacier. The Palcho Monastery in Gyantse was also featured. In Shigatse, he paid a visit to Tashilhunpo Monastery – the resident of Panchen Lama. After that, he got to Everest Base Camp, and saw the magnificent Mount Everest. In the following days to Mount Kailash, he really liked the plateau views. Let's read his story and get inspired for your own trip. If any need, be free to contact me." -- Wonder. (Ask Wonder a Question)
Tibet Travel Consultant - Wonder
I did the 15-day Lhasa, Everest Base Camp and Mt. Kailash tour from 4th-18th June, and had a fantastic time. It was very well organised and everything went to plan. Wonder Wang at Tibet Discovery was very helpful and always answered by email queries very quickly and efficiently. Tibet Discovery got my permit couriered to me in Shanghai one day ahead of my trip. Our Tibetan guides and drivers, both in Lhasa and on the road, were excellent, helpful and good fun. The weather was great, so we had fantastic views of the mountains. As well as the mountain views, I found the wildlife and alpine flowers fascinating.
Hotels in Lhasa, Shigatse and New Tingri were good - hot showers and breakfast buffets - then conditions deteriorated as we went west, but that was only to be expected. Food became more basic and choices more limited, but it was fine. Altitude was an issue, with a couple of people in the group having problems. I'd always recommend people to bring Diamox with them, and to do a bit of hiking and preparation before coming.
Related Tours
Check the following related tours or contact us to customize a tour according to your own preference:
>> 13 Days Mt. Kailash & Lake Manasarovar Trekking Private Tour
(Lhasa - Shigatse - Mount Everest - Mount Kailash - Lhasa)
>> 16 Days Mt.Kailash Pilgrimage Private Tour
(Lhasa - Shigatse - Mount Kailash - Lhasa)
Spectacular View in Tibet
Holy Mountain - Mount Kailash
Recommended Tibet Tour Packages
Tibet Discovery Tours is specialized in finding unique experience of Tibet, and leading you to explore what interests you most. Our Private Tibet Tours will take you to explore deep into the Holy Land, with loads of options, freedom & flexibility. You can choose from the following hand-picked tour packages which have been successfully operated for many years and created loads of amazing experiences for our customers, or check more Tibet Tours >>
Have a question? Get answers from our travel experts soon!
Your Question:

Your Name:

Your Email: