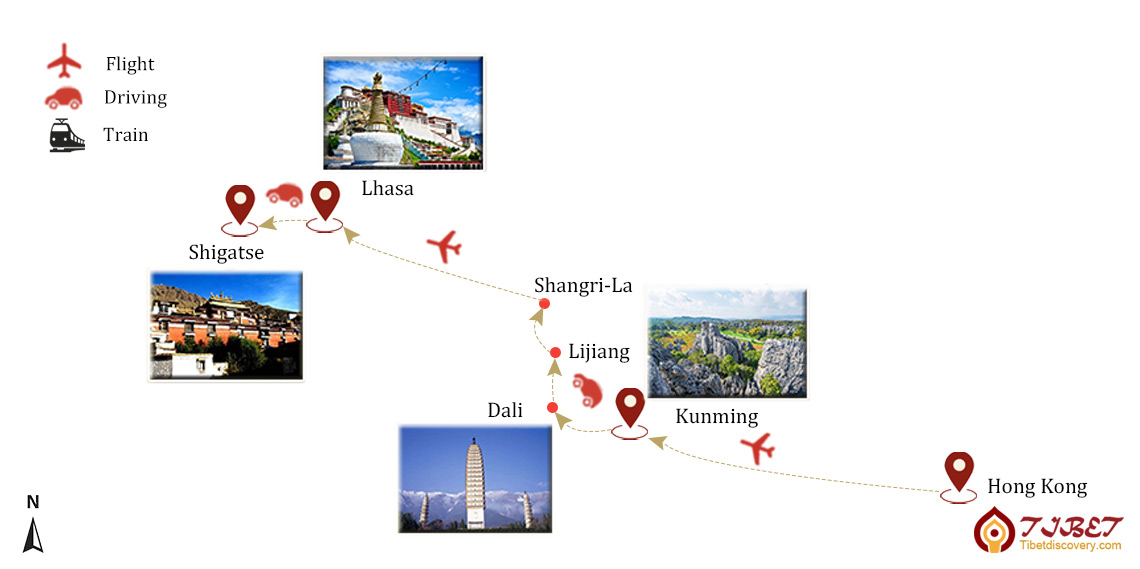 Vivian (HK)
October 2017 / 2pp
14 Days Yunnan Tibet Tour from Hong Kong
"Jack Li, the reliable and excellent consultant planned our two week itinerary, very good value for money. I was very impressed with the organisation, hotel selection and general reliability… "
Itinerary Introduced by Jack
"Hi, I'm Jack, our old friend Vivian's travel consultant. It's my pleasure to make a Tibet trip for her and her friend, and I'm glad that they were satisfied with all our arrangements of tour guide, hotel, driver and itinerary. This 14 days Yunnan Tibet tour is a wonderful journey mixed with different types of plateau landscape as well local minority culture in Kunming, Dali, Lijiang, and Shangri-La of Yunnan and Lhasa and Shigatse of Tibet. To help them acclimate to high altitude before entering Tibet, had convenient transfer and spend memorable journey with fascinating attractions, we made Yunnan as their first destination. During the first accommodative week in Yunnan, they toured mysterious Stone Forest, Erhai Lake, Dali Old Town, Lijiang Old Town, First Bend of Yangtze River and visited Naxi villages, fully enjoyed the diverse ethnic cultures and views. Taking a Shangri-La Lhasa flight to Tibet within short distance, Vivian started Tibet travel to Lhasa and Shigatse, realized her dream trip to the Roof of the World. Surely, she visited Potala Palace, Jokhang Temple, Barkhor Street, Sera Monastery, Norbulingka Palace and more renowned sites in Lhasa, and extended Tibet journey to Tashilumpo Monastery in Shigatse, passing through beautiful Yamdrok Lake, breathtaking Karola Glacier, Palcho Monastery. Read the following Tibet travel story shared by Vivian. If you need professional travel service, I'm always ready to help you."
-- Jack (Ask Jack a Question)
Tibet Travel Consultant Jack
Reviews from Vivian about Yunnan and Tibet
This was the second time I used their services. Their reliable and excellent consultant, Jack Li, planned our two week itinerary covering Kunming, Dali, Lijiang, Tiger Leaping Gorge, Shangari-la, Lhasa, Gyantse and Shigatse.
Everything went like clockwork and I was very impressed with the organisation, hotel selection and general reliability. There really wasn't very much to complain about. Jack obviously planned our itinerary with altitude sickness prevention in mind - so we started in Yunnan and the elevation gradually increased as the trip progressed so we acclimatised very well by the time we go to Tibet.
The drivers were generally good and we had a lovely lady tour guide called Alice in Dali - highly recommended.
If you are looking for reputable travel agents that are reliable, I think Tibet Discovery is very good value for money after having compared across various tour operators in China.
Useful Tips for Tibet Travelers from Vivian
- Bring packs of tissue paper, the toilets (other than in hotels) generally don't have any.
- If organising a private tour, note that asking for local guides rather than a guide that stays with you for the whole tour can work out cheaper.
- If you understand Chinese, it pays to have a Chinese speaking tour guide. I find that names of religious figures and historical characters far easier to follow in Chinese than English.
- We try not to transit through Beijing and Shanghai given air traffic restrictions make it a notoriously unpleasant experience. On our return flight from Lhasa, we flew to Shenzhen from where there is a very efficient cross border bus service back to HK - it only added 1.5 hours to the transit time but avoided stopping in another airport in China or changing airlines.
- Try to start your holidays right after the major holiday season in China. We started our holiday just after Golden Week. It was a very relaxing experience.
Why Planned Tibet Travel from Yunnan (from Jack)
The first time Vivian contacted us to make a China tour was years ago. Thanks to her satisfaction and trust, we had another chance to plan her dream travel to Tibet. But like most of new comers, she understood that visiting the Roof of the World is totally different from destinations she went before. High altitude sickness, choosing which gateway city to Tibet, professional local tour guide and driver… there were lots of concerns for her first Tibet travel. To realize our old friend Vivian's Tibet journey, we worked out a Yunnan Tibet tour based on her preference, and met all her requirements. Let's see the main points she cared for and how we settle them when planning her two week Tibet trip.
● High Altitude Sickness in Tibet
High altitude sickness in Tibet is always a major concern for plateau travel, let alone Lhasa and Shigatse with over 3,500m above sea level. Since taking a flight to Tibet is the first choice Vivian prefers,the sudden rising of elevation from Beijing, Shanghai and other low-altitude cities may cause high altitude sickness easily. Therefore, how to maintain a good healthy state during Tibet journey comes as the priority. Yunnan, which is adjacent to southeast Tibet on plateau with an average elevation of 2,000m, is suitable for high altitude acclimation.
>> How to Avoid High Altitude Sickness in Tibet
● Convenient Transportation to Tibet
Currently Hong Kong has no direct flights to Tibet, even the fastest connecting flights to Tibet needs about 7.5 hrs with a stopover in Chengdu. As a neighbor in southeastern Tibet, Yunnan is well-connected with Hong Kong and Tibet. Hong Kong Kunming flight only takes less than 3 hrs. Besides, Yunan has three cities, namely Kunming, Lijiang, Shangri-La are running daily direct flights to Tibet in shorter flying distance and duration. Considering the high altitude sickness precaution and more available flights to Tibet, ultimately Vivian chose Shangri-La as gateway city as we recommended. (Every day, Shangri-La operates 1~2 non-stop flights to Lhasa for about 2hrs.)
>> Check More Flights to Tibet
● Beautiful Views Different from Tibet
Rich in charming plateau landscape and diverse minority culture, Yunnan in southwestern China is a popular tourist destination. Because Vivian wanted to experience distinctive views and local cultures in Yunnan, we designed one week travel to Kunming, Dali, Shaxi, Lijiang, Shangri-La, covering sightseeing of Lijiang Old Town, Kunming Stone Forest, Tiger Leaping Gorge, and more famous old towns, lakes, towers, temples, parks and murals. Though lying closely to Tibet, Yunnan completely shows different plateau sights in different regions.
● In-depth Touch to Local Culture
A wonderful trip to Yunnan can't miss the exploration of diverse minority culture. 26 ethnic groups develop fascinating and diverse cultures in Yunnan. Except sightseeing of top attractions, we arranged more private visits to minority villages, museums, families to help Vivian better understand minority lifestyle, culture and history. Thanks to our reliable and professional travel companions of tour guides, drivers in Yunnan and Tibet, Vivian enjoyed the two weeks' trip to Yunnan and Tibet, and left unforgettable memory of this once in a lifetime travel.
Related Tours
Get inspired from Vivian's Yunnan Tibet trip story? If you are planning a Tibet travel, Yunnan Tibet Tour is highly recommended for combination of plateau view and ethnic culture. Besides, you can also choose Beijing, Shanghai, Chengdu, Xining as gateway cities to Tibet either by Tibet trains or non-stop Tibet flights. If you have good ideas or other requirements, you can contact us to customize a special Tibet tour.
>> 10 Days Yunnan Tibet Highlights Tour
(Private Tour: Kunming - Lijiang - Shangri-La - Lhasa - Namtso)
>> 12 Days Lijiang Shangri-La Essence Tour
(Private Tour: Kunming - Lijiang - Shangri-La - Lhasa - Shigatse - Mount Everest - Gyirong - Kathmandu)
Splendid Potala Palace in Lhasa
Sapphire Yamdrok Lake
Flights to Tibet from Shangri-La
Dali Chongsheng Temple and Three Pagodas
Three Stringed Dance of Yi Sani People
Recommended Tibet Tour Packages
Tibet Discovery Tours is specialized in finding unique experience of Tibet, and leading you to explore what interests you most. Our Private Tibet Tours will take you to explore deep into the Holy Land, with loads of options, freedom & flexibility. You can choose from the following hand-picked tour packages which have been successfully operated for many years and created loads of amazing experiences for our customers, or check more Tibet Tours >>
Beijing / Xian / Lhasa / Shanghai

Highlights: Great Wall, Terracotta Warriors, Potala Palace, the Bund

$2,710 / Details

Hong Kong / Guilin / Beijing / Xian / Chengdu / Lhasa / Gyantse / Shigatse / Everest / Gyirong

Highlights: Highlights: Victoria Peak, Li River, Great Wall, Tarra-cotta Warriors, Giant Panda, Potala Palace, Mount Everest

/ Details

Hong Kong / Chengdu / Lhasa

Highlights: Hong Kong Independent Tour, Panda Base, Wenshu Temple, Potala Palace, Jokhang Temple

/ Details
Have a question? Get answers from our travel experts soon!
Your Question:

Your Name:

Your Email: