How to Read Tibet Train Ticket and Tibet Train Ticket Types
14 December 2022
Last updated at 10:53
How to Read Train Ticket
The train ticket contains a good deal of detailed information, and learning to read it helps you find your matching railway station, car and seats much easier.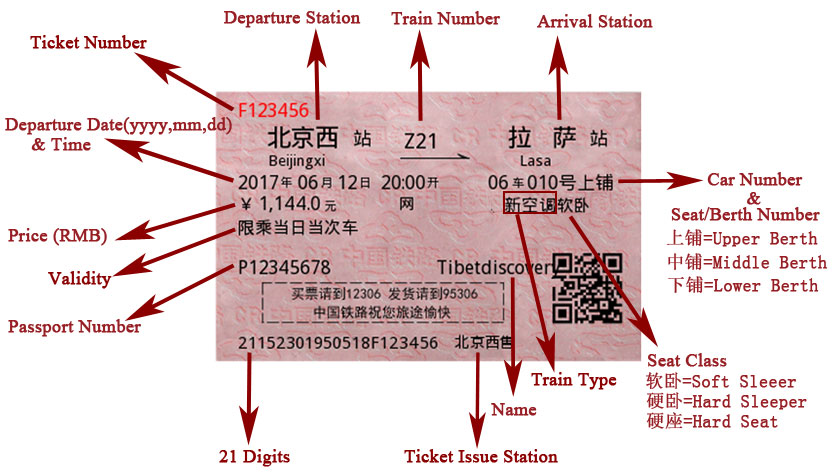 Train ticket (Beijing-Lhasa)
Ticket Number
In the left top is the ticket number. It is always made by one letter and 6 numbers. Every ticket has its own number.
Departure & Arrival Station
In the second row of the ticket, you can see the departure station and arrival station – the largest characters in bold. Many foreigner travelers may be confused because there are more than one railway stations in China's big cities. At beginning, the train stations are usually named after the city, like Beijing Railway Station and Shanghai Railway Station. With the development of transportation, a growing number of train stations were built. To distinguish the different railway stations in one city, the stations are always named as city name plus direction. Between the two stations is the train number. The third row is the spell (pinyin) of two railway stations. Before your transfer to your railway station, read the ticket carefully and find the right one.
Tips: 东/dong – East, 西/xi – West, 南/nan – South, 北/bei – North, 站 – Station
Date & Time
Departure date and time is printed in the fourth row. Date in a format of year/month/day and time in 24-hour time system. The arrival time is not printed on the ticket.
Tips: 年 – Year, 月 - month, 日 - Day
Seat Number & Class
The time is followed by the car number and seat/berth number. "上铺" means upper berth, "中铺" means middle berth and "下铺" means lower berth. Below the seat/berth number is the train type and seat class. All trains to Lhasa are in "新空调" type which means new air-conditioned. The seat class in Tibet trains includes soft sleeper(软卧), hard sleeper (硬卧) and hard seat (硬座).
Tips: 车- Carriage, 号 – Number
Price
Below the date is the price in RMB.
Validity
In the sixth row is printed a short Chinese sentence which shows the validity. All Tibet trains tickets are valid only on the specified date and specified train
Passenger Information
Your passport number (ID card number for Chinese) is printed in the seventh row with several numbers replaced by "*" to protect your privacy and the next is your name.
21 Digits
The 21 digits in the last row are made up by 5 parts. The fist five numbers is the code of the train ticket issuing station and it may be the departure station or not. If you buy a ticket from Xian to Lhasa at Guilin Railway Station, and the numbers represent Guilin Railway Station. The following two numbers is the code sale way. Then comes the code of ticket window, date of ticket released and ticket number at last.
Ticket Kinds
Tibet train ticket, just like other China train tickets can be divided into two kinds - traditional red ticket and magnetic blue ticket. From different stations, you may collect different tickets. The only difference between the two kinds of tickets is that the red tickets can only checked by train staff while the blue ticket can be recognized by the automatic ticket gate because of its magnetic medium.


Two Kinds of Train ticket
According to the seat, Tibet Train tickets can be divided into three kinds – Soft Sleeper tickets, Hard Sleeper tickets and Hard Seat tickets. The tickets for different seats have different prices.
Our Top Tibet Tours with Qinghai-Tibet Train Experience
☞ 10 Days Beijing Xian Lhasa Memory Tour by Train
☞ 8 Days Lhasa Tour from Beijing by Train
☞ 7 Days Lifetime Tibet Train Tour from Chengdu
☞ 6 Days Discover Tibet Train Tour from Xining
How to Plan A Tibet Tour
Tibet is too vast to be visited in one single trip, but planning ahead of time can make most of your holiday. A classic Tibet tour always takes about 4 ~ 8 days. Apart from 2 days for arrival and departure, it usually needs 2 other days to explore majestic Potala Palace and other landmarks in Lhasa, the capital of Tibet. With a day trip's distance from Lhasa, Namtso Lake is another perfect tour extension if you visit Tibet from May to October.
☛ 4 Days Holy City Lhasa Private Tour - Heart of Tibet
☛ 5 Days Lhasa City and Holy Lake Namtso Tour
To explore further, it's strongly recommended to travel from Lhasa to Mount Everest via Gyantse and Shigatse, which usually needs 4 more days. It is an unforgettable sightseeing trip with lots of attractions to visit, such as Yamdrok Lake, Karola Glacier, Kumbum Stupa of Palcho Monastery, Tashilhunpo Monastery, etc. Of course, the biggest draw must be gazing upon the unparalleled north face of the world's highest peak – Mount Everest.
☛ 6 Days Lhasa Gyantse Shigatse Historical Tour
☛ 8 Days Everest Base Camp Tour - Top of the World
☛ 9 Days Tibet Discovery Tour plus Everest and Namtso Expedition
For Buddhist followers and hiking lovers, you are suggested to travel to Ngari to join the kora around the holy Mt. Kailash and sacred Lake Manasarovar, which usually takes about 5 ~ 8 more days from Lhasa. The wild nature of Ngari is spectacular as well.
☛ 13 Days Mt. Kailash & Lake Manasarovar Trekking Tour
Lhasa, Namtso, Mount Everest and Ngari are four most popular destinations in Tibet
Tibet Train Routes and Gateway Cities
More Information about Tibet Train
Recommended Tibet Train Tour Packages
Beijing, Shanghai, Chengdu, Xining are so far the four most popular gateway cities for taking a train tour to Tibet. Check out our most popular tour packages departing from these gateway cities. All packages are customizable according to your requirements. If you have more time, you can extend your trip from Lhasa to other popular destinations, such as Shigatse, Mount Everest, Nyingchi, Ngari, etc.
Have a question? Get answers from our travel experts soon!
Your Question:

Your Name:

Your Email: