Hard Sleepers on Tibet Trains - the Second Class Tibet Train Tickets
26 February 2019
Last updated at 10:00
What is the Hard Sleeper?
The Hard Sleeper is a common kind of bunk which is provided in most regular trains in China, such as the K, T, Z, L trains. It is mostly chosen by passengers who travel long and need to stay overnight on the train. Currently all trains from mainland cities, such as Beijing, Chengdu, Shanghai, etc, provide plenty of Hard Sleepers for passengers to travel to Tibet.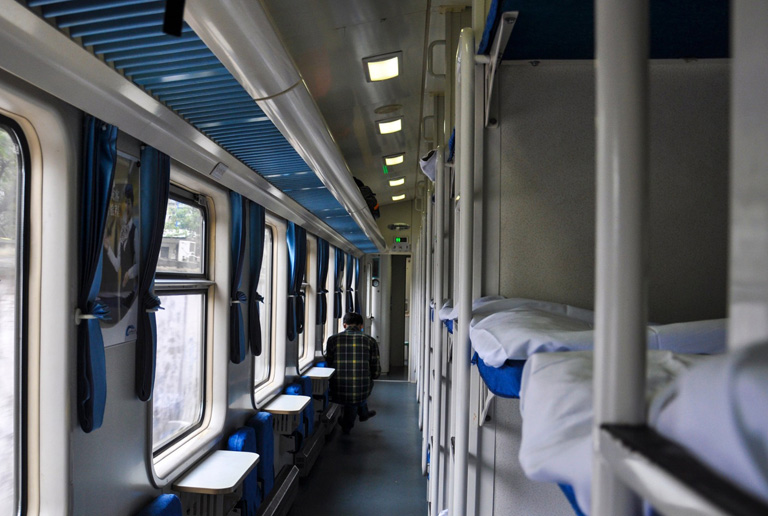 Hard Sleepers Carriage on Tibet Train
How "hard" is the Hard Sleeper?
The Hard Sleeper is not hard at all. It doesn't' means passenger will sleep on the hard bunks. Actually there are soft beddings equipped with the Hard Sleepers. The Hard Sleeper can be regarded as the Second Class Sleeper. It is called as "Hard Sleeper" to differentiate from Soft Sleepers (the Top Class Sleeper) which truly provides softer beddings than the Hard Sleepers.
Like the Soft Sleeper, the Hard Sleep is also settled on the shelf-like beds which are made of steel. It also provides passengers soft beddings. A normal train, like K, T, Z trains, usually has 8~10 carriages of Hard Sleepers. Each carriage has 11 single compartments. There are 6 Hard Sleepers in each compartment – two upper sleeper, two middle sleeper and two lower sleepers. The sleeper is about 24 inches (60cm) wide and 71 inches (180cm) long, and can bear a weigh around 300kg (661.4ponds).
Upper Sleeper, Middle Sleeper or Lower Sleeper?
There are 2 lower berths, 2 middle berths and 2 upper berths in each cabin. Which kind of berth is better?
Usually, the lower sleepers are most popular because it is more convenient for passengers to get in and out from beds, and has a wider view of outside landscape. Passenger can easily lie down and sit. It is also close to the table. But other passengers in the compartment may sit on your sleeper during daytime, which is normal in China.
The middle sleeper is great for sleeping. The height is about 70km, which also allow one to sit on the bed a little bent over. At the same time, it has better privacy compared to the lower sleeper.
Even though the sizes of the upper sleepers are the same as the lower and middle sleepers, but the upper sleepers hardly ensure a comfortable stay because it is only about 65cm high. One will stay directly under the surface of the train, and even can hear the flowing wind outside the window. It is also not easy to climb up to the sleeper.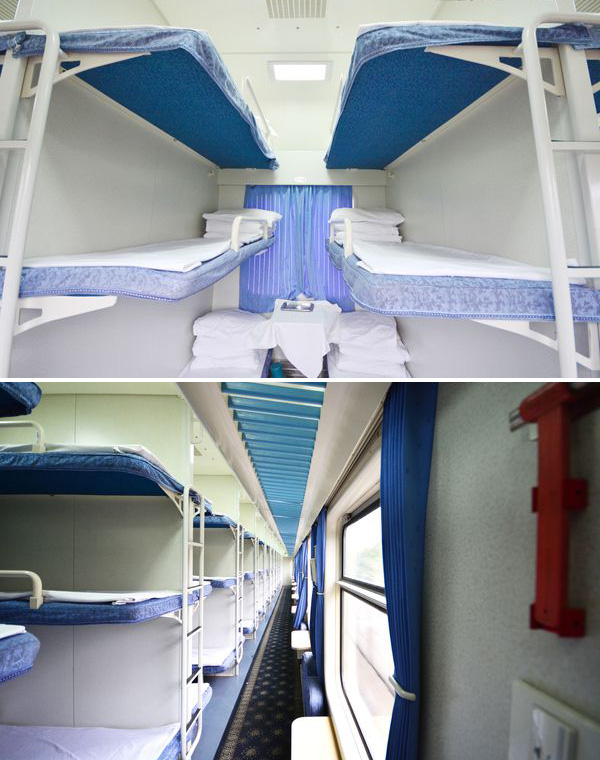 The Hard Sleeper Compartment on Tibet Trains
Passengers Playing Cards in the Hard Sleeper Compartment
Facilities and Amenities in Hard Sleeper Carriage
Regular Facilities in the compartment
Apart from the 6 sleepers, the compartment in the Hard Sleeper Carriage, there are some other friendly facilities – a small table between the two lower sleepers, a thermos, a dustbin. The table is shared by all passengers in the compartment to eat, read and put things. Each sleeper also has a hook to hang coats or bags.
Luggage Service in the Hard Sleeper Carriage
There are two places for passengers to put luggage. One is the luggage rack above the window by the side the aisle. It is about 20.9 inches (53 cm) wide, and can place a large suitcase. Another place is the space under the lower sleepers which is about 12 inches (30 cm) high and 24 inches (60cm) wide. Valuable personal belongs should be put in your carry-on bag.
Luggage Service in the Soft Sleeper Carriage
There is a large and wide luggage closet above the door in each Soft Sleeper Carriage. It is about 16 inches (40cm) high and 20 inches (50cm) wide. You can place some smaller luggage and suitcases here. As for larger and heavier luggage, you can put them under the lower berth.
Public Facilities
Toilet
There are two toilets, separately at the left and right of the carriage. They are both squat toilets. You have to bring toilet papers on your own.
Washing Area
At the end of the carriage near to the toilets, there is a washing area. Both hot water and cool water are supplied. Toiletries are not provided on the train. There is also a big mirror here.
Drinking Water
There is a drinking water dispenser on the left and right ends of the carriage. Both hot water and cool water can be received. Don't drink the water from the Washing Area.
Smoking Area
It is not allowed to smoke in the compartment and aisle area, even in the toilet. If you want to smoke, you can go to the end of your carriage where there is a smoking area.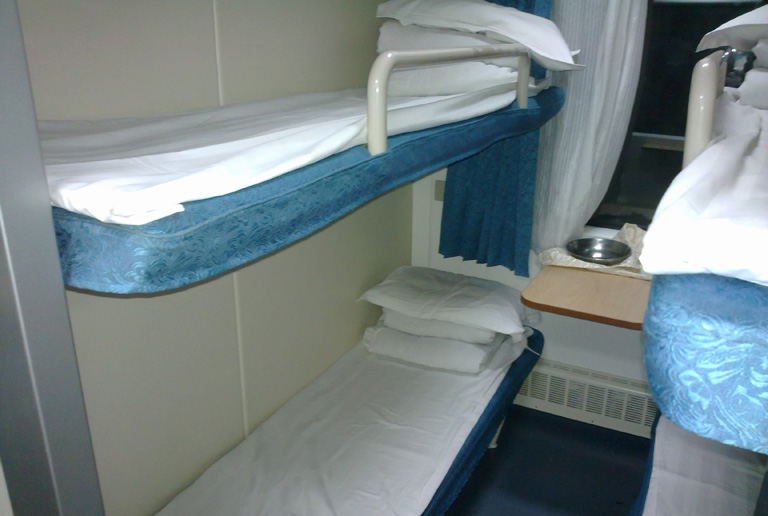 Inside the Hard Sleeper Compartment
Toliet in Hard Sleeper Carriage
24-Hour Drinkable Hot Water Supply
Prices of Hard Sleepers for Top Tibet Train Routes
Currently, there are Hard Sleeper tickets selling for the trains to Lhasa from Beijing, Chengdu, Shanghai, Xian, Xining, Lanzhou, Chongqing and Guangzhou. The prices are lower than the Hard Sleepers. Travelers have to stay for two nights if taking a train to Lhasa from Beijing, Chengdu, Shanghai, Guangzhou and Chongqing.
| Route/Train Num. | Soft Sleeper Price | Depart/Arrive Time | Duration |
| --- | --- | --- | --- |
| Beijing - Lhasa (Z21) | About ¥720.00 | 20:00~12:10 | 40hrs 10mins |
| Chengdu - Lhasa (Z322) | About ¥668.00 | 14:48~09:55 | 43hrs 7mins |
| Shanghai - Lhasa (Z164) | About ¥793.50 | 20:10~19:20 | 47hrs 10mins |
| Xian - Lhasa (Z265) | About ¥611.50 | 11:24~19:20 | 31hrs 20mins |
| Xining - Lhasa (Z6801) | About ¥495.00 | 14:01~11:10 | 21hrs 9mins |
| Lanzhou - Lhasa (Z917) | ¥522.00 | 11:16~11:10 | 23hrs 54mins |
| Chongqing - Lhasa (Z223) | About ¥680.00 | 15:42~09:55 | 42hrs 13mins |
| Guangzhou - Lhasa (Z264) | About ¥865.00 | 11:45~17:05 | 53hrs 20mins |
(Important Notice: Tibet Train tickets are always in short supply, so you'd better confirm your trip and book the train tickets as early as possible. Currently passenger can book the train ticket 30 days in advance.) Check our popular Tibet Train Tours.
Comparison between Soft Sleeper and Hard Sleeper
Generally speaking, the Soft Sleeper Compartments are more luxury than the Hard Sleeper Compartments, and provide larger space, more facilities. Check following form to get a brief comparison.
| | Soft Sleeper | Hard Sleeper |
| --- | --- | --- |
| Amount of Sleepers | 4 | 6 |
| Size of Sleeper | Width:700mm/Length:1900mm | Width:500mm/Length:1800mm |
| TV | Yes | No |
| Power Supply | Yes | No |
| Vacuum Flask | Yes | Yes |
| Door | Yes | No |
Learn more about Soft Sleeper and Hard Sleeper >
According to our local experience, we strongly suggest travelers choose the Soft Sleeper instead of the Hard Sleeper and Hard Seat to ensure a more comfortable and safer trip because the Tibet Train ride is once-in-a-lifetime experience. And passengers will have to stay two nights on the train if he/she takes a train from Beijing, Chengdu, Shanghai, etc.
Our Top Tibet Tours with Qinghai-Tibet Train Experience
>> 10 Days Beijing Xian Lhasa Memory Tour by Train
>> 8 Days Lhasa Tour from Beijing by Train
>> 7 Days Lifetime Tibet Train Tour from Chengdu
>> 6 Days Discover Tibet Train Tour from Xining
Useful Tips on Soft Sleepers on Tibet Trains
1. If you are traveling to Lhasa from Beijing, Shanghai, Chengdu, you are strongly suggested to take the Soft Sleepers because you need to spend two nights on the train. Book Soft Sleeper Ticket as early as possible because each train has only about 72 Soft Sleepers. Currently passenger can book the train ticket 30 days in advance.
2. Tibet Discovery can help book train ticket for travelers who are booking Tibet train tour packages with us. Since the train tickets are always in a short supply, which makes it much difficult for travelers to book independently. So we will charge a service fee for the train booking in the tourist peak season.
Tibet Train Routes and Gateway Cities
More Information about Tibet Train
Recommended Tibet Train Tour Packages
Check out our most popular train tour packages departing from most popular gateway cities to Tibet - Beijing, Xian, Chengdu, Xining, Shanghai, etc. All packages are customizable according to your requirements. If you have more time, you can extend your trip from Lhasa to other popular destinations, such as Shigatse, Mount Everest, Nyingchi, Ngari, etc. Check more >Tibet Train Tours
Have a question? Get answers from our travel experts soon!
Your Question:

Your Name:

Your Email: