The Xinding Hotel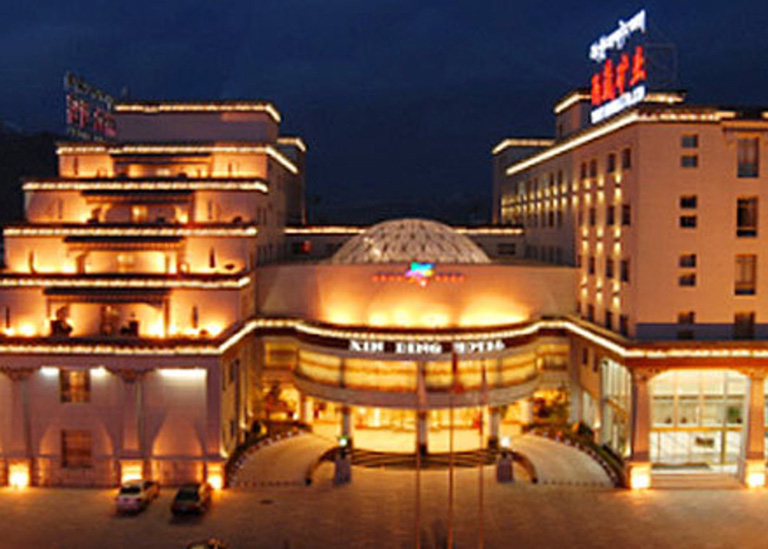 Type:

Luxury,Business

Location:

Jinzhu Road, near to Potala Palace

Number of Room:

131 ( Wireless Internet Access)

Address:

8 Second Jinzhu Road (Jinzhu Er Lu)

Show Map

Surroundings:

Potala Palace

,

Jokhang Temple

,

TEL:

86-891-6808555(Front desk)

86-28-61811579 (Office)
Xinding Hotel is located in the bustling area of Lhasa with easy access to Potala Palace. Xin Ding Hotel features view rooms with the beautiful views of Potala Palace and Lasha River. There are 131 guest rooms with complementary domestic long-distance calls. Restaurant, massage, foot massage and conference facilities are all available.
The Xinding Hotel has 131 guest rooms, including standard room, deluxe view twin room, superior deluxe suite and so on. As for dining service, the hotel has Chinese and Western restaurants and bar. For recreation and relaxation, there are chess and card room and massage room. Besides, the Xinding Hotel is also equipped with business centre, conference room, ticket booking, laundry service and so on.
Location and Transportation
Build in 2007, Xinding Hotel has a convenient transport to Jokhang Temple and the nearby leisure malls. Supporting facilities like supermarket, bank and hospital are easy to find. It takes about 15 mins for tourists driving from the Lhasa Railway Station which is 7km to Xinding Hotel. For tourist arrived in Lhasa Gonggar International airport, you will spend about 1h of 60km to this hotel.
Room Type
Amenities
Map
Photo Gallery
Room Type
Room Amenities
Air conditioning
Telephone
Hair dryer
Electronic locks
Bath an Shower
Mini Bar
Hotel Type
Hotel Amenities

Parking
Air-conditioned Facilities
Business Center
Elevator
Massage
Hotel Service

Luggage service
Laundry service
Room service
Wake Up Call
Medical clinic service
Valet Parking
Dining Facilities

Chinese Restaurant
Western Restaurant
Coffee shop
Business Service

Business Center
Copy Service
Email
Photos
prev
next
Photos of hotel
Recommended similar hotel