Gyantse Accommodation - Recommended Hotels in Gyantse
As one of the most popular destinations in Tibet as well as an important stop on the road to Mount Everest. Many travelers chose to stay a night at Gyantse to recover from the tiredness of long-distance driving from Lhasa or Mount Everest. Besides, spending a night in Gyantse guarantee you more flexible time to explore some unique and interesting sites that can only see in Gyantse, such as Palcho Monastery, Gyantse Dzong and Pala Manor.
Currently, travelers can enjoy a pleasant night stay at Gyantse since there are many great hotels established in the town. These hotels are mostly Tibetan-home style with some modern features from western style hotels. Free Wi-Fi and 24-hour hot water are ensured in most hotels. But as a very small small town, the highest standard is only 3 Star hotel. Gyantse Hotel and Yeti Hotel are two most recommended hotels in Gyantse Town. They are conveniently located near to the attractions, and offer great amenities and facilities. The Western Buffeet is available in both hotels.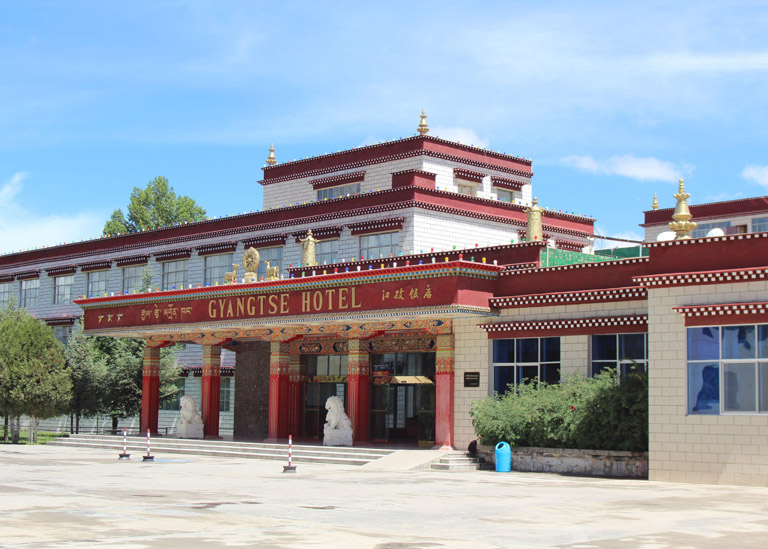 Guest Impression:
It is a decent hotel
Comfortable for an overnight stay
Adequate
Spacious rooms
Met our expectations!
Surroundings:
Palkor Monastery

,
Gyantse hotel is located in the center of the ancient city Gyantse, 260 kilometers froom Lhasa and and 90 kilometers to Shigatse. Compared with other hotels in Gyanste, such as Yeti Hotel, Gyantse Hotel is really a veteran. Its establishment can be traced back to 1986 since when Gyantse Hotel has been the best hotel on the town of Gyantse.
The holel offers a 3-star standard of amenities and services. It has 120 rooms in totall of different kinds - western style room, Tibetan style room, standard room, deluxe room, etc. There are several dining halls for guests to try Tibetan food, Chinese cuisine, Nepal food, etc. Hot water are supplied for 24 hours. Wi-Fi is free and fully covered.
...read more>>
Room Type
Bed Type
Breakfast
Internet
Standard Room
Twin Bed
Included
Available

Air condtitioning, Television

Single Room
King Bed
Included
Available

Free Wi-Fi, King Bed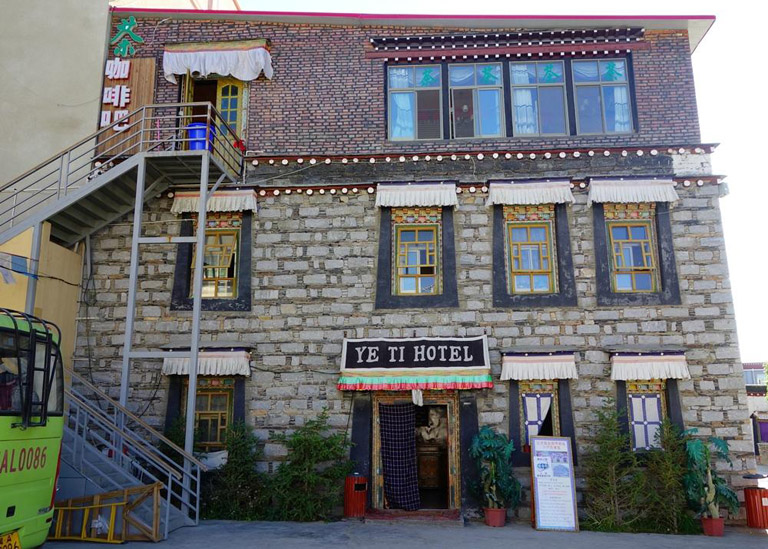 Guest Impression:
Conveniently location and lovely staff
Surprisingly nice
Best hotel
Clean with hot water & varied breakfast
Surroundings:
Palkor Monastery

,

Gyantse Dzong

,
Yeti Hotel is a newly refurbished Tibetan-theme hotel in Gyantse City. It has a very tourist-friendly location – 3 minutes' waling to Gyantse Dzong and Gyantse Old Town, and 10 minutes' walking to the landmark of Gyantse – Palcho Monastery. You can also enjoy the great panoramic view of Gyantse town from Yeti Hotel.
Yeti Hotel has 35 clean, comfortable and spacious rooms which mix both the western and Tibet styles of decoration. Every room provides free and reliable WI-FI, 24-hour hot water, air-conditioner. You will not feel the dryness in the room since the hotel offers a humidifier in your room.
The staffs in Yeti Hotel are very friendly and helpful. Some of them can speak great English. As for the food, Yeti Hotel offers the best Western buffet and coffee in the town. Many kinds of foods are offered for you – Tibetan food, Sichuan Cuisine, western food, etc.
...read more>>
Room Type
Bed Type
Breakfast
Internet
Standard Room
Twin Bed
Included
Available

Two cozy beds. Great views of Gyantse Dzong

Single Room
Single Bed
Included
Available

Big single bed. Free WI-FI. 24-hour hot water.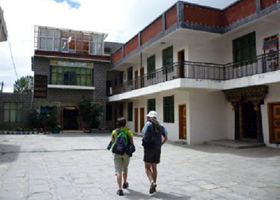 Guest Impression:
A reasonable hotel
Great location, Great price
One of the better night's sleeps we had in Tibet
Surroundings:
Palkor Monastery

,
Jianzang Hotel started its business in 2002.The Jian Zang Hotel is the best budget hotel in Gyangtse. This 2 star hotel has clean and comfortable rooms in a courtyard style building. The shower does not have a curtain, but since you only stayed here one night that isn't a major shortcoming. Tibetan suites are available upon request.
The hotel has free parking for guests with their own vehicles. The television does not have CNN or BBC, but CCTV 9 can provide adequate English language news.
The boss of Jian Zang hotel is Dr. Gyantsen. He named the hotel after himself, which is funny because the Chinese characters for his name (Jian Zang) translate as "Developing Tibet" Dr. Gyantsen likes to hang out in the lobby and practice his English by greeting foreign guests.
...read more>>
Room Type
Bed Type
Breakfast
Internet
Standard Room
King Bed
Included
Available

Air conditioner, hair drier, bath and shower

Single Room
Twin Bed
Included
Available

Air conditioner, hair drier, bath and shower