Wonder - Professional Tibet Travel Consultant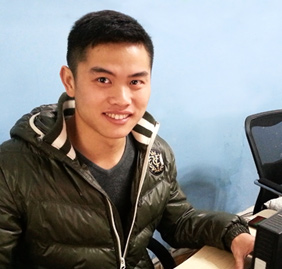 Expertise
Tibet

Lhasa, Namtso Lake, Shigatse, Gyantse, Everest...

China's Other Regions

Beijing, Xian, Shanghai, Guilin, Yangtze River Cruise...
Why not take the advantages of Wonder's travel experience to design a itinerary just for you, that suits your budget and interests. His passion to service you never fades away!
OR Call him at +86-28-85227275
Biography


Hi, every travel enthusiast, I am Wonder.

Travel around the world is one of my dreams in my whole life, just like many other people. Travel will make people know the things they have never known before: the miraculous and beauty of nature and the incredible of human beings now and before.

With my passion, knowledge and understanding of the essence of travel, I promise I will try my best to make the tour memorable and meaningful for you, your family and your friends. Your satisfaction will be the best gift to my job. I am here, China Discovery, waiting for your inquiry any seconds.


Read my Customers' Stories
>> Discovering China through the Veil of Time - Maria's 13 Days China with Tibet Discovery Tour
>> A Tremendous 15 Days Touring Religious "Center of the World" - Mjpinder's Everest Base Camp
Tibet Travel Tips from Wonder
Can't find the answers you want? Email or call me at +86-28-85227275, and I will get back to you immediately with full passion and consideration.
Is independent tour allowed in Tibet?

In order to protect the centuries-old cultural relics, Tibetan fragile environment and respect the tradition of Tibetan people and considering the limited reception capacity in Tibet, all non-Chinese passport holders must travel Tibet with a licensed agency.

What documents do I need if I am planning to travel to Tibet?

First, you need to have a valid passport, and then apply for a valid Chinese visa for your travel to China. A Tibet Travel Permit (sometimes people call it Entry permit or TTB Permit) is needed for your Tibet tour. More visas or permits, like Aliens' Travel Permit, Military Permit and Border Pass, Group Visa are also required if you want to visit more further regions outside Lhasa, Shigatse and Gyantse.

How to Get to Tibet?

Basically you have two options – flight and train. Currently, you can take a flight to Lhasa from Beijing(4.5hrs), Xian(3.7hrs), Chengdu(2.5hrs), Chongqing(3hrs), Kunming(3hrs), Kathmandu (1.5hrs), etc. Among all these cities, Chengdu and Xian have more frequent flights to Lhasa. If you prefer a train travel, you can take a train to Tibet from Beijing(40.5hrs), Xian(32hrs), Chengdu(43hrs), Shanghai(47hrs), Chongqing(42hrs), Lanzhou(25hrs), Xining(22hrs), Guangzhou(54hrs).

When is the best time to visit Tibet?

The scenery in Tibet varies with different seasons and different regions. Generally, it is suitable to travel to Tibet from April to October to visit different destinations in Tibet.

How to Avoid High Altitude Sickness?

Before visiting Tibet, you need to keep physically and mentally healthy. Taking a physical examination and consulting your doctor for advice are also important. It is also helpful to travel from lower altitudes to higher altitudes to acclimatize your body to the altitude gradually. During your journey in Tibet, remember to avoid strenuous activities and always walk at a slow pace and take deep breaths.

Is there any age limit for travelers to Tibet?

No. There is not any age limit for travelers who plan to visit Tibet. And it all depends on your physical condition. It will be dangerous to visit Tibet if you are suffering from heavy cold, severe anemia, high blood pressure, high blood pressure, heart disease or any other breathing diseases, because they may cause serious high altitude sickness.

What are the hotels like in Tibet?

Tourism in Tibet has developed a lot in recent years and hotel facilities and service have also greatly improved. Due to special location and geography, living standards in remote cities may not be as you expect from a hotel in other parts of the world. Hotels in small cities and the Everest Base Camp are very basic and simple. Usually you only have a public bathroom with a squat toilet to use.
Hi Wonder,
Very exciting with limited oxygen. After looked around Lhasa in this morning, going back to SH.
Koichiro
May 3, 2023
Dear Wonder,
Thank you so much for your assistance with our recent trip to Harbin! Please see our written feedback below:
Our family had the pleasure of working with Mr. Wonder, who assisted us in a trip to Harbin from Dec.26-29, 2022. Mr. Wonder helped generate an attractive itinerary the same day we requested and even made alterations to it so that it aligned with our requests.
Having never traveled to NE China before, Mr. Wonder made sure we had lots to do and explore during our 3 nights-2 days trip. It was the perfect amount of time to explore a variety of activities with our young family, including the following: Central Street, a traditional Harbin lunch, Songhua Ice Activities, Sun Island Ice Sculptures, Cable Car over the Songhua River, and last but not least, the Ice and Snow World! Due to the pandemic, there were a couple attractions that were closed, including the Volga Manor and Siberian Tiger Park, but Mr. Wonder made sure we had plenty to do and advised us as to what alternative activities could fill our time and be just as meaningful.
Throughout our initial booking, travel experience, and arrival back home, Mr. Wonder was consistently available and responsive to any questions or requests that we had and always gave timely responses. We look forward to working with him again in the near future as he helps us explore the many sites and wonders of China.
Lyso
January 3, 2023
Hi Wonder,
We did quite a lot of research for travel agency before heading for our first trip to Lhasa, Tibet; since foreign travelers to Tibet have to purchase a tour. China Discovery did a great job in helping us get the Tibet Tourism Bureau permit, booking our train tickets from Xining, Qinghai Province, to Lhasa; and organizing a private Tibetan guide, Tenzin, and a driver, for our 5 days in Tibet. They also helped us with all Covid-19 safety measures and authorization requirements). Great sceneries and sites, especially Yamdrok Lake, Khambala pass (4800m), Potala Palace, Sera Monastery and Deprung Monastery. Our guide Tenzin spoke very well in English and was very helpful.
Rechard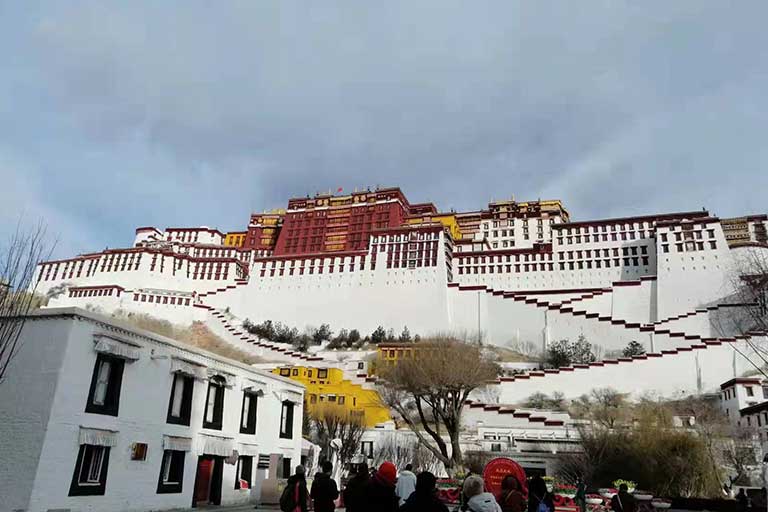 Richard visited Potala Palace in Juanary 2022, tour tailormade by Wonder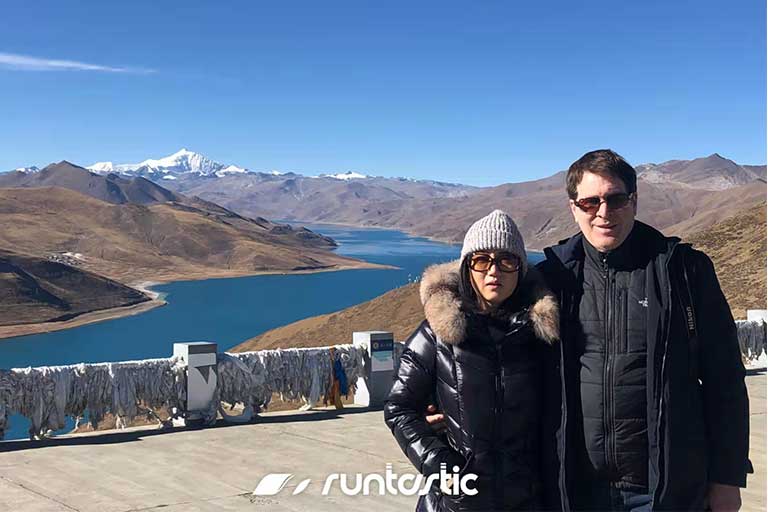 Richard visited Yamdrok Lake in Juanary 2022, tour tailormade by Wonder
January 10, 2022
Hi Wonder,
Truly appreciated the information that you sent me. I am looking forward to normal circumstances in both our countries. A planned visit to China April 12 was cancelled. I had planned to visit the Panda Reserve with a fairly large group tour. Will have to add that to my list—-perhaps with the Yellow Mountains.
Ann
March 21, 2020
Mr. Wonder,
Thank you for the e-mail letting us know you are well and providing an update on the situation there.   We're looking forward to the day we can feel the threat from the virus is over.  Hopefully, we'll all get together to capture the lessons-learned and best practices, so we're better prepared for the next time.
One request would be a current picture of your baby or babies?  We still think back fondly on our Silk Road trip that you expertly arranged for us.  We were at Angkor Wat and in Thailand over the Lunar New Year and sadly few tourists were there.  Hopefully tourists will quickly regain their confidence to travel again.
Again, thanks for thinking of us. And remember, if anyone asks for a recommendation of your services, we'll respond!
Best wishes,
Ann
March 21, 2020
Dear Wonder,
Thank you very, very much for your message!
I must tell you that we were very worried about you, your family, and the families of all the very nice people we got to meet thanks to the wonderful (no pun intended !) trip you organized for us and which we cherish in our memories. We are extremely happy to hear from someone inside China that the situation has evolved very positively and that you feel that the crisis is on its way to be soon over in your country.
I believe that, contrarily to some other Western countries (Italy, Spain, the USA, ...), Belgium has tried to learn in a timely fashion from the Chinese experience with the novel coronavirus and that we are reasonably well prepared. Still, we are now in almost complete lockdown and life goes on in a very restricted way to limit propagation. Many of the recommendations in your document are already in force, but I shall distribute it to our circle of family and friends, since information resulting from the experience in China is obviously extremely valuable to us. We are also very grateful to China for the medical supplies your country has recently sent to supply our hospitals and our fronline medical staff.
We sincerely hope that the economic consequences of the coronavirus crisis won't be too painful to bear for the Chinese people and both Monique and I wish you all the best and a speedy return to "normal" life !
Yours sincerely,
Elie
March 20 2020
Dear Mr Wonder Wang,
Thank you very much for your email! I really appreciate it and I am happy to hear that you are alright! I was thinking also the past months about you and the lovely people in China that I met last year, if you are healthy and well. Now the virus came to Europe and in some places, like Italy, it is vey terrible. We stay here at home and working home office. We still have food but we do not have masks and disinfectant! I use after save lotion to clean my hands. A lot of people also still think that Covid 19 is only a flu... I hope the scientists will solve the problem soon and our life will be normal again. I also hope to come to China again, I like China so much! 
I hope we hear again each other in the future, stay healthy.
Best regards 
Georgios 
March 20 2020
Hi Wonder!
Thank you so much for your email. It's so nice to have support from so far away!
I'm very happy that everything is more stable now in China. I really loved to visit your country.
Luckily we and our families are good, at home passing the 2 weeks "quarantine" but ok. Thank you for the information.
Kind regards,
Diana.
March 20 2020
Wonder,
Thank you for sharing this important information with us. My daughter who traveled to Beijing 101 has been in constant contact with her exchange student and her host family and they have been very helpful in providing much needed information. We keep them in our prayers and follow all the recommendations they have made. We are hoping that all Americans can do the same as we love to travel and would like to see this pandemic eradicated. We do hope to return to China and visit some of the areas my youngest daughter was able to see. She speaks so fondly Tiger Leaping Gorge.
Be safe to you and your family
Karen
P.S: your new baby should be crawling and getting ready to walk soon.
March 20 2020
Hi Wonder,
Great to hear from you.
Perola and I were hoping that things would improve in China quite quickly and good that things are picking up once more and you can start getting tourists back into your magnificent country.
Best wishes
Ken
March 20 2020
Wonder 你好!
我们已經在機場等候登機了! 此次旅遊一切順利!导游很热情尽則,天氣也好!
謝謝你的安排!
Yolante
October 28, 2019
Hi Wonder,
Sorry for the late reply. I got sick coming back from the China tour. Below are my answers:
1. I am actually really impressed with Wonder's response time to my emails. He always reply within the same day and with answers. In fact, this is one of the thing I told my friends when I made the recomme nation about your company. Wonder is just wonderful.
2. The tour guide is great during my trip at Hangzhou.
3. I have already recommend a few of my friends to contact Wonder for their future trips. 
Regards,
Benny
October 12, 2019
Hi Wonder,
我们昨晚平安回家了!这一路多亏了Bruce和陈师傅,在中秋节假期和滂沱大雨的周末,开了一辆9人座的大车,带着我们游遍西安甚至一路到壶口!谢谢你的安排!
Jack & Yolante
September 16, 2019
Hi Wonder,
Pls see my answers below. Tks!
1. Is your travel consultant of our company fast enough to answer your E-mail and patient enough to answer your questions?
Wonder is a very professional travel consultant. He responded all my numerous queries promptly and efficiently.
2. How's the service of the tour guides during your whole tour?
Tour guide Tashi is knowledgeable and helpful. He took care of all the group members with patience.
3. Would you like to recommend our company?
Definitely.
Yifan
August 14, 2019
Hello Wonder,
Hello, I answer late, because after I came back I had a lot of work and personal commitments.
Congrets!
Diyan
May 14, 2019
Hi Wonder,
Thanks to China Discovery's arrangement for a great trip to Dunhuang Mogao Grottoes in our Labor Day holiday. We have enjoyed the activities and the sceneries very much; the beautiful sculptures and the paintings in the caves of Mogao Grottoes, the fun Camel rides in Mingsha mountain, the mysterious oasis in the Gobi Desert, the 2000 years old Han great wall, and also the nice & interesting Dunhuang dance performance. We have visited a total of 18 caves including both regular and paid special caves and also bought several precious Dunhuang murals books which will be a wonderful memory for years to come.
Thank you and talk again next round.
Yolante
May 8, 2019
Hi Mr Wong,
Thanks for all your arrangements. Enjoyed myself and sorry for my son 's early return disruptions. 
Regards 
Thong TS 
April 15, 2019
Hi Wonder,
For sure my friend, I Will write very good things about your job and the job of the company, bacause it was incredible, and the service of everybody was Just really perfect.
I Will say to you thanks for all the excellent attentions that you have for us, thanks for always answering everything about the tour, all the question and everything.
I Will strongly recommend the travel agency to anyone of my family or friends coming to China.
Really very happy for what we had Just live, for the persons we met and everything. We had Just a great experience, with great food and great sights. I am very happy for look up at this agency, and hope to be soon once again at china.
Thanks also for the present we Just received, was really great and an excellent detail. Thanks for the letter and the present.
I think I Will out also something like this in the TripAdvisor, and well thanks once again for everything.
Finally my friend, my best wishes to you, and hope everything Will be great with your carreer and the company. I am sure you Will be very successfull. Also a great person you are, so you have everything to be a great great professional or whatever you want to be. My we chat ID is marco_osorio, and if you we can continue also in touch by that way.
My best regards from your mexican friend:
Marco Osorio
November 6, 2018
Dear Mister Wang Zhen!
Now we have come home from Beijing I have the pleasure to report to you that our expedition has been a complete success and your agency and you personally must have our full gratitude for it. Our guides were good and precise and did more than usual guides could be expected to do. Mister Wang Hao for example has rescued bravely my penknife in the National Museum and Mister Sherab has been spending his private time to give us some orientation in the world of Tibetan thangkas. And although our wishes had not been standard and simple ones they have been fulfilled to a point and with a perfect regularity. So as a sign of acknowledgment let me present you my poem written in the classical style (I hope your computer will support the program I have used; note that Wang Zhenbang is just a translation of "Wonder Wang").
自西藏還鄉贈王鎮
靜湖藍水無波浪
華堂三拜金佛像
靈土誰為開門官
成都竹林王真棒
Anton
June 25, 2018
Hi Wonder,
Thank you so much for all you did for us while we was in China and Tibet, and thank you so much for the gift. It was great to meet you. We had a wonderful last few days with Angela in Xian.
We arrived home in America in the very early hours of this morning. Once we have recovered a little from the jet lag and had a few days to feel normal we will indeed write reviews about our stay.
Thanks again for all your help.
Kindest regards
Renier and Samantha Steyn
May 6, 2018
Hi Wonder,
Your travel consultant answered our e-mail fast and patient. And the tour guide David was very informative and helpful during my whole tour.
James
April 16, 2018
Hi Wonder,
Thanks for organising this tour. It was a good tour. The tour guide is very friendly and informative. Definitely should any of my friends want to visit Xiamen, I would advise them to contact you and have the same tour guide to take them around.
Regards
October 30, 2017
Dear Wonder,
We had a very enjoyable trip to China and wish to thank you and your team for the excellent advice and service you provided. We were impressed by the knowledge of your tour guides (Candy, Meggi and Smiley), their English language proficiency, and their friendly approach. They made sure all necessary arrangements were in place and this enabled us to just enjoy the day trips without worrying about transport to the various sites and entry requirements. The drivers you provided were efficient at getting us to and from the various sites and this enabled us to see more than we could have had we taken public transport. Last but not least, we enjoyed the lunches that were included and the opportunities to chat with Candy, Meggi and Smiley about aspects of everyday life in China and Australia.
We would be very happy to recommend your company to other travelers interested in discovering the real China.
Best wishes,
Derek and Jacqueline
June 28, 2017
Morning Wonder,
We arrived home safely on Monday and have just about recovered from the journey. We want to thank you for your efficiency, time and trouble - the itinerary was well planned, and your guides were all very nice and looked after us carefully. All the transport and hotel arrangements worked well too.
So we are very happy to have travelled with your company and we will be pleased to recommend you if any of our friends want to visit China and Tibet - we hope they will because we had a fascinating trip and found China most impressive.
Thanks again.
All the best
Chris and Danielle
June 1, 2017
Hello wonder,
It has been almost 2 weeks since we returned from our trip. I would like to comment on a few things:-
1. The trip was very well organized by you and the arrangements were seamless. Everything was as you described. I really appreciate your honest and frank advice. A big thank you to you Wonder!
2. The hotels were much better than we expected. They were clean and well maintained, with good hot showers.
3. Our guides were really excellent and very good people. Although we only had 2 days with Lisa we find her very professional and a nice lady. Our Tibetan guide, DJ, was very knowledgeable and has a good sense of humor. What we really appreciate about DJ was his sense of care and responsibility. When we had some health problems with one of our members, he took care of everything and made most of the decisions for us especially as regards to the ambulance and the hospital arrangements. He was extremely caring which comforted us a lot. All of us think very highly of him.
4. We would also like to praise your company in the way your staff in Lhasa took care of our friend in the hospital. They made all arrangements and one of them even paid the hospital fee for him before we arrived. That was heartwarming and went beyond her responsibility. Fantastic service and care!
All in all, the trip was very well organized and enjoyable. A very big thank you to you, Tibet Discovery staff in Lhasa, Lisa and especially DJ!
Thanks a lot
Michael Lo and friends
November 17, 2016
Hello wonder,
The trip was amazing. We loved every moment of it. Darji was sweet and knew a lot about the city's and there history. Your service was excellent and i have no feedback. If any wants to go to Tibet i wil send them to you. Best trip I ever made.
Gr Michelle
The following pictures were shared by Mechelle.
Mechelle's Wonderful Journey with Tibet Discovery
October 25, 2016
Dear Wonder,
We are on the way back to Italy. It has been a nice vacation in Asia. We have already filled in an evaluation sheet we left it with Mike, our tour guide. We have been very satisfied of the three people we met in our Chinese experience: Wonder, who followed us in organizing our trip, has been very effective and very quick in ansering all our questions . Similarly our guide and our driver ; both made a very good job. We were less happy with the itineraries outside Shanghai and with a couple of restaurants you chose. All in all it has been a great pleasure. We Will come back
Warm regards and many thanks
Luca And Lorenzo
August 25, 2016
Hi wonder
This is to reply to the following questions
1) Is your travel consultant of our company fast enough to answer your E-mail and patient enough to answer your questions?
Mr. Wong did a fantastic job. Patient, reliable and always available to answer my questions and doubts. He always provided me very quick, timely and accurate answers
2) How's the service of the tour guides during your whole tour?
I think we were very lucky to have Quimei as our tour guide . She is reliable, funny and very professional. Her level of English is also great. She really added value to the tour!
3) Would you like to recommend our company?
I would definitely recommend your service. I am really satisfied .
The only point that I would mentions is that the length of the drive was not specified quite well. We spent 3 entire days in a car but at the end it was ok as we managed to see the Everest.
Also please find attached a few pictures. Feel free to use them.
Thank you very much once again for your help and support. I hope to come back to China soon!!!
Silvia
The following pictures were shared by Silvia.
Tibet Buddhist Monastery
An Unforgettable Visit to the Sacred Mountain
August 20, 2016
Sure Wonder
Every tour was fantastic. However I have a few notes:
1) Xian is perfect for a full day (two at most).The show offered (Tang Dinasty... not very good)
2) Luoyang + DaFeng =INCREDIBLE (Shaolin Temple + Longmen Grotto was unbelievable) The show offered: Zen Ritual is AMAZING! One of the biggest productions Ive ever seen,
3) Beijing was Ok. The Great Wall (from the mountain) is certainly spectacular! Not crowded at all at the sights are very good. The shows offered were very "touristic" (good, but not over the top)
4) Lhasa is really something spectacular. We would like to have some options for the night (a show perhaps).
Regarding to tour guides
Tashi (Lhasa) - Tashi is super good. He´s one of the most experienced tour guides I've ever met. His knowledge about Tibet is truly amazing. Also very patient.
Angela (Xian). She's a fine tour guide, very attentive and very careful regarding to information she gave us.
Snow (Luoyang). A very friendly guide! And funny too! We had a great time with her.
I really want to congratulate you of course, for all the arrangements made for this trip!
Where can I share my opinion of Chinadiscovery? Trip advisor?
Alejandro
August 3, 2016
Hi Wonder
Thank you very much for the excellent arrangements.
I have really enjoyed my time in Beijing and Lhasa.
MS Echo , Mr. Luo Sang and drivers were very helpful and nice.
The hotel in Lhasa was excellent.
Thank you very much.
Logesh Raj
June 29, 2016
Hi Wonder,
Good to hear from you. Yes, I'm still in China - visiting a Chinese friend in Beijing. And back to Shanghai tomorrow. I really enjoyed Tibet, and had no problems with the altitude.
Thanks,
Maureen.
June 23, 2016
Hi Wonder,
We arrived today in Xi'ning and we wanted to send you one more email to thank you for organizing the great trip we had! We enjoyed it even more than we thought we were going to! The itinerary was absolutely perfect and our guide Lobsang did a fantastic job, what a great guide he is! I hope you will use him more often :) We will leave some good feedback on tripadviser one of these days.
Keep doing the good work and hope lots more people can enjoy Tibet with Tibet Discovery! What a great place!
Thank you so much!
Sanuelya & Reece
June 10, 2016
Dear Mr. Wonder Wang,
Sorry for my late reply. I've been quite busy after coming back from holidays.
Attached are some photos we took.
Here are my team's feedbacks:
I was fully satisfied with your response and provision of information. The service of the tour guides during your whole tour was excellent and we were very happy with the tour guides and driver. If any of my friends plan a trip to Tibet, I'll definitely recommend your company.
Nga Tran
The following picture were shared by Nga Tran & Wiebe.
May 26, 2016
Hi Wonder,
How are you? how's the tour? we appreciates all the tour itinerary and help since Chinese visa applied process. I guess you're back home now, right? Yes

For improving the service of our company, could you please answer the below questions as a simple feedback? Infact Dunzhu gives us evaluation forms to fill before we leaved.

And any travel photos are welcome as well. It will be highly appreciated if you agree to let us put your evaluation E-mail and photos on our website. Yes,Dunzhun takes many photo of our group.If I have times ,will send more from our group. We are so busy after coming back.

Here below are the questions for you:

1. Is your travel consultant of our company fast enough to answer your E-mail and patient enough to answer your questions? Very fast and good response for all information or help we needed.

2. How's the service of the tour guides during your whole tour? Both guide and driver are polite and patience.Our group takes time in taking picture,and didn't know much about Tibet before,DJ (name Dunzhu allow us to call him easier ) repeatedly informed us and didn't feel any unsatisfied or boring or angry as some guide I have ever found in some country.

3. Would you like to recommend our company? Definitely yes. Some points didn't mention in the forms. We have 2 day in Lhasa and Sera monastery are planned on Sunday which Monks debates are not done.In fact it should be visited on first day ( Saturday ) in Lhasa and Potala on 2nd day.
April 25, 2016
Hi Wonder,
I already back! Thanks for the arrangement. Below are my feedback
1. Is your travel consultant of our company fast enough to answer your E-mail and patient enough to answer your questions? Yes
2. How's the service of the tour guides during your whole tour? Up to standard
3. Would you like to recommend our company? Yes
Hui
April 14, 2016
Hi Wonder,
I'm so so sorry!! Last couple of days have been crazy, the person who would be looking after dogs when I'm away just decided to disappear! And over the weekend, I have been frantically trying to find another person to look after my dogs. Also it was Father's Day yesterday in Australia, so I took my dad out for dinner.
I've just done the review online. I wish I can give you 10 stars for your help!! You are just absolutely the best agent I ever found.
Thanks again for organizing the ticket. I'm so sorry again for all of the craziness over the last few days. I'm seriously thinking about changing to a less busy job so I can get my life in order!
Hope you have a good night & looking forward to meeting you one day.
Cheers
Jade
September 7, 2015
Dear Wonder,
We are enjoying our last few days in Shanghai, before we fly home to Sydney. I've been here once before on a stopover, so it feels fairly familiar to me.
We just wanted to thank you for your patience and reliable organisation which have helped make our holiday a success. I have a few comments and suggestions which I will provide as feedback once we are back home. We have really enjoyed China, and may return in a few years to see places we didn't have time for this trip.
Kind regards,
Lex and Steve Lees
May 31, 2015
Hi Wonder,
We had a very nice trip to China. It was a pleasure to meet you. Thank you again for the lovely gifts and all your organisation in making our experience a success.
Cheers,
Val
May 23, 2015
Hi Wonder,
We are very satisfied customers. The tour was fantastic and the arrangements were good. We already gave feeback on a form our nice guide Jenny gave us. She is a very good tourguide, flexible and knowledgeable. Also your service was fine. The only hickup was the fact that there was no train on the intended day. That off course was not your fault and Tiger managed to change the schedule quickly. Our only complaint is that we got to know about the changes very late, and we were lucky to be able to get from Hong Kong to Guangzhou that same evening. But as I said, we are very satisifed, so thank you very much!
Bjorn and Karin


January 11, 2015
Hi wang..
Wow..really bad tired....but Ive got a really great valueable experience from this journey...thnx to you too and all the guider for their patience and their help...specially for luoshang...Chai rang...and Alex... If there were a group from my city...I will recommend to Tibet discovery.... Once...thank you so much...n keep in touch...
Budianto
December 16, 2014
Dear Wonder,
Sorry form my late reply :(


Regarding your questions:
1) your service:
You did a great job! I always felt very well attended and informed, always felt safe about next step in booking and immigration procedure. Many thanks for your great service and (for me) easy procedure! :)

2) Tour guide
Lopsang was a great tour guide! He showed and explained great about Tibetan culture and religion, also always informed well about procedures (e.g. speed control etc).

3) suggestions
For sure I will recommend tibetdiscovery I anyone of my friends would plan to travel to Tibet!

However one small point which might be improved: it was always mentioned (e.g. in itinerary) that it is a long trip in car, so I thought about 6, 7 hours, but never expected 11 hours drive.. This was reeeally long and should be mentioned in advance to being better prepared.

Dear Wonder, many thanks again for your great arrangements and please pass also my greetings and thanks to Lopsang when you speak to him, thank you!

I wish you both all the best,
Gesa


November 23, 2014
Hi Wonder Wang,
So how's your tour arranged by me? - Excellent! You have been very helpful in arranging the tour.
For the development of our company and myself, could you answer the below questions as a simple feedback?
1.How do you think of my service? -Wonderful service, fast response to inquiries.
2.How do you think about the tour guide's service? -Good tour guide! Very helpful and accommodating.
Thanks, Kesler
November 18, 2014
Hi Wonder,
My family and I have got back safely from our trip to Chengdu and Tibet. We thank you for the smooth arrangement.
Our feedback are:
1.How do you think of my service?
-Your service is efficient and excellent. Your replies to our queries are prompt and helpful.
2.How do you think about the tour guide and driver's service?
-Tour guides are friendly and knowledgeable.
-Tiger was very helpful and accompanied us to a destination even though it was not in the itinerary.
-Cindy who guided us to the Panda Base Research Camp was patient and friendly.
-We have learmt alot about Tibetan culture and Buddhism thru DeQin.
If you have any good suggestions, please feel free to let me know.
-As our arrival was early in the morning, it would have been informative if a city tour of Chengdu is included to introduce us to the city. A whole day free to explore the malls around the hotel is too long and boring.
Regards
Suanne


October 29, 2014
Hi Wonder,
Thanks for your email, We really enjoyed the trip,I am happy with all the support your agency gave us since I started to search about Tibet and Nepal. You Wonder were alwys prompt to answer all my doubts, e ery single one, which helped me to feel confident and pick your service. Thanks for everything.
Our guide Jiang was very attentious and honest with us, which we really appreciate because it gave us a good direction of the real everyday activity. The itinerary was followed as planned and we liked that fact because in China, it is hard to trust in some itinerary proposed, since some agencies easily change the plan in the way. We learned a lot about Budism and we really liked the fact that he is also budist, so he knew a lot of it. He was also very professionL and quick on the several check points we had to pass. His English is clear and easy to understand.
The driver also was very nice and concerned with the group safety, we liked him and the way he cared about us, his job is definitelly not easy.
We also appreciated the tour arrangement considering the fact that our flight from Chengdu delayed on arrival in Lhasa, but our guide managed with another guide from your agency to give us the support and drive to the hotel. Thanks for that. We would only suggest to drive a 4x4 traction car to go to Everest base camp because the road is very bumpy and it is hard to stand in the microbus for such a long way.
Thanks for everything, that for the attention and for being such a professional and serious agency,I will certainly recommend your services .
Warm Regards
Daiane
October 12, 2014
Hi Wonder,
Tibet was a pipe dream for us and now finally it became a reality. We went there for 8 days and we were pleasantly surprised by how our itinerary was carefully thought out for acclimatising ourselves and for maximum enjoyment of the sights and attractions.
Our initial planning of the trip was rife with obstacles but our agent Wonder efficiently and patiently took us through the process and made it all happen.

We had a local Tibetan guide who made it very interesting with his anecdotes and cultural insights.

The highlight was the Everest base camp. We were a little worried about the 8- hour car journey and altitude sickness but we survived. Staying in the tent was a treat. It was warm and spacious not at all what I had imagined.

The hotels though 3 star were clean and staff friendly and helpful All in all it turned out to be an amazing trip and would strongly recommend going there. The support by the agent through out is an important factor and we were fortunate that Wonder was there always at hand to support and suggest M.Le Vasan.
M.Le Vasan.
September 30, 2014
Hi Wonder
We have made it safely and I absolutely loved the train, a true highlight for me. I loved the scenery, this is a must for all. It was a little long for Shellie but she managed.
Our guide was fantastic.
Shellie and Lorna
July 26, 2014
Hi Wonder
Everything was fine and the Guide was very organized and very friendly! Please tell also the agency that he's really recommendable!!
The Tour is Great!

Many greetings from Lhasa!
Astrid
June 11, 2014
Hi Wonder
Sorry for late reply.
Now I'm ready for the feedback.
1) About your service.
Your service is very impressive, honestly.
Consistently prompt response with rich detail made you reliable.
For foreign customers who are able to reach you only via online means, personally, I think it is necessary to make sure you are trustworthy.
And you did it very well.
You'd answered all my requests perfectly, even if I'd changed it from time to time.
The only thing I can think of now to improve your service is about informing the timeline of the process.
Because it takes quite a long time for the whole process.
Furthermore, each one has its own specific time, especially for the train ticket.
It could be better to ensure your customer just by updating the process you're doing and a brief schedule of the next one.
2) About the tour guide service.
Gapel did his job very well.
He's a very active and skillful guide.
His service could proved his experience.
He showed his great knowledge in all places I've visited, not only things in guidebook but also local ways which I think it is what most foreign customers expect from this kind of tour.
Moreover, he can adjust the plan according to real situation quite well.
Comparing to other groups I'd talked to, it showed that he has a very good adaptable skill.
However, maybe because he's so active, sometimes he's too rush and bring us to break the queue.
Even it's good not to waste my time standing for queue, but I'm not sure whether it's a common thing to do or not for the locals.
By the way, he's still a great guide for me.
3) About the tour arrangement.
Generally speaking, your tour was far more better than my expectation.
Warm welcome, good transportation, comfortable accommodations.
The planned attractions were all impressive and not too tight.
The itinerary was flexible enough to adjust to an unexpected situation.
Actually I've done my tour in quite different order from your itinerary because of many unexpected conditions.
I think you may know about it.
Especially the accident that made me unable to go to the base camp as scheduled.
I think it was a very lucky accident.
If it had not happened, I would have had to stay near the base camp and may be sick of the altitude sickness.
Because of this event, I had to stay in a town in lower altitude which was much more comfortable.
Even I had to wake up very early and drive for 2 hours in the next morning, I think it's better than stay up there.
I think you can offer this as a choice for your future customer.
Finally, I would like to thank you again for a very impressive experience in Tibet you provided for me.
I hope my feed back can help you to improve your future service.
Best regards
Trirat
May 20, 2014
Hi Wonder,
Thank you very much for your Organisation and your service!
Our trip to Tibet was very nice and recommendable .
Your organization worked out in nearly every point. And you always met our expectations.
Here a detailed review from my side:
The contact with you was all the time very pleasant. You always replied very fast on all my requests. You always tried to fulfill our wishes. Big thanks for that!
Our tour guide Tin and our driver were very nice. Tin had good knowledge,explained a lot to us and was always helpful in any case. Our driver did a very good job as well. We always felt save while driving with him.
I can really recommend both of them!
The tour arrangement was very nice. We saw a lot and had always enough time to experience the sights and the scenery.
The only sad point was that at our first stop in Shigatse the hotel room was not very nice. The door was broken, you couldn't close the bathroom door and the room was very dirty and filthy, especially the floor had a lot of stains, cigarett burns and so on. On our way back we had a nice room, so I think they maybe overbooked the hotel and on our first stay we maybe got a left over room and not the room that was actually booked. We somehow made that out as we'll while we were checking in, because there were big discussions about that topic at the reception desk and Sebastian -who was with us in the group -had a very nice room.
All in all I really want to thank you for the arrangement and the organization. You totally met your expectations!
Concerning the knife I think it is maybe easier to buy a new one here in Germany, when it is so complicated with the shipping. Please keep it as a present from us, or give it to our tour guide or the driver-maybe they can use it. But again thanks for our effort in that point.
In case You need a recommendation for new clients and they maybe want to get in touch with someone that already booked a tour with you feel free to contact me.
Best regards,
Carina
May 8, 2014
Hi
Because my son was so sick in Tibet unfortunately the tour was spoilt. That is no fault of yours, of course. I thought the service was very good and Chime our guide extremely nice and particularly helpful when she came to the hospital with us and drove us back to the hotel afterwards. The car was very comfortable and the driver also very nice. We couldn't go to all the attractions but they were very interesting. My only disappointment is that we didn't drive out of the city and see some of the wonderful scenery that is in the area and I think a half day drive with a picnic lunch or similar would have been really good option. The hotel was also very comfortable.
Thank you,
Lynelle Adams
April 14, 2014
Have a question? Get answers from our travel experts soon!
Your Question:

Your Name:

Your Email: