Vivien Li - Our Tibet & China Travel Consultant
Expertise
Tibet

Lhasa, Namtso Lake, Shigatse, Gyantse, Everest, Mount Kailash

China

Shanghai, Beijing, Xian, Guilin, Chengdu, Xiamen, Fujian Tulou
Why not take the advantages of Vivien's travel experience to design a trip just for you, that suits your budget and interests. Her passion to service you never fades away!
OR Call her at +86-28-85227275.
Biography


The world is small but the heart is large !Hi, my friends. I'm Vivien Li.

Travel makes me know how colorful the world is. We all get a limited amount of time on this Earth; therefore, why not do the things you want to do. As for me, travel around the world is the dream for my whole life.

Catch the trade winds in your sails. Explore. Dream. Discovery."Let me serve you with my enthusiasm, patience and the love for the travel to bring you memorable experiences tour with places you never been to, people you never seen and sceneries you never viewed before in China.

I am here. I am waiting for you in Tibet Discovery.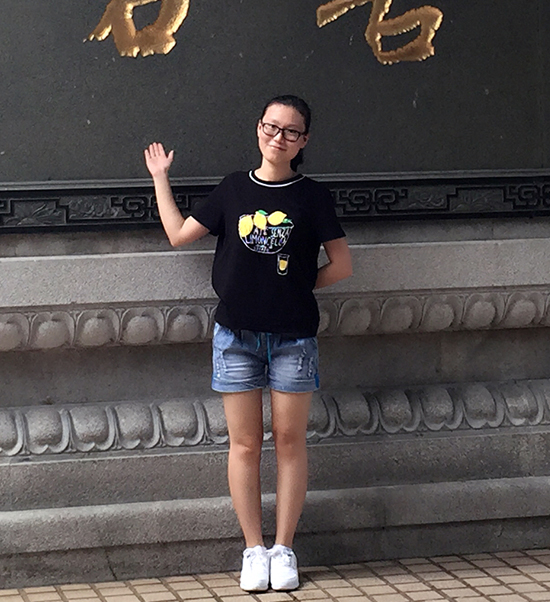 Tibet & China Travel Tips from Vivien
Can't find the answers you want? Email or call me at +86-18180208088. , and I will get back to you immediately with full passion and consideration.
When is the best time for Tibet tour?

It is suitable for travel to Tibet from April to early November, and the best time is August and September. But if you only stay in Lhasa, you can go there any time of the year. Get real time weather report in different places of Tibet.

When is the best time for Everest tour?

Early May and early October are the best time to visit Mt. Everest. Due to the clear weather, you have great chance to see Mt. Everest's true face (if you are lucky). From December to February, you'd better not to go to this area because it is too cold - except you are real Great Adventure People.

Can I travel with children?

Tibet may not be an ideal destination for young Children. The climate and generally harsher conditions in Tibet may not be ideal for young children. The sights and attractions are not those which children like to visit and facilities will be very primitive. If you do decide to bring your young child to Tibet please ensure that you bring all your child's daily needs with you.

Are the Tibetan dogs are dangerous?

Tibetan dogs are dangerous. Do not approach any stray or wild dogs you see and carry a stick if you plan to wander off on your own or at any time after dark.

What kind of Tibet travel documents I need?

Besides a valid passport and a valid Chinese visa, you need two different kinds of permits for traveling in Tibet: the entry permit (TTB permit) and the Aliens' travel permit (if you want to visit the unopened area in Tibet). Click here to read more about Tibet permit and how to get them.
Thank you, Vivien!
This is very kind of you. I have passed along this information to my friends and family, and am taking serious precautions myself. I am glad to hear that things are getting better in China, and hopefully things will get better soon here too. I have fond memories of my time in China, and am glad I got to visit before the spread of COVID-19. Take care!
Peter
March 30, 2020
Hi Vivien,
Thanks for your patience waiting for my feedback.
In terms of guides that you arranged, I most enjoyed the company of Ge Sang in Tibet, possibly because we were with him the longest period and got to know each other a bit better. He was knowledgeable, spoke very good English, explained what we were doing and was flexible when Carey wasn't feeling well enough to visit some sights. He also helped Carey find medicines. He shared some interesting information about how Tibetans live day-to-day which added to our experience. Similarly, but to a lesser extent, I enjoyed Jessie's company in Kunming. Again we were together long enough to know a bit about each other. She was very capable, good English and knowledgeable. Unfortunately we only spent a few days with Kesang and Alice so it was a very professional interaction. They were competent with reasonable English.
In terms of the drivers, we really didn't get to interact much with them. Only Ge Sang and Jessie bothered to introduce us to them. Their vehicles were generally safe and clean. Because I like to take lots of photos of what I see (to share with my family back home) I would have preferred a normal sedan so that I could open the windows as we travelled to take clear pictures. I didn't want to stop the car each time I saw something interesting.
In terms of hotels, all were generally good but would have appreciated slightly better breakfasts. The range of food was reasonable but nothing in the trays was hot, leaving us to wonder if it was left over from yesterday. Hotels that cooked eggs while you wait were our favourites as we knew it was fresh. Also there was little fresh fruit available (which is understandable in Tibet). The hotel in Shigatse didn't provide bottled water so luckily we had some in the car each day. The Rongbuk Guesthouse was far more comfortable than I expected.
In terms of sights, we probably saw too many monasteries in Tibet. I appreciate they were important to Tibetans but to me there was a fair bit of repetition. Unfortunately Namco Lake was not on the itinerary due to season. The drive to Everest and back from Lhasa was long but interesting (even better if I could have taken pictures as we travelled). But Everest was definitely worth it – the highlight of the tour. The sights in Tibet were generally less commercial than elsewhere in China, making them much more enjoyable.
The sights in Yunnan were generally good, especially Shudu Lake, Tiger Leaping, Yangtze First Bend, Black Dragon Pool and Stone Forest. These were natural attractions and no doubt they were genuine. To me, many of the other sights, like Shangri-La old town, Lijiang old town and Naxi villages, seemed fake. I know Chinese builders can do an excellent job in making something to look ancient. (We saw a lot of attractions during our Silk Road tour that definitely were fake and that made us a bit sceptical.) Also many attractions were overwhelming, clearly geared for huge crowds in the high season and offering a complete package of activities (camel rides, quad bike rides, helicopter rides, dress up in traditional clothes, etc). This reminded me of Disneyland, which is definitely not real.
The train journey from Xi'an to Lhasa was long (32hrs) but interesting scenery along the way (at least what I could see through the dirty windows). We had the cabin to ourselves most of the way but it was full overnight, despite there being empty cabins around us. Rachael (not Bruce) who met us at Xi'an got us onto the train without any fuss, which we appreciated.
While I am not particularly fastidious about toilets, I did appreciate there being lots of public toilets throughout China. However, most were very basic, devoid of toilet paper, hand wash and paper towel. This made me very cautious about my diet as I didn't want to risk having diarrhoea in such toilets. This meant that I probably missed out on some interesting foods.
After being part of a 36-person tour on the Silk Road, I definitely appreciated having a private tour. We had flexibility to amend things a bit as we went, the days were not too long and we had some free time on the transfer days. Definitely worth the money!
No doubt you now think I am a fussy traveller. I have travelled extensively over the past decade and know what I like and generally what to expect. So please don't take any offence from my comments above.
I know I probably annoyed you with my many questions leading up to the tour and I really appreciated your patience and your timely responses. The itinerary you provided was clear and helpful. You delivered what you promised so I am happy to recommend your company to my family and friends.
cheers
John
November 21, 2018
Hi Vivien,
Below are a few photos, we had a very good time in Lhasa, and Pippo was a good guide. We did all the visits planned, and were lucky with the weather so we are happy.
The very good thing was the communication with you, you were always responding very quickly to all our questions, so very big plus for you Vivien!! Especially since it is so difficult to get into Tibet, you really helped us.
The only little negative is the price, although you were one of the best one with regards to the price for all the visits we had included, so I guess it really is getting into Tibet that is expensive, because it was really only 2 days of visits, with the transport to and from the airport also, and we paid a lot less for a lot more in other countries... aside from that, we were happy. Thank you again Vivien!
Julie
Julie (from France) and Guide Pippo at front of Potala Palce in Lhasa, Tibet
Julie Visited Jokhang Temple in Lhasa
November 14, 2018
Hello Vivien,
Tour so far in Tibet has gone well. Saw Mt Everest very clearly yesterday - it was fantastic. Here is a photo of Ge Sang and driver there.
Carey is still unwell and decided to not go to the Rongbuk Guesthouse. He made his own alternate arrangements in hotel in Baiba.
Thank you for Shangri la guide. We will meet him (?) at the airport on Monday.
cheers John
Below is the photo shared by John about his TibetEverest tour.
Mount Everest, Tibet
November 3, 2018
Hello Vivien,
Yesterday's tour was good. Ge Sang is very knowledgeable and patient with my questions. He made sure we didn't walk too fast and adjusted to the altitude. Carey has a bad head cold and Ge Sang helped him find medicines. We lunched at a small Tibetan cafe and the food was good.
The driver and car was good.
Hotel is fine, with plenty of hot water and warmth. Being in the old city makes it handy to explore the area.
cheers John
October 31, 2018
Hello Vivien,
Thank you for organizing this wonderful trip for my family. It was amazing experience with most of the destinations being spectacular.
It was impressive to see the giant Buddha in Leshan, even though the line up was really long maybe because it's a holiday season, the view was just amazing. The panda breading base was dangerously crowded even though we got there very early. The pandas mostly stay inside enclosures on the hot days, but there are not enough guards to organize that amount of people. However we really enjoyed seeing the panda documentary and because of Sophie's instructions we were able to catch a glimpse of adorable baby pandas. Our guide Sophie was really helpful especially when my daughter felt sick she even went to pharmacy for me to get her medicine. We really appreciate her taking us to those places. She has very good knowledge about Chengdu, also she is very friendly and has nice personality.
The guide and the driver in Xining were unlike Sophie, they were quite cold and didn't tell us anything about the city or lake. We just felt that they were in a rush and wanted to get rid of us as soon as possible. I was also car sick and the driver was very reluctant to stop on the way from Qinghai lake. Then the guide took us to a restaurant where we had to wait for an hour to get our food. We specifically asked her to take to a simple noodle restaurant, instead she brought us to the big restaurant with local delicacies. The guide didn't even get to rush the stuff until I asked her. I wouldn't recommend anyone those two people as a guide and a driver.
The train ride to Lhasa was amazing and painful at the same time. I'd suggest other travelers to bring sanitary bags, TP and wet wipes on the train. Every time between terrible headaches and naps I took a look outside I saw something amazing, wild yaks, goats, flocks of sheep that look like white and black giant rocks scattered around prairie.
Finally in Lhasa. We had our guide Lhakchung and the driver greeting us. They were very nice and friendly. From day one in Tibet we felt we were in good hands. Lhakchung has such good knowledge of religion and history. The first day we went to Potala Palace and Jokhang temple and saw some amazing architecture. On that day we learned a lot about Buddha statues and Dalai Lamas. It was particularly interesting to hear a story of Jokhang. The next day we were on the way to see Drepung Minastery and attend Shoton festival. It was wonderful experience, though we could see many people giving up and heading to see Thangka from afar. I'm glad we made it all the way up to monastery and experience the joy of being there and being blessed by monks, that was absolutely phenomenal feeling. The following day was as fun as a roller coaster because we took the path and it was raining. Wonderful destinations on the way: Yamdrok and Kari-la Glacier. We were a bit tired by the time we got to Palkor Monastery but again it would have been a shame to miss it, so we made it and it had such a beautiful view. Finally the day to see Everest, and just as we thought we were looking at the most beautiful pick in the world, Lhakchung took us toRongbuk Monastery, telling us the stories of a monk meditated there for most of his life which gave an unbelievable sacred feeling to that place. How awe inspiring it was, we felt rush of adrenaline all the time being there, we had really good feeling sitting in a little diner enjoying sweet tea with French fries, playing UNO game enjoying the view of Mt. Everest. The next destination Tashilunpo was very picturesque place where we got a chance to attend morning praying ceremony and that left us with very special feeling of observing another sacred process seeing so many devoted monks chanting together. Namtso lake was also stunning destination where we got to climb on top of the hill and witness the sunset. That was so romantic and gorgeous. The last part we let ourselves relax in the hot springs for a short while. Big thanks to the driver for getting us everywhere safely. Excellent driving skills.
Our interesting stories. We were on the train and my husband tried to help me acclimatize and tried to get more oxygen into our sleeper. Then he turned up some switch on the wall to high volume, thinking that was something to do with oxygen too. At the end of the ride, my daughter asked what does this switch do and she turned the volume of the very loud radio we had listened to during the whole ride. That was funny even with my altitude sickness.
We ordered food at Namtso lake and then we saw all the stuff and chefs coming to the diner and starting their meal before they made our food. That was hilarious, I guess service is different in different parts of the world. Thanks to Lhakchung we got our food eventually.
It was interesting to climb up the hill at Namtso lake with such slow speed we had to make stop overs every 10 meters. And we were joking we might not make till sunset better walk slowly and catch sunrise.
I'll send you pictures once get some time to sit and look through them.
As for the amenities we stayed in, actually we all had lower expectations sometimes we were pleasantly surprised.
Personal thanks to you Vivien for working to all our needs and requests.
Regards,
Lana
August 30, 2018
Dear Vivien,
Sorry for the late reply, I left a long recommendation letter with our guide.
Thank you very much for the professional and pleasant attitude.
We enjoyed very much the tour, we were very impressed with your team and of course from Tibet,
We highly recommend Tibet Discovery as a company that organized tours to Tibet from the permit, hotels, tour guidance and locations offering,
Best Regards,
Efrat
July 10, 2018
Hi Vivien,
We definitely will write you a feedback. We are currently not in town. Will give you a feedback when we home.

Thank you for a wonderful trip. We love it.

Goy
July 7, 2018
Hi Vivien,
I appologize for the delayed response. I have been writing my travelogues since my return home. Here is my response to your questions.
You are outstanding! And you did a fantastic job with rapid responses to all of my questions.
My tour guide was outstanding, too. He did a wonderful job explaining all of the sites and was very patient with me as I made the climb to the top of the Potala Palace.
I would highly recommend this tour company to anyone who wants to visit Tibet.
Thanks in advance.
I have one small suggestion. During the tour, there were two climbs that required a lot of energy. These were the climbs up to the Potala Palace and the walk up to the Sera Monastery. I would recommend doing those before lunch. Doing those climbs after a full meal was not wise. Aside from that, the entire tour was outstanding!!!!
Kind regards,
Jim
Attached pictures were all taken and shared by Jim about his visit to Lhasa, Tibet.
Jim Visited the Potala Palace Lhasa, Tibet
Jim Visited the Jokhang Temple in Lhasa, Tibet
Barkhor Square and Burger King
Intercon Hotel in Lhasa, Tibet
Intercon Hotel, Lhasa, Tibet
July 5, 2018
Hi Vivien,
I send you some photos. Everything was perfect
I enjoyed very much the tour. Hank and the driver were very gentle. I.learned lot of things about the boudhiism. I stresses a little bit about the permit espacially in the train because nobody speak english.
So I recommend the tour . I loved so much the land and the people. I envoyed to travel with a small group . We were 3 people.
Sincerely
Danielle
June 14, 2018
Dear Vivien,
We are in Lhasa. Everything is great. The gifts are wanderful, we both were very excited from it.
Daniel was very helpful and nice.
So thank you very much, I am sure we will enjoy the tour and will recomand Tibet Discovery for the great service.
Best Regards,
Efrat Ben Horin
June 13, 2018
Hi Vivien,
We had good time in Lhasa and Guilin. The tour guide is very knowledgeable. He helped us understand Tibet -A mystery place. Guilin's driver is a very nice guy. Thank you so much.

Hongli & Dave
June 11, 2018
Hello Vivien,
My tour guide Lobsang and driver were fantastic! So helpful and willing to share information.

Actually it was mentioned in our group that we felt lucky to have them as other tour guides we saw did not seem as helpful or nice.

Plus we felt very safe with our driver.... Especially on the 122 switch backs near everest! So nice and cautious!

Overall it was a lovely trip.... Just wow so much driving time! Did not realise how far away Everest was!

Kind Regards,

Jo-anne R.
December 1, 2017
Have a question? Get answers from our travel experts soon!
Your Question:

Your Name:

Your Email: