Leo - Experienced Tibet Travel Expert
Expertise
Tibet

Lhasa, Namtso Lake, Shigatse, Gyantse, Everest...

China's Other Regions

China City Tour, Short Trips, Family Travel, Hiking, etc.
Why not take the advantages of Leo's experience & knowledge to design a trip just for you, that suits your budget and interests. Her passion on travel and help never fades away!
OR Call him at +86-28-85227275.
Biography


Travel makes you know more about this world and purify your mind. The most important is that you can be yourself during this trip. As the Chinese proverb says, A thousand miles begins with a single step. So why don't you start your travel now?

Hello my dear friends, this is Leo from Chengdu Bamboo International Tours. Just like you, I love to travel and my favorite is riding on the road. So I'd like to invite you to China and help you work out a perfect travel plan. Come to join us and I'm just here waiting for you.


Tibet Travel Tips from Leo
Can't find the answers you want? Email or call me at +86-28-85227275, and I will get back to you immediately with full passion and consideration.
Is independent tour allowed in Tibet?

In order to protect the centuries-old cultural relics, Tibetan fragile environment and respect the tradition of Tibetan people and considering the limited reception capacity in Tibet, all non-Chinese passport holders must travel Tibet with a licensed agency.

What documents do I need if I am planning to travel to Tibet?

First, you need to have a valid passport, and then apply for a valid Chinese visa for your travel to China. A Tibet Travel Permit (sometimes people call it Entry permit or TTB Permit) is needed for your Tibet tour. More visas or permits, like Aliens' Travel Permit, Military Permit and Border Pass, Group Visa are also required if you want to visit more further regions outside Lhasa, Shigatse and Gyantse.

How to Get to Tibet?

Basically you have two options – flight and train. Currently, you can take a flight to Lhasa from Beijing(4.5hrs), Xian(3.7hrs), Chengdu(2.5hrs), Chongqing(3hrs), Kunming(3hrs), Kathmandu (1.5hrs), etc. Among all these cities, Chengdu and Xian have more frequent flights to Lhasa. If you prefer a train travel, you can take a train to Tibet from Beijing(40.5hrs), Xian(32hrs), Chengdu(43hrs), Shanghai(47hrs), Chongqing(42hrs), Lanzhou(25hrs), Xining(22hrs), Guangzhou(54hrs).

When is the best time to visit Tibet?

The scenery in Tibet varies with different seasons and different regions. Generally, it is suitable to travel to Tibet from April to October to visit different destinations in Tibet.

How to Avoid High Altitude Sickness?

Before visiting Tibet, you need to keep physically and mentally healthy. Taking a physical examination and consulting your doctor for advice are also important. It is also helpful to travel from lower altitudes to higher altitudes to acclimatize your body to the altitude gradually. During your journey in Tibet, remember to avoid strenuous activities and always walk at a slow pace and take deep breaths.

Is there any age limit for travelers to Tibet?

No. There is not any age limit for travelers who plan to visit Tibet. And it all depends on your physical condition. It will be dangerous to visit Tibet if you are suffering from heavy cold, severe anemia, high blood pressure, high blood pressure, heart disease or any other breathing diseases, because they may cause serious high altitude sickness.

What are the hotels like in Tibet?

Tourism in Tibet has developed a lot in recent years and hotel facilities and service have also greatly improved. Due to special location and geography, living standards in remote cities may not be as you expect from a hotel in other parts of the world. Hotels in small cities and the Everest Base Camp are very basic and simple. Usually you only have a public bathroom with a squat toilet to use.
Hi Leo,
It was incredible! Thanks for another amazing trip! I loved the driver I was so impressed with his skills and kindness. Driving on those mountain roads is not easy. Pur bu the guide was such a great guide. He was so knowledgeable, and I learned so much from him. His knowledge of Tibetan culture and history was amazing. I loved all the activities and things I got to see. Tibet is such a unique and incredible place I felt so lucky and blessed to be there and to have those two help me guide through it. I have no complaints and leave very happy and blessed to have had this experience. I still think about northern xinjiang and I have some friends who might come to China from America so I'll keep in touch and let you know. I always try to share your contact with others too. You have been such a great help to me and thanks for everything.
Megan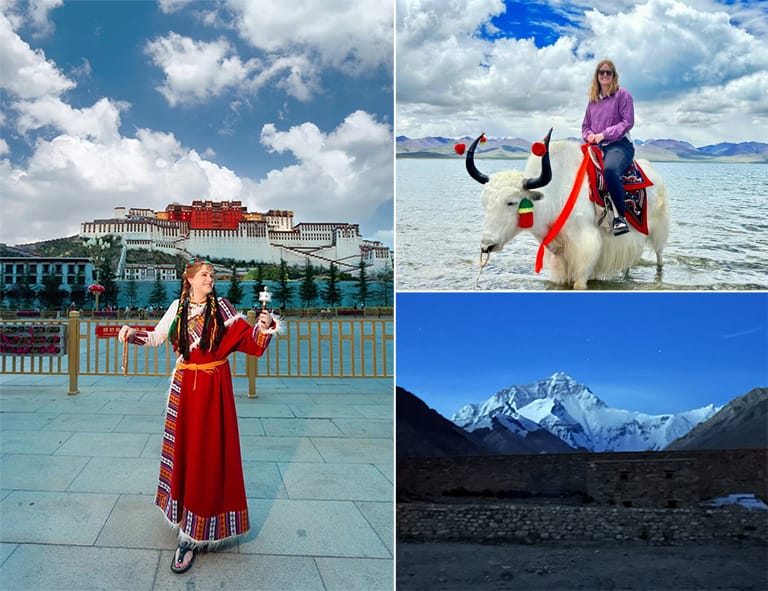 Megan's great time in Potala Palce, Namtso Lake, Mount Everest, etc. in July 2023, tour tailormade by Leo
July 27, 2023
Dear Mr. Li,
Thank You for the opportunity to give some feedback!
Our journey through China was perfektly organised! For me, it was a very good combination between sightseeing, historical information about the Republik of China and beside that, it became nearly the feeling of a roadtrip with good old friends!!! On the one hand, our driver Ladu (maybe I wrote it wrong!?) drove us very safely and though we couldn't speak a word together, the communication was warm and friendly! On the other hand, our guide Pipoo was always very careing, when we had some problems with the altitude, so that we were never worried. As I said before, all the time he was able to make a good mix between interessting historical facts about the sights and the developement of China, but also framed it with a lot of fun. It never got boring or exausting. Pipoo was also very helpful, when we had some problems with the service of one hotel, to manage this problem. So even in those few problemsituations, we never felt uncomortable or lost!
I want to thank You Mr. Li and Your Team for organising this unforgetable trip for us. From my side, i wish defenitly to come back some more times in this beautiful country and hope to have the same guidance and service I was able to enjoy this time!
Kind regards
Anita
October 29, 2019
Hi Leo,
Just to say that all went well in Tibet. Lily did a fantastic job and also my guide in Lhasa, that Potala palace is unreal, and the other sights also unique, was a real rewarding trip one I've been looking forward to for a long time.
I'm over the moon for having had the chance to visit there.
Thanks to you and your company. All the best was a pleasure.
Regards
Harri
September 24, 2019
Dear Mr.Leo Li,
Please find below some comments regarding our experience in Tibet-Nepal.
All the guides, in Chengdu (Mrs. Gila), Tibet (Mr. Po Ta) and Nepal (Mr. Bishnu) provided us an excellent service, they were very informative, forbearing and helpful about every matter along our stay (check in/out in the hotels, tickets for the attractions, rides, queues etc etc), also the drivers were very skilled and safe in driving us to the many visited spots.
The vehicles were in good condition of maintenance, we always found bottles of water on board for us (provided by the assistant driver)
The daily organization of the visits in China and Nepal was mostly done in the perfect timing, respecting the schedule (some more consideration about Nepal will follow).
The included lunches and dinners, were very welcome. 
Almost all the hotels were very good, high standard, comfortable, clean and the their staff very helpful.   The only exception was the hotel in Gyirong, of very low level (one star ? maybe less) and very old.  Furthermore the morning after we slept there, we found out that there was no water in the bathroom and it was really a bad situation for us and at our request to do something the staff was not helpful at all.  It seems that the missing of water in that hotel (maybe in all the city) is recurrent , but in this case would have been very simply to provide some spare water in the rooms.
A note about the "road" on the border from China to Nepal.... from the information provided in the program/itinerary we supposed to find a bumpy and muddy one ....but in reality it was much worst than that, the journey by car was stressful, very long and extremely dangerous (no guardrail at all and the overhanging on the river in the valley !!!).
The drivers were very skilled and they drove in the safest possible way, but at end for the time needed to get in Kathmandu would have been better to return from the Everest Camp Base to Lhasa and take a flight.
The itinerary in Nepal should be balanced a bit better considering the huge time needed for the transfers, of course not because of the schedules provided by the guide or the driver but because of the incredible traffic jam and the very poor conditions of the "roads", for example both Patan and Bhaktapur visits would have been deserved more time. 
Same consideration for the time needed to go and to come back to Nagarkot, where, beyond that, the view is also too variable because of the weather.
In Chitwan park, the possible options to chose from, should have been provided (and booked) before (as we requested many times by email)  because not everyone can enjoy what scheduled by default. Some of the group didn't like to ride the elephant because this causes him/her pain, and for the same very poor conditions in which the animals were kept (chained and with no space), they didn't like the "elephant breeding center".
To conclude, the suggestion is to include in the itinerary/program all the possible information and details (even the sensitive ones, as  the mentioned bad treatment of the animals), so that the clients have the right to decide what to see and what to skip.
Dear Mr.Leo Li, hope what above gives you a better feedback about the great adventure we lived thanks to your agency services. 
And please share our special thank also to the representatives of the local nepalese agency, they were very welcoming and helpful.
We'll be happy to be back to you, with further details in future if requested.
Best Regards
Alfonso & friends
September 4, 2019
Good morning Mr.Leo Li,
Thanks for your email, we're at home safe and very happy for the great experience we lived.
It was our pleasure to meet you in Chengdu, we appreciated very much your gifts and all the efforts you made to make our travel memorable.
It was already our intention to share with you our thoughts about the travel, as soon we have some time we'll let you have a more detailed feedback about the whole tour.
Have a nice day!
Alfonso & friends
August 29, 2019
Hi Leo,
Must say, my Tibet trip with you guys was one of the memorable trip ever. Tibet is blessed with good landscaping. Each corner has scenic beauty and lots of culture. People are very welcoming. So, overall wonderful experience.
When you received us from Chengdu airport untill dropped us at the railway station by our Tibet tour guide by Dhargye, my family felt very special touch and care by you guys. We really appreciate it.
Even, was polite and trying to explain us each and everything in detail in Chengdu. Even he offered his mosquito spray to us. We got free very early in Chengdu so got extra time and watched movie too. Food was too good in Vegetarian restaurant.
After 36 hours journey, we found our self tired so Dhargye took us to the hotel and showed us vegetarian restaurant next to our hotel... almost daily we had meal there.
Tibet guide Dhargye, is the BEST. He knows everything big and small about Tibet. No matter, if it is food, people, crowd, timings, altitudes... anything. His small small tips created the wonders in our whole journey. He never followed the crowd, so we saw and experienced the best ALWAYS.
I got high altitude sickness at Mt. Everest. He brought oxygen cylinder at 4.30 am which made me feel little comfortable and changed his plan without thinking further and asked us to leave mountain 5.15. He promised to show us better sunrise on the way which everyone did and I slept in the car for another hour with cylinder. He was so concern same our driver. Must say, they both deserve a pat.
For me my husband and Son they appeared as life savior. Big Thanks for that.
If I say hotel, It was not that bad but definitely could have been better. Hotel Mansarovar had some sewage problem, so the washroom was so stinky. We barely breathe in the bathroom. Couldn't say anything as language problem.
Another point is, no one asked or suggested us to take flight till Xining and then train to Lhasa. In this way we could have save our big 10-11 hours easily.
Overall, It was a nice trip. Our many friends are ready to explore Tibet and we will definitely recommend you and your company (if we get good discount in future...LOL).
Will send you the pictures.
Thanks
Jyoti
October 9, 2018
Hello Leo,
Firstly I would like to thank you for your work in organizing our tour. It was fabulous!
Very important to us was our guide. Lobsang was absolutely fantastic. He was very knowledgeable, passionate about his country and tentative to the group needs. We had a fabulous experience because Lobsang was so good. We are feeling very grateful for him sharing his piece of the world with us.
I will be sure to recommend your company and Lobsang with others who are interested in visiting Tibet.
Thank you,
Lisa
Life is Good. Get out there!
August 14, 2018
Dear Leo,
First of all, thank you for being there 24*7, literally! Because everytime I had a problem with my travel plan, I troubled you. I remember when I started planning the trip, I had a problem in booking the train tickets. You were the one who helped me out for train tickets, travel dates and even local advice in Chengdu.
Thank you for working so hard to make my trip memorable, thanks for listening to all my problems, thanks for always be there as a tour guide and a friend.
XIE XIE NI WO DE PENG YOU!
Lots of best wishes!
Oaindrila
June 29 2017
Have a question? Get answers from our travel experts soon!
Your Question:

Your Name:

Your Email: