Jack Li - Our Tibet Travel Advisor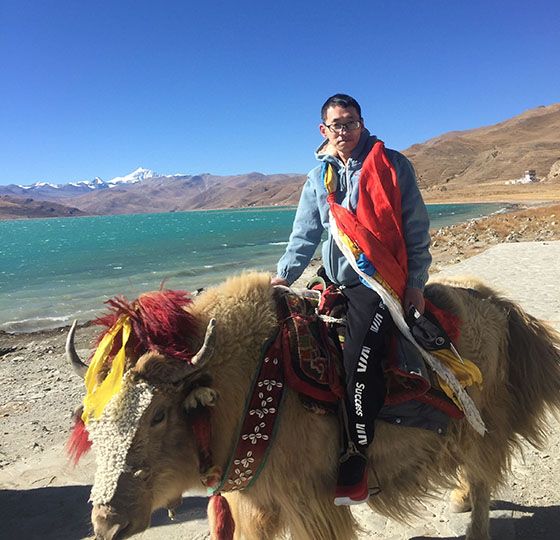 Expertise
Tibet

Lhasa, Namtso Lake, Shigatse, Gyantse, Everest

Overland Tour

China, Nepal, Bhutan
Why not take the advantages of Jack's Tibet & China travel experience to design a trip just for you, that suits your budget and interests. His passion on travel and help never fades away!
OR Call him at +86-15982016247
Biography


Hey, I am Jack at Tibet Discovery. You are warmly welcome to Tibet to explore its gorgeous natural views and profound Buddhist culture.

Being keen on traveling, I have been engaged in tourism for many years. I would like to tell you that I am experienced in planning trip in Tibet (including Lhasa, Gyantse, Shigatse, Everest, Ngari and Nyingchi) as well as overland tour in Himalayan Kingdoms - from Tibet to Nepal (Kathmandu, Nagarkot, Pokhara and Chitwan) as well as Bhutan (Paro, Thimphu, Punakha, Phobjikha, Wangdue Phodrang Trongsa and Bumthang).

Besides, I'm also professional in arranging China travel, including classic tours to the must-be-visited destinations and themed tours involving Silk Road, photography, hiking, etc.

If you want to customize a unique trip for you and your group, please be free to let me know. I'm more than eager to serve you an unforgettable experience and precious journey with my knowledge and passion.


Read My Tibet Trip Story
>> Travel with Jack: 7 Day Tibet Pilgrimage Trip
Read My Customers' Stories
>> Happy Wife, Happy Life - Ines's 8 Days Great Trip to Mount Everest
>> Tibetan Buddhism Exploration with Mount Everest - Petra's 18 Days Tibetan Monastery Trip
>> Discovery of China and Himalayas - Bogusia's 20 Days China Tibet Nepal Highlights Trip via Ancient Silk Road
>> Friends at Side, the Roof of the World is Nearby - Vivian's 2 Weeks' Yunnan Tibet Journey from Hong Kong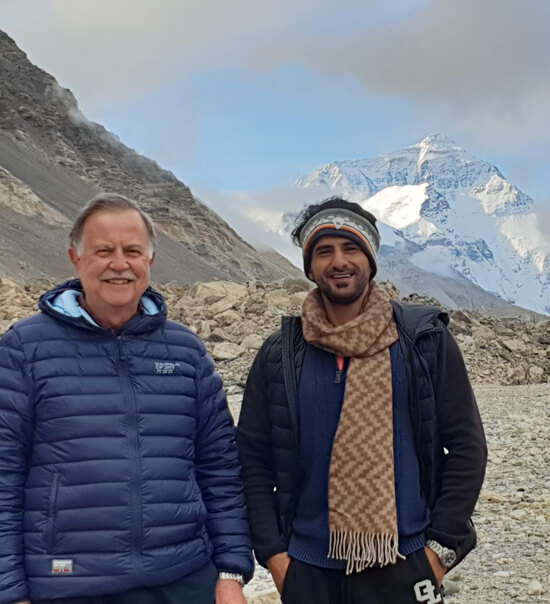 Tibet & China Travel Tips from Jack
Can't find the answers you would like? Email me or call me at +86-28-85227275, I will get back to you immediately with full passion and consideration.
When is the best time for Tibet tour?

It is suitable for travel to Tibet from April to early November, and the best time is August and September. But if you only stay in Lhasa, you can go there any time of the year. Get real time weather report in different places of Tibet.

When is the best time for Everest tour?

Early May and early October are the best time to visit Mt. Everest. Due to the clear weather, you have great chance to see Mt. Everest's true face (if you are lucky). From December to February, you'd better not to go to this area because it is too cold - except you are real Great Adventure People.

Can I travel with children?

Tibet may not be an ideal destination for young Children. The climate and generally harsher conditions in Tibet may not be ideal for young children. The sights and attractions are not those which children like to visit and facilities will be very primitive. If you do decide to bring your young child to Tibet please ensure that you bring all your child's daily needs with you.

Are the Tibetan dogs are dangerous?

Tibetan dogs are dangerous. Do not approach any stray or wild dogs you see and carry a stick if you plan to wander off on your own or at any time after dark.

What kind of Tibet travel documents I need?

Besides a valid passport and a valid Chinese visa, you need two different kinds of permits for traveling in Tibet: the entry permit (TTB permit) and the Aliens' travel permit (if you want to visit the unopened area in Tibet).
Hello Jack,
Thank you so much for thinking of us we are doing ok here I hope you and your family and friends are ok. Thank you very much for sending this I will pass it on to my friends and family, it is very kind of you. Thank you again.
Kind regards,
Faye
March 28, 2020
Hi Jack,
Thank you Jack for your email advising on corona virus and updating on the status of the virus in China. We are also following the case not only in China but all over the world. We hope that a vaccine is found soon so that the economy can return to normal. I can understand that the tourist industry is hard hit and hope that China Discovery/Tibet Discovery is able to maintain its operation until this problem is resolved.
Glad that you have read the ongseokkim website. If you so wish, recommend it to your colleagues, friends, family, etc to read. As my father's original root and thus my root is China, our history may be of interest to people in China especially those with surname of Wang.
With peace and harmony
Joo
March 27, 2020
Hi Jack,
I'm sorry for answering just now!
Yes the trip was great. Lhasa is a so magical place with so many devoted people. It is stunning! 
Everest base camp was really spartan but it worths to see this giant mountain from so close.
The bus trip was also ok, except my previous idea to go to Kathmandu I think is is the best because you avoid to do the same road back and forth.
Anyway everything was very good and the group too. 
Thank you for organizing everything.
All the best.
Antonella
October 29, 2019
Dear Jack,
Globally, the participants were very satisfied of the trip
Everything was on time and organization without any problem
The guides were very good more specially in Lhasa and Beijing they know very well ‌the story and are very good in description of the visited sites and very thoughtful for all the domestic aspects of the trip
Planes and train were on time ...............no wasted time!
The hotels were very good in Xi'an good in Beijing and Lhasa : good situation and good service the one in Xining was a little bit under expectation : far from the center and service only average
The visits were well organized and very interesting
Of course, the timing was tight as we stayed only 12 days but I think that it gave a good image of the various aspects of your country
Thank you for all the work that you did for our pleasure
I shall recommend your agency if some other people want make a tour in China
I shall send some pictures in another mail
Bests regards
October 10, 2019
Dear Jack,
Good morning from Riyadh!
Hamad and I are now back on Riyadh after an incredible month--long trip to Nepal, Tibet and Bhutan.
With the sole exception of our experience with your agent on Kathmandu on the day of our arrival, everything was excellent and perfectly organized.
Our guide in Tibet, Tenzin, was a goldmine of information as well as a very kind individual and Puchung, our driver, was always punctual and polite, as well as a very safe driver.
In Bhutan, our guide, Jigme, was always ready to answer our questions and did his utmost to ensure that we had a wonderful experience in Bhutan. Domche, our driver in Bhutan, was a master at navigating the tortuous roads of central Bhutan, where ongoing road-widening and wet conditions made driving difficult.
We thoroughly recommend all the hotels we stayed in, with the exception of the Nyingtri International where no one spoke one word of English.
Finally, we wish to express our sincere thanks and appreciation of the unceasing efforts that you undertook to design the perfect Himalayan adventure from the moment we contacted you 6 months before our trip began until we completed it.
Thank you also for the gift of scarves! We both liked them very much.
We heartily recommend Discover Tibet to anyone wanting to enjoy the perfect trip to Tibet, Nepal and Bhutan.
Sincerely,
Richard & Hamad
Attached pictures were all taken and shared by Richard & Hamd about their visit to Tibet, Nepal & Bhutan
Richard & Hamad Visited Punakha Dzong in Punakha, Bhutan
Richard & Hamad Visited Lulang Forest in Nyingchi, Tibet, China
Richard & Hamad Had a Mount Everest Tour in Tibet
Distinctive Dzong in Bhutan
July 17, 2018
Hi Jack,
Finally back home.
Had a fantastic trip in Chengdu and Tibet.
Weather could not have been better.
Great guides and drivers - all became good friends.
Thanks for the small gifts. I gave all to my friend Oren to give to his american friends.

Best
David
May 28, 2018
Hello Jack,
We just returned last night from our China-Nepal-Bhutan trip and wanted to say thanks for organizing the trip of a lifetime for us.
This trip truly was spectacular. The guides were all excellent and flexible and extremely helpful. The sights were everything we hoped for and more. We loved the hotels overall and they were exactly the type we would have chosen ourselves - most were right in the heart of the best locations with local flavor and character. The travel arrangements and vehicles were comfortable and of good quality throughout.
The only small flaw in the itinerary was the guest house in Kyirong at the China-Nepal border. We realize it probably is hard to find updated accommodations there. The guest house was not even close to the standard of the other accommodations in the itinerary. It was about a one star compared to the others that were three stars. Our advice is to either find some place different for your clients or else warn them in the itinerary that the guest house is not up to standard which cannot be helped in that area.
Despite that small flaw, everything else in the itinerary was spot on for us.
Thanks very much for all you did to make this such a special trip!
Regards,
Adam and Lori Boone
May 4, 2018
Hi Jack,
We are back in Singapore and ging kong and i just wanted to thank you frommes three.
The tour was really good, everything worked out perfectly and Chimy was the best guide we could think of. She was really helpful and very knowledgeable.
Also our bus driver was great-he did a good job bringing us safely to very spot and back.
Thank you very much and best regards

Barbara
October 13, 2017
Hi Jack,
We enjoyed the tour immensely. Everything went pretty smoothly. The local guide "RJ" was great
There were 5 others on the tour who booked with other travel agencies. Our hotels were better than theirs. The other tour members were friendly; however, one tour member had considerable difficulty with walking up steps and needing oxygen. Her son did not help her in walking. She needed oxygen at Potala Palace and continued to need oxygen at higher elevations. Her son insisted she should go EBC even with her condition. My son who has climbed the high elevations suggest an alternative for her with help from RJ that we leave early, arrive at noon and stay for few hours instead of being there overnight and for 24 hours. The night time would be very difficult for her. We ended going down about a 1,000 meters which helped her. The group agreed with this change in schedule.
I would recommend your agency and especially with the guide RJ.
Gene
October 13, 2017
Thank you Jack for the arrangement!
In general, the guides are good and accommodating. The trip was good! And i look forward to contacting you for tours in China next time!
Thank you
Mr Lim
July 24 2017
Hi Jack,
Nice to hear from you again, how have you been , well i hope :).
We had a great time in Tibet and we learned a lot of interesting facts about Tibetan culture , history and religion.
Our guide was very nice and he spoke very good English and he was also waiting for us when we took pictures and also when we stopped a bit to admire the view. The hotel where we stayed was very nice , comfortable and clean.
We wanted to go to the surrounding areas of Lhasa but because of the small time frame we didn't had time and maybe next time when we visit Tibet we will cover those areas too.
I hope to meet you one day in person because you seem like a really nice guy , I am feeling right now that we made the right choice.
Thank you for everything and i wish you all the best in the future tours!
Best regards,
Andrei and Andreea
June 13, 2017
Dear Jack,
Yes time is flying way to fast I can hardly keep up with its pace.
Thank you for your beautiful note & I do hope that our roads meet again in the near future.
It is our Thanksgiving Day approaching, therefore I do thank you for a wonderful trip and wish you good health, great success, lots of happiness and
May all the road rise up to meet you, may the wind always be at your back, may the sun shine warm upon your face and rains fall soft upon your fields.
And until we meet again stay well, healthy and happy
Your friend always
Bogusia Mirowicz
November 15, 2016
Hi Jack,
I'm happy to read you mail.
China and Tibet now are a remember.
We are working very hard in this period because is the year end .
Thanks for your organization. All was perfect.
Drivers…guides ….organisation…hotels…I'am very happy to have spent many for this trip and with your company.
The best EBC and Namsto Lake.
Remember for EBC Thermo blanckets are necessary for Italian people….is this is possible…
If somebody can references I am available.
Thanks…..An embrace
Catterina
November 14, 2016
Jack,
Overall it was great we had a good time Nepal was great & food very good
China & Tibet was beautiful & very memorable trip & we thank you for arranging it for us!
Tour guides service was great! They did more for us than expected very good & friendly people we just loved them. Guide in Beijing was just wonderful. Drivers great never seen better ones very good, safe & courteous
So as you see overall it was great & very memorable we will never forget this trip thank you again
Thank you very much for all your gifts everyone loves them
Till next time
Wishing you & entire office stuff all the best always
Bogusia
November 4, 2016
Hi Jack,
Sorry for the delay we have been busy moving...
The trip was fantastic. Ines and I had a wonderful time!
The best part by far was Tendol and Tiley. They were both excellent. Tendol has an incredible knowledge of Buddhism and Tibet and we really enjoyed her telling us all about the area. She was also very helpful and very flexible when it came to things we wanted to see along the way. She is definitely an asset to your company and we hope we get to meet her again someday soon.
Tiley was a great driver. I have had drivers all over and he is very good. We really appreciated him, especially on the curvy mountain pass roads. Again, he is a great asset to your company!!
The itinerary was very good and we really appreciate you helping to set it all up. If we come back to Tibet, we will definitely let you know so that we can have Tendol and Tiley as our guides again.
Thanks very much and all the best!
Bob
October 25, 2016
Jack
谢谢你办理我们人藏的手续,使我们一家在西藏度过了难忘的八天。这是个世界是最美的地方,虽然现在还不够富裕,人民纯洁善良。你们的工作就是让世界认识这块葵宝,加油呀!
离开拉萨那天,送走老公女儿后去,我在八廊街一时兴起,买了一块地毯(20.8 公斤). 在拉萨机场因为身上人民币不够付超重费用,只好给导演洛桑打了求救电话。马上拉萨旅行社张燕醇 女士就给我回了电话,让我放心登机。 第二天李林波经理去拉萨机场把地毯取了回来,直接寄出来啦.
整个旅程安排紧凑,导游知识丰富,一路关照每一个人。 司机经验了得,曾经把车从泥石流中硬开出来。
在旅途之后发生的地毯的事儿,拉萨旅行社本可以不管。但他们的工作让我特别满意。
让我也问自己能为西藏做什么。
Jack,再次感谢你,也希望你能转达我对李林波经理等人的谢意。
后会有期
王洪敏
July 10, 2016
Hi Jack
We have had a fantastic time in Tibet!
The sights we visited in Lhasa were very impressive. For many years I wanted to see the Potala Palace, and yes it is amazing! We are also glad that we have chosen St.-Regis hotel to stay in hasa because it is very pleasant to know that after each trip there will be an oasis of peace and a good bed for a good night's sleep. Especially after visiting Namtso lake, it was quite hard during the nightbecause of the high altitude and the cold. But it was worth it!
We visited a lot of monasteries but it has never bored us:
- We visited Trurphu Monastery in the snow!
- In Samye Monastery we were fortunate to be able to experience a special ceremony because of the visit of an important Lama.
- From the Nunnery in Chimpuk at the base of the hill it was a challenge for us to reach the original meditation cave of Guru Rinpoche. But through the constant encouragement of our lovely guide Dhokar and our responsible driver we achieved!
- At Kubum Monastery we were able to see a large Thangka of Shakyamuni Buddha hanging on the wall.
- In Tashilumpo Monastery we were lucky to see the monks making huge amounts of butter and tsampa sculptures for a festival. And last but not least, one of the highlights was the visit to Mt; Everest Base Camp and to glance at the very rooftop of the world!
On the way back to Lhasa our driver stopped in a village because he heard something about a horse race, and yes after some hours we were rewarded, 20 farmers in colourful traditional costumes arrived on horseback and showed their special riding skills. This was an unexpected surprise which resulted in some beautiful pictures!
So we want to thank you all, and specially our guide Dhokar an driver, for the good care and the lovely time we spent together.
Thanks and best regards,
Petra & Kurt
July 7, 2016
Hi Jack,
This is what has been submitted on Trip Advisor:
Heading:
Perfect planning, immaculate delivery, and great advisory - that is China Discovery and Tibet discovery for you
Main Body:
We used Chengdu Bamboo Travels for 3 separate sections during May 2016 - China Discovery for in and around Chengdu, Xian and Beijing over 8 days, Tibet Discovery for Tibet over 5 days, and again China Discovery for the Silk Road trail over Western China for 6 days....and the planning for this trip commenced as far back as August 2015.
I am absolutely sure that Jack Li, the agent who interacted with me in the planning stage and thereafter in the execution stage, deserves an A+++...thanks Jack for making this a truly memorable trip. I truly appreciate your patience, diligence, promptness, and knowledge while preparing the itinerary.Most appreciated was the inputs for refining the trip and the patience for revising the itinerary a zillion times.
We are especially thankful for the choice of guides at all locations: Penny at Chengdu, Zhayang in Tibet, Timo at Xian,Jackie at Dunhuang were all superb.They were all ranging from between A+ to A+++.The only place where the guide was not up to the mark was in Turpan but where the driver more than made up for him....all of them figured out our likes and dislikes quickly and therefore delivered a huge value add to the trip.
The vehicles used were generally good at all places excepting for the first 2 days at Lhasa ( and where on being pointed out the replacement vehicle was great) - however, a slightly better quality of vehicles would have made it even better.
On the price front they were not the cheapest but certainly way below the quotes sent by some other competing better known names and who could not have probably delivered any higher value than China/Tibet Discovery - hence a huge value for money too!
All in all a tour agency that deserves a huge applause and highly recommended over China and Tibet....will use you again someday for sure.
Please feel free to use this as a testimonial anywhere you so desire....and please convey our sincere thanks to all the guides and drivers.
Warm regards,
Ravi
June 9, 2016
Hi Jack,
Thanks for your message.
We really enjoyed the trip. Lahsa in particular was amazing! I think 4 nights-5days is the ideal time to spend there.
All the guides were really helpful as well, especially Henry and Choedack who we spent more time with. The drivers were also nice but we would have preferred a more poweful car at times. In Lhasa at times the car would really struggle to go up the mountain.
Overall, we are very pleased with the tour and i am happy to recommend it to other people.
Thanks
Nick
May 22, 2016
Hey Jack
Everything was really good!
The train ride was smooth, comfortable and very scenic.
The tour guide was really cool and funny and he really mad us feel welcome! His English was very good and he even took us out for a drink in a local club even though he didn't have to, very good customer service!
We loved every minute of Tibet the scenery, temples, palaces, monastery's and mountains all worth the money top class we will never forget.
Thanks jack
Marcus Solieri
The following picture were shared by Daniela & Wiebe.
May 17, 2016
Hi Jack,
I just got back from my trip.Everything was good.The driver and the guide were excellent.Thankyou for all your help.
Kamy
November 18, 2015
Feedback to Tibet Discovery
I would like to inform you that Tibet Discovery provided me with excellent travel service for my trip through China and Tibet last month. Your company services were extraordinary, helpful, and invaluable. It made my vacation enjoyable, especially in Chengdu, Leshan, and Lhasa. In Chengdu, Jack Li, my travel advisor, was able to meet me at the train station, upon a few hours' notice, in order to find a temporary storage place for my luggage while I traveled to nearby Leshan for a few hours to see the Giant Buddha statue. Jack was considerate enough to help me buy my bus ticket to Leshan and then write driving instructions in Chinese for any taxi drivers I would need on my trip. He even called me to make sure I returned in time to get my train from Chengdu to Lhasa.
In Lhasa, my guide Lakhdon provided me with fantastic service. She met me at the train station, then showed me around Lhasa, provided useful historical and cultural information and advice, and she even dropped me off at the airport upon my departure. She was able to get me through the airline check in and luggage lines very quickly. Like Jack's, her service was above and beyond the call of duty. I never use travel agencies, because I normally do my own planning, but Tibet Discovery proved to be a necessary, useful, and invaluable resource for my trip through China. Jack and Lakhdon deserve the highest praise. Your people made my travel experience easy, extraordinary, and wonderful. I will recommend your service to all who plan to travel in China. Thank you for your excellent service.
Regards,
Gerald Edwards
November 12, 2014
Dear Jack
Thank you for the excellent service that you provided to me for my trip through China and Tibet. Your services were extraordinary, helpful, and invaluable. It made my vacation enjoyable, especially in Leshan and Lhasa. My guide in Lhasa, Lakhdon, was great also. She met me at the train station, then showed me around Lhasa, provided useful historical and cultural information and advice, and she dropped me off at the airport upon my departure. You and your company provide excellent service. If possible, please provide me with the email address of your manager, so that I can send them a proper recommendation of your service.
Regards,
Gerald Edwards
November 6, 2014
Have a question? Get answers from our travel experts soon!
Your Question:

Your Name:

Your Email: