Tibetan Food Cooking Experience in Lhasa
17 February 2020
Last updated at 12:14
Tibet is a holy and amazing destination attracting numerous tourists with its breathtaking natural landscape and devoted religious atmosphere. However, the cuisine in Tibet is also featured and worthy of your trying. Only visiting Tibet with experiencing local meals can be considered as a complete journey. Among the various restaurants and canteens, Tibetan Family Kitchen is the most recommended Lhasa restaurant, which provides real and authentic taste of Tibet as well as Tibet cooking class.
Overview of Tibetan Family Kitchen
Tibet Family Kitchen was founded in 2013 by an enthusiastic Tibetan couple – Namdon and Lumbum who used to be English guides. Undoubtedly, they speak very excellent English and know Tibetan culture well, food culture included. They will introduce the materials and ingredients they use make food as you asked how spicy it should be before cooking. It is available to visit the kitchen and watch them cooking. Namdon and Lumbum have two adorable daughters, one is over 18 months old and the other is about six years old. While waiting for your food, you might entertain the kids. Tibetan Family Kitchen is literally in the family's home so tourists could have the pleasure of eating and spending time with the family's beautiful children as well. Loved by most foreign tourists, Tibetan Family Kitchen is listed as the No. 1 Lhasa Restaurant on TripAdvisor.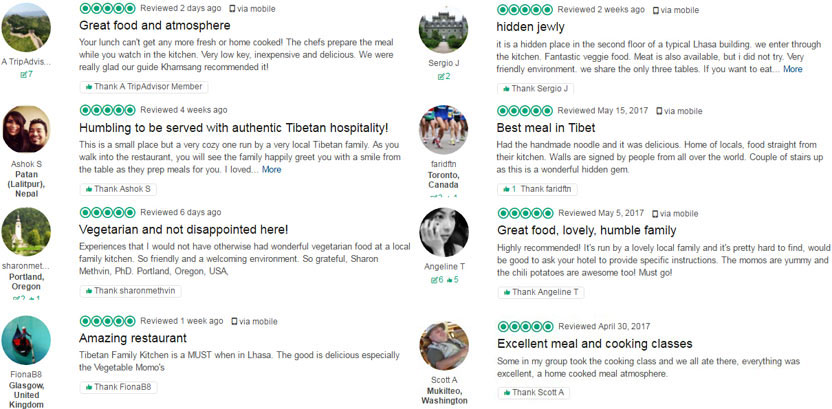 Selected Reviews on Tibet Family Kitchen from TripAdvisor
As a home-style restaurant with small scale and simple decoration, Tibetan Family Kitchen features with the quality Tibetan food and an atmosphere of a family. Crossing the kitchen, you will find two rooms with comfortable cushioned benches. Over the walls, there are photos of cooking or eating customers, funny drawing by kids and warm appreciations written by customers. It is very nice to sit be cozy and have good chats with laughter. There are tourists coming from different countries and sharing one table. If you want to develop great fellowship as well as eat yummy food, it is the place.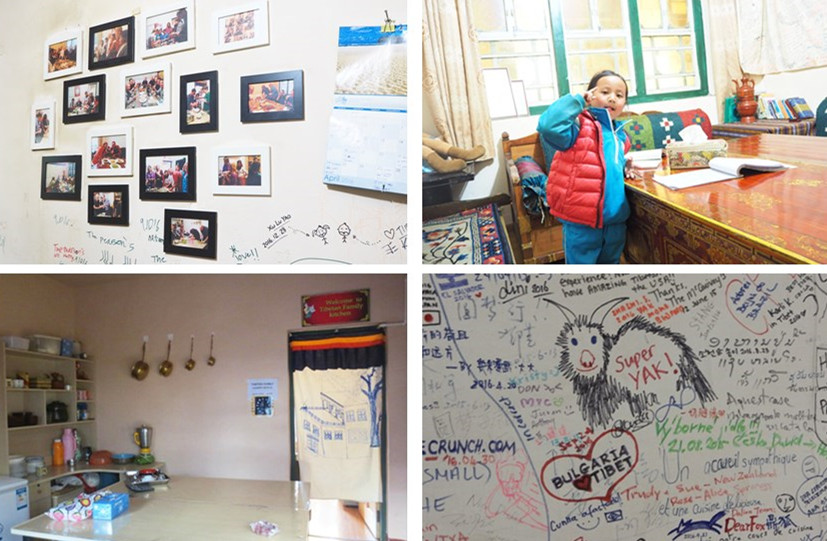 Tibetan Family Kitchen
Cooking Experience in Tibetan Family Kitchen
Tasting delicious Tibetan food is not enough, and taking part in the cooking class will leave you a more unforgettable experience. Tibetan Family Kitchen offers a cooking class, also a food culture trip. The cooking class begins at 16:30pm and ends at 18:30pm usually.
Check the below detailed activities to inspire yourselves now!
Activity One: Shopping in the local market
After you get to Tibetan Family Kitchen, you can go outdoor market to purchase the food materials. Here you can experience one part of the local Tibetan's daily life and learn many vegetables and ingredients. Taking this opportunity, try to communicate and bargain with vendors, which will be interesting. The shopping journey takes about half an hour.
Activity Two: Getting Food Material Ready
For 1~3 customers, 3 dishes will be cooked, including Yak Meat Momo, one salad and another dish you can choose from the menu according to your appetite. For 4~6 customers, there will be more dishes. Before cooking, you need to prepare all the materials well. Yak Meat Momo is the signature dish in Tibetan Family Kitchen and you will have a great deal of fun to make Yak Meat Momo. You need to wash the yak meat, knead dough, mince the meat, and then do wrapper and filling. With the help of the owner, you will learn more the food culture of Tibet while preparing the food materials.
Chopping the vegetables and ingredients is interesting
Activity Three: Cooking Food to Well
As you get everything ready, it's time to cook the food to well. Compared with making Yak Meat Momo, cooking Yak Meat Momo is much easier. Place the momos in the steamer basket with gauze steam it over the simmering. About 10 minutes later, the appetizing and savory Yak Meat Momo is done. You could also choose to fry if you prefer fried momos. During the steaming time, you will cook the other food. Under the guide of the staff, you will learn to control fire and accomplish of your dishes.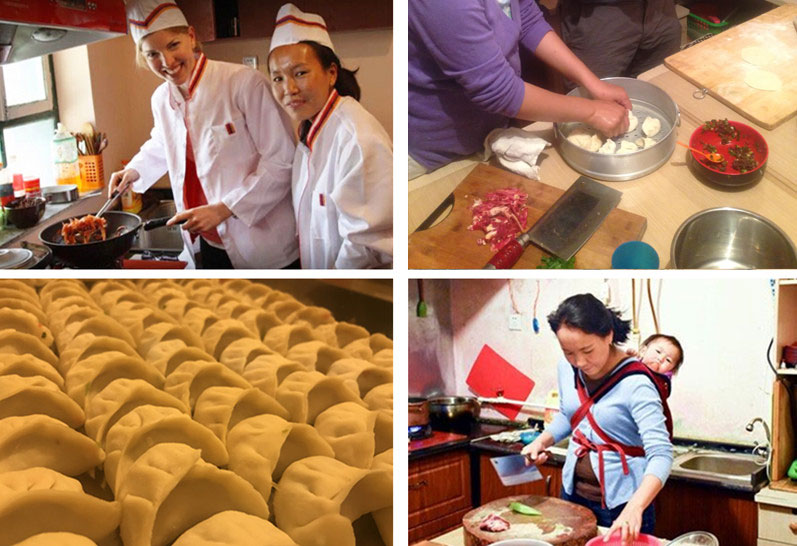 Wonderful Cooking Experience
Activity Four: Enjoy Your Gourmet Meals
After all your dishes, it's time to glut your stomach. Taste these delicacies made by yourself in such a rather friendly-environment. The Yak Momo is quite juicy and toothsome, and might be much better than the ones you have tried at other restaurants. All the dishes are made of freshly prepared ingredients and would be wonderful. Try a glass of ginger honey tea which is also a big hit.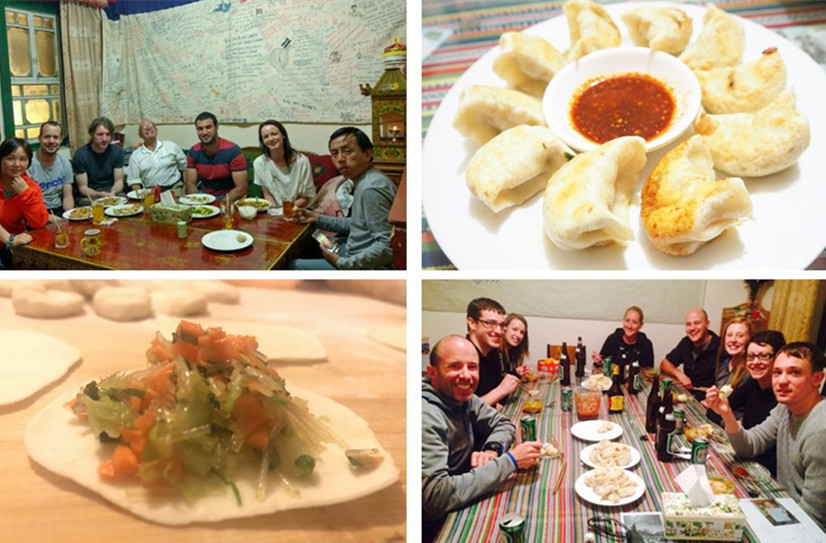 Enjoy the food made by yourselves
How to Get to Tibet Family Kitchen
Tibet Family Kitchen is located in No.1 Danjielin Road, opposite the Shangbala Hotel and about 10 minutes' walking from Jokhang Temple.
Finding the entrance to the restaurant requires careful searching. After you get to Danjielin Road, look for the sign "Tibet Family Kitchen" on the second floor of the main street firstly. Below the sign, walk through a hallway (which is a jewelry shop called "真品绿松石") into a courtyard. Then take the stairs on your right hand to the second floor and you can find a small silver sign on top of the door that says "Tibetan Family Kitchen". Before you get to the dining area, you will see the kitchen first and the tables are set in the back.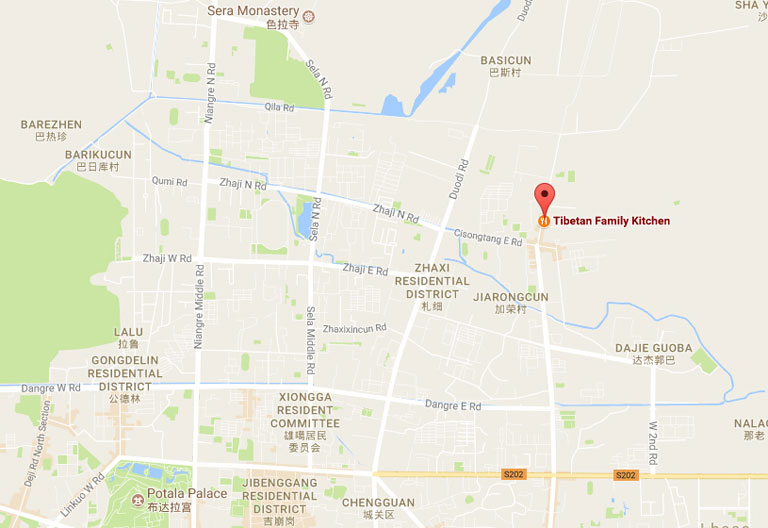 Tibet Family Kitchen Location Map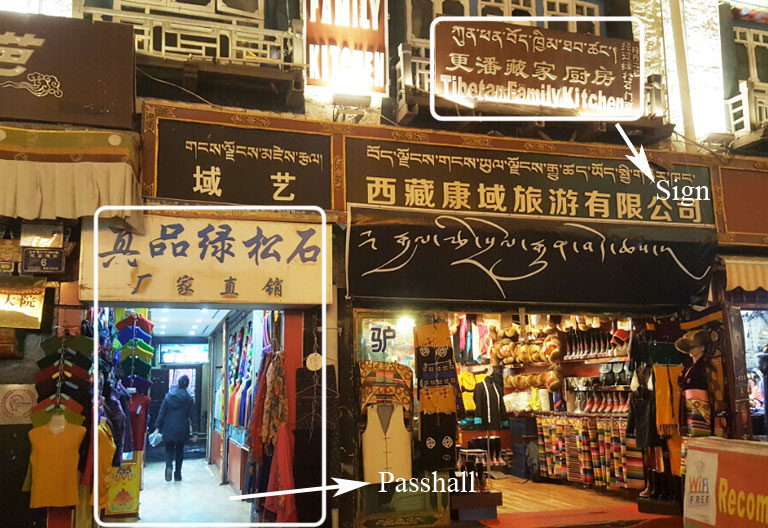 Direction to Tibet Family Kitchen
Contact Us to Arrange Cooking Class
TibetDiscovery cooperates with Tibet Family Kitchen. If you are interested in having such a meaningful and funny cooking experience, feel free to contact us. Our professional travel consultant will customize a Lhasa tour with cooking class for you and make reservation for you in advance. At present, the cooking class of Tibet Family Kitchen can only handle 6 people at most in one time. If there are more members in your group, we will arrange cooking class in other restaurants for you. Of course, Tibet Family Kitchen is a perfect place to dine, and you can visit it anytime.
Warm Tips:
1) Tibet Family Kitchen provides curry food, soup, noodles, hot dishes, vegetarian dishes, salad, and some other specialties. Yak Meat Momo is the most popular one. For vegetarians, the Vegetable Momo will never disappoint you as well.
2) The cooking class begins at 16:30pm and ends at 18:30pm usually, taking about 2 hours. The fee is 150 CNY for one people taking part in cooking class.