Tibet Tour Packages – visiting Tibet with budget price 2015
Tibet tour is a memorable experience like once in a life. Then how to choose or customize the most suitable Tibet trip for yourself? Usually, most Tibet tours start from the capital city Lhasa, and then connect to other regions, such as Shigatse, Shannan, Nyingchi, Ngari, etc. Lhasa is featured in Tibetan Buddhism culture. The world famous Potala Palace houses here. Besides, many important Tibetan monasteries locate in Lhasa, such as Jokhang Temple, Sera Monastery. Mount Everest is another most popular destination. On route traveling to Everest, you can visit Holy lake Yamdrok, Tashilumpo Monastery,etc.
Potala Palace, Barkhor Street, Sera Monastery...

from $429

4 Days Holy City Lhasa Private Tour
Potala Palace, Drepung Monastery, Namtso Lake...

from $676

5 Days Lhasa & Holy Lake Namtso Tour
Potala Palace, Yamdrok Lake, Tashilumpo Monastery, Mt. Everest...

from $988

8 Days Tibet Everest Base Camp Tour
Potala Palace, Basomtso Lake, Ganden Monastery...

from $888

7 Days Tibet Nyingchi Landscape Tour
more tours
Small Group Tibet Tours - fixed departure & money saving
Our group tours take you to visit the most visited places - Lhasa, Namtso, Shigatse, Everest, etc. All of tour packages have been successfully operated for many years and created loads of amazing experiences for our customers. They are featured in budget price and fixed departure dates with maximum size of 12 members.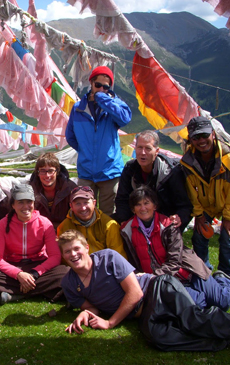 more tours
Tibet Tours and Travels – classified Tibet trips to match your interests
Since we are based in Tibet, we know what highlights Tibet has to offer, and we have classified Tibet into helpful categories, which will better match your requirements. By regions, Lhasa and Mount Everest are the two most visited areas. Both of them can be connected to other hot destinations easily. You may get to other destinations in China before heading to Tibet, then don't miss the chance to connect Tibet with other attractive destinations, such as Beijing, Chengdu, Shanghai, etc(China Tibet Tours). You can also browse our Tibet tours by themes. If you travel with kids, check our specialized family deals. If you are passionate about hiking, we get suitable Tibet hiking trips.