Karola Glacier - Featured Glacier in Tibet
Karola Glacier is a beautiful glacier perched between Ngarzhag County of Shannan and Gyantse County of Shigatse. Within only 300 meters from the highway which connects Lhasa and Gyantse, Karola Glacier can be seen easily when your car pass by. Many tourists will take a short stop here to admire its authentic beauty. Backing to the south face of Mount Noijin Kangsang, Karola Glacier is made of an ice cap with slow slope and two hanging-glacier typed glacier tongues. Mount Noijin Kangsang is one of the four greatest snow-capped mountains in Tibet. In its ravines, there are over 100 glaciers which cover a total area of 118.82 square kilometers. Among these glaciers, Karola Glacier is the biggest one occupying 9.4 square kilometers and reaching to 5,560 meters high. Contrasted with the blue sky, soft clouds and colorful prayer flags, the scenery of Korala Glacier is really amazing. Because of its spectacularity, many films have been shot there, including Red River Valley, Yun Shui Yao, Battle of Gyantse etc.
Karola Glacier Facts
Rating:

#2 of 35 Attractions in Ngarzhag
Season:

Summer & Autumn
Type:

Glacier, Alpine Scenery
Altitude:

5,560 meters
Location:

the Junction of Ngarzhag County and Gyantse County, Shigatse
————————————
————————————
Features of Karola Glacier
Karola Glacier features with its approachability, brightness and grotesque in shape. Stretching from the sky with wispy cloud and mist to the road closely, it shapes like a big frozen fall preparing to flow down from the high peak. Karola Glacier really endears itself to people that is once was be toughed when the people standing on the road. Because of being close to the highway, the lower layer of the glacier is colored to black by the dust, while the upper glacier takes on bright, glittering and translucent in the sun, resembling a big Thangka hanging on the cliff. When the climate gets warm, the snow covered the glacier will melt on the ice layer and then form fabulous serac pillars. In the serac pillars, where snow meets earth, there are rolling ices, like delicate patterns made by skillful craftsman.
Apart from its own overwhelming charm, the surrounding view is also quite gorgeous. There is a little white pagoda standing at the foot of Karola Glacier, with flying prayer flags around. When spring and summer come, the grassland turns green. The flocks of goats and yaks appreciate their feast in this beautiful land. If the weather is good, you can enjoy of unhindered views of Mt. Nojin Kangsang and the opposite mountain range of Mt. Kalurong. There is also a wooden walkway virtually right to the foot of the mountain if you have more time to spend here, which is certainly worthwhile.
How to Get to Karola Glacier
Karola Glacier is located in the Junction of Ngarzhag County and Gyantse County, close to the highway. It can be reached easily by driving. Most tourists travel to Karola Glacier from Lhasa usually, while others drive there from Gyantse after their Shigatse of Everest tour.
Lhasa to Karola Glacier: Karola Glacier is about 190km from Lhasa, and it takes about 4 hours. On the road, you will climb up to and then go down from Gampa Pass (5,030km), where you can take a panoramic sight of splendid Yamdrok Lake.
Gyantse to Karola Glacier: Covering a distance of only 80 km between Gyantse and Karola Glacier, you can travel between them within 2 hours' driving. You will have a lot to see on the road to Karola Glacier as well, like Manla Reservoir and Simila Holy Mountains.
Useful Karola GlacierTravel Tips
1. The admission fee for Karola Glacier is 50CNY for each traveler, and you need to pay if you want to take picture with the local Tibetans on traditional clothes.
2. Yamdrok Lake, Manla Reservoir and Simila Holy Mountain are usually visited with Karola Glaicer by a single day.
3. There is no available restaurant near Karola Glacier until you get to Gyantse County or Ngarzhag County.
4. There several hotels and guesthouses in Gyantse County. Gyantse Hotel and Yeti Hotel are two most recommended hotels offering relatively good facilities and services.
5. The view of the glacier is marvelous, but it has been melting gradually because of the effects of global warming. It is estimated that it melts 7% every year. The opportunity to enjoy the landscape of Karola Glacier should be cherished.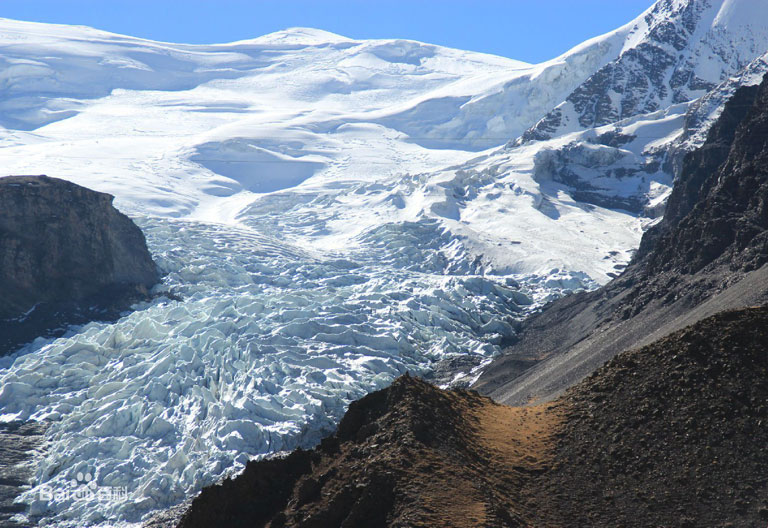 Beautiful Patterns in Karola Galcier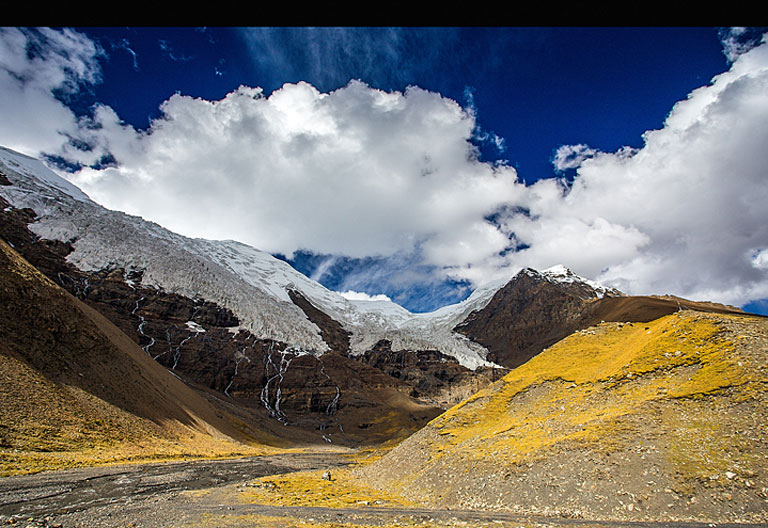 Amazing Karola Glacier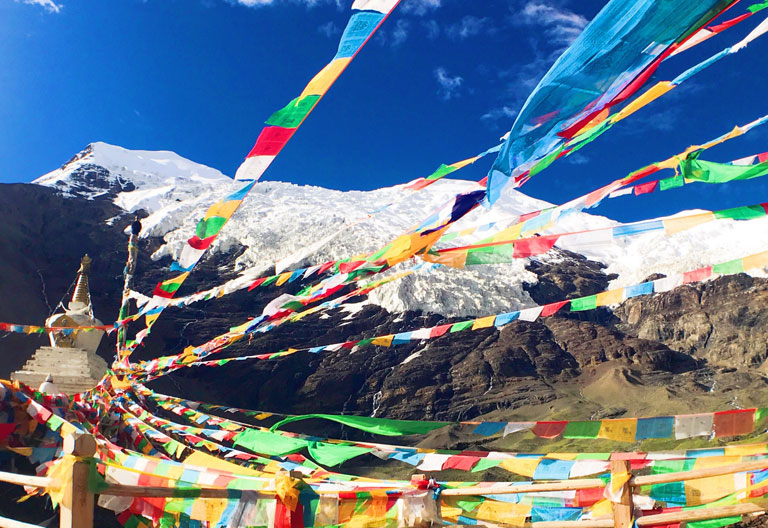 Karola Glacier with Prayer Flags
How to Plan A Tibet Tour
Tibet is too vast to be visited in one single trip, but planning ahead of time can make most of your holiday. A classic Tibet tour always takes about 4 ~ 8 days. Apart from 2 days for arrival and departure, it usually needs 2 other days to explore majestic Potala Palace and other landmarks in Lhasa, the capital of Tibet. With a day trip's distance from Lhasa, Namtso Lake is another perfect tour extension if you visit Tibet from May to October.
☛ 4 Days Holy City Lhasa Private Tour - Heart of Tibet
☛ 5 Days Lhasa City and Holy Lake Namtso Tour
To explore further, it's strongly recommended to travel from Lhasa to Mount Everest via Gyantse and Shigatse, which usually needs 4 more days. It is an unforgettable sightseeing trip with lots of attractions to visit, such as Yamdrok Lake, Karola Glacier, Kumbum Stupa of Palcho Monastery, Tashilhunpo Monastery, etc. Of course, the biggest draw must be gazing upon the unparalleled north face of the world's highest peak – Mount Everest.
☛ 6 Days Lhasa Gyantse Shigatse Historical Tour
☛ 8 Days Everest Base Camp Tour - Top of the World
☛ 9 Days Tibet Discovery Tour plus Everest and Namtso Expedition
For Buddhist followers and hiking lovers, you are suggested to travel to Ngari to join the kora around the holy Mt. Kailash and sacred Lake Manasarovar, which usually takes about 5 ~ 8 more days from Lhasa. The wild nature of Ngari is spectacular as well.
☛ 13 Days Mt. Kailash & Lake Manasarovar Trekking Tour
☛ 16 Days Mt.Kailash Pilgrimage Private Tour
If you are looking for a longer Himalaya adventure, you can travel Tibet with two other charming Himalayan Kingdoms – Nepal and Bhutan by overland driving or flight. If you have your own needs or interest, just feel free to contact us to customize a trip of your own!
Lhasa, Namtso, Mount Everest and Ngari are four most popular destinations in Tibet
More Gyantse Travel Guide
Recommended Tour Packages
Escorted by a skilled private drivers and companied by a professional local tour guide to organize all the activities, all you have to do is to enjoy your fantastic Tibet journey. Time can never be wasted waiting for a group, hopping on and off buses or negotiating unfamiliar destinations.
Have a question? Get answers from our travel experts soon!
Your Question:

Your Name:

Your Email: