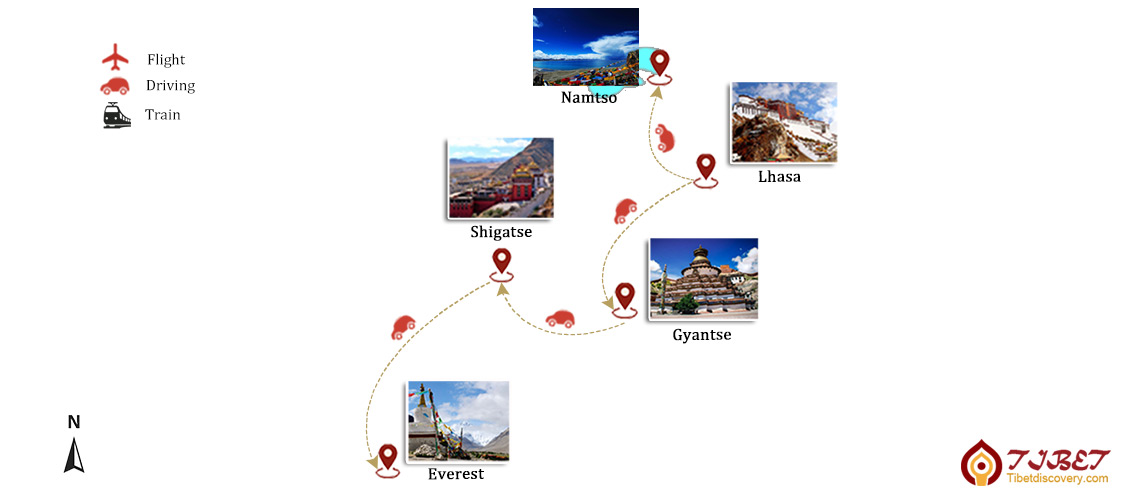 Patricia (Dutch)
October 2016 / 6pp
10 Days Family Holiday to Tibet & Mt Everest
"It was a long wish for me and my husband to go to Tibet. We decided to take the children. Wendy was very fast in answering all our questions. She arranged also our train tickets from Xining to Lhasa... "
Itinerary Introduced by Wendy
"Hi, I'm Wendy. Patricai and her family undertook a 10 days Xining Lhasa Train Tour with a visit to Mount Everest and Namtso Lake. Firstly, they took a flight to Xining from Shanghai, and began their train journey to Lhasa through Qinghai Tibet Railway. In the next 2 days, they explored the essence of Lhasa, including Potala Palace, Jokhang Temple, Barkhor Street, Sera Monastery etc. With several days' stay in Lhasa, the gradually adapted to the high altitude and started they adventure tour to Mount Everest via Gyantse and Shigatse. On the road, the amazing scenery included holy lake, magnificent glacier and featured monasteries. The whole family was happy to get Mount Everest and had a good time there. After they drove to Lhasa, they also visit the picturesque Namtso Lake which is regarded as the paradise for Photography. Let's read Patrical's travel story and get inspired by their experience. If you have any questions, don't hesitate to ask me." -- Wendy (Ask Wendy a Question)
Tibet Travel Consultant Wendy
It was a long wish for me and my husband to go to Tibet. We decided to take the children. (7, 10 and 12 years old). As you cannot travel on your own through Tibet, we searched for an organisation to help us to arrange the trip incl. all the permits. We decided to take Tibet Discovery (not the cheapest) but Wendy was very fast in answering all our questions. She arranged also our train tickets from Xining to Lhasa.
Tibet Experience
The hotel in Lhasa (Dekang hotel) was very good. People all very friendly and helpful. The trip to Shigatse was long, hotel was ok. The stay on Mt. Everest was great although the children got altitude sickness (all three of them threw-up once). Still they were able to go with us to base camp and afterwards they were happy that they managed it. Everest Base Camp is very cold, do not forget to bring very warm clothes incl. gloves!
The drive back to Lhasa was again very long. For the adults no problem, there is enough to see but take enough toys, iPads etc. to keep the children busy.
My Family enjoyed magnificent Mt. Everest
My Hotel and Restaurants
Dekang Hotel - Hotel was nice. There are probably more fancy and expensive hotels in Lhasa but we really enjoyed the Dekang hotel. It is very close to the Barkhor street. The restaurant serves lunch and dinner and is good. Breakfast has a lot to choose from and was very much ok for us. Rooms had everything we needed. Wifi is free and works well. Personell was very friendly. Ask the staff if they can take you up to the roof terrace. You can make perfect pictures of the potala palace.
Maji Ami - This restaurant is very popular with tourists. We have been here several times during our stay, it was always crowded and had to wait for a table. The food is Tibetan and they also have some western dishes. The food is good but expensive compared to all other Tibetan restaurants. The location is great. On the roof terrace you can see all over Barkhor street which is magnificent, never boring! Would go again.
Snowland Restaurant - Went 2 times to this restaurant with the children. The children loved the Yak steak in this restaurant and the very friendly atmosphere. Next to all variations of Yak meat dishes they also have Indian, Nepalese and Western Food. Can really recommend this restaurant when you are in Lhasa
Guangming Cangqiong Tian ChaGuan - Our guide took us to this place for lunch. The place was packed: full of locals chatting, playing cards and drinking tea. The tea is less than 1 RMB and your glass is being filled regularly. Just put some money on the table and you won't have an empty glass. The noodles and the potatos (favourite of my kids) were great. My kids loved the place and we went several times. Should go when you are in Lhasa.
Learn more about Lhasa Restaurants and Cafes.
Dekang Hotel
Guangming Cangqiong Tian ChaGuan
Professional Travel Guide and Driver
We had a very friendly and knowledgeable guide Dashi and a very friendly driver. We were our own mini-group and had a little van, driver and the guide only for our group.
Our guide was great. He could explain everything about Buddhism, the Lama's and about Tibet. For the children it was sometimes difficult to follow all the stories as there is so much to remember, still they liked the monasteries, the monks and Barkhor Street a lot. Our guide took us to typical Tibetan small restaurants and teahouses. We and especially the children liked a lot. I still cook sweet tea for them everyday :-))
We can highly recommend Tibet Discovery when you want to go to Tibet.
Related Tours
Check the following related tours or contact us to customize a tour according to your own preference
>> 8 Days Classic Tibet Tour via Mt. Everest (Small Group Tour: Lhasa - Gyantse - Shigatse - Everest - Lhasa)
>> 10 Days Family Discovery Tour with Everest Expedition (Pravate Family Tour: Lhasa - Gyantse - Shigatse - Everest - Lhasa)
We traveled with this van
Recommended Tibet Tour Packages
Tibet Discovery Tours is specialized in finding unique experience of Tibet, and leading you to explore what interests you most. Our Private Tibet Tours will take you to explore deep into the Holy Land, with loads of options, freedom & flexibility. You can choose from the following hand-picked tour packages which have been successfully operated for many years and created loads of amazing experiences for our customers, or check more Tibet Tours >>
Lhasa / Gyantse / Shigatse / Everest / Lhasa

Lhasa / Shigatse / Mount Everest / Namtso Lake / Lhasa

Xining - Lhasa

Highlights: Qinghai Tibet Railway, Potala Palace, Jokhang Temple

$998 / Details
Have a question? Get answers from our travel experts soon!
Your Question:

Your Name:

Your Email: