Nyingchi Impression Hotel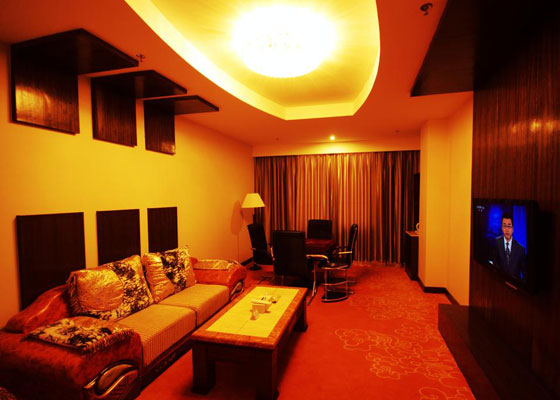 Type:

,Business,Tibetan Style

Location:

Binhe Main Street, Bayi Town in Nyingchi

Number of Room:

67

Address:

No.177, Bayi Road, Bayi,Nyingchi

Show Map

Surroundings:

Basum Tso Lake

,

Yarlung Zangbo Grand Canyon

,

TEL:

400-117-6680 (Front desk)
Nyingchi Impression Hotel is a four-star hotel featuring in various rooms and convenient transportation. There are deluxe standard rooms, deluxe single rooms, deluxe suite rooms, triple rooms etc. Most of the rooms are very comfortable and spacious, with free drinking water, 24 hours hot water, Wi-Fi, hair drier, toiletries, air condition, LCD television, shower, bathtub and other facilities equipped. From the windows, you can have a good sight of the surrounding landscape, especially the beautiful view of Nyang River and the snow-capped mountains. During the early spring, the lovely peach flowers will give a visual treat. In the yard, there are different kinds of fruit trees.
There is a very exquisite Chinese Restaurant in Nyingchi Impression Hotel, offering featured local Tibetan food, Chinese food and western food.
Location and Transportation
It is located in the central area of Bayi Town, and you can reach it by driving easily. Some top attractions in Nyingchi, like Basumtso Lake and Lulang Forest, can be reached within 2 hours from Nyingchi Impression Hotel.
Room Type
Amenities
Map
Photo Gallery
Room Type
Room Type
Bed Type
Breakfast
Internet
Standard Room
Twin Bed
Included
Available

Free WiFi, Hair Drier, 24-hour Hot Water Supply,In-room service

Suite Rom
King Bed
Included
Available

Free WiFi, Hair Drier, 24-hour Hot Water Supply,In-room service

Triple Room
Three Bed
Included
Available

Free WiFi, Hair Drier, 24-hour Hot Water Supply,In-room service
Room Amenities
Air conditioning
Alarm clock
Color Television
Coffee/Tea maker
Telephone
Hair dryer
Bath an Shower
Hotel Type
Hotel Amenities

Parking
Air-conditioned Facilities
Elevator
Sauna
Massage
Deposit Box at Front Desk
Hotel Service

Luggage service
Car rentals
Laundry service
Room service
Express check-in/check-out
Wake Up Call
24hr Reception
Valet Parking
Dining Facilities
Business Service

Business Center
Copy Service
Email
Fax Service
Meeting room
Photos
prev
next
Photos of hotel
Recommended similar hotel