Gyantse Jianzang Hotel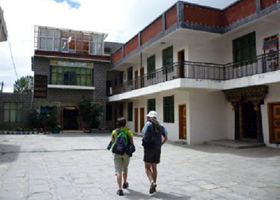 Type:

Leisure,Economic

Location:

Gyangze County

Number of Room:

80

Address:

No.14 Yingxiong South Road, Gyangze County

Show Map

Surroundings:

Palkor Monastery

,

TEL:

86-892-8173720(Front desk)

86-28-85227275(Office)
Jianzang Hotel started its business in 2002.The Jian Zang Hotel is the best budget hotel in Gyangtse. This 2 star hotel has clean and comfortable rooms in a courtyard style building. The shower does not have a curtain, but since you only stayed here one night that isn't a major shortcoming. Tibetan suites are available upon request.
The hotel has free parking for guests with their own vehicles. The television does not have CNN or BBC, but CCTV 9 can provide adequate English language news.
The boss of Jian Zang hotel is Dr. Gyantsen. He named the hotel after himself, which is funny because the Chinese characters for his name (Jian Zang) translate as "Developing Tibet" Dr. Gyantsen likes to hang out in the lobby and practice his English by greeting foreign guests.
Room Type
Amenities
Map
Photo Gallery
Room Type
Room Type
Bed Type
Breakfast
Internet
Standard Room
King Bed
Included
Available

Air conditioner, hair drier, bath and shower

Single Room
Twin Bed
Included
Available

Air conditioner, hair drier, bath and shower
Room Amenities
Air conditioning
Alarm clock
Color Television
Coffee/Tea maker
Telephone
Hair dryer
In-room safe
Electronic locks
Bath an Shower
Free for Internet
Hotel Type
Hotel Amenities

Parking
Air-conditioned Facilities
Business Center
Fire detector
Elevator
Hotel Service

Luggage service
Laundry service
Express check-in/check-out
24hr Reception
Dining Facilities
Business Service

Business Center
Copy Service
Fax Service
Photos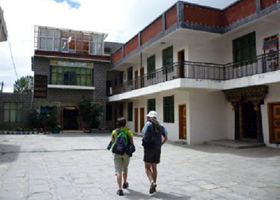 prev
next
Photos of hotel
Recommended similar hotel