My wish list
7 Days Chengdu-Lhasa Students Tour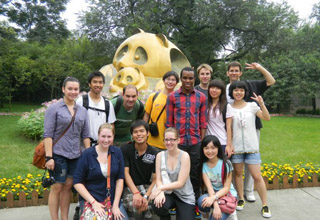 Tour Code:

TD-ST-07

Tour Type:

Escorted Private Tour

Departure:

You Choose!

Experience:

Best Time:

Tour Pace:

Overview:

Chengdu, also called 'the Land of Abundance', is one of the most important economic centres, transportation and communication hubs in Western China. Start your Tibet tour in Chengdu, see sight and play around to Tibet.
Add to my wish list
Get a Quote
Highlights
Visit:

Chengdu Research Base of Giant Panda Breeding
Wenshu Temple
Jinli Old Street
Visit:

Potala Palace
Jokhang Temple
Barkhor Street
Dickey Orphanage
Experience:

Enjoy the typical Sichuan Cuisine
Have fun with the little Giant Panda
Discover the Tibet's landscape, religion & people
Make friends with Tibetan local students
Sampling Itinerary Day by Day
Day 1

Chengdu Arrival ( L, D )

Upon arriving in Chengdu, your personal guide will meet you and escort you to your hotel for a rest before visiting Jinli Old Street, and Wenshu Temple where you can spend some time sitting in its tea house to enjoy a cup of tea and absorb the special atmosphere of Chengdu. In the evening you will enjoy a delicious dinner of local Sichuan food.
Day 2

Chengdu – Panda House ( B, L )

After breakfast, you will be transferred to Ya'an to visit the Bifengxia Panda Breeding Centre. Then you will be escorted back to Chengdu.


Day 3

Flight to Lhasa from Chengdu ( B )

No documents found.

You will be free until your local guide escorts you to the airport for your flight to Lhasa.

Welcome to Tibet! Your local guide will meet you upon your arrival in Gonggar airport and will escort you to Lhasa. You'll enjoy the heart-stopping views along the road.

After arrival at your hotel, the rest of the day is free for you to explore the local area and acclimatize yourself to the high altitude city at the top of the world.
Day 4

Lhasa ( B )

The overwhelming Potala Palace is your first stop. As the symbol of Tibet, it was built in 641 AD and was the winter palace of Dalai Lama who is Tibet's pope. Impressive Tibetan architecture, huge golden Buddha statues, red-robed lamas and devoted pilgrims all make it a must-visit.

In the afternoon, you'll visit the Jokhang Temple, the spiritual center of Tibet. Every day, pilgrims from every corner of Tibet trek here from long distances to worship. Finally, walk the special circular pilgrimage route as local followers always do at Barkhor Street.

After the tour, you can hang out to one of the local Tibet bars.
Day 5

Sera Monastery and Dickey Orphanage ( B )

In Lhasa, there's been a "sweet home" to over 80 children, most of whom are orphans. It's called Dickey Orphanage.

About the Dickey Orphanage
The found of Dickey Orphanage is a self-motivated action by a middle-aged Tibetan woman, Tamdrin Dadhon, or as the children calling her, 'Mama'. "Dickey" in Tibetan language means "Fine and Happiness", which Mama Tamdrin wanted all of their children to be of.

Your tour ends at Sera Monastery, and the "Buddhism Scriptures Debating" in Sera is very famous. Enjoy the debate!
Day 6

Tibetan Family & Tibet University Visit ( B )

Today, you could learn the process of how to make Tibetan joss stick, or Tibetan porcelain, or Tangka, etc. Or you could learn how Tibetans turn the yak dung into a good fuel, or how they gather in the harvest. You could join into them if you want. Different season, different activities.

In the afternoon, head to visit the Tibet University.
About Tibet University:

Tibet University is the largest university in Tibet and has two campuses: one in Lhasa and another in Nyingchi. It is world's biggest cradle of Tibetan studies.


Day 7

Lhasa Departure ( B )

No documents found.

Today will be free for you to be transferred to the airport in time for your flight.
Enquire about this trip
Recommended Add-on Options
No documents found.
Reviews
Read what other travelers think about this Tibet trip. We only accept reviews from actual, confirmed travelers who purchased the tour / activity from us, so you can be sure the reviews are unbiased and authentic.
write a review
&nbsp

Tibet Discovery provided us with the most authentic and beautiful trip to another country we could possibly imagine. We were completely immersed in Chinese culture and food, and we got to truly experience this friendly country that has some of the most amazing natural views on Earth. The quality of service and the attention to detail that Tibet Discovery provides made us feel not only safe, but also allowed us the security and the know-how to explore the country freely. We had such a wonderful time and we can't wait to visit the people of China again. What an amazing experience!

Singapore 2011
write a review
Photos
Here are recent candid photos of this Tibet trip. If you want to share your own tour photos, simply email your photos to info@tibetdiscovery.com with your Booking ID Number. Thanks in advance for sharing!
Dickey Orphanag
Magnificent Potala Palace - the Palace of Dalai Lama in Lhasa, Tibet
Chengdu Research Base of Giant Panda Breeding
Foreign Students Travel in Tibet
Foreign Students Travel in Chengdu