Top Qamdo Attractions
Covering an area of 108,600 square kilometers, Qamdo/Chamdo Prefecture used to belong to western Kham. Qamdo City is the third largest city in Tibet after Lhasa (the biggest) and Shigatse (the second largest). In the prefecture, the most attractive site must be the crystal green Ranwu Lake in Baxoi County, surrounded by snow covered mountains and imposing glaciers. Known as a mysterious historic and cultural land with a long history of over thousands years, Qamdo offers not only the beautiful scenery of lakes, magnificent mountains, but also present amazing glaciers like Laigu Glacier. Lots of spectacular sightseeing in Qamdo wait for your further discovery. For foreign travelers, it is available to visit beautiful Midui Glacier, Laigu Glacier and Ranwu Lake.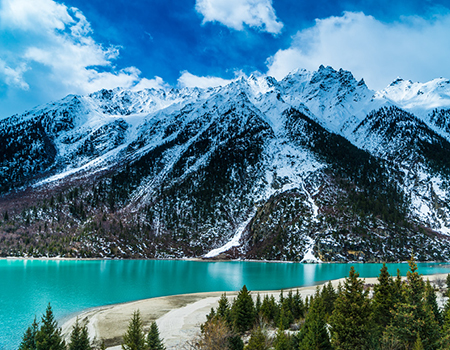 Useful Gyantse Travel Notes
1. How to Plan Qamdo Travel
Usually, tourists will firstly go to Lhasa, capital of Tibet, where they can get acclimatization and visit landmarks such as Potala Palace, Jokhang Temple, Sera Monastery and stroll in Barkhor Street etc. And Lhasa is the best stopover to Qamdo, because you can take a direct flight to Qamdo from Lhasa within 1.5 hours or drive to Qamdo via Nyingchi experiencing idyllic scenery in Tibet during transit. Extra two more days will be taken to watch marvelous Namjarbrawa Peak, word famous Yarlung Tsongpo Canyon, and enjoy beautiful peach blossom in Nyingchi if you are interested in. Then keep driving on G318 Hwy to view Ranwu Lake and Laigu Glaciers in Ranru Town, Qamdo Prefecture, later go to Qamdo City to view monastery, grassland and historic relics. You can fly or drive back to Lhasa for return journey or take a direct flight from Qamdo to inland cities like Chengdu to explore more Chinese culture and landscape.
2. Wearing and Packages
Packing everything well is very helpful during your plateau travel. Don't forget your most important passport and permits, and then you should pack your thick cloths, sunscreen, daily medicines, camera and etc. into two bags, a large one and a small carry-on bag. Better dress in layers and long sleeves for huge temperature change between day and night and strong ultraviolet. A pair of comfortable hiking shoes is needed too.
3. High Altitude Sickness Tips
The average altitude of Qamdo is about 3,500 meters, little bit lower than Lhasa but higher than Nyingchi areas. Every tourist is suggested to have a physical examination before travelling to Tibet. During the journey, drink enough water, keep a good diet and mental state, do reasonable relaxing walking instead of intense activities. Get acclimation in lower places and avoid strenuous activities in some high elevated attractions like Galden Jampaling Monastery (4,000m).
4. Necessary Permits for Visiting Qamdo
Tibet Entry Permit (also called Tibet Travel Permit) issued by Tibet Tourism Bureau is a must have for all Tibet tours. If you want to visit Qamdo, more permits like Alien's Travel Permit and Military Permit are obligatory as well. Foreigner tourists are not allowed to travel to Tibet alone unless accompanied by local Tibetan guide and driver, so you can book Tibet tour packages from TibetDiscovery to supply those permits and arrange your Tibet tour for you.