Pashupatinath Temple - The Most Sacred Hindu Shrine
Pashupatinath Temple, the largest Hindu temple worshipping the Hindu God Shiva who is known as Pashupati that means the master of the whole universe, is a UNESCO World Cultural Heritage in Nepal. Located at the bank of the Bagmati River, 5km northwest of Kathmandu City, the holy temple has a reputation of "the Temple of Living Beings" for it attracts thousands of pilgrims from all over the world come to pay homage and get a deep exploration of Hinduism culture every day.
With astonishing architectural beauty, Pashupatinath Temple complex is the embodiment of faith, religion, culture and tradition. A must-see activity here is watching the cremation ceremony by Bagmati Riverside; sure you will be shocked by the way Hindus treat death and life if you are interested in. The most important festival celebrated in this temple is Shivaratri or the nights of lord Shiva.
Pashupatinath Temple Facts
Ratings:

#4 of 8 Attractions in Kathmandu
Season:

September - November
Type:

Religion, Architecture, Culture
Altitudes:

1370 meters
Location:

East Suburb of Kathmandu
How to Get to Pashupatinath Temple
The Pashupatinath Temple lies to the southeast Kathmandu City for about 5km and it is close to northern Boudhanath Stupa and the southeast Tribhuvan International Airport for only 2km, approximately drive for 10 mins. Therefore, if you would like to visit Pashupatinath, you are suggested to go there with Boudhanath Stupa or before leaving to Tribhuvan Airport or after landing on Kathmandu from the airport.
● Thamel Street - Pashupatinath Temple: about 4.5 km for 20 mins by taxi
● Kathmandu Durbar Square - Pashupatinath Temple: about 5 km for 20 mins' drive
● Boudhanath Stupa - Pashupatinath Temple: about 3 km and 12 mins' drive
Pashupatinath Temple Highlights
1. Sacred and Historical World Heritage
Erected in A.D. 5th century, Pashupatinath Temple is a sacred land for Hindus and Nepalese Buddhists as well as a concentration camp for Nepali Sadhus. This religious site comprises about 260 hectares with a main Pashupatinath temple and a large amount of small mandir around.
The main three-storied temple is a Nepalese pagoda style of architecture, which is only opened to Hindus for entry; visitors can just tour the nearby temples, buildings through paid tour and guide, and watch some local hold outdoor death rites of families on the riverside steps. The historical temple complex features in golden roofs, silver houses decorated with delicate woodcarvings and Buddha stupas. The entrance from western side is a whole row of stores and street vendors mostly selling flowers and Tika for Hindus.
Every day you will find hordes of people from all over Nepal and India pilgrimaging to the Pashupatinath Temple in order to give worship to Pashupati - the master of all living beings in the universe. They start off this process early in the morning where they are blessed by Lord Shiva. When evening comes, religious activities of Hindu at the riverside opposite of the main temple turn the solemn into a bustling sight. Locals and tourists can stand closely to view the prayer. Each year there is a formal celebration called Shivaratri, which means "night of Lord Shiva", that is attended by thousands of people.
The River Bagmati that flows next to Pashupatinath temple is also a holy river with many sacred properties. Hindu devotees plunge into the holy Bagmati river daily and recite the verse from the ancient Vedas. It is believed that plunging or bathing into the holy river releases from the cycle of rebirth.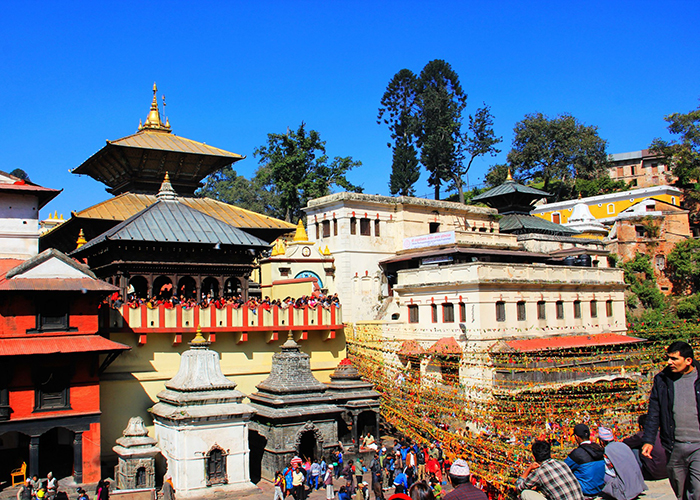 Colorful Temples of Pashupatinath Temple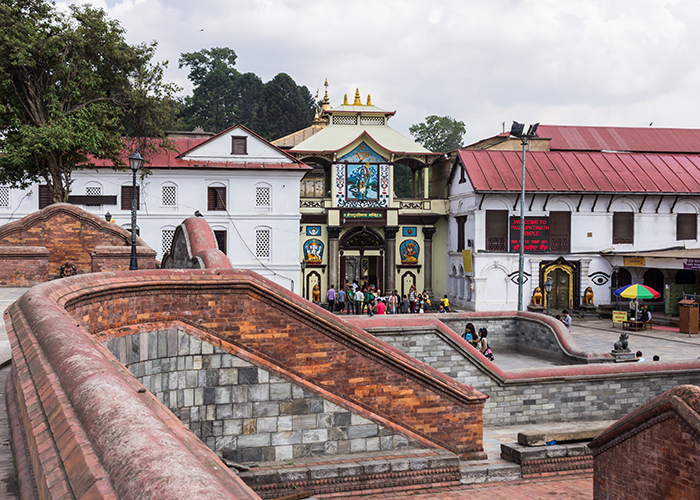 Pashupatinath Temple Western Entrance
2. Tradition of Hindoo Cremation Ceremony
Ordinary thinks death is woeful and miserable, on the contrary, Hindus just take it as a simple rite to relieve the suffering soul when they incineratethe dead and scatter to a sacred river. Nepalese Hindus believe that cremation into the Holy River Ganges is the last sacrament in one's lifetime. Six stone crematory platforms on the holy Bagmati banks outside of Pashupatinath Temple are crematorium where Nepali Hindus make death rituals. The upstream two serve for royal family and nobility privately, the rest four ghats are used by civilians. It is said that the closer to Pashupatinath Temple on both sides of the bridge, the more noble the dead is. Arya Ghat on Bagmat River is the biggest crematoria in Nepal. Photos and close visit are allowed, but to respect local custom and Hindu canon, visitors should behave properly.
In Nepal, orange flowers, red Tika and golden silks are symbols of death. According to the tradition, family firstly washes away the dust on face of the dead with holy water from Bagmati River and well-shaved children walk three times around the dead. Then family members wrap up the body with white or yellow cloth, sprinkle flower, rice and other auspicious things on the body. If the one pass away has high social status, a Hindu eminent monk will perform a Buddhist ceremony. Once finishing the ritual, the dead body will be placed on the platform above woods to get cremation which starts from mouth - original of the good and evil. Ashes will be pushed into the Bagmati River flowing into the Ganges River in India ultimately after three hours' burning. Adjacent red low houses offers accommodation for families who just make the farewell with the dead for one week to pray for the beloved.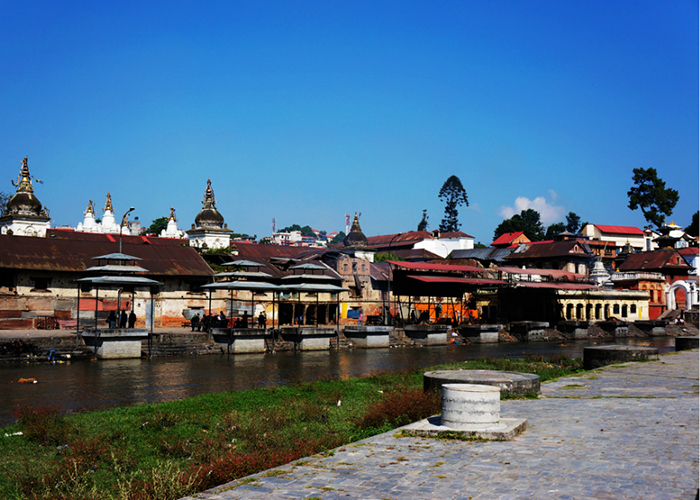 Outdoor Crematorium by Bagmati Riverside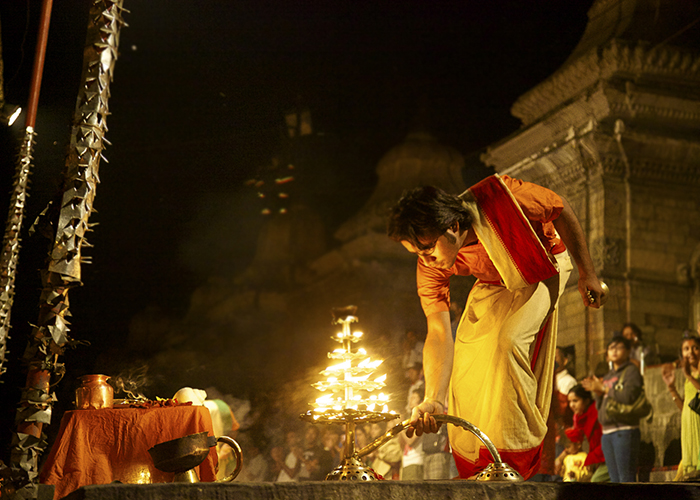 Evening Hindu Prayer outside Pashupatinath
Useful Travel Tips
1. If you are a visitor from other country, the best time for you to go there is September to November and the second best time is February to April.
2. The entrance fee of Pashupatinath Temple is 1,000Nepalese Rupees (about 10USD). And the main temple is restricted to Hindus only, thus all foreign visitors are not allowed to enter. Remember to bring your ID card or Passport, or you may be denied entering other temples.
3. Tourist planning to watch the cremation ritual should wear a mask since the air of the outdoor burning ghat maybe kind of pungent. If the death rite in the public is a big taboo for you, better avoid the schedule.
4. Visitors need to buy ticket from office at the entrance. Personal free guide and taking pictures with Sadhus are pay-for-services.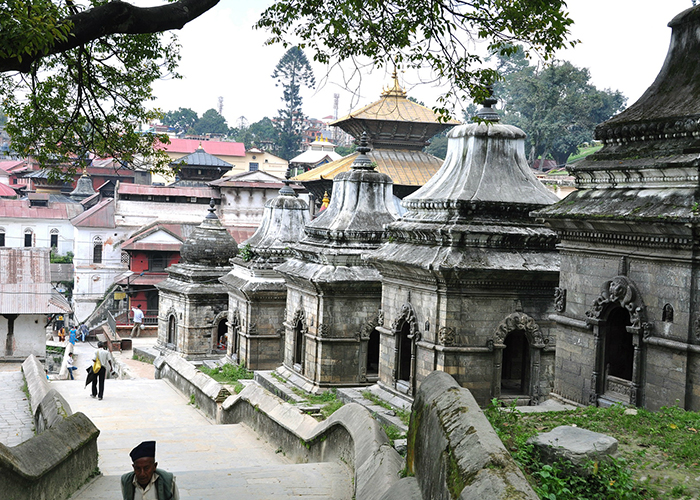 Massive Historical Architectures Nearby
Do's & Don'ts
1. According to the Kathmandu local custom, make sure you can get into the temples and palaces, after enter in take off your shoes and don't bring anything with furs, such as portfolio, straps. Also, do NOT step on the doorsill and do NOT smoke in the halls.
2. Do NOT take photos without permission.
3. Do NOT touch the children's head, for Nepalese regard head is holy and noble.
4. Do NOT wear a hat or sunglasses inside the palace.
5. Do NOT litter in the fire which Nepalese think is religious and holy.
6. In Kathmandu, you can shake hands with the males, while say hello to ladies just put your palms together devoutly and say "Namaste" is ok.
7. The Nepalese are conservative, so do Not wear backless costumes.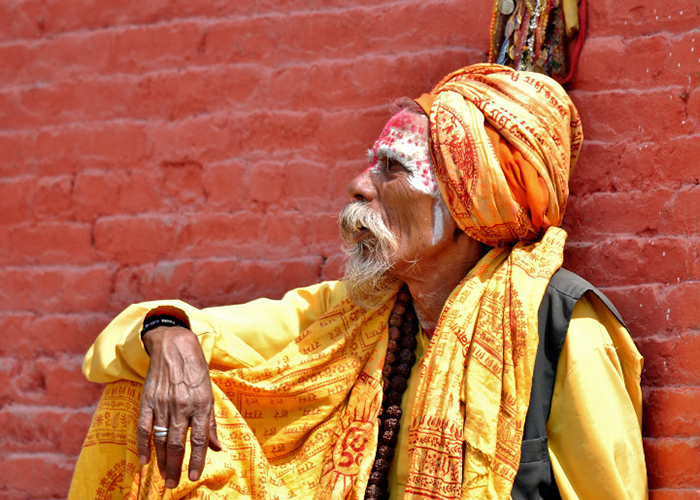 Sadhu Sitting to Watch the Cremation
Recommended Nepal Tibet Tour Packages
Escorted by a skilled private drivers and accompanied by a professional local tour guide to organize all the activities, all you have to do is to enjoy your fantastic Nepal and Tibet journey. Time can never be wasted waiting for a group, hopping on and off buses or negotiating unfamiliar destinations.
Have a question? Get answers from our travel experts soon!
Your Question:

Your Name:

Your Email:
Questions & Discussions
Following are latest questions and answers from our webusers and customers. You can learn many useful information from the discussion and cases. You can also join in the discussions or ask your own question. Our experts will help you ASAP.
transportaion
how to reach kathamandu from india
Hi Sangeeta,

Thanks for your message. Currently you can take flights to Kathmandu from Delhi or Bombay. There are about 8 flights to Kathmandu from Delhi, and 2 flights to Kathmandu from Bombay. Y偶can also travel overland from Delhi or Varanasi by train or bus.