Boudhanath Stupa - The Holy Center of Buddhism
Boudhanath Stupa is the center of Buddhism in Nepal. You see all the essence of Nepal just after entering in this land. Listed as one of the eight UNESCO World Heritage Sites in Nepal, Boudhanath Stupa is the Top 1 landmark in Kathmandu appraised by tourists.
As the largest circular pagoda in the world with height of 38m and perimeter of 100m, this stupa is the most sight to see in Kathmandu. Located at the ancient trade road from Tibet to Nepal, Boudhanath Stupa and surroundings is a major holy land for Nepal Buddhism with long history. Many Nepalese and Tibetan monks circle around the stupa piously every day, making the spherical stupa with intelligential Buddha caksus a busy spot in Kathmandu Valley. Nepal earthquake in April 2015 badly destroyed Boundhanath Stupa: top of the major stupa cracked and side tower completely collapsed. It experienced 1 year restoration to show the fascinating appearance again. The massive stupas of Buddhist relics and the great view of the shrine, the coffee, can leave you great impression and be a part of your life journey.
Boudhanath Stupa Facts
Ratings:

#1 of 8 Attractions in Kathmandu
Season:

September - November
Type:

World Heritage Site, Architecture, Religious Site
Altitudes:

1370 meters
Location:

East Suburb of Kathmandu City, Nepal
How to Get to Boudhanath Stupa
The Boudhanath Stupa in northeast suburb is about 11km (6.8miles) to center Kathmandu City. Walking from Thamel Street to Boudhanath Stupa is about 1 hour at a distance about 6km and 25 minutes if taking a taxi.
● Kathmandu Durbar Square - Boudhanath: about 7km, 30 mins by taxi
● Tribhuvan Airport - Boudhanath: about 4 km and 15mins' drive
● Swayambhunath Temple - Boudhanath: about 9.5 km and drive for 40mins
● Pashupatinath Temple - Boudhanath: about 3km, for nearly 12 mins by taxi
Boudhanath Stupa Structure
The splendid Boudhanath Stupa, exists more than 1600 years, is exquisite in compound structure and marvelous in huge scale. Tower foot is three-storey octagonal platforms, which has steps to the upper white semicircular tower mast. Besides, there are a range of stone lions standing at the steps. Anomalous platforms are surrounded by polygonous wall with inlaid prayer wheels inside. Pilgrims are walking clockwise to worship the shrine.
Main tower is high-rise by five layers; each presents one element of life. The first bowl-looking dome, which is built on platforms and decorated with 108 niches of different Buddha stone carvings on the bottom, stands for "water" and symbolizes perfectly round and broadness of the universe. The second foursquare tower painted with huge Buddha eyes on four sides means "ground" and boundless Buddhism. The golden spire on the third means"fire" and represents Sourin, 13 layers of steps shrink upward one by one. An umbrella-shaped body is the "air" and the canopy of spire decorated with cycloidal prayer flags. Helical on the top stands for "sky" - essence of life.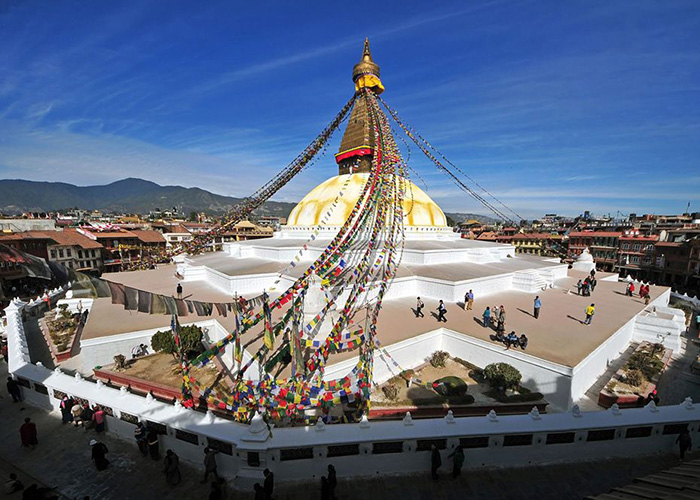 Panorama View of Boudhanath Stupa
Boudhanath Stupa Highlights
1. Symbolic Construction of Duplexes
With its impressive 36-meter-height, Boudhanath is the largest stupa in Nepal. Some may think Boudhanath Stupa and Swayambhunath Temple (also called Monkey Temple) is similar in architecture style, Buddha eyes, white hemispheroid base and golden tops, the former, built on a massive three level mandala style platform, is much more well-known not only for grandiose appearance but also the Buddhism culture every detail delivers. Explanation of vital substances for life in bases, towers, shrines and colorized prayer flags makes visitors get clear of this monumental work. Conveniently situated restaurants with roof-top patios provide good food and excellent views of Boudhanath. Tourists can grab a table at the Stupa View Restaurant or the Three Sisters for great views of the shrine, or just grab a coffee and people-watch at the nearby Saturday Cafe. There are also a number of smaller stupas and monasteries to be found nearby which are worth taking a look at.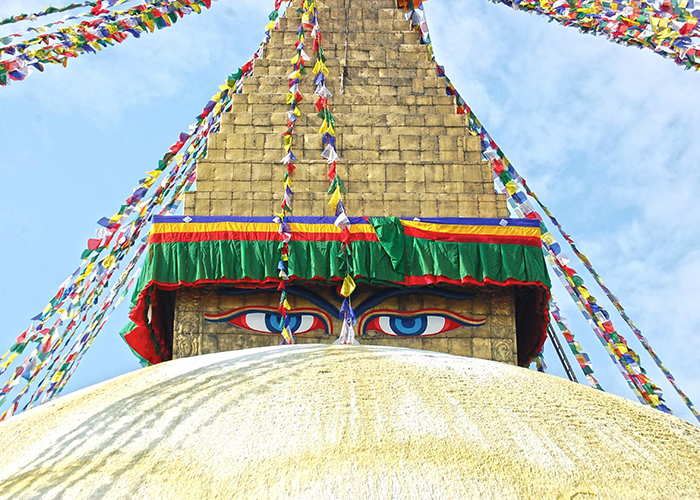 Huge Buddha Eyes on Boudhanath Stupa
2. Center of Tibetan Buddhism Culture in Nepal
Located 4.5 miles northeast of Kathmandu, the white stupa is one of the holiest and most important pilgrimage sites in the world for Tibetan Buddhists and Nepalese. Feature of the massive Stupa-amount-like structures that contain Buddhist relics materializes its representative status in Buddhism of Nepal.
Locals and pilgrims from Nepal and neighbor Tibet circle clockwise for hours, chant mantras and twirl prayer wheels. Scenes like dogs sleeping idly on the ground and pigeons flying over the sky fortify a serene Buddhism atmosphere. You'll also get the chance to notice that an abundance of monks and nuns in the area, owing to the 29 distinct monasteries and nunneries around. If you are a souvenir-hunter, you'll enjoy the distinctly Tibetan offerings with goodies like statues, prayer flags, incense, Tibetan jewelry, hand-woven carpets and masks available everywhere.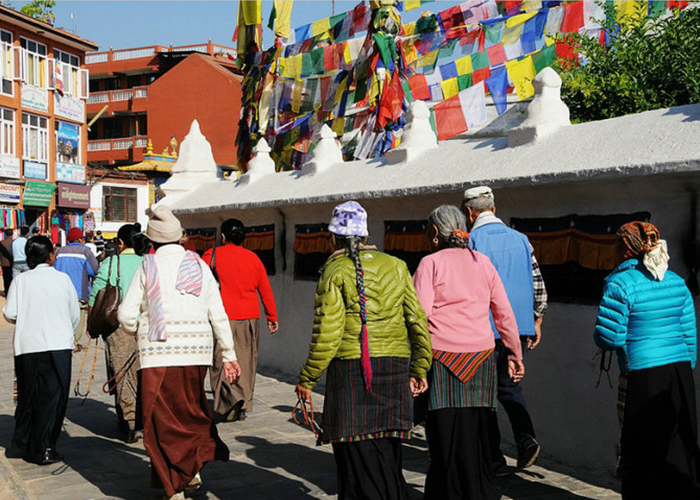 Nepalese are Making Pilgrimage around Stupa
Useful Travel Tips
1. The entrance fee of Boudhanath Stupa is 250 Nepalese Rupees (about 2.5 USD). And the latest admission price of Swayambhunath Temple (Monkey Temple) is 200 Nepalese Rupees.
2. If you plan to travel to Nepal or Kathmandu, the best time for you to go there is September to November and the second best time is February to April when the weather is good, air is clean and no much rains. During rainy season from May to September, roads will be muddy and weather is kind of hot and moist in nepal.
3. Remember to bring personal ID certificates (passports), otherwise tourists may be denied entering Boudhanath Stupa.
4. Tour around Boudhanath Stupa in a clockwise direction as other Buddhists and Nepalese do. And there are many stores selling Buddhism items, souvenirs and restaurants, cafes with rooftop views of Boudhanath Stupa.
Do's & Don'ts
1. According to the Kathmandu local custom, make sure you can get into the temples and palaces, after enter in take off your shoes and don't bring anything with furs, such as portfolio, straps. Also, do NOT step on the doorsill and do NOT smoke in the halls.
2. Do NOT take photos without permission.
3. Do NOT touch the children's head, for Nepalese regard head is holy and noble.
4. Do NOT wear a hat or sunglasses inside the palace.
5. Do NOT litter in the fire which Nepalese think is religious and holy.
6. In Kathmandu, you can shake hands with the males, while say hello to ladies just put your palms together devoutly and say "Namaste" is ok.
7. The Nepalese are conservative, so do Not wear backless costumes.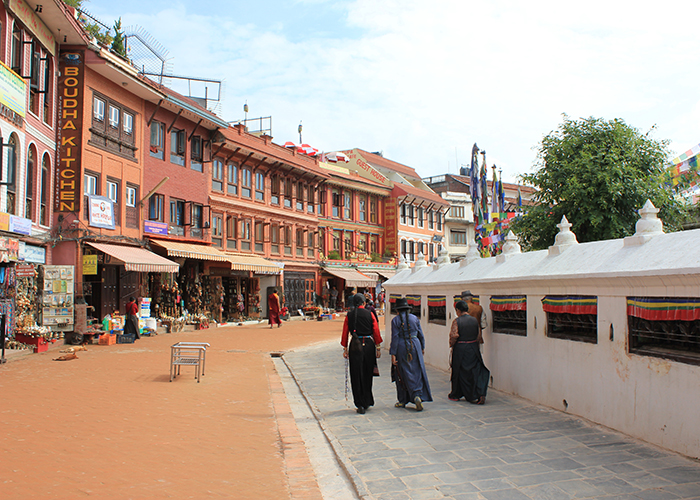 Sideward Restaurants and Stores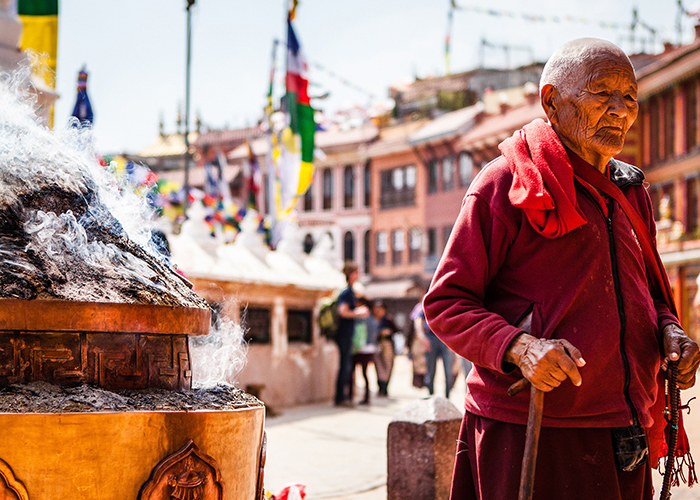 An Aged Monk is Standing in Deep - Meditation
Recommended Nepal Tibet Tour Packages
Escorted by a skilled private drivers and accompanied by a professional local tour guide to organize all the activities, all you have to do is to enjoy your fantastic Nepal and Tibet journey. Time can never be wasted waiting for a group, hopping on and off buses or negotiating unfamiliar destinations.
Have a question? Get answers from our travel experts soon!
Your Question:

Your Name:

Your Email: