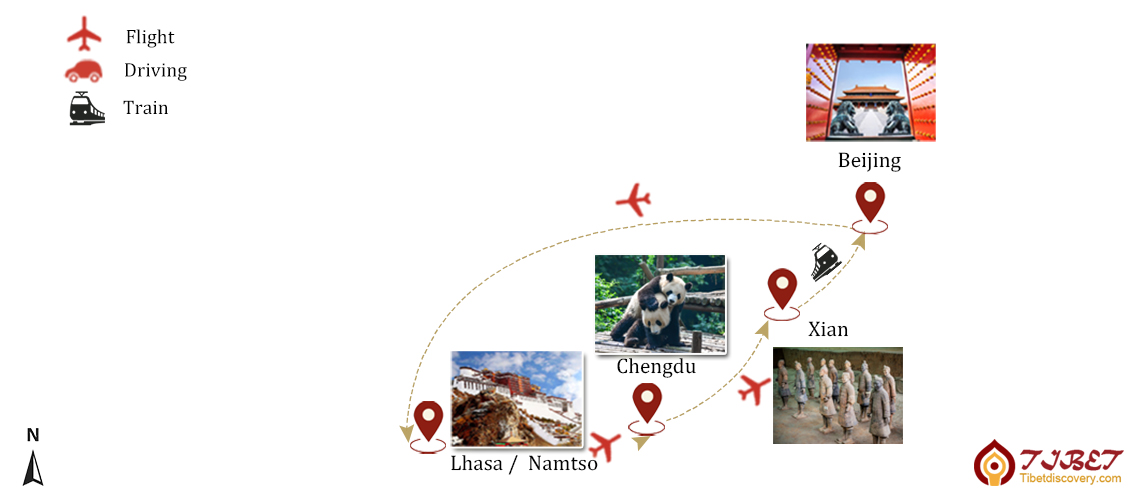 Maciej (Poland)
April 2016 / 4pp
16 Days China Highlights and Tibet Discovery Tour
" Dreams come true... You have to just try hard enough :) With the help from Wendy, we realized our Tibet dream, and the rest of China was a very big suprise for us. It was not just filling the trip, but it became an equally important part of our trip. "
Itinerary Introduced by Wendy
"Hi, I'm Wendy. I was lucky to customize a tour for Mr. Maciej and his group. The whole tour takes 16 days and they traveled to Beijing, Tibet, Chengdu, Xian and Shanghai – essence of China are almost covered. The group arrived in Beijing and traveled the landmarks there firstly. They admired the amazing construction of the Forbidden City, the Temple of Heaven, and the Great Wall etc. Then, they took a 44-hour train to Lhasa through Qinghai Tibet Railway. Apart from the highlights of Lhasa, they also extended their tour to breathtaking Namtso Lake. After the holy journey in Lhasa, they flew to Chengdu – Hometown of Giant Panda and the Land of Abundance. Their next stop was Xian which tells a lot of history, and the Terracotta Warriors were really great. At last, they took a high speed train to Beijing and left for home. Let's check their travel story and get inspired by their experience. If you have any questions, I'm, right here waiting." -- Wendy (Ask Wendy a Question)
Tibet Travel Consultant Wendy
Gateway City - Beijing
We started in Beijing and we were astonished by the city. Then we took a train to Lhasa (41 hours). It was an interesting experience, but I would probably recommend to take a flight. The Tibet itself is amazing. Culture, religion, people... everything in a proper mix made this an unforgettable experience.
Train from Beijing to Lhasa - Interesting experience, but not for everybody. It takes 41 hours. We were a bit unlucky. It was extremely cold during night and extremely warm during day. The cost is almost same as flight, so... its up to you. If you decide to try it, get Tibetan medicine and use it a day before the trip already (I include photo of it). Have fun!
The Great Wall
Hightlights of My Tour
Potala Palace – Amazing place. You can feel the power of it even today. In spite of altitude sickness we climbed 500 steps up to see it close enough. Worth visiting during daytime, but also at night.
Jokhang Temple - Not only the temple, but the street around full of pilgrims. We were sitting there for hours to see the people coming from all over the world, the people you cannot see anywhere else. Just go and immerse in the spirit of it.
Sera Monastery - Beautiful monastery, but you can find plenty of them in Tibet. What is really special about it is Lama debating. Every afternoon (except Sundays) you can see the debate and even that they speak the language you dont understand it is still fascinating :)
Tibetan Family Kitchen - Is it a restaurant? Hard to say, but it is very interesting experience. It is hard to find, so watch carefully for signs (apartment on second floor). They offer food, but also cooking lessons. It is small so reservation is a good idea (but how to do it?) We went there with our guide (he called them). Food was so fresh and made just when we were waiting. Very good Tibetan cuisine.
Apart from Lhasa we decide to stay overnight at Namtso Lake. This is challenging experience (1.000 meters above Lhasa might be hard for many). We will never forget it.
On the way back we stayed 2 days in Chengdu and 2 days in Xian. What to say... I love pandas :) and terracotta army is really a world wonder. Finally back to Beijing and on the way home. Almost 10.000 km within 16 days is tiring, but for sure worth it. Such a good experience would not be possible without Wendy and China Discovery.
My Medcine Helping with Altitude Sickness & Good Views in Tibet
Sichuan Opera Fun
Travel Consultant - Wendy
Wendy is so professional, but friendly and patient at the same time. She had always advice for us and answered every our question (there were plenty of them, believe me). Everything was perfectly organized, pickups, transfer, guides, sightseeing, meals etc.
We did not waste a single hour. The service is worth every dollar you pay and it is not really worth to risk any cheaper offer (if you can even find one).
Thanks a lot Wendy. Thanks a lot Tibet Discovery. We will for sure come back to see more of China and we will for sure choose you again!
Professional and Nice Wendy
Related Tours
Check the following related tours or contact us to customize a tour according to your own preference
>> 5 Days Holy Lake Namtso Tour (Lhasa - Namtso)
>> 8 Days Lhasa Tour from Beijing by Train (Lhasa - Beijing)
>> 13 Days China Panda and Tibet Discovery Tour (Shanghai - Chengdu - Lhasa - Xian - Beijing)
Recommended Tibet Tour Packages
Tibet Discovery Tours is specialized in finding unique experience of Tibet, and leading you to explore what interests you most. Our Private Tibet Tours will take you to explore deep into the Holy Land, with loads of options, freedom & flexibility. You can choose from the following hand-picked tour packages which have been successfully operated for many years and created loads of amazing experiences for our customers, or check more Tibet Tours >>
Beijing / Xian / Lhasa / Shanghai

Highlights: Great Wall, Terracotta Warriors, Potala Palace, the Bund

$2,710 / Details

Shanghai / Chengdu / Lhasa / Xian / Beijing

Highlights: The Bund, Chengdu Panda Base, Terra-cotta Warriors, Potala Palace, Great Wall

$2,664 / Details

Beijing / Xian / Lhasa / Chengdu / Chongqing / Yangtze River / Shanghai

Highlights: Forbbiden City, Great Wall, Tarra-cotta Warriors, Potala Palace, Yangtze Cruise

/ Details
Have a question? Get answers from our travel experts soon!
Your Question:

Your Name:

Your Email: