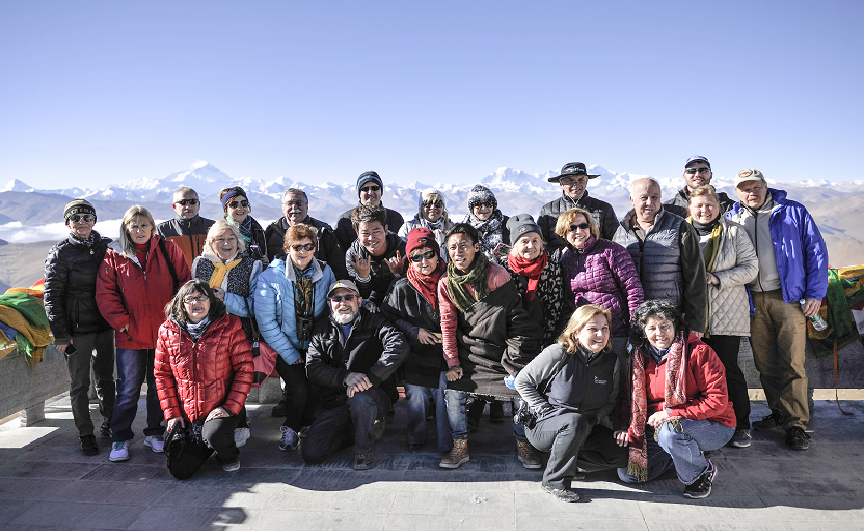 Bogusia (USA)
October 2016 / 29 pps
20 Days China Tibet Nepal Highlights Tour via Ancient Silk Road
"Jack from Tibet Discovery made us a memorable trip. We thank you for arranging great tour guides, drivers, good food and beautiful views in Nepal, China & Tibet for us… "
Itinerary Introduced by Jack
"Hi, I'm Jack, Bogusia and his group of friends' travel consultant. I appreciate that Bogusia and his friends enjoyed their travel in China, Tibet and Nepal, and satisfied with all of arrangements. This 20 days long journey is one of our popular tours, covered Beijing, Xian, Lhasa, Mount Everest and Kathmandu. They started China tour from Beijing firstly, hiked the Great Wall, visited grandiose Palace Museum, Tiananmen Square, and experienced Hutongs by rickshaw and Chinese Kung Fu performance. Next they traveled to Xian, watched the Terracotta Warriors, Giant Wild Goose Pagoda, Tang Dynasty Show and enjoyed dumpling dinner. To take Tibet Train from Xining to Lhasa, they toured Dunhuang for two days. During the following 8 days journey in Tibet, they visited top attractions in Lhasa, Shigatse and Everest Base Camp. Last but not least, they flied to Kathmandu from Lhasa, went sightseeing of landmarks architectures, tasted Nepalese food, and had a good time in Nepal. You can check more about their travel experience and photos shared below. If you are planning a same China Tibet Nepal Tour or want to customize a different one, just tell me your demands, I'm always ready to offer you professional advice and help." -- Jack (Ask Jack a Question)
Tibet Travel Consultant Jack
Reviews of their China Tibet Nepal Travel from Bogusia
Our trip came to an end. Yes time is flying way to fast I can hardly keep up with its pace. Thank you for your beautiful note. I do hope that our roads meet again in the near future.
It is our Thanksgiving Day approaching, therefore I do thank you for a wonderful trip and wish you good health, great success, lots of happiness and may all the road rise up to meet you, may the wind always be at your back, may the sun shine warm upon your face and rains fall soft upon your fields. And until we meet again stay well, healthy and happy.
Overall it was great, we had a good time. Nepal was great and food was very good. China and Tibet was beautiful. It was a very memorable trip and we thank you for arranging it for us.
About Tour Guide - Tour guides service was great.They did more for us than were expected, they are very good and friendly people, we just loved them. Guide in Beijing was wonderful.
About Driver - Drivers were great, never seen better ones very good, safe and courteous.
About Food - As for food it would be better if it had more varieties of different foods on each day.
So as you see overall it was great & very memorable, we will never forget this trip. Thank you again.
Thank you very much for all your gifts everyone loves them. Till next time, wishing you and entire office stuff all the best always.
Related Tours
Check the following related tours or contact us to customize a tour according to your own preference:
>> 11 Days China Tibet Nepal Highlights Tour with Panda Visit
(Private Tour: Shanghai – Chengdu – Lhasa - Kathmandu)
>> 13 Days China Tibet Nepal Classic Tour from Beijing
(Private Tour: Beijing - Xian – Lhasa - Kathmandu)
Excellent Travel Experience in Nepal
Amazing Himalays View with Tibet Tour Guide
Bogusia's 20 Days China Tibet Nepal Travel Map (Click to Enlarge)
Recommended Tibet Tour Packages
Tibet Discovery Tours is specialized in finding unique experience of Tibet, and leading you to explore what interests you most. Our Private Tibet Tours will take you to explore deep into the Holy Land, with loads of options, freedom & flexibility. You can choose from the following hand-picked tour packages which have been successfully operated for many years and created loads of amazing experiences for our customers, or check more Tibet Tours >>
Lhasa / Gyantse / Shigatse / Everest / Gyirong / Kathmandu

Highlights: Potala Palace, Mount Everest, Durbar Square, Swayambhunath

/ Details

Chengdu / Lhasa / Lhasa / Shigatse / Gyantse / Mount Everest / Lhasa

Highlights: Panda Base, Potala Palace, Yamdrok Lake, Palcho Monastery Mt.Everest

/ Details

Lhasa / Namtso / Gyantse / Shigatse / Everest / Gyirong

Highlights: Potala Palace, Jokhang Temple, Namtso Lake, Tashilhunpo Monastery, Mount Everest

/ Details
Have a question? Get answers from our travel experts soon!
Your Question:

Your Name:

Your Email: