Lily Xu - Experienced Tibet Travel Expert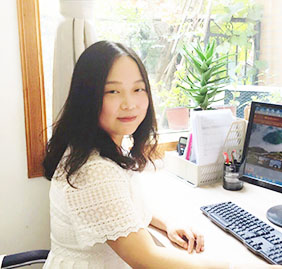 Expertise
Tibet

Lhasa, Namtso Lake, Shigatse, Gyantse, Everest, Mount Kailash

China

China City Tour, Short Trips, Family Travel, Hiking, etc
Why not take the advantages of Lily's Tibet & China travel experience to design a trip just for you, that suits your budget and interests. Her passion on travel and help never fades away!
OR Call her at +86-13438287228
Biography


Welcome to Tibet! I am Lily from Tibet Discovery and very delighted to meet you here.

I love travelling for travel makes stories in book come alive. Those moments of pleasure time when the wind kisses my face and a stranger gives me a smile--all become tangible memories remaining forever in my mind. Additionally there is a blessing in disguise while travelling--get what I have not expected before and not get what I expect. Travelling is one of the most efficient ways to experience, to explore and to dream a different life in our limited life.

I have visited many places and still have a list of destinations to go. Hope I could offer you a wonderful tour in China with my professional knowledge and travel experience.


Read My Tibet Trip Story
>> Travel with Lily: Travel with Lily: 5 Days Spring Festival Trip to Tibet in 2020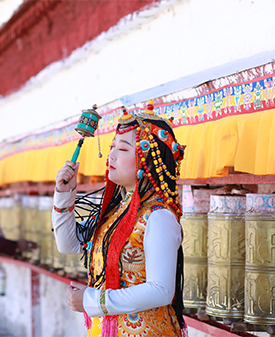 Tibet & China Travel Tips from Lily
Can't find the answers you would like? Email me or call me at +86-13438287228, I will get back to you immediately with full passion and consideration.
When is the best time for Tibet tour?

It is suitable for travel to Tibet from April to early November, and the best time is August and September. But if you only stay in Lhasa, you can go there any time of the year. Get real time weather report in different places of Tibet.

When is the best time for Everest tour?

Early May and early October are the best time to visit Mt. Everest. Due to the clear weather, you have great chance to see Mt. Everest's true face (if you are lucky). From December to February, you'd better not to go to this area because it is too cold - except you are real Great Adventure People.

Can I travel with children?

Tibet may not be an ideal destination for young Children. The climate and generally harsher conditions in Tibet may not be ideal for young children. The sights and attractions are not those which children like to visit and facilities will be very primitive. If you do decide to bring your young child to Tibet please ensure that you bring all your child's daily needs with you.

Are the Tibetan dogs are dangerous?

Tibetan dogs are dangerous. Do not approach any stray or wild dogs you see and carry a stick if you plan to wander off on your own or at any time after dark.

What kind of Tibet travel documents I need?

Besides a valid passport and a valid Chinese visa, you need two different kinds of permits for traveling in Tibet: the entry permit (TTB permit) and the Aliens' travel permit (if you want to visit the unopened area in Tibet). Click here to read more about "Tibet visa" and how to get them.
Thank You Lily,
Right now we are stuck at our home in Lina Peru. The government closed the boarders so we can t get back to the US. But we are good just everyone is on quarantine.  I have not canceled out flights and we still are considering travel to China but we want to see how things progress. When do you think China tourism will start to return.
Kim
March 20 2020
Hi Lily,
Already quite some time back home.
I just wanted to say thank you for a trip well prepared and highly enjoyable. I enjoyed the tour guide very much, the activities, temples, palaces, Lhasa old town etc. It was drivers and very enjoyable.
I also like to wish you all the best in these difficult times with the Corona Virus and the effect it has on the country, the people and the tourist business. I hope it will be quickly contained so life will follow its usual path again.
All the best for you and your family!
February 4, 2020
Hi Lily,
We arrived home. Thank you for amazing trip. We are very sad that we could not continue till the end.
There is no way could do the Beijing trip when we were leaving and city was empty. We will see you next year probably in middle of next year. The corona thing is probably going to last couple of months.
No stress about refund. Stay safe. We monitor situation here and have meeting with CDC. The most important is hand washing. Don't worry you are young and you will be OK.
We miss China already. We love this trip so much. Ohh we didn't wish you happy new year. So we do it now.
January 27, 2020
Hi Lily,
My Manager was very happy in China. She will thanking you very much for your excellent assistance during her stay! Very kind people, guides and drivers!
You made a good work and we will suggest you Agency at other persons that will have interest in a tour in China.
Have a nice time and best wishes to you!
Margherita
September 17, 2019
Hello Lily,
Thank you very much for the gifts, what a surprise !!!
We love them very much. 
We have a great time in Sichuan, next month we go to Switzerland for 2 week hike so our short hikes were a great worm ups. We hope we didn't exhaust Robert too much :-) . 
Working on our schedule for next year, this year booked already. Will send you updated website when put all the Sichuan photos.
Marcin
www.czerniakowmarcin.com
June 20, 2019
Thank You Lily,
We had some much great time this year in PRC that we will come back next year for at least 2-3 trips, 
Our map of china is slowly getting filled.
https://www.czerniakowmarcin.com/CHA.html
Marcin
June 9, 2019
Hello Lily,
We had great time in Yunnan, we recommend the tip to our friend dr Alex, please take good care of him, he is elderly but very active person. He and his wife would like to do more traveling in China. He should contact you soon. 
Marcin
April 30, 2019
Hello Lily,
Back home thank you very much, tour and guide and driver were very good !
October 15, 2018
Hello Lily,
Thanks for the reminder. We got our tickets yesterday with no problems.
We have loved our visit to Xi Ning and Chengdu and are looking forward to the train journey to Tibet.
Thank you very much for the surprise parcels. The chopstick sets are absolutely gorgeous.
Our guide Eben looked after us exceptionally well.
Regards
Julia, David, John& Carlene
October 11, 2018
Dear Lily,
I am sorry I couldn't write to you last week, the amount of work that I found at the office was overwhelming.
You don't have an idea how happy I was when I saw you at the airport, that it was so nice of you, I will always be thankful for that.
The whole trip that you arranged for me was awesome, it was above and beyond my expectations. Everything went perfect!!!!!, in each airport somebody was waiting for me, the guides were knowledgeable and very nice and always on time, they did everything possible to please me.
You did a great job putting together the itinerary, it covers all I wanted to do and see, I even fulfill my dream to get to the Tigers Nest Monastery, the guide helped me a lot, him and the driver were incredible nice the 3 days I spent there.
All the hotels were nice but I fell in love with the ones in Bhutan.
Lily once more thank you so much and don't forget if you ever come here, please let me know so I can drive you around and help you in anything that you need.
Regards,
Angelica
PD: I love the pictures thank you very much. My daughter has to transfer my pictures to the computer so I can send you some.
June 18, 2018
Dear Lily,
Everything went perfect and I will be happy to share the review. I will write a few words and send them to you in the next days.
Best
Catalin
December 14, 2017
Have a question? Get answers from our travel experts soon!
Your Question:

Your Name:

Your Email: